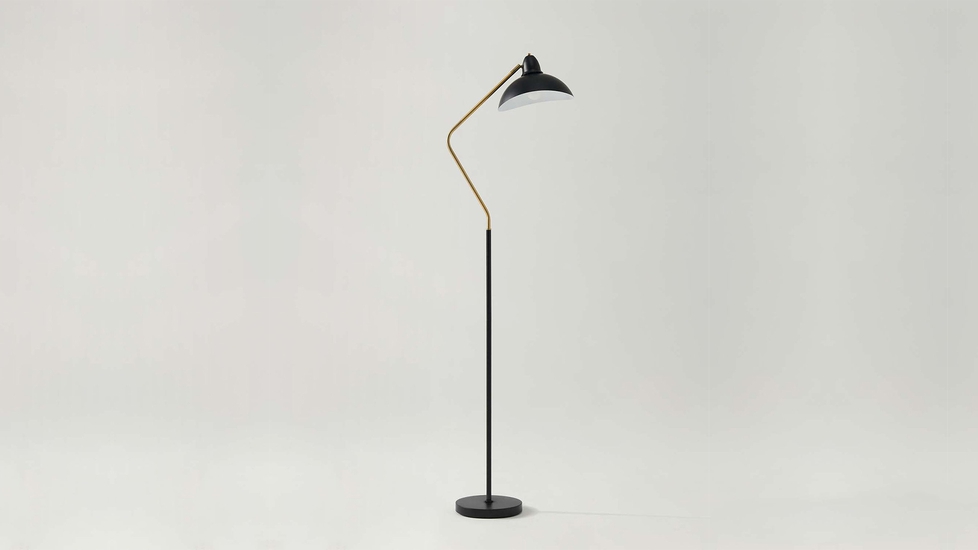 Brightech Swoop LED Floor Lamp
6 reviews
Visit our store
Buy now
Add to cart
FREE shipping Dec 09 - Dec 11. FREE 30-day returns.
Bought by 3+ Prosperity Organic Foods employees.
Sold and shipped by Brightech
Brightech Swoop LED Floor Lamp at a glance.
With its unique asymmetrical design, the Swoop is always a conversation starter. The floor lamp's black and gold accents bring sophistication to any space.
• Sculptural floor lamp
• Adjustable lampshade
• Energy efficient 9.5W LED bulb
• Footswitch
Deep dive into specs
Features
FAQs
Specs
reviews
5.0
Do you ever feel suddenly frustrated and sleepy when entering into a poorly lit room? The only thing worse than no light is the poor light. It strains your eyes, hurts your head, and diverts the focus. Lighting is closely associated with mood, as backed by many studies, which is why office lighting ideas play a vital role in determining the motivation level of employees. Investing in lighting in work or study place is only beneficial in the long run as it will help you achieve greater results every day. Especially if you are planning a smart blend of living room office ideas, you need both the looks and functionality. Modern lamps like Brightech Swoop floor lamps will help you achieve both while being light on your pocket. Choose the best LED floor lamp for living room that works great as a work lamp and the best modern LED floor lamp for reading recommendations as well.
How to Choose the Best Floor Lamp
While ticking off the office accessories, most of us tend to forget about the proper lighting. As customary of working in bright office spaces, our home sadly is not well equipped to provide ample amount of safe light. This is why you need a separate lamp that is also portable or compact enough to move with you around the house. Brightech Swoop floor lamps are a modern yet great choice, and here are some key considerations to take before choosing a floor lamp for your home.
1. Cost
The price of a floor lamp can range from a few hundred dollars for a simple, basic model to hundreds of dollars for an artistic or design piece. The more complex the aesthetic or, the more desirable the name, the more expensive the piece. However, because of the nature of a floor lamp, a stunning design can frequently act as a work of art for the room it is in.
2. Use
Perhaps most significantly, you should choose a floor lamp based on the lighting requirements of the room. To make a decision, consider the 3 main layers of light: ambient, task, and accent. Perhaps you prefer a warm glow, which a variety of shaded floor lamps can provide. If you only want some direct illumination to light up your reading chair, an arced reading lamp would be excellent. Alternatively, a torchiere could be used to brighten up a corner and provide accent lighting. The type of light emitted by the floor lamp should also influence its placement, so make sure you pick the proper component for the job.
3. Size
Size can also vary significantly. Because of their vertical position, shaded or torchiere lamps take up a small area, making them easier to accommodate into the surrounding space. Arc floor lamps, like the Brightech Swoop floor lamp, on the other hand, take up more area due to their horizontal extension. Knowing how much room you have to fit a floor lamp into is critical so you can be proactive in choosing the proper size.
4. Height
Another thing to consider is the height. The greater the dispersion of light, the higher the light source. This is fantastic for ambient lighting, but not so much for task lighting, where you want the light to be closer and more focused while still being out of the way, so you don't bump your head when sitting next to it. Lamps that offer height flexibility make up both reading and work partner as you can disperse or concentrate the light by adjusting the height a bit.
Why You Should Choose the Brightech Swoop Floor Lamp
For people who love a black and gold floor lamp, the Brightech Swoop floor lamp provides just the right amount of blend for that. The tall neck has a bend in the upper region, so the light is centered for maximum visibility. A great reason to choose this product is the flexibility that allows you both to move the lampshade around 180 degrees and adjust the lamp height so it can match you on the floor and a tall reading chair. The LED bulb offers a great wattage without putting any substantial load on your electricity bill. Part of the reason Brightech takes pride in manufacturing the best black floor lamps for living room. The Brightech Swoop floor lamp is also very cost-effective and demands less than the lamps of similar perks and design. This option is a win-win because it is both cost-saving and safe for the work and reading time.