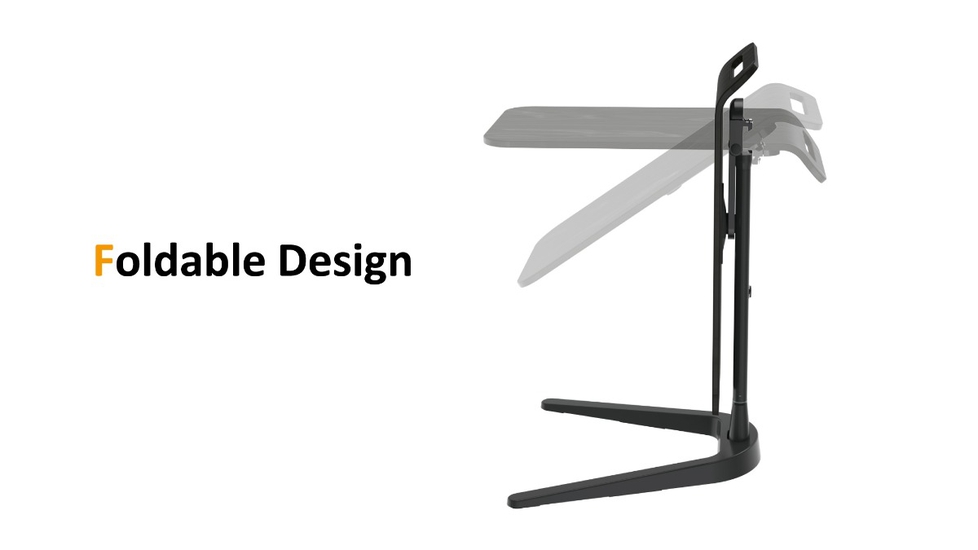 Modernsolid Folding End Table: Height-Adjustable
101 reviews
Visit our store
Notify me when this item is available
Enter your email below. We'll let you know when it's back in stock.
Bought by 200+ Microsoft employees.
Sold and shipped by Modernsolid
• Slim and modern design • Height adjustable from 21" - 27.5" • 360° rotatable tabletop • Loading up to 11 lbs • Foldable tabletop with built-in handle for effortless redecorating
• 2-year warranty
Height adjustable folding end table that's made of aluminum alloy frame and wood desktop.
Deep dive into specs
Features
FAQs
Specs
reviews
4.8
About Modernsolid
For almost 30 years, Taiwanese firm Modernsolid has been developing and producing ergonomic solutions for offices, hospitals, schools, and other public institutions. They set themselves apart from competitors by providing first-rate products, production, and support to customers. Creating medical and office furnishings with a focus on ergonomics is where Modernsolid excels. They've improved their production methods and introduced new products to their lineup. The firm places a premium on sustainability; thus it makes every effort to lessen its carbon footprint throughout manufacturing. Ninety-five percent of their goods are recyclable, and some are even manufactured entirely from waste items. In order to maintain its position as a forerunner in Taiwanese know-how, reliability, and industrial ingenuity, Modernsolid places a premium on such core principles as quality, competence, honesty, and innovation. In addition to providing industrial production and high flexibility, they also build customer-specific solutions for unique project needs.
Modernsolid Adjustable Folding Desk - Height Adjustable End Table
One of their innovative products is the small adjustable desk, FT-101 adjustable folding desk. The hardwood and aluminum alloy used in its construction provide this end table desk with a long life and a strong foundation. The desk's 11-pound weight capacity makes it ideal for use with notebook computers, tablets, and similar devices. The base of the foldable desk has a range of motion of around 2 inches, allowing you to adjust the height of the workspace to suit your needs and improve ergonomics. The top of the table can be turned through a full circle, giving you complete control over the orientation of your desk. The tabletop can be folded to a 90-degree angle for simple storage when not in use. The compact 555mm by 310mm tabletop is ideal for homes, dormitories, and workplaces with little floor space. While not in use as a desk, it may serve as an end table or side table desk, making it a useful addition to any space. Looking for an adjustable folding desk that is both versatile and space-saving? Look no further than foldable end tables and height adjustable end tables. These modern designs offer practicality and convenience, particularly in smaller spaces like apartments and home offices. And for those with even less room to work with, corner desks for small spaces are the perfect solution. The height adjustable folding end table is a game-changer for those seeking versatility and convenience in their workspace. This compact yet functional furniture combines the best of both worlds: a foldable desk that can be easily stored away when not in use and a small computer desk that can be adjusted to suit your comfort level. With its small adjustable design, this table is perfect for those with limited space who still want to work comfortably. Whether you are typing away on your laptop or sketching your next masterpiece, this height adjustable folding end table is a must-have for any modern workspace.
Frequently Asked Questions
What are the benefits of using a height adjustable folding end table?
A height adjustable folding end table is a space-saving and versatile piece of furniture that combines the functionality of a foldable desk with the comfort of a small computer desk. It is perfect for those with limited space who still want to work comfortably. The adjustable folding desk can be easily stored away when unused, and the height can be adjusted to suit your comfort level.
Is the Modernsolid adjustable folding deske easy to assemble?
Yes, the Modernsolid Folding End Table is incredibly easy to assemble, and it comes with clear instructions and all the necessary hardware so you can set it up in minutes.
Can the Modernsolid Folding End Table support a heavy computer?
As the Modernsolid Folding End Table is capable of supporting up to 11 pounds, it is an excellent choice for use while working with laptops, tablets, or any other similar devices. Therefore, bigger, heavier computers may not be a good fit.
Upgrade your workspace with a Modernsolid Folding End Table
Modernsolid's Folding End Table is durable and versatile for anyone needing a workspace solution that doesn't take up much space. You can also use it as a side table desk. When not used as a workspace, foldable desk can be used as a decorative table for your living room, bedroom, or hallway. Overall, the Modernsolid adjustable folding desk is an excellent workspace solution that offers convenience and comfort. Its unique design and adjustable features make it the best adjustable folding desk of the year. Whether you're a student, freelancer, or someone who works from home, this desk will meet all your workspace needs.