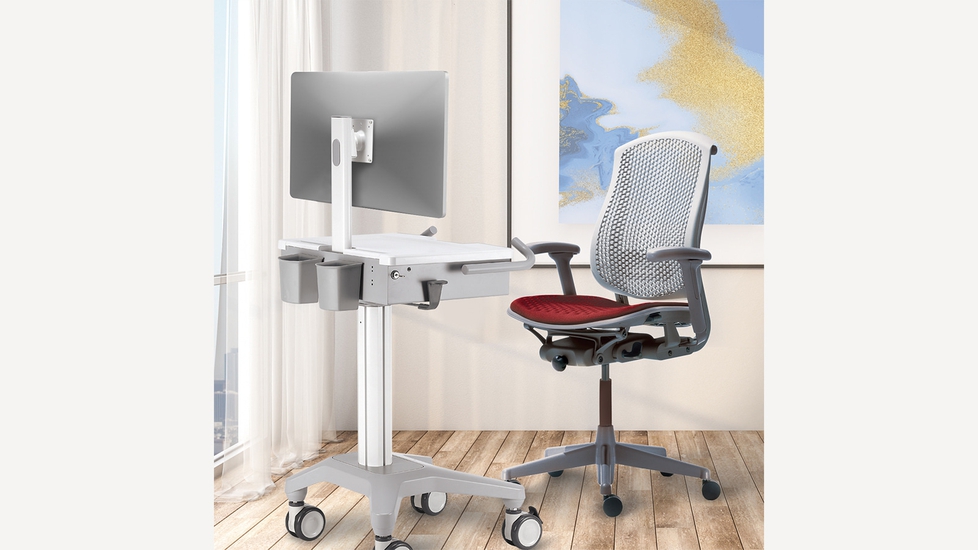 Modernsolid Rolling Computer Cart: Height Adjustable
Modernsolid Rolling Computer Cart: Height Adjustable
Notify me when this item is available
Enter your email below. We'll let you know when it's back in stock.
Sold and shipped by Modernsolid
• Height adjustable • Burglarproof design • Extra storage baskets • Slide in & out keyboard tray • Support handle for moving 2 castors with brakes
• 3-year warranty
Height adjustable rolling computer cart with sliding keyboard mouse tray. Perfect for sit stand worksation.
Deep dive into specs
Modernsolid Mobile Computer Cart - Change The Way Your Workspace Looks
With the massive rise in people who work from home; everyone's been looking for a new work setup. But due to the vast amounts of tech, make-up, books, and other tools we have to store with ever-thinner budgets, most of us will probably have difficulty figuring out the proper work setup. That is unless you look into the world of mobile computer carts.
What is a Mobile Computer Cart?
If you grew up in a house with a dedicated computer room, you are probably familiar with what we are talking about. A mobile computer cart, or a wheeled computer cart, is basically a dedicated stand/table for your digital working needs, only put on wheels and turned small for optimal space management. And while those things went out of fashion as our computers got smaller, they have made a comeback as an affordable, stylish, and very productive addition to many home workstations.
Why Should You Care about Computer Rolling Cart?
Mobility: A mobile computer cart allows you to move your computer workstation from one location to another easily, without having to unplug and replug in all your equipment. This can be particularly useful in healthcare settings, where medical professionals may need to bring their computer workstation to different patient rooms. Rolling computer stands are built to be truly mobile, meaning that instead of just being moveable within a room, you can bring them between office spaces, separate studios, and even outdoors for when you want to work or record in the sun. Instead of having to carry a whole mess of cables every time you have to take a zoom call in another room, with rolling computer stands, you can take your entire setup, charger, disks, cameras, and all, in one piece to wherever you need it.
Ergonomics: A wheeled computer stand can be adjusted to the height and angle that is most comfortable for the user, helping to prevent strain and injury caused by poor posture or awkward positioning. This can be especially important for people who spend long hours working on a computer.
Storage: Many computer cart desks come equipped with drawers, shelves, and cabinets that provide additional storage space for peripherals, documents, and other items. This can help keep your workspace organized and free of clutter.
Accessibility & Flexibility: For individuals with mobility or accessibility issues, a mobile computer cart can make it easier to access the computer workstation, as it can be brought to the user rather than the other way around. A computer rolling cart can be used in a variety of settings, from healthcare facilities to schools to industrial workplaces. Its versatility makes it a valuable tool for many different types of users.
Modernsolid Mobile Computer Cart - A Valuable Tool for Anyone
Healthcare: In hospitals and clinics, medical professionals can use computer cart desks to bring their computer workstations to patient rooms or other locations where they need to access patient information or electronic medical records.
Education: In schools and universities, wheeled computer stands can be used to provide a portable computer lab, allowing students to work on projects or complete assignments in different locations around the campus.
Home & Business: In offices and workplaces, mobile computer carts can be used as a portable workstation for employees who need to move around the workspace, or for temporary workstations for contractors or visitors. In home offices or personal spaces, a wheeled computer cart can provide a flexible and adjustable workstation that can be moved around the room as needed, allowing you to work comfortably and efficiently.
Manufacturing: In industrial settings, rolling computer stands can be used to provide computer workstations for workers who need to move around the factory floor, allowing them to access production data or communicate with other team members.
Get Your Very Own Mobile Computer Cart Today!
Investing in a mobile computer cart can be a smart decision for anyone who uses a computer regularly. Whether you're a healthcare professional, a student, or someone who works from home, a computer rolling cart can provide a range of benefits that make your work easier and more efficient. With its mobility, adjustable ergonomics, and built-in storage, a mobile computer cart allows you to work comfortably and efficiently, no matter where you are. Plus, its accessibility and flexibility make it a great option for people with different needs and work environments. By investing in a computer cart desk, you can improve your productivity, reduce strain and discomfort, and streamline your workflow, making your work easier and more enjoyable.