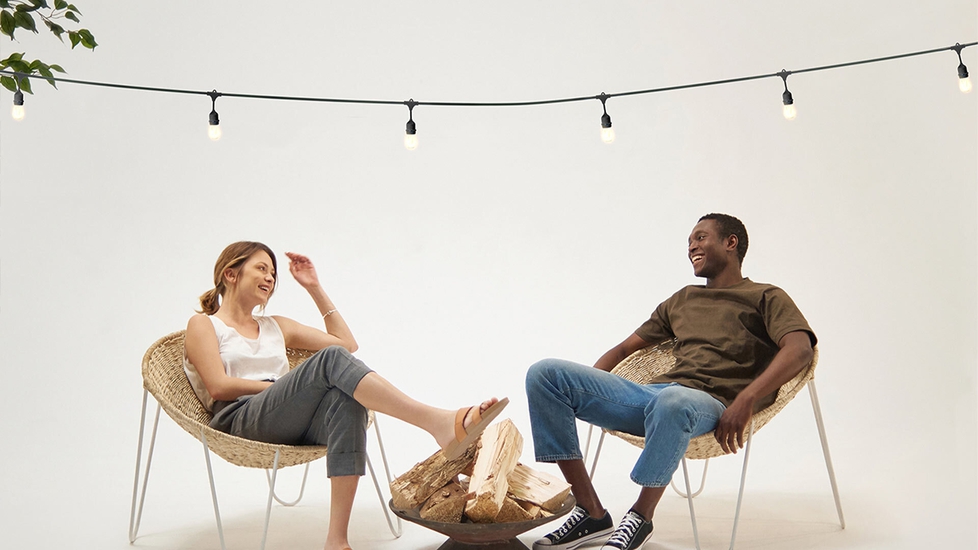 Brightech Solar Hanging Lights
Notify me when this item is available
Enter your email below. We'll let you know when it's back in stock.
Bought by 1 Parsec Media employee
Sold and shipped by Brightech.
Coupon
T&C
This limited coupon is valid for a single purchase of the specified product only and will expire once the maximum number of redemptions has been reached. By using the coupon, you have agreed to these terms and conditions.
Brightech Solar Hanging Lights at a glance.
With a vintage design resembling exposed filament bulbs, this solar powered light string gives a warm, inviting glow to any outdoor space.
• Energy efficient LED bulb
• Shatterproof plastic
• Color temperature of 3000k
• 576'' long with 15 bulbs
• 2-year warranty
Deep dive into specs
Convenient, sophisticated outdoor lighting
Install Brightech's solar powered lights as decorations or a canopy, and give any outdoor space a festive, warm Christmas glow.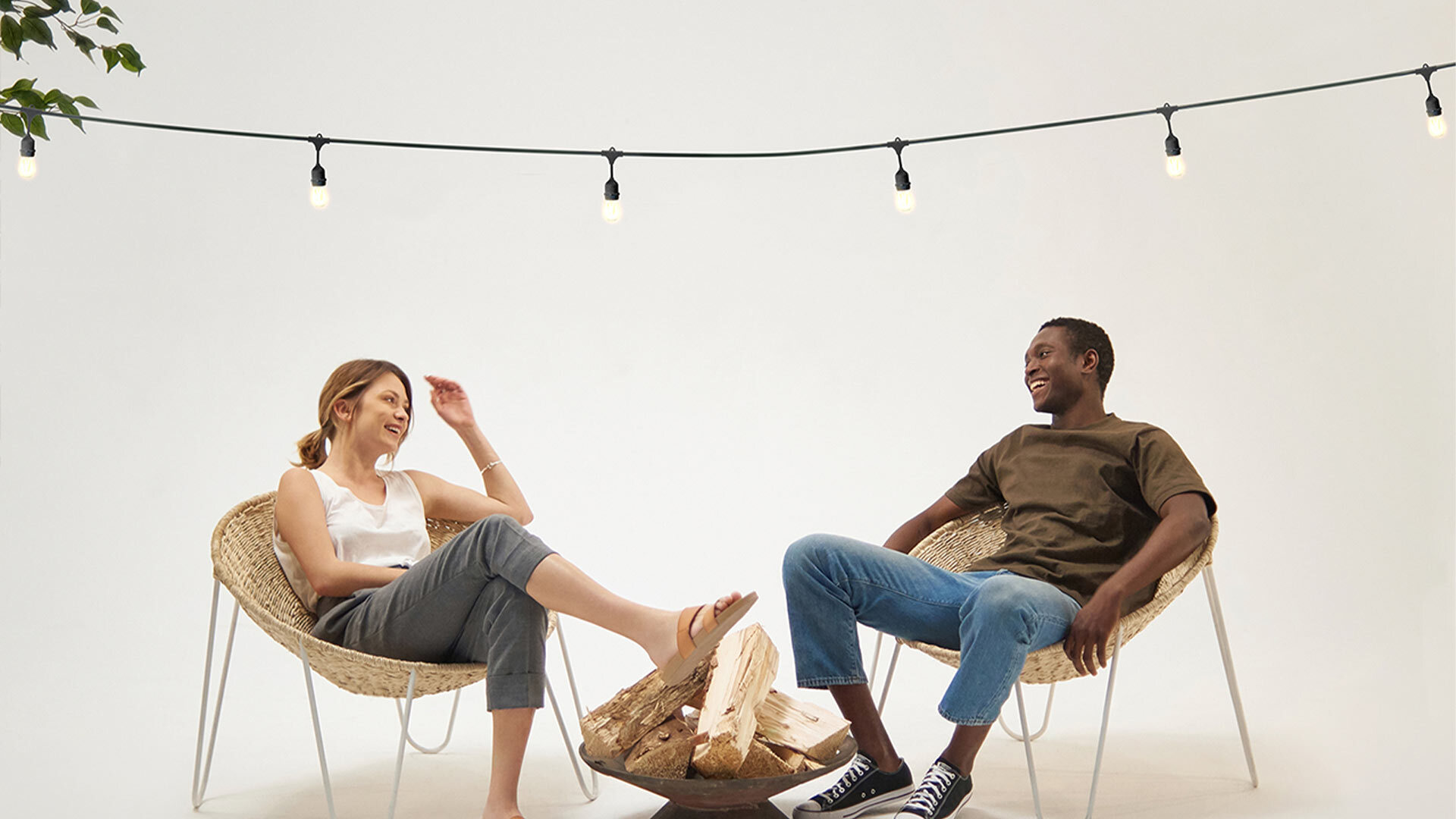 EDISON-STYLE BULB
Vintage elegance
These vintage Edison style bulb string lights give off a warm, nostalgic glow. They're bright enough to allow ambient light without being overpowering.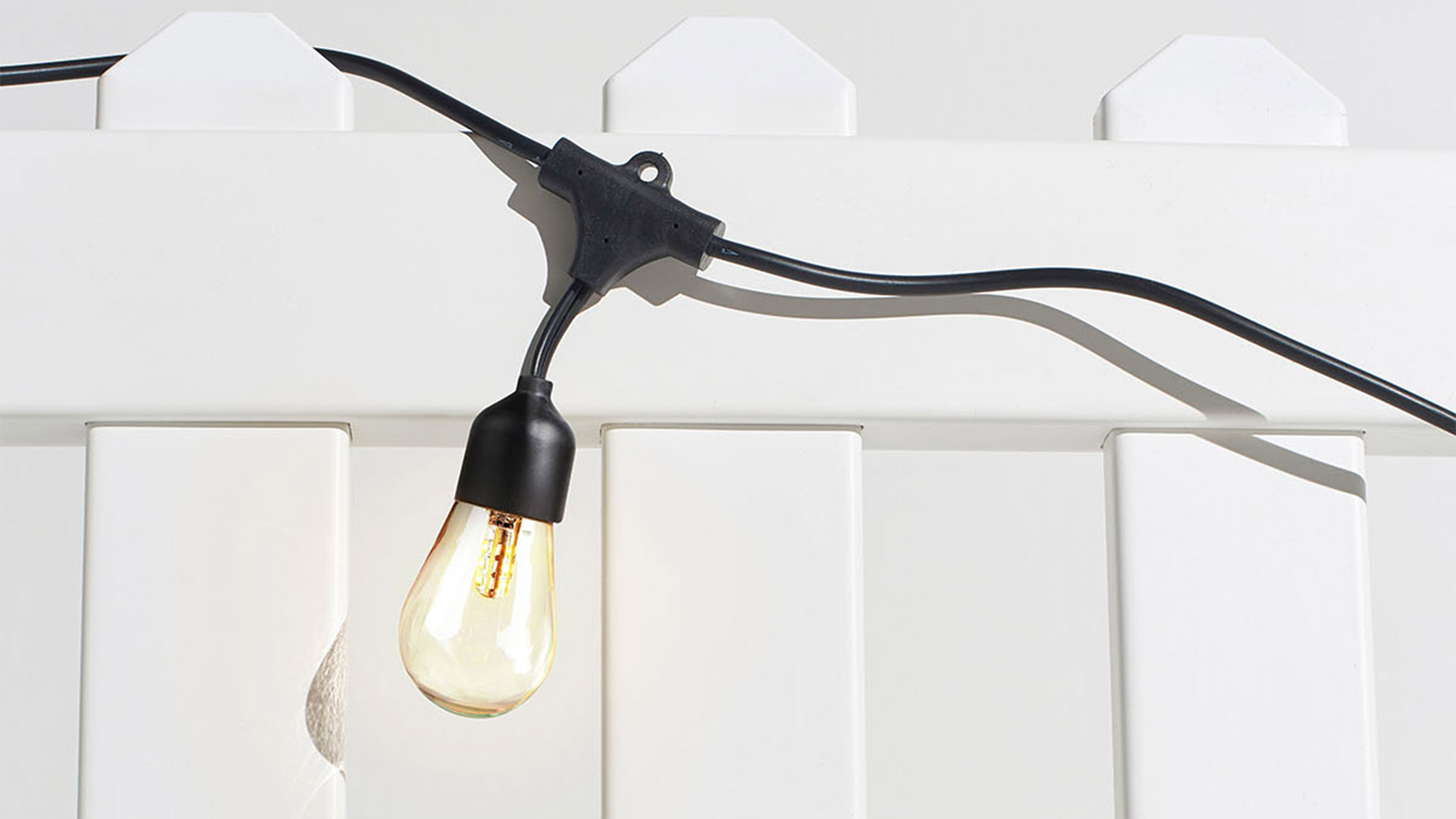 ALL-WEATHER LIGHTS
Withstand outdoor conditions
These lights are waterproof and have withstood winds blowing at 50 MPH thanks to advanced WeatherTite technology, shatterproof plastic, and heat resistance up to 122°F.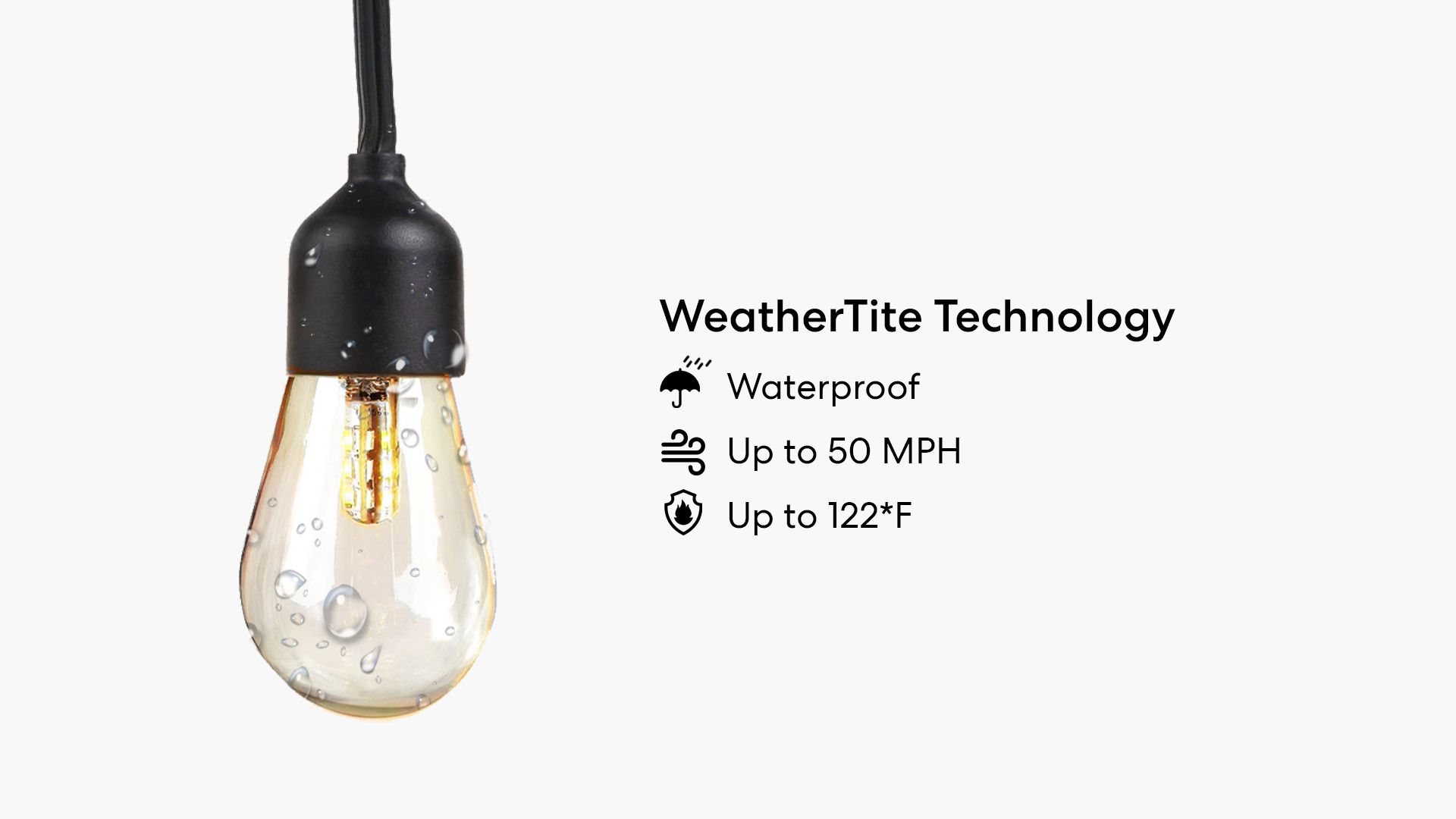 LONG-TERM USE
Lasts for years
These LED bulbs last approximately 20,000 hours and the solar panel is rated to last a lifespan of 1,000 charges (approximately 2.5 years).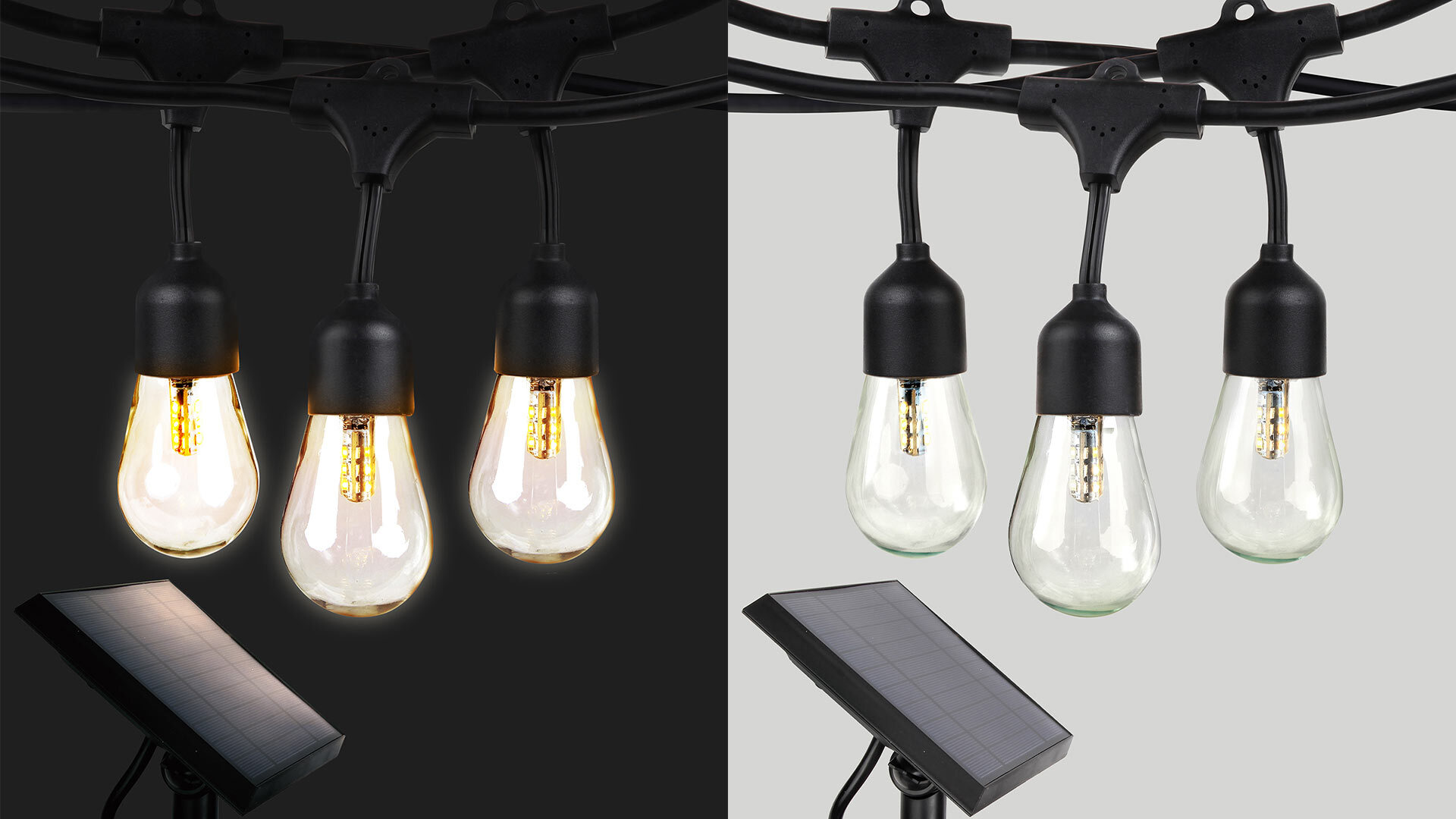 DECORATE IT YOUR WAY
Any space, any occasion
Place the solar panel almost anywhere—solar string lights don't need an outlet. Perfect for wedding receptions, Christmas parties, birthday parties, or barbecues!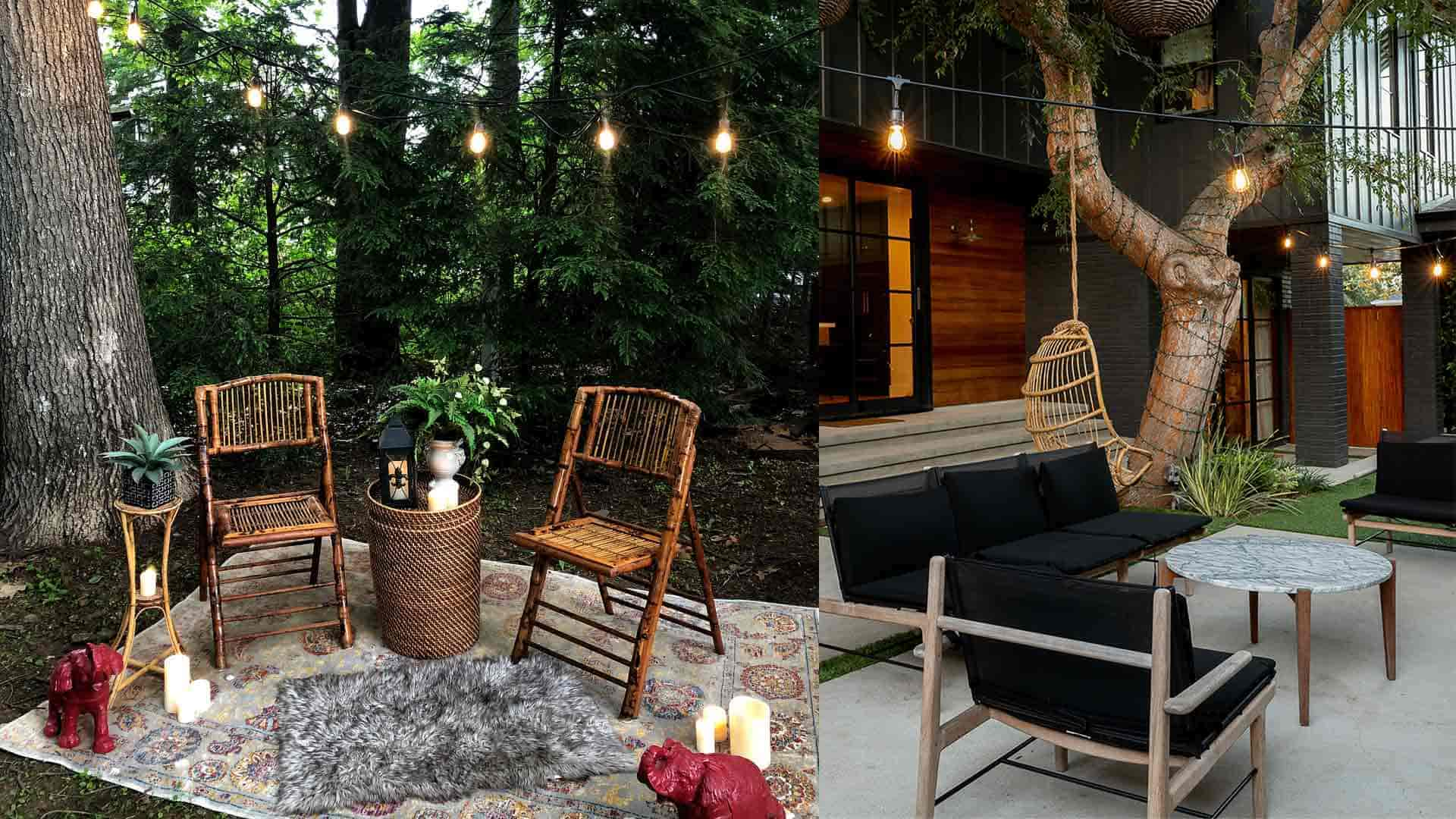 Brightech Ambience Pro Solar Hanging – Outdoor Solar Light Strings
If you're looking for outdoor solar light strings for your office pod or any other space around your house, one of the best options you have is the Brightech Ambience Pro Solar Hanging. Besides being stylish, these LED string solar lights will turn any room into an inviting space where you can feel at home. Perhaps these outdoor solar LED string lights are what your room needs to be complete. However, these string lights are certainly not your regular lighting solution. They come with a few surprises that make them appropriate for diverse spaces and occasions.
What are outdoor solar light strings?
LED string solar lights are an illumination solution meant for exterior spaces. However, they can also be used in enclosed spaces, like a garden office pod, if you have enough creativity. The "solar" word in their name refers to solar energy usage to function. Thus, it can be a cost-effective lighting solution for any person. Furthermore, considering that LED lights can last for more than six years and they cannot be damaged so easily compared to incandescent light bulbs, these Brightech Ambience Pro Solar Hanging can be the perfect illumination source for any outdoor space or wood pod. Outdoor solar light strings have always been popular. Besides being an excellent illumination source, they can also serve as another piece of decoration in that specific space. It's easy to make them blend in with the rest of the room.
Brightech Ambience Pro Solar Outdoor String Lights
If you want outdoor solar light strings, the Brightech Ambience Pro Solar Hanging is what you need. These Solar Hanging Lights by Brightech were designed in a vintage style. This fact makes it easier for you to place them in the space of your preference without disturbing the atmosphere of such a room. Thanks to them, you can create welcoming spaces where you can feel more comfortable regardless of what you're doing. However, what do these outdoor solar lights compile that makes them so special? Let's explore the different elements that make the Brightech solar string lights so popular in today's market.
Setup & Design: Placing the solar panel is key: As mentioned, the Brightech Ambience Pro Solar String Lights needs solar energy to function. Thus, the first step after installing them in your room is to place the solar panel in a strategic place where it can receive enough solar power to function correctly. Don't worry. The solar panel will blend in with the rest of the room easily – you can think of it as another piece of decoration. Attractive bulbs, simple wiring and housing: These LED string solar lights were designed in a vintage style. It combines pretty much with any room décor, making it easier for you to set up your room. This product contains 15 light bulbs and is 576" long. Thus, you have plenty of space to cover, allowing you to illuminate the whole room without leaving unattended places. Furthermore, the light bulbs have a color temperature of 3000k, making them perfect for pretty much any occasion you can think of. It's the right lighting solution for any space.
Performance: Hands-off operation but still subject to sunlight: Brightech Ambience Pro Solar Hanging needs sunlight to function. The included solar panel will transform the sunlight into an electric current via an electric inverter. Outdoor solar light strings are an eco-friendly alternative to incandescent bulbs. Besides not depending on power sources, they consume less energy and illuminate even more. It's also worth noting that these outdoor solar LED string lights are extremely easy to set up and use. You can easily change it from a place to another without putting in too much effort. Furthermore, they have a longer lifespan than regular light bulbs and are extremely resistant to damage, be it misuse or harsh weather conditions.
About Brightech
Brightech is a company dedicated to the creation of designer lighting at accessible prices. All the products offered by Brightech have premium quality. They were one of the first companies to bring USB and wireless charging to lamps and pioneers in the solar string lights market. More than one million customers trust Brightech to provide them with lighting solutions for their spaces. This company focuses on functionality and style, allowing you to keep your rooms appropriately illuminated without compromising the layout.
FAQs
Don't see the answer to your question?