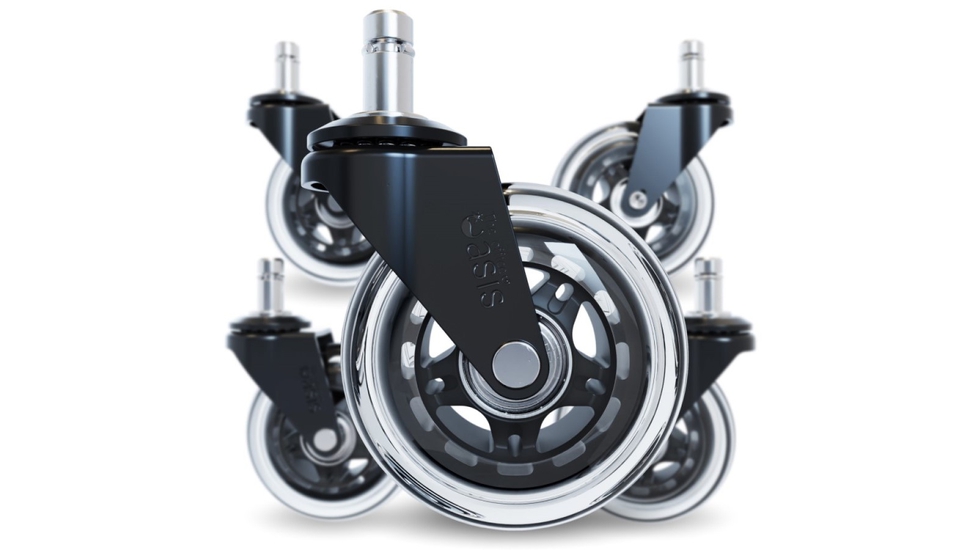 The Office Oasis Office Chair Wheels for Hardwood Floors (Set of 5)
262 reviews
Visit our store
Buy now
Add to cart
FREE shipping Dec 04 - Dec 06. FREE 30-day returns.
Sold and shipped by The Office Oasis
• Guaranteed Safe for All Floors Including Hardwood • The Original Rollerblade Chair Wheels • Quick and Easy Installation • Supports up to 650 LBS (as a set of 5) • Lifetime Guarantee
• 5-year warranty
Office chair wheels that are so smooth your floors will thank you. Bring old chairs to life with these high-quality sleek wheels. Safe for hardwood.
Deep dive into specs
Features
FAQs
Specs
reviews
5.0
About The Office Oasis Rollerblade Office Chair Wheels - Roller Chair Wheels
Rollerblade office chair wheels help employees be more relaxed and effective during work. Additionally, you can be certain that these chairs will guard your flooring against any dents and scratches. Due to their versatility, these mats may be used on a range of flooring types and surfaces. While selecting a chair, rollerblade office chair wheels provide easy and smooth movement. Therefore, you won't be as bothered or annoyed by cheap metal or plastic desk chair wheels that stick or squeak. Wheeled office chairs help break up the monotony of sitting on the floor of the office. Choose office chairs with rubber wheels as an ergonomic chair which are some of the most durable ones available, to get the most for your money. Polyurethane, precise ball bearings, and premium steel are often used in the production of these chairs to ensure their long-term durability. The chairs may be used in cubicles, executive offices, lobby areas, and conference rooms. These heavy-duty chair casters have a sturdy construction that allows them to move quietly and smoothly while supporting large loads. Get the office oasis rollerblade office chair wheels if you anticipate moving your chair around with a lot at work. Consider your company's flooring when you choose an office chair with roller chair wheels. For hard floors like tile or wood, nylon casters could be helpful; for carpeted floors, urethane casters might be. The Office Oasis was the first to offer office chair rollerblade casters in 2016. We are constantly enhancing and changing this cutting-edge device, which was created in the USA.
Absolutely No Damage to Floors - Support 650 Lbs. Or More
Their rollerblade casters are delicate enough to use on flooring, carpeting, tiles, and more without creating any scratches or markings since they are covered in soft, smooth polyurethane. No chair mat is required! The support brackets of these rollerblade caster wheels, which are made of premium steel and come in sets of 5, are quite durable and can hold up to 650 lbs.
Roller Chair Wheels: Simple and Quick Installation with A Lifetime Warranty
None are required! The majority of work chairs and stools may be equipped with new wheels that are universal standard size. Simply remove your old wheels and replace them with these rollerblade caster wheels. fits with brands like Hon, Herman Miller Aeron, and several more. If these chair wheels aren't your favorite, smoothest, and quietest ones that you've ever had, you may return them for a complete refund. Just a timely and polite return, no questions asked.
Advantages of Office Chairs with Rollerblade Office Chair Wheels
Roller Chair Wheels Improve Performance
Top office chair wheels for hardwood floors are often ergonomically created to boost worker comfort and efficiency. Additional features include a wide range of customization options and cutting-edge tilt tension mechanisms. A wide range of customizable options and sophisticated tilt tension mechanisms allow you to change your support and resistance. These traits of an ergonomic computer chair help you maintain focus and productivity for a lengthy period of time at work.
The Work with Wind
The best option for the best outcomes is ergonomic office chair wheels for hardwood floors. If you're looking for a chair that will meet all of your demands and last for many years, you've found it. Purchase a chair with sturdy chair casters.
Higher Productivity
To meet the demands of its customers, the majority of desk chair caster wheels are produced utilizing cutting-edge technology. The ergonomically designed from The Office Oasis has a cutting-edge design that lets you adjust your desk chair at home or in the office to suit your individual requirements and physical structure.
Joyful
Your mind and body will benefit from rubber office desk chair wheels for hardwood floors, which will also make you joyful. By switching to an ergonomic office chair with roller chair wheels, you might lessen back discomfort and increase productivity.