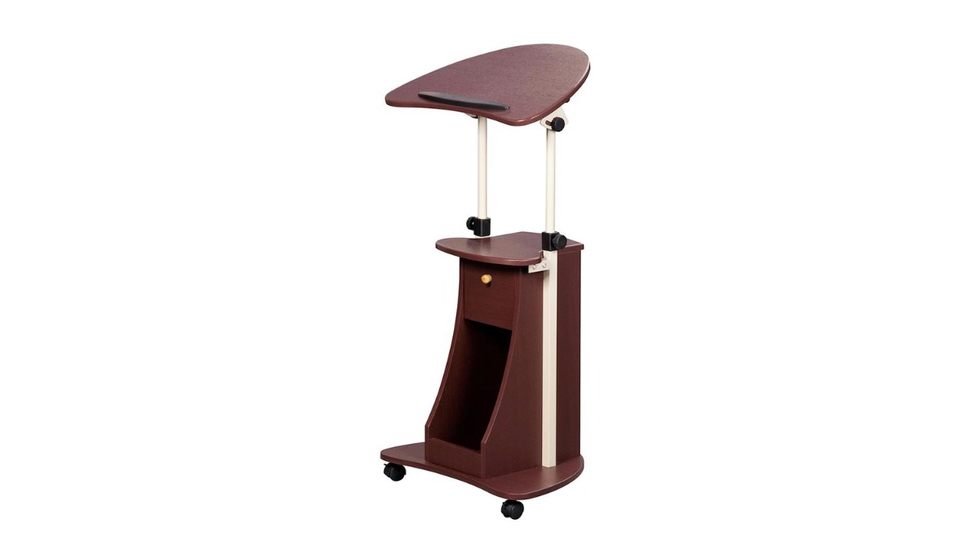 Trio Supply House Rolling Adjustable Laptop Cart With Storage
Deluxe Rolling Laptop Cart with Storage saves space while providing the laptop or writing setup you need. The table panel tilts so you can adjust it to the most ergonomic, comfortable working angle. I
Color: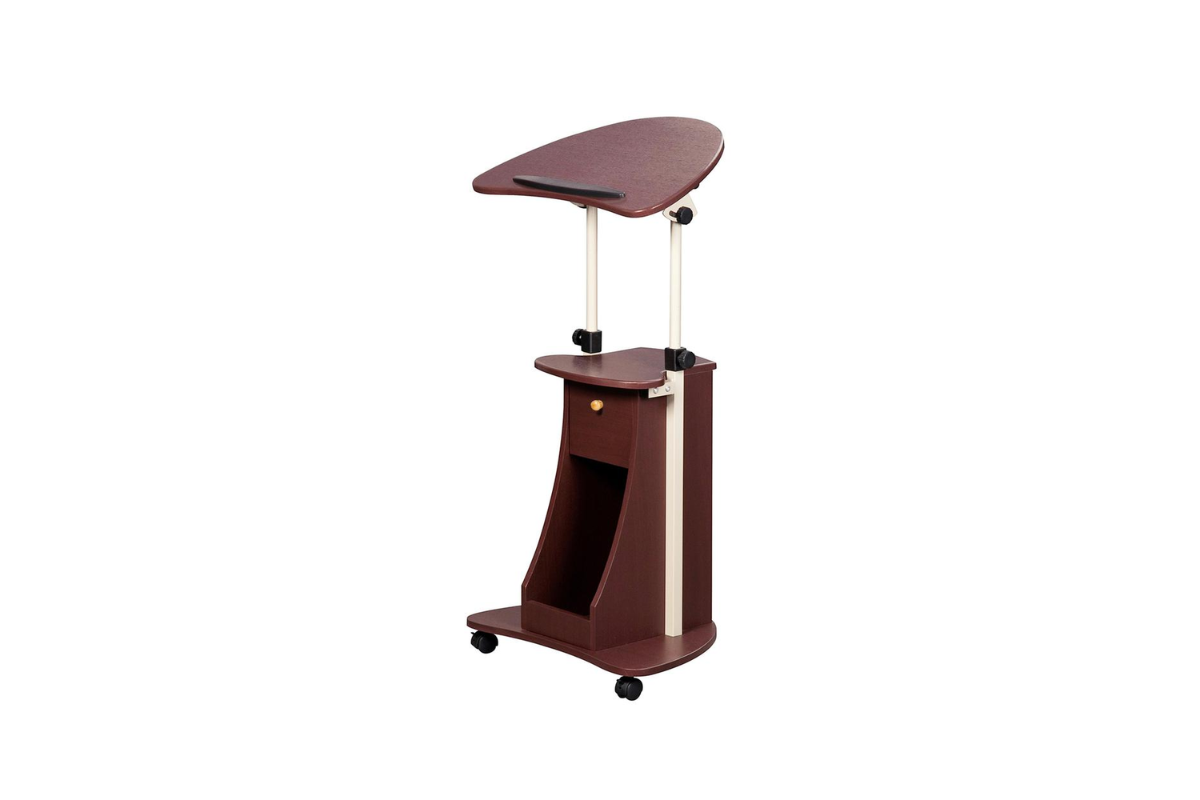 Not available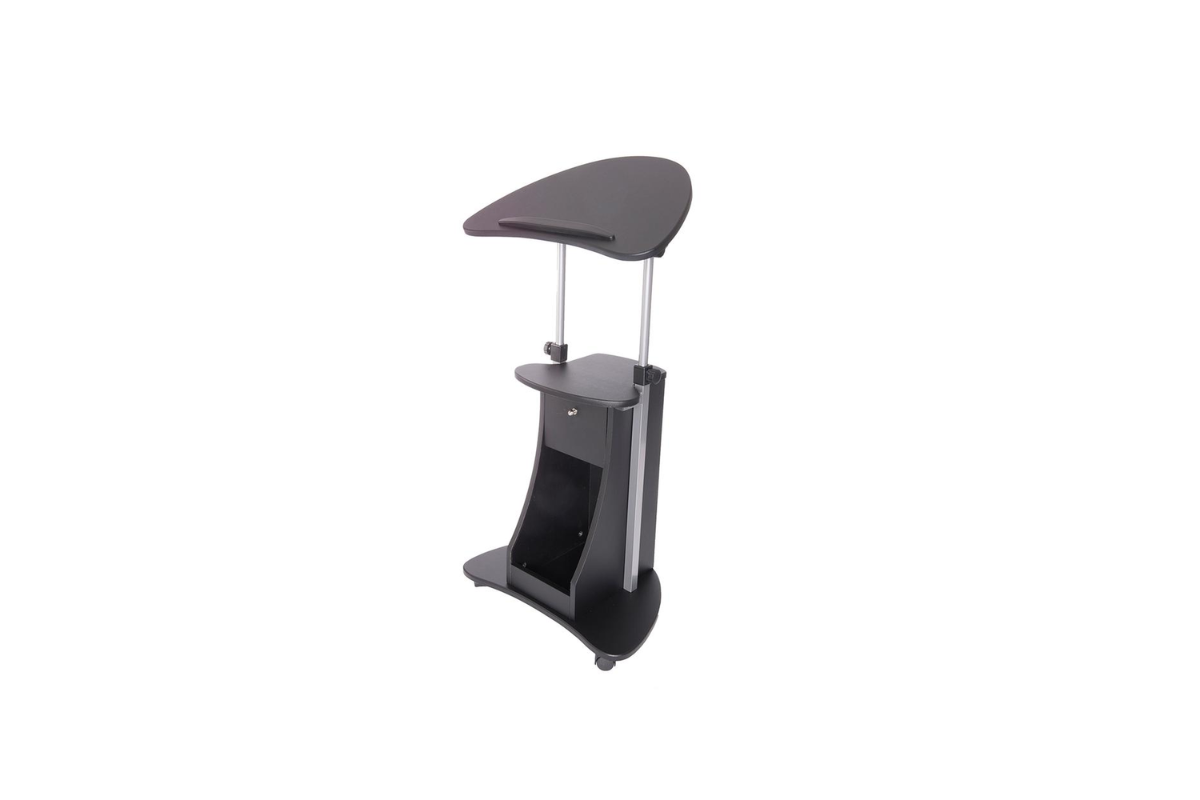 Not available
Buy now
Add to cart
FREE shipping Dec 04 - Dec 06. FREE 30-day returns.
Sold and shipped by Trio Supply House
• Open Storage Compartment and a Closed Storage Compartment with bottom hinges • Tilt and Adjustable Table Panel featuring a safety edge-stopper and Adjustable Table Height Between 30.75 and 45.5 inches with dual knobs • 2 of 4 Casters has Locking Mechanism • Ships in 1 box
• 1-month warranty
Deluxe Rolling Laptop Cart with Storage saves space while providing the laptop or writing setup you need. The table panel tilts so you can adjust it to the most ergonomic, comfortable working angle. It also features a safety edge-stopper to prevent objects from sliding off when tilted. You can easily adjust the table height between 32 and 44 inches with dual adjustment knobs. There is an open storage compartment and a closed storage compartment with bottom hinges. Two of the fours non-marking nylon casters include locking mechanisms. The table and closed storage top and bottom shelves each have a 20lbs weight capacity and the base of the cart has a 30lbs weight capacity and is made of MDF panels with a moisture laminate veneer atop scratch-resistant powder-coated steel frame.
Deep dive into specs
The Incredibly Productive World of Trio Supply House Rolling Laptop Cart
Let's face it, in today's day and age, we spend more time on our laptops than talking to people in real life. And whether you're an engineer, a content creator, an accountant, or just a regular office worker, we all know the pain of having to organize and reorganize all our things repeatedly when we have to change spaces. In fact, that problem has only gotten worse as people have started working from home. Instead of managing work between offices, now they have to manage to work in a home office, watch movies with their loved ones, or just read some emails in the comfort of their bedroom, all while using the same gadgets. This is actually why rolling laptop carts are making a comeback.
What Exactly is a Rolling Laptop Cart
A rolling laptop cart is a mobile desk designed to hold and transport a laptop computer. It is often used in home or office settings to provide a flexible workspace that can be moved from one location to another with ease. The rolling adjustable laptop cart typically has a base with casters or wheels that allow it to roll smoothly over a variety of surfaces, as well as a height-adjustable platform or tray that can accommodate laptops of different sizes. This adjustable laptop cart also have additional features such as storage compartments, mouse pads, and adjustable angles for the laptop tray to provide ergonomic comfort during use.
Why Rolling Laptop Carts are so Useful?
First, these things are purpose-built for our daily lives. That means that not only do they come with all the modern bells and whistles you can think of. If you have a dynamic lifestyle where you spend time working on desks, studios, or sofas, for different things, you can get your very own rolling adjustable laptop cart. Suppose you need to minimize the space used by them, for example. In that case, if you live in a particularly small apartment, you can even opt a rolling laptop cart as a corner desk for small spaces. And if you're really fancy, you can even get a custom, modern, high-tech rolling laptop desk with storage. While most furniture purchases are big decisions that will last with you for a lifetime, things like the rolling laptop cart are not only far too affordable to be considered a huge investment, the value that they offer comes in such small a package that you don't even have to worry about having to get rid of any old furniture. The value provided by such adjustable laptop carts affects everything, from the amount of clutter in your bags and rooms to the amount of time you waste fiddling with setting up every time you change a space; hell, they might even save you money by allowing you to use the same items in every room and workplace without losing them or buying spares.
Home office
A rolling laptop cart with storage can provide a flexible workspace in a home office. It can be easily moved around the room or to different rooms in the house, allowing you to work wherever you prefer.
Classroom
An rolling adjustable laptop cart can be used in a classroom to provide a mobile workstation for teachers or students. A rolling laptop cart with storage can be used to hold and transport laptops, tablets, or other electronic devices.
Hospital
A rolling laptop desk with storage can be used in a hospital to provide a mobile workstation for doctors and nurses. It can be used to hold medical records, charts, and other important documents, as well as laptops and other electronic devices.
Trade shows or conventions
A rolling laptop cart can be used at trade shows or conventions to provide a portable workstation for sales representatives or presenters. It can be used to hold laptops, displays, and other materials needed for the event.
Industrial or warehouse settings
An rolling adjustable laptop cart can be used in industrial or warehouse settings to provide a mobile workstation for employees. It can be used to hold laptops, scanners, or other electronic devices needed for inventory management or other tasks.
Stay Productive On-The-Go With Trio Supply House Rolling Laptop Cart
Rolling laptop desk with storage can make your lives so much easier, and enable you to work from anywhere you want, be it the office, or your relaxing spaces. These will certainly benefit you, but even if they can improve some small part of your work life, you should consider a rolling laptop cart with storage an A-plus investment, since that'll add to your productivity immensely.