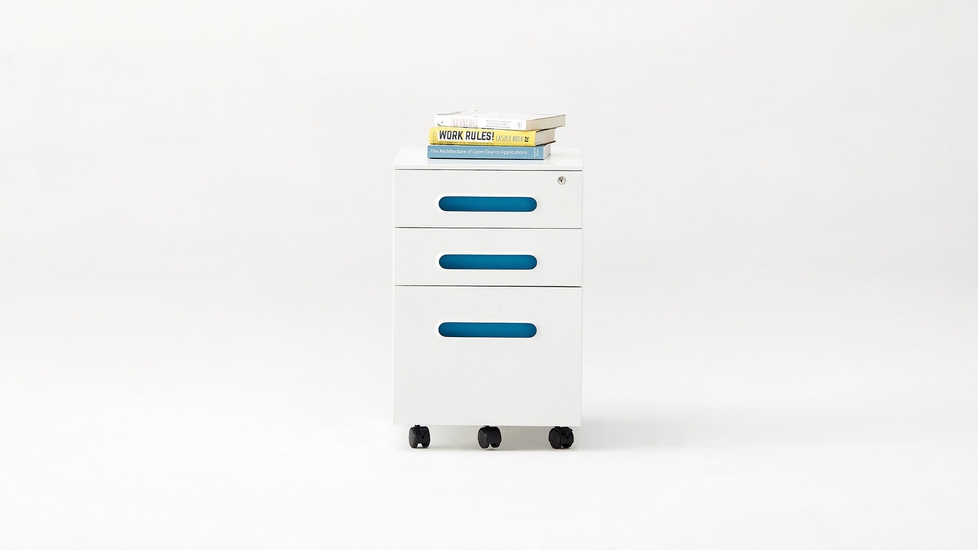 Autonomous Filing Cabinet
48 reviews
For your teamSave up to 

7.5%
Cabinet Color:

Not available

Not available

Not available

Not available
Buy now
Add to cart
FREE shipping Sep 21 - Sep 25. FREE 30-day returns.
Bought by 218+ Pwc employees.
Sold and shipped by Autonomous
Autonomous Filing Cabinet at a glance.
Fits perfectly under your SmartDesk and into your workflow. Roomy drawers for all your gadgets, files and paperwork, with a lock to keep everything safe.
• 3 drawers
• Customizable dividers
• Made from solid steel
• Anti-rust finish
• Lockable drawers and wheels
• Weight capacity of 275 lbs
• 1-year warranty
Deep dive into specs
Features
Specs
FAQs
reviews
4.8
Are you worried about the safety of your important files? Well, check out some filing cabinets. Be it your company office or your home working space; an office is incomplete without a filing cabinet. This office furniture is generally used for storing file folders along with important papers. Every filing cabinet features at least three large drawers. This article talks about vertical light blue filing cabinets and their uses only.
Blue in Office Furniture/Accessories Decoration
Blue is the color of stability. It encourages the innovation power of the employees and keeps their minds calm all through the day. The blue color also represents serenity, productivity, wisdom, and proper health. Also, blue is the color of honesty and truth. If you want to ensure a good psychological balance in your employees, you should use the office color blue on your office walls and furniture. The blue pieces of furniture signify a sense of reliability as well. So, if you keep blue in your home working space, you are bound to see some success in your professional life. The blue color is good for the study room as well. It allows people to concentrate on a particular work. That is why, here, we will talk about blue filing cabinets only.
Benefits of getting a blue filing cabinet
These blue filing cabinets can store a number of files and important papers but do not occupy much ground space. That is why it falls in the category of small storage furniture. They allow you to categorize the files and maintain a specific order by keeping all the documents organized so that you can get your required file just by opening the drawers. As a result, there is no need to spend your valuable time searching for an important file. They diminish the chance of you losing any particular document. It keeps all the necessary files and documents in one place. You can lock it if you have any confidential documents inside. These filing cabinets are generally waterproof and fireproof in nature. As a result, your important documents will remain protected all the time.
Autonomous blue filing cabinet 3 drawer
We think the blue metal filing cabinet can be the right choice for you if you want it for your office space. The light blue filing cabinet can be used in both the home office and kid's room. You can even fit these cabinets under your smart desks. This product features roomy drawers where you can keep all your important office accessories and papers. This comes in only a baby blue color. The Autonomous manufacturers will provide you with two keys for the locks of the filing cabinet.
Features of the Autonomous Blue Filing Cabinet
It features three drawers which are quite spacious and feature separate lock systems with customizable dividers inside. Made with top-quality solid steel, filing cabinets will be kept in mint condition for several years. The steel enhances the durability. It features an anti-rust finishing. This means you can wash its stands with water; there will be no rust. This blue metal filing cabinet features a scratch-free base. There are more than two protective layers on this steel filing cabinet. No scratches last on this filing cabinet. It comes with four wheels. This means you can transport the cabinets between rooms pretty easily. The light blue filing cabinet is apt for outdoor office space as well. It is quite strong, and can keep hundreds of files on top of it. The weight capacity is around 275 pounds but it weighs much less than that - 46 lbs. The filing cabinet is approximately 22 inches in height. The drawers are of different sizes. The lowest one is around 11.4 inches tall, but the topmost drawer features a height of 4.7 inches. You can remove these drawers as well. The steel plates of the blue metal filing cabinet are pretty glossy. Don't worry about assembly at all. It comes in one piece. If you don't like the product after it arrives at your home, you can request for an exchange or return. But, return within 30 days in that case. This blue filing cabinet 3 drawer is a must-have in every office. You can put all the excess things on your tabletop on the blue filing cabinet drawers, keeping the tabletop clean. Not only this, but the drawers allow you to put some extra dividers as well. The filing cabinet helps you in space-saving within a small office room.
Why don't you place an order for it?
We will wrap the cabinet with foam and soft plastic so that it arrives at your doorstep in the best condition. Don't worry about the maintenance of the filing cabinet. Every once in a while, apply some wet cloth on it to wipe the filing cabinet. A filing cabinet is necessary for every office room. These cabinets keep your important document safe and secure. Autonomous light blue filing cabinet is so far the best cabinet with wheels available in the market.