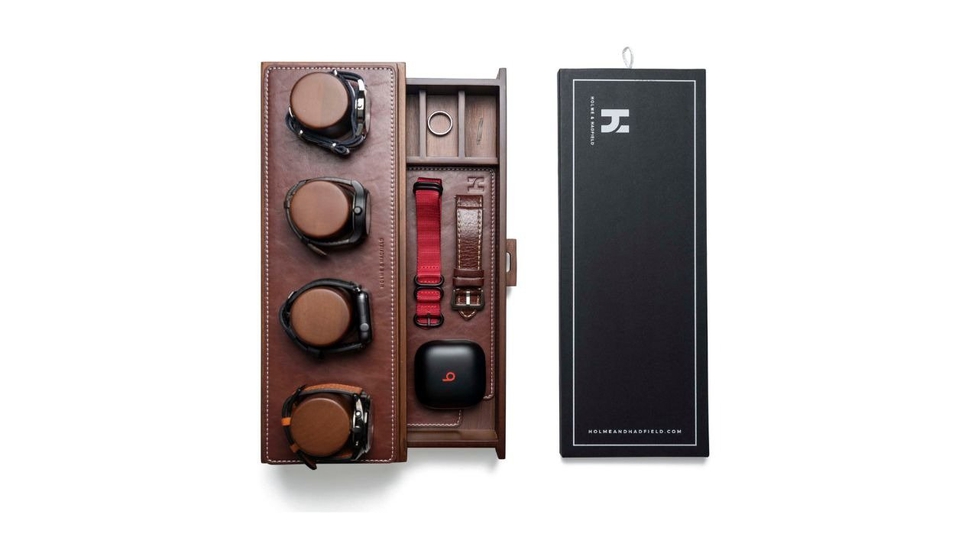 Holme & Hadfield The Watch Deck Leather Padding
Color: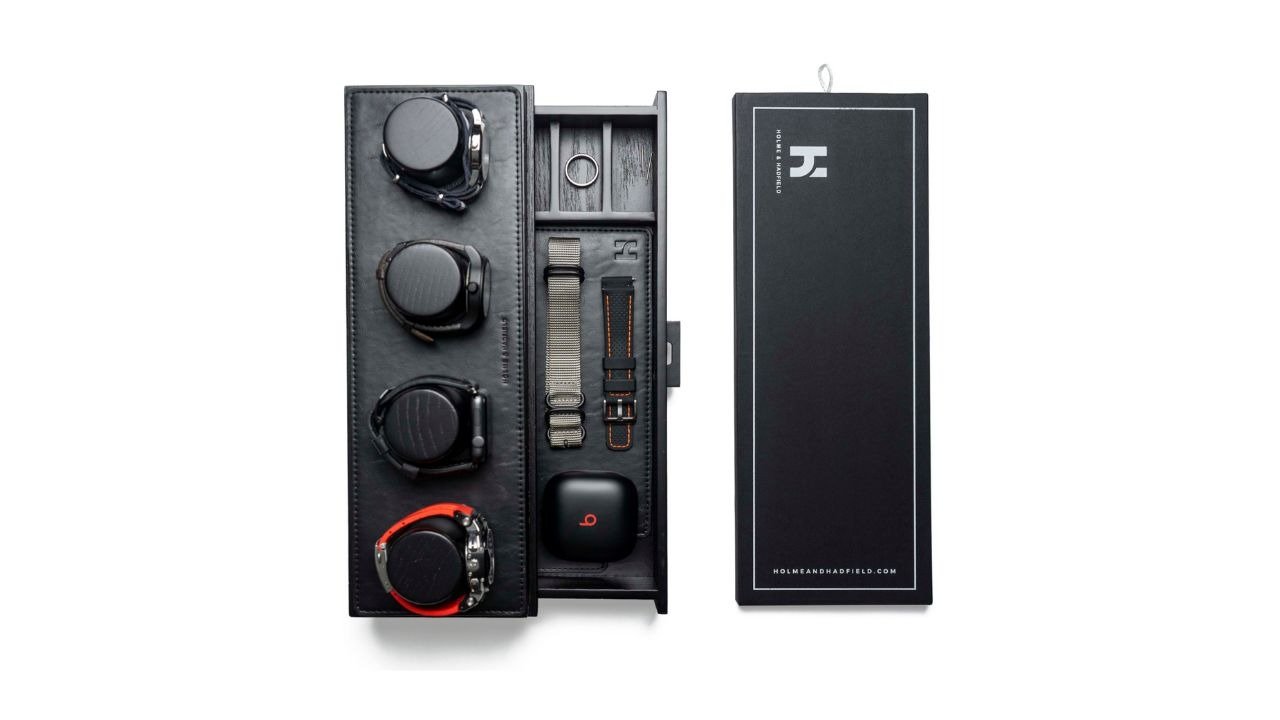 Not available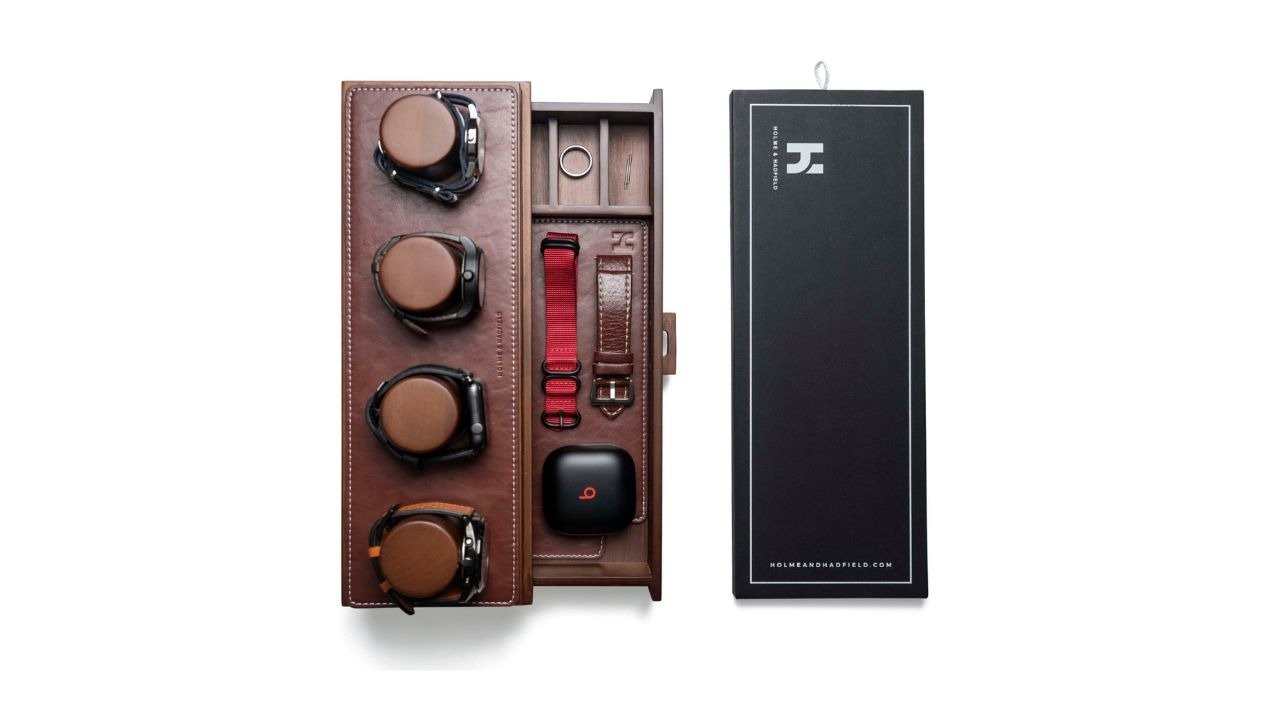 Not available
Notify me when this item is available
Enter your email below. We'll let you know when it's back in stock.
Sold and shipped by Holme & Hadfield

Price Match Guarantee
The Watch Deck Leather Padding - Rustic Brown (Watch Box Not Included)
Deep dive into specs
Everyone who has a passion for unique timepieces knows how important it is to protect his ego. Therefore, choose a location where you can keep your watches in order, but more importantly, where they will be secure. If you own automatic watches, you may keep them in a high-quality watch winder, which automatically meets the power requirements of your timepieces. If you can avoid it, you probably would rather keep your dignity in one neat and secure location. The usage of a fine men's watch jewelry box or another suitable container, like a leather watch case, is recommended. A reliable leather watch case will shield your timepiece from harm, but its quality depends on more than just its construction. A gorgeous watch is more than simply a practical accessory for many watch aficionados and collectors. And Holme & Hadfield are here to rescue you. The outstanding quality of your watch deserves to be shown in a luxurious men's watch jewelry box. Luxury timepieces epitomize excellence in every conceivable way: in terms of design, craftsmanship, and functionality. There are several advantages to utilizing a watch box, even if your high-end watch is a one-of-a-kind showcase item.
About Holme & Hadfield
It is recommended that you check out Holme & Hadfield's offerings while searching for an appropriate men's leather watch box. Holme & Hadfield is a reputable company that makes both watch winders and watch boxes to a high standard. In other words, the brand is well-versed in providing products of the highest quality and finish. Also, by keeping production costs low, Holme & Hadfield can sell both the watch tuners and the watch men's leather watch box at competitive prices. The Holme & Hadfield series proves that you don't have to spend a lot of money to have a high-quality watch box with a sleek design. Elegant and refined, the wood watch boxes will make your timepieces stand out.
Pros of Holme & Hadfield Leather Watch Box
Ergonomics & Sustainability
It's understandable to be concerned that scratches might occur either from the wooden surface or from the timepieces themselves, even if they fit well. The watch straps won't get tangled up since the posts are far enough apart. It is less likely that your watches will be scratched on the Holme & Hadfield watch box because of its smooth surfaces. The dimensions of the Holme and Hadfield watch box's drawer are 12.5" wide by 4.4" long and 1.8" deep. You can carry a standard-sized wallet, a pair of glasses, plus a few smaller objects like a key ring. Rings and money may be stored in the enclosed little slots. The inside space of the "Weekender" and "Daily" variations is obviously smaller. When pulled, the drawer slides smoothly but stops abruptly. Pulling too far or losing the draw while carrying the Deck is not an issue. The wood and leather used were chosen for their aesthetic value, not out of any concern for the future of the planet or of future generations. It's not unexpected, given the men's watch box with the drawer's price tag, that it isn't a product that is in it for the long haul, but you'd think that today's young designers would want to leave a good legacy in more ways than one.
Value & Aesthetics
You can be certain that your watches will be the focal point of any outfit thanks to this simple oak watch box with a transparent acrylic shell. Men's watch box with a drawer also contains a secret storage space for stowing away more items while keeping them close at hand. The price tag is the deciding factor; it's almost scandalous for anything of designer status. This definitely isn't a top concern since, at such a cheap price, it's almost too simple to simply get a new component if the existing one breaks. The Holme & Hadfield The Weekender and its smaller brothers do not seem to have any metal components that are both visible and substantial enough to negatively impact the quality or functionality of the box. There are no moving parts, such as gears or slides, and hence nothing that may get damaged over time. The drawer's simplistic wooden mechanism has its own set of issues.