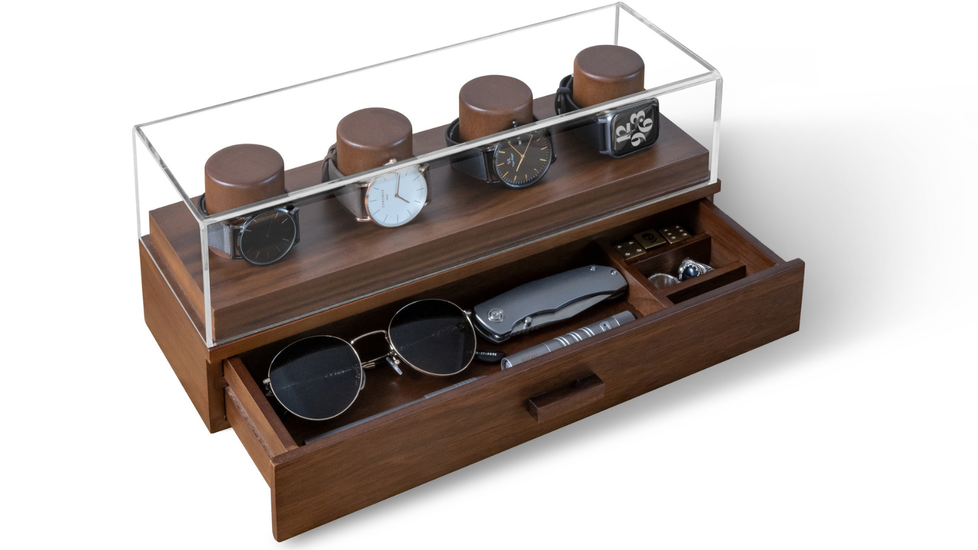 Holme & Hadfield The Watch Deck
FREE shipping Feb 10 - Feb 13. FREE 30-day returns.
Sold and shipped by Holme & Hadfield. Visit our store
• Display your prized watches • Large drawer to hold your accessories • 360 degree view of your watches • Simple everyday use and access to your watches • The perfect gift for any watch lover
Elevate your workspace with the Watch Deck, from Holme & Hadfield. The unique, minimalist design of the Watch Deck will enhance any workspace, creating the perfect environment to work from. This is the only watch organizer that will protect your watches from harmful air particles, while also proudly displaying them.
Deep dive into specs
The watch is one of the few men's accessories that enables him to really stand out. In situations when it is appropriate, like job interviews, for men to wear patterned ties and shirts, it is still advisable to be the most modest in color. As a result, a man's watch is likely to become his most conspicuous accessory in the future. The majority of men, it seems, don't have a special place to keep their watches but instead just throw them in a drawer. We recommend a wood watch case by Holme & Hadfield. A wood watch case for men, such as those made by Holme & Hadfield, is an excellent way to store and flaunt pricey watches. Following are just a few of the many reasons why today's men are more likely to keep their timepieces in purpose-built containers rather than just throwing them in a drawer.
About Holme & Hadfield
Although smartwatches are redefining traditional wristwatches as high-tech but practical objects, there is still a huge audience that sees timepieces as more than simply decorations. A wood watch display case may seem like the height of luxury to some, while to others it may represent the peak of product design. The founding principle of Holme & Hadfield The Weekender was that people should be happy with who they are and confident in their own choices in life. They designed a fantastic drawer-style watch box made of wood to protect your pricey timepieces. Holme & Hadfield's wood watch display case provides a museum-quality exhibit space for your prized watches. When compared to the metal cases of most watches, the hardwood cases of the ones you will be proud to show off will be far more durable and finished to a much higher standard. Although acrylic isn't the most environmentally friendly material, it helps improve the case's use and safety.
Benefits of Holme & Hadfield Wood Watch Box
Aesthetics
Watch enthusiasts and collectors are likely acquainted with the standard watch box. They do a good job of protecting and organizing your timepieces, but they don't do much for your vanity. Additionally, they are typically difficult to use since taking out a watch and replacing the cushion is a two- or three-step operation. The Holme & Hadfield watch box eliminates all of that hassle and allows you to proudly display your timepiece collection while it is not in use. Everything from the box to the holders to the drawer in the leather watch box is made of wood. The manufacturer calls it a "medium-density fiberboard," and claims it will last for decades with normal use and maintenance. Oak, Walnut, and Black, the three possible finishes, all look sophisticated and complement any traditional wristwatch.
Ergonomics
It's easy to see how the Holme and Hadfield watch box's minimalistic aesthetic translates to its ease of use. Removing the acrylic cover exposes the watch face, and that's all there is to it. You may use the drawer in the same way to access your wallet, spectacles, and other small items. Rather, you should keep in mind that the watch holders and drawers have certain dimensions that restrict the kind of objects that may be stored in them. The actual wooden supports for the watch holders are made to accommodate watches with a 45mm lug width. Straps that are too narrow or too short may not completely encircle the watch's posts. However, some people have had success fitting 51mm watches within the casing, so it's not a hard and fast rule either way.
Sustainability & Value
It would seem that the wood watch box with the drawer's wooden construction would make it the pinnacle of eco-friendly goods, but that's not the case. Having a reliable repair or service network is also crucial to a product's durability and endurance. Questions regarding the quality of execution are just as essential as the design when it comes to craftsmanship, and this is exactly what Holme & Hadfield do with their watch holders. It's not easy to put a price on anything, particularly on a designer item. The default assumption that appearance alone determines value is incorrect in this case. After all, product design isn't just about making things look nice; it's also about making sure a wood watch box with drawer functions as it should, which usually means attempting to address some sort of issue.
FAQs
Don't see the answer to your question?