Smart Products
The 10 Best Chairs After Hip Replacement (2023 Review)
5,661 Views
Unfortunately, as you get older, your body inevitably experiences wear and tear in many areas, and your hip might be the very thing that ends up betraying you. If this is the case, some of you may be required to undergo, or have already undergone, hip replacement surgery in hopes of being able to resume your normal daily life. For those of you who have found yourself reading this article, you are most likely on the lookout for ergonomic office furniture that will provide you with assistance either during your recovery stages of surgery or, in a more general sense, in preventing your dreaded hip joint pain. Thus, this article is here to provide you with a list of some of the best chairs after hip replacement surgery according to comfort, quality, price, and durability.
10 Best Chairs After Hip Replacement - Detailed Review
1. ErgoChair Pro by Autonomous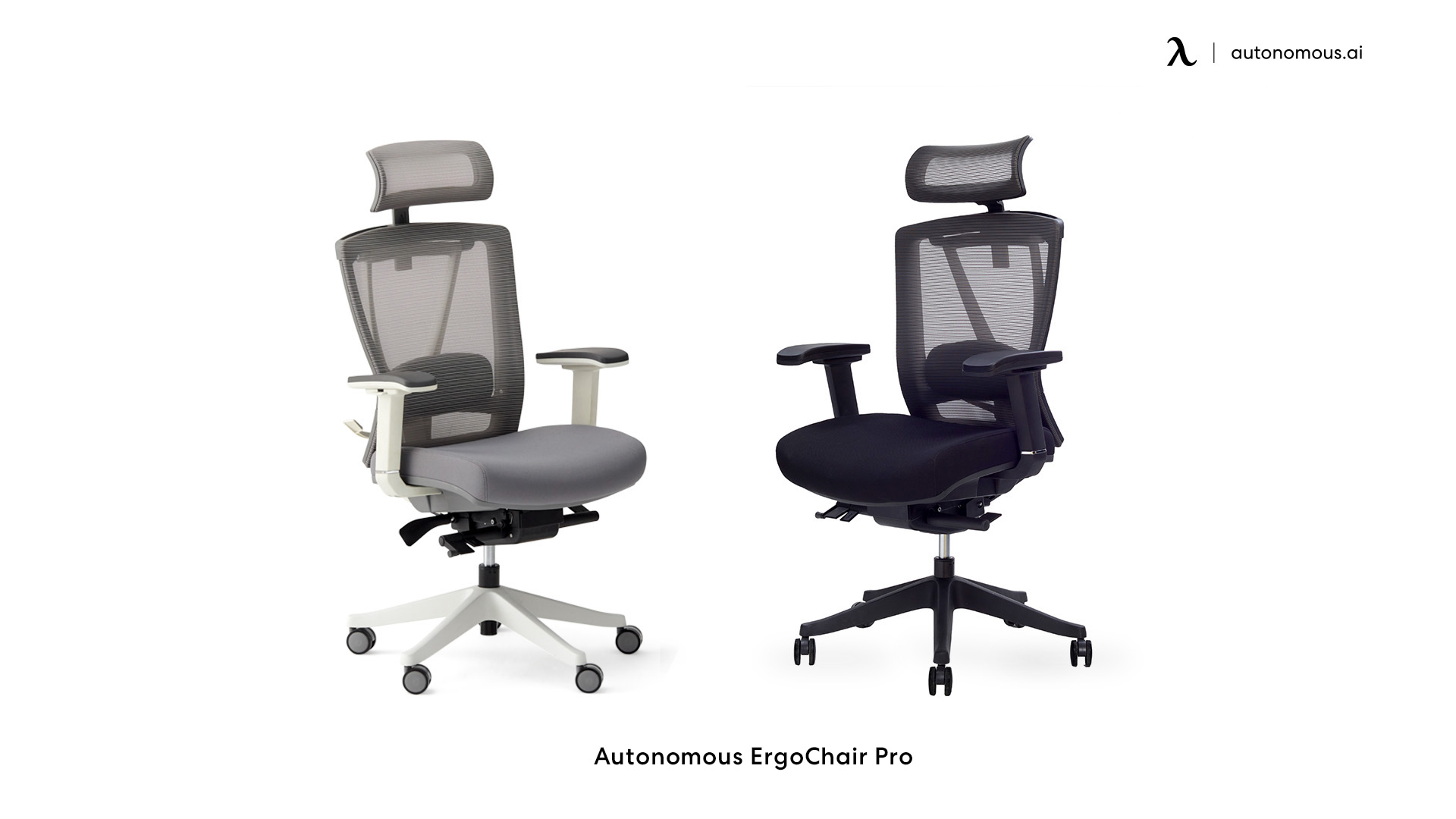 This is the first best chair after hip replacement in the list. Life keeps going, and more importantly, it doesn't slow down for anybody, not even for those of you that are recovering from a major hip replacement operation. Better yet, if you are the one needing to finance everything from your operation down to the pain medication needed, you cannot afford to have life slow down. Therefore, if you are working, more specifically working a job that requires long hours of you sitting in an office chair, then you should invest in the ErgoChair Pro by Autonomous. 
The Autonomous ErgoChair Pro is a superb option for those needing a new comfortable chair for long hours of sitting. It has a range of features that work together to provide you with an office chair that is not only comfortable, but also beneficial, customizable, and stylish, which brands it a considerable option for making your long working hours bearable. 
A single feature on this best chair after hip replacement that you will find lacking on many other pieces of ergonomic office chairs is the headrest. This headrest provides complete body support through adjustment of the angle and height of the headrest. 
All the health benefits aside, color plays a major role in your mood. It is a no-brainer that anyone working through pain is most likely not going to be in the best of moods. The ErgoChair Pro comes in an array of colors; thus, the color of your chair should be in line with what you are trying to achieve. For instance, if it is long hours that you work, a green ergonomic office chair will provide calming properties to help those needing to operate for many hours at a given time. Green is also a color that signifies renewal and growth due to its profound association with plants. It is because of this that the Autonomous ErgoChair Pro is easily considered the best chair after hip replacement surgery, which is why it has a secured place on this list. 
2. ErgoChair Plus by Autonomous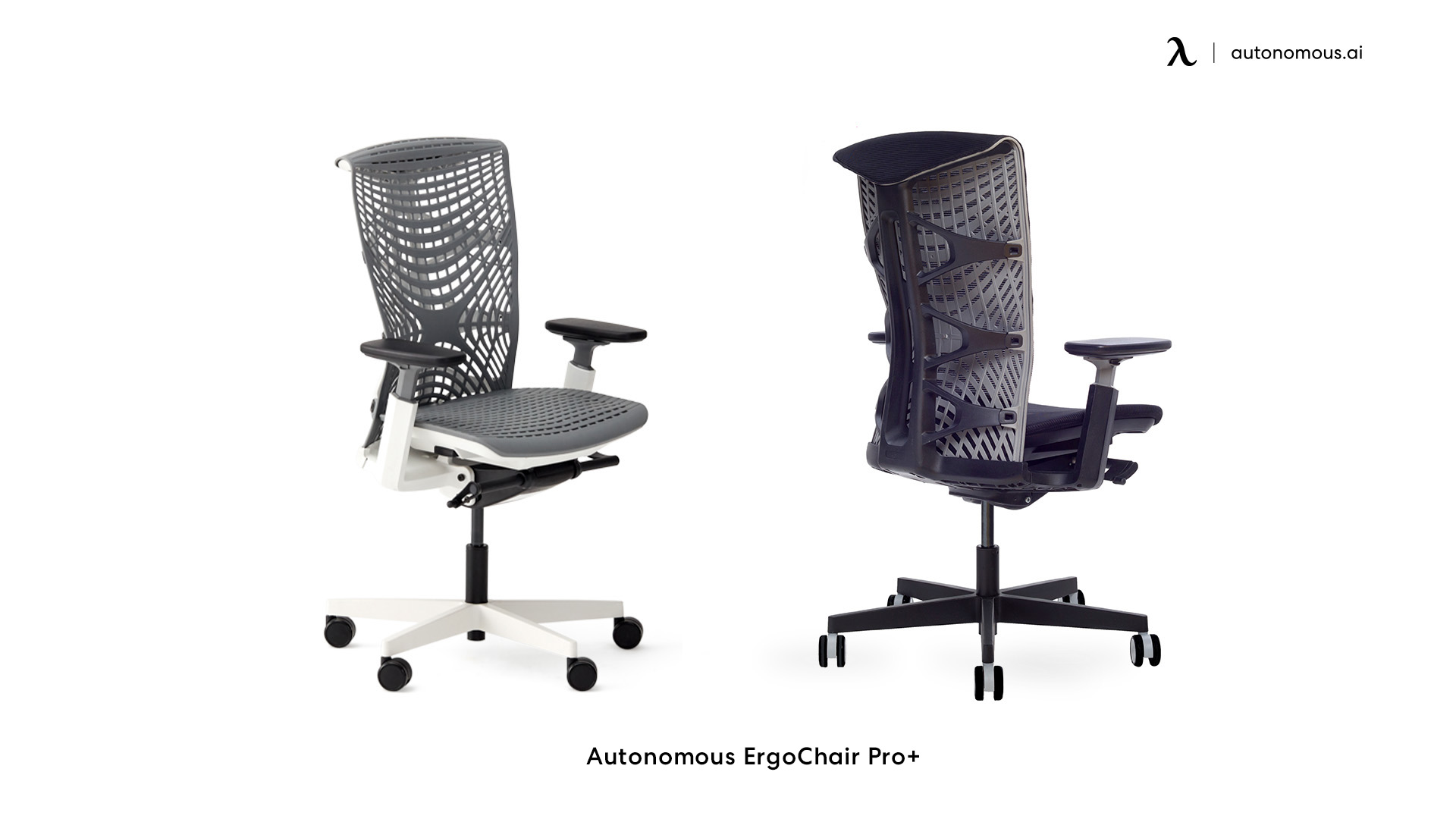 Another ergonomic office chair, and thus, a candidate chair for hip replacement recovery that is offered by the same brand as above, is the ErgoChair Plus. The ErgoChair Plus is the perfect office chair for those in need of greater freedom of movement, an expanded reach, and overall premium spinal support. 
The features of this chair are designed to help office users maintain a good posture throughout their working day by providing the perfect balance of comfort and support. It reaches far beyond what a conventional office chair can do in terms of achieving a seating posture that promotes an astound sense of well-being by activating your body's core. Its lumbar support is modeled after magnetic fields and makes it a fit example of a revolutionary lower back pain chair. Those already experiencing hip pain will sympathize with the chair's importance of preventing lower back pain. 
Furthermore, as if this chair couldn't get any better, the frameless design of the ErgoChair Plus follows the contours of your body, making it a customizable chair for almost all body types. Who knew your ultimate sweet spot was a moving armrest and an adjustable seat position away?
3. ErgoChair Recline by Autonomous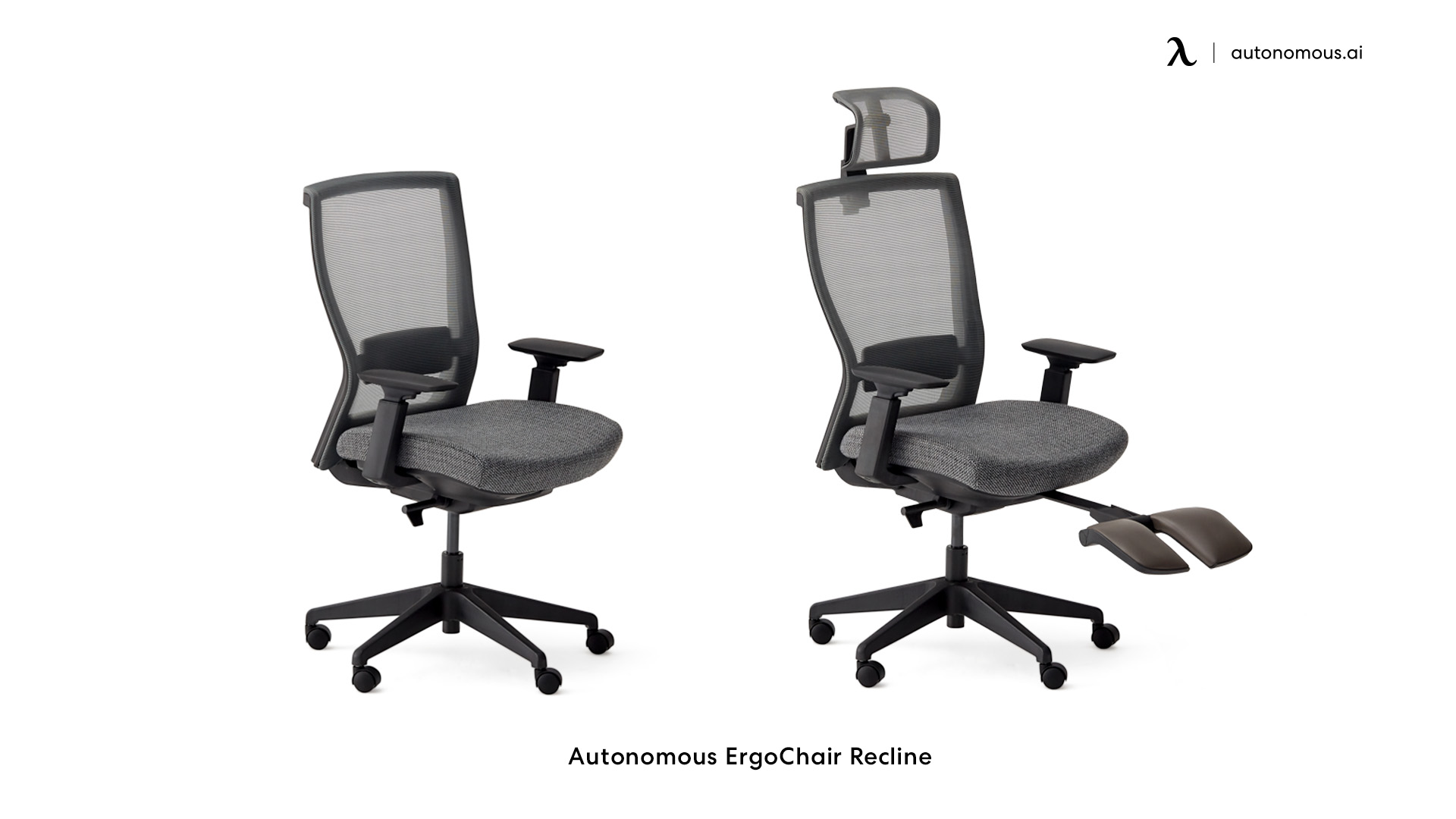 This is another best seat cushion after hip replacement from Autonomous. Reclined sitting is increasingly becoming regarded as one of the best postures. If you're looking to invest in a reclining office chair, then the Autonomous ErgoChair Recline is the one for you. 
The benefits of this best chair after hip replacement do not fall short of all the other advantages a simple ergonomic office chair offers. Improved posture, back relief, and reduced hip pressure are just some of the many pros to having the ErgoChair Recline as your home office chair. 
It specifically caters to those dealing with hip problems by providing cushioning in the seat portion of the chair. Many traditional office chairs have hardened surfaces that place a lot of pressure on the hips of their users; by providing cushioning instead, the ErgoChair Recline is able to prevent this added pressure in the hips, making it the best chair for hip pain prevention, which is what many people who have had a hip replacement are in need of. 
The ergonomic footrest attached to this chair is not a feature present on many office chairs but should be. Imagine not only being able to recline instantly but also being able to kick your feet up and think about your next steps, all while on a lengthy work phone call or while simply having a discussion with the college next to you. 
The ErgoChair Recline is only available in two colors, namely black and gray. Both are colors that are highly recommended for maintenance purposes. Stains and dust are not as visible on black furniture pieces, and anyone recovering from hip replacement surgery does not want to be worrying about the cleaning aspect of an office chair for hip replacement until it is, of course, absolutely necessary. 
4. Hbada Reclining Office Desk Chair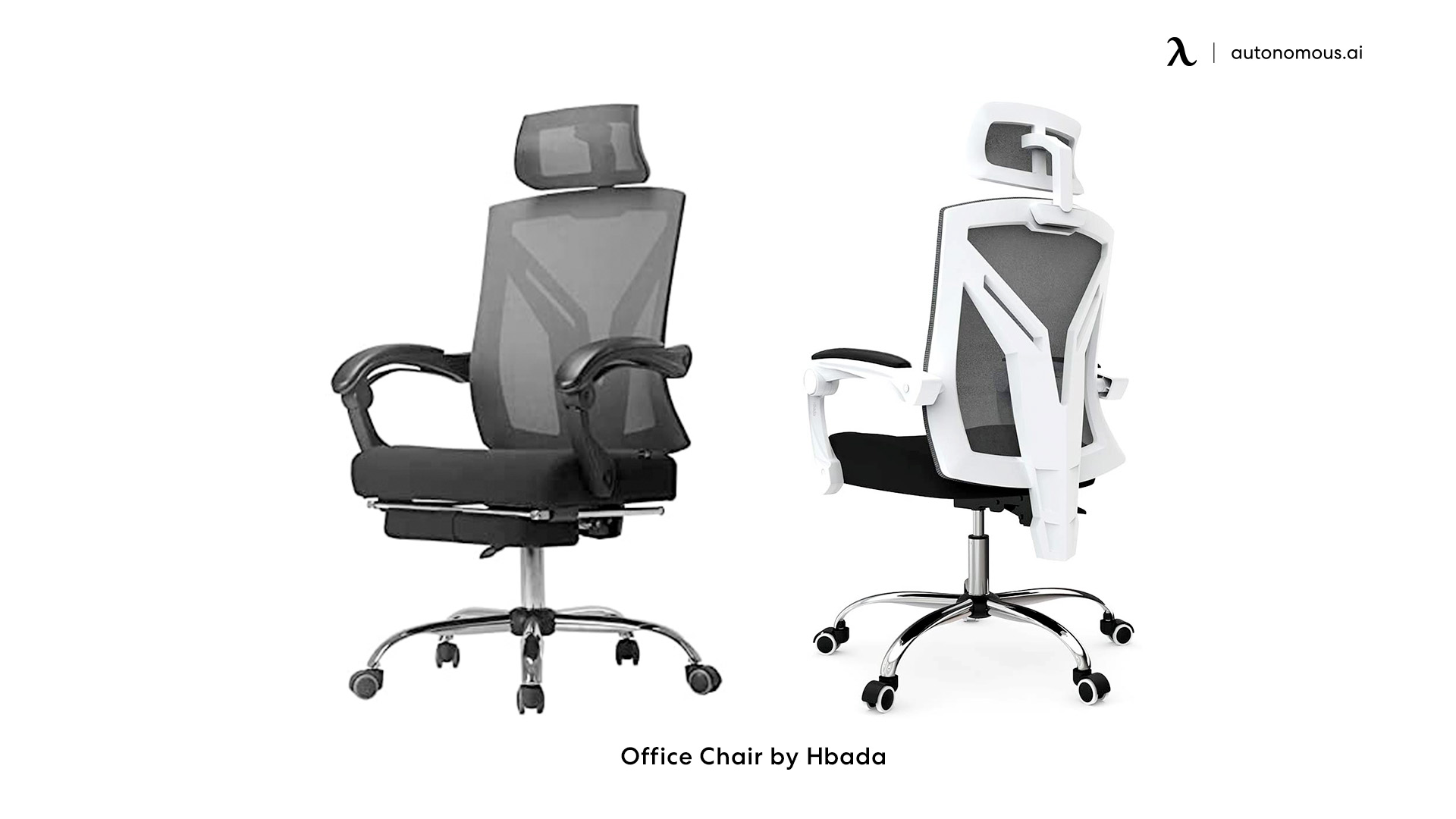 A pricier alternative to the Autonomous ErgoChair recline is the Hbada Reclining Office Desk Chair, and it is yet another appropriate choice for a reclining office chair. This chair leaves no stone unturned in terms of its design and sleek build and therefore is comparatively pricey with regards to the other ergonomic office chairs mentioned on this list. 
A fitted Kinematic tilt mechanism achieves the best of both worlds by providing its user with the option of both working and relaxing. It is recommended as a primal working position to be between 90 and 110 degrees, and as a primal relaxing position, anywhere between 111 to 150 degrees, which overall constitutes towards the full 90 to 150 degrees of motion this chair has to offer. 
The design of the back cushion of the Hbada Reclining Office Desk Chair provides fantastic air circulation for your body through its breathable fabric. This feature alone ensures comfy, sweat-free sitting for hours.
5. Hbada Ergonomic Office Desk Chair
Hbada is well-known for supplying office furniture with minimalistic designs and superior quality. Thus, if you are looking for an office chair that meets all sorts of the positive criteria already mentioned above, then you should look into investing in the Hbada Ergonomic Office Desk Chair. 
One of the chair's most remarkable features lies in the air-right structured seat, meaning that the breathable mesh fabric used to make the seat allows for enough airflow to prevent sweating. This specific feature also provides for comfy sitting, making it the best seat cushion after hip replacement chair. 
Since you are investing a decent amount of money into ergonomic office desk chairs, you need to make sure you are choosing one that is long-lasting and durable. In this case, you can bet all your money on the Hbada Ergonomic Office Desk Chair to be exactly that. Its heavy-duty base gives a sense of stability, while a sense of durability is found in the alloy steel, a long-lasting material used to make the chair.
6. Ergonomic Desk Chair by BestOffice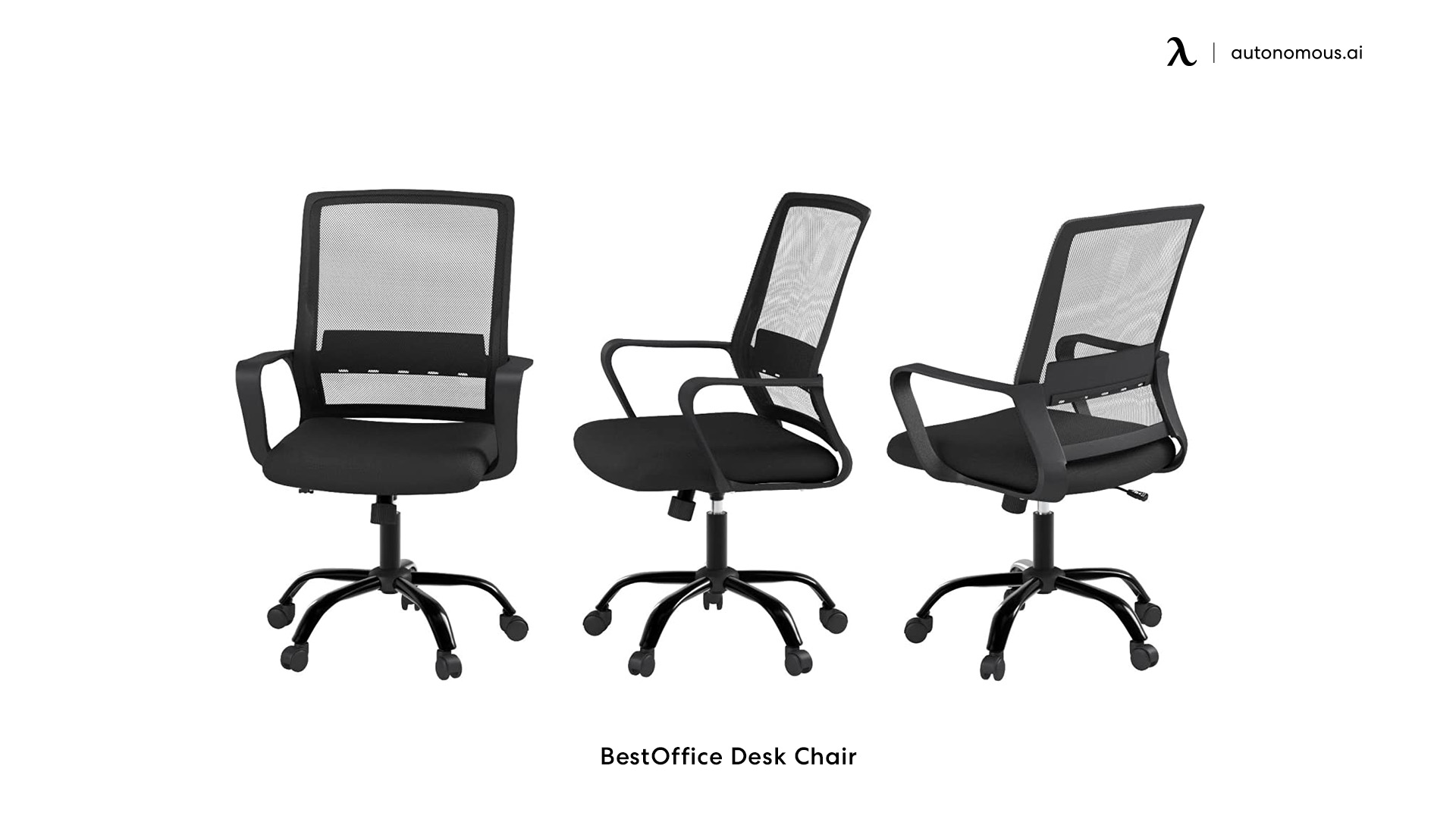 BestOffice has designed an ergonomic home office chair by creating a comfy sitting position and all for a reasonable price, making it the best budget office chair mentioned on this list. 
While other home office chairs require many different tools and hardware accessories for their assembly, the Ergonomic Desk Chair Mesh Computer Chair with Lumbar Support by BestOffice takes all of 10 to 12 minutes to assemble. 
The design of this chair for hip replacement features a rectangular ornament in the middle back of the ergonomic chair that not only provides for a unique touch of decoration but also strong lumbar support to provide all-around comfortability in the most stylish way.
7. Staples Hyken Technical Task
Staples Hyken is a brand well-known for providing durable materials to office furniture and, in this case, home office chairs. We all want a chair that we can use for years to come without technical difficulties. Thus, if you have decided that durability is the dominant feature required when purchasing a best chair after hip replacement, then the Staples Hyken Technical Task may very well be the best chair for you. 
In addition to its solid structure and support, achieved through the use of sturdy carpet casters, it is capable of lifting as much as 250 pounds. The smooth and durable carpet casters also allow for easy rolling around your office floor surface, so you don't have to continually get up from your seat to complete small tasks that can be done while sitting down. By sitting comfortably you can keep your productivity at the highest levels, even after hip replacement surgery. 
8. Smugdesk Mid-Back Ergonomic Office Chair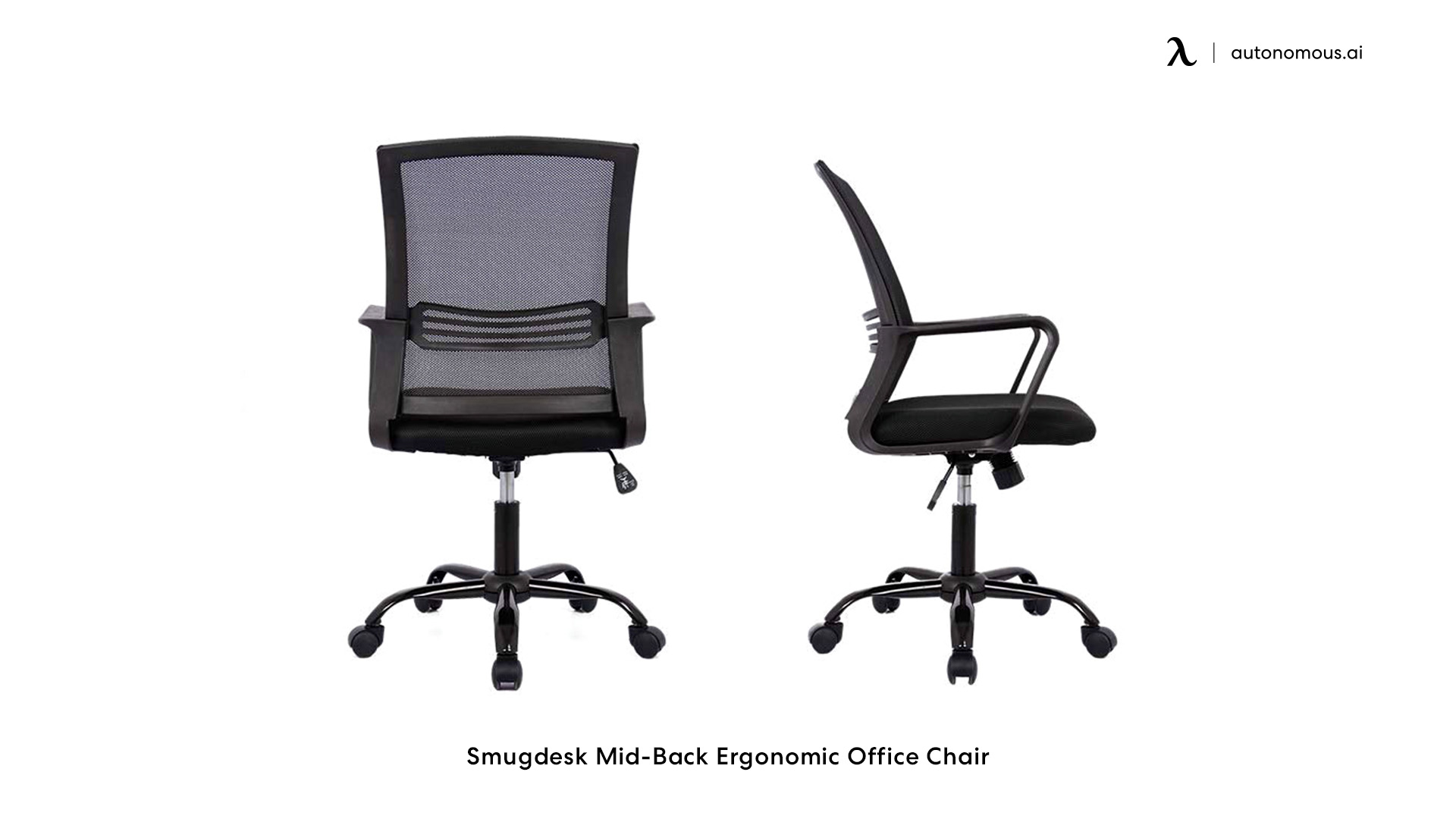 Smugdesk has experienced rapid growth in terms of ergonomic furniture by keeping a strong track in service quality and innovation. If you have made it this far along in this article, chances are you still haven't found an office chair that has won your heart. 
The Smugdesk Mid-Back Ergonomic Office Chair is perfect for those that are looking to enhance the beauty of their workspace while still receiving the comfort needed to recover from hip replacement surgery. 
More so, this best chair after hip replacement comes equipped with pneumatic controls, which allow for the easy adjusting of the seat. All that is required to enjoy the rocking mode offered is to pull out a simple handle, making it all the more user-friendly. 
9. Serta Executive Adjustable Office Chair
This is another best chair after hip replacement for you. Serta is a furniture supplier that provides buyers interested in their pieces with comfort and durability. They manufacture some of the best office furnishings and, even more specifically, some of the best office chairs for hip pain through innovative designs and multiple functions. 
Comfort has become one of the best features of Serta, and as such, has turned into their signature quality. Thus, making the Executive Adjustable Office Chair an everyday companion for someone looking for a chair after hip surgery. 
The Serta Executive Adjustable Office Chair provides a touch of elegance by having the entire portion of the seat covered in durable but soft bonded leather. It makes the look of the chair both classy and eye-catching. 
10. Smugdesk Ergonomic Office Chair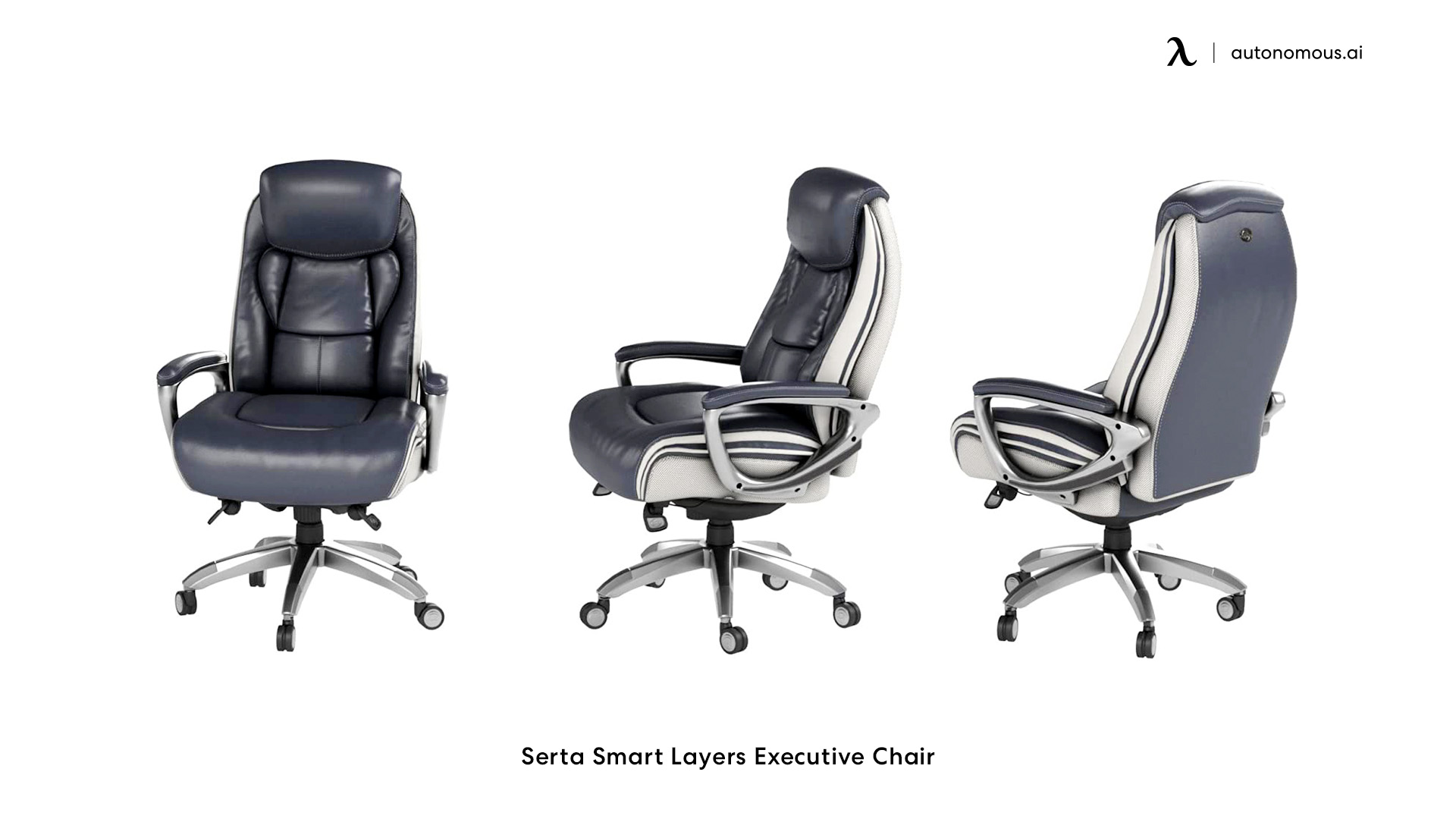 With Smugdesk being such a well looked upon manufacturer in terms of ergonomic furniture, it is no coincidence that the Smugdesk Ergonomic Office Chair was also able to make an appearance on this list. 
This open mesh design of this chair makes it a breathable, well-ventilated backrest. Not only does it provide you with lumbar support, but it maintains your body temperature by keeping you cool enough to prevent sweating while working long office hours. 
Its height range and 360-degree swivel make it a chair adjustable for all heights. More so, a secure tilt lock at 120 degrees results in an ergonomic rocking function that is very good use to those experiencing heavy workloads. 
As wonderful as this chair is, it, unfortunately, does not have it all and lacks in terms of fixed arms. 
Conclusion
All the best chairs after hip replacement mentioned above ensure comfort and good posture in some way, and the proper lumbar support provided is the cherry on top for all hip replacement patients. Investing in one of these chairs is necessary, not only for recovery purposes but to prevent future hip pain that is associated with long hours of sitting.
Subcribe newsletter and get $100 OFF.
Receive product updates, special offers, ergo tips, and inspiration form our team.
WRITTEN BYAutonomous
We build office products to help you work smarter.