Smart Products
10 Computer Light Bars for Desks to Improve Lighting Ergonomics
4,379 Views
Stylizing your workspace is a great way to boost productivity, so adding some vibrant lights always helps. You might have heard about light bars for desks since such decorations are all the rave these days. So, you would have thought of adding them to your office too.
The good news for you is that we have shared a complete guide here to help you utilize the desk lighting ideas the best and light up your workspace with your favorite light bar.
From what light bars are to the best computer light bar desk lamps you can get, and from their pros and cons to the common queries that you might have, we have shared it all. Are you excited to learn more? Well, let's read ahead and dig deeper! 
What Are Computer Monitor Lamps?
The computer monitor lamps are equipment that can help you light up your desk without increasing your screen's brightness. These lamps provide you with the light that you need to stay focused in your workspace.
Manufacturers have intelligently designed light bar desk lamps to make them take less space on your desk yet provide enough light to avoid any possible optical strain. If you look up the market, you will find the best light bars having a sleek design so that they can help you maintain the minimalism in your workspace.
These lamps are usually clipped on top of your monitor and come with varying intensity adjustments to ensure that you avoid glare while working. Overall, the light bars ensure that you stay focused with the help of their unidirectional focused ray. That's why adding them to your workspace is a great idea.
That's all about the monitor lamps. We believe that you now have an idea as to why you would need this office desk accessory in your workspace. So, let's now discuss the options that you can think of going for when you visit the market to buy your desired light bar desk lamp. 
Top 10 Perfect Computer Light Bars for Every Desk
1. Autonomous Ultrawide LED Desk Lamp
Pros:
Five brightness levels and four color modes.
It comes with angular adjustments.
Cost-effective.
Twenty different light settings.
Ultrawide, so has a long light bar to offer maximum coverage.
Cons: 
There are no known cons of this light bar desk lamp.
The Autonomous Ultrawide LED Desk Lamp is probably the best accessory to light up your workspace. Since this light bar for desk has a sleek design and takes less space on your desk, you can place it behind your monitor lamp and adjust it in a way that you get the right light angle. Overall, the lamp is designed to offer you the best work experience. 
2. Autonomous LED Lamp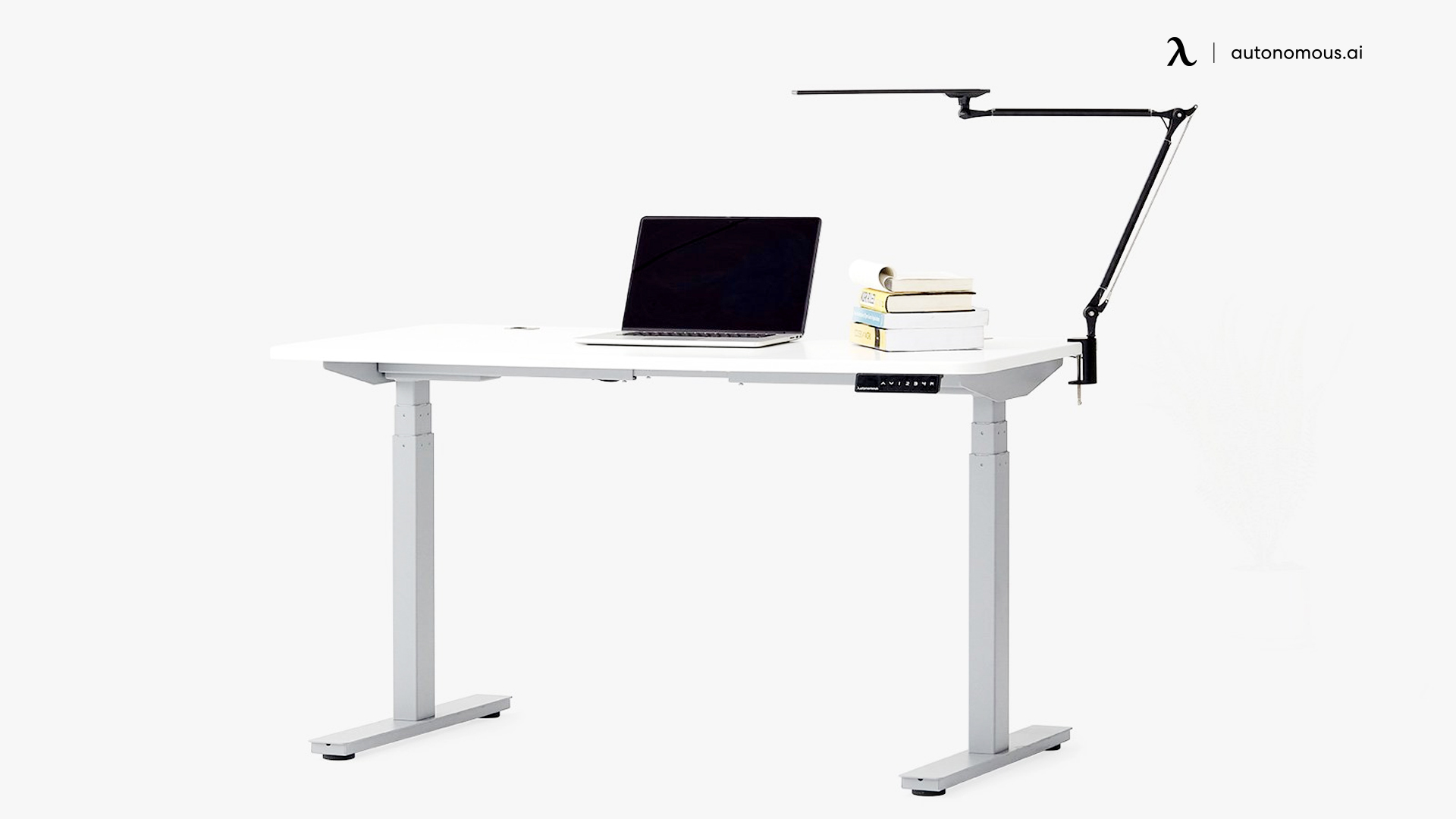 Pros:
It doesn't take up any space on your desk.
Cost-effective.
Can be adjusted.
Cons:
It could have had a wider coverage like the ultrawide desk lamp.
The Autonomous desk lamp is among those ideal office accessories that you might wish to have in order to brighten up your workspace. This LED desk lamp can be clamped on your monitor's edge pretty conveniently, so having a well-lit workspace is pretty easy this way.
3. Xiaomi MiJia Monitor Light Bar
Xiaomi MiJia Monitor Light Bar is a wireless light bar that comes with a remote. Therefore, controlling this light bar for desk brightness is pretty easy. Since this lamp is known to be durable and cheap, it can be a great fit for your desk setup.
Pros:
Durable.
It comes with multiple temperature adjustments.
Adjustable brightness.
Cons:
Doesn't have great angular adjustments.
4. Baseus Light Bar
Baseus Monitor Light Bar lies in the budget-friendly range. With an aluminum body, this lamp has a great build that gives a sleek look to your desk. Therefore, this light bar for desk can be a great addition to your workspace, making your workspace look aesthetically pleasing.
Pros:
Glare-free.
Does not flicker.
Affordable.
Cons:
Its clip exerts a lot of pressure on your monitor screen.
Very few temperature adjustments.
5. BenQ Monitor Light Bar
BenQ Monitor Light Bar is a great LED light bar for desks. This light bar comes with automatic brightness adjustments, so adjusting the brightness is not a tough task here. Therefore, this monitor light bar can be ideal to have a seamless work experience with minimal effort.
Pros:
High-end aluminum finish.
Anti-flickering light.
Auto brightness adjustments.
Cons:
It might be costly for some.
The auto-brightness option might make it too bright, resulting in optical strain.
6. Quotes Monitor Light Bar
Quotes Monitor Light Bar is ideal for a 15-22 inch monitor screen. This light bar desk lamp's anti-blue light glare-free design makes it suitable for every office worker. Since it has touch control, brightness adjustments won't be a tough task here.
Pros:
Automatic brightness adjustments.
USB powered.
It helps you save space.
Flicker-free.
Cons:
Not suitable for curved monitors.
Poor material and build quality.
The auto-brightness system has a poor response.
7. Vivo Monitor Light Bar
Pros:
Five temperature adjustments.
Cost-effective.
Cons:
Comparatively poor build quality.
The Vivo Monitor Light Bar is among the most durable light bars for desk monitors. Since this light bar for offices is quite affordable, anyone can use it to light up their workspace and have a phenomenal work experience.
8. Philips Hue Play Smart Monitor Light Bar
Philips Hue Play Smart Monitor Light Bar is an amazing option if you are thinking of innovative computer lighting ideas. With a voice-activated control system, this light can help you have a seamless work experience. Since there are thousands of light options available, you can select your favorite one pretty easily.
Pros:
Has voice controls.
Ideal for watching movies and gaming.
Best for large-sized monitors.
Cons:
It might not provide focused light to stay productive.
9. Tomons E-Reading Monitor Light Bar
Tomons E-Reading monitor Light Bar is suitable for people who are not willing to spend a large sum of money on a desk lamp bar. With its no flicker and screen glare features, this light bar can be great for your office use.
Pros:
Highly Affordable.
Auto brightness adjustments.
Adjustable color temperature.
Cons:
10. WILLED Dimmable Touch Monitor Light Bar
Pros:
2000mAh rechargeable battery.
It can be placed in multiple places.
Cons:
You cannot place it right above your monitor.
The WILLED Dimmable Touch Monitor lamp is different from other lamps that we shared with you today. This light bar for the desk lacks a clip, so it cannot be attached to your monitor. Instead, this lamp bar can adhere to any metallic surface since it has a magnet mount. 
FAQs
1. Is the monitor light bar necessary?
Yes, the monitor screen's brightness is at times not enough to light up your workspace and put a lot of optical strain. Therefore, a monitor bar comes in handy in illuminating dim-lit workspaces. 
2. Do monitor bars help with eye strain?
Yes, monitor light bars can reduce eye fatigue that is usually common when you are working on a digital screen. They are known to reduce optical glare and provide a well-lit work experience. 
3. How do I know if my light bar is bad?
You should always check the build of your light bar. Premium quality light bars have a sturdy build and are easier to use. They are installed with better-LED chips and offer a brighter light for an extended duration.
Subcribe newsletter and get $100 OFF.
Receive product updates, special offers, ergo tips, and inspiration form our team.
WRITTEN BYAutonomous
We build office products to help you work smarter.