Smart Products
A Chair for Health: Exploring the Benefits of Ergonomic Seating

Amanda Roberts
|
Jan 12, 2023
7,103 Views
In today's fast-paced world, where many people spend long hours working at desks, the importance of ergonomic furniture cannot be overstated. Among them, ergonomic chairs stand out as a key component of a healthy and productive workspace.
The health benefits of ergonomic chairs are hard to ignore when they are compared to their regular office chair contemporaries. There is no reason for you to think that buying an ergonomic chair is not a good idea for your remote workspace.
Even though you are not in a traditional office, your body still needs to be cared for. A part of that means getting the right equipment and supporting your body as is necessary. Sometimes, you may need to do some back stretches or to use available posture tips to help you get to an optimal point. Be that as it may, consider the ergonomic chair benefits below, which should indicate why it's a worthwhile investment.
What Are Ergonomic Chairs?
Ergonomic chairs are specially designed chairs that prioritize the user's comfort, support, and overall well-being while sitting for extended periods. They differ significantly from conventional chairs, as they are built with advanced features to enhance posture and promote a healthier sitting experience.
Top Benefits of Ergonomic Chairs
Let's explore how ergonomic chairs can enhance posture, reduce discomfort, boost productivity, and promote overall well-being!
1. Ergonomic Design and Its Impact on Health
The ergonomic design of these chairs ensures that the user's body maintains its natural alignment, thereby reducing stress on the muscles, joints, and spine. This crucial feature significantly impacts overall health and prevents the development of musculoskeletal disorders caused by poor posture.
Blood Circulation Improvements
One of the essential health benefits of ergonomic chairs is the way that it affects your blood flow. Sometimes, people find that their legs go numb or begin to swell. Depending on the severity of the issue, medical attention could be needed. 
Traditional chairs often cause pressure points that restrict blood circulation, leading to numbness and tingling sensations in the legs. Ergonomic chairs, with their adjustable seat height and depth, help improve blood flow and prevent such discomfort.
Hip Pressure Relief
If your chair is too hard, it puts more pressure than you can imagine on your hips. Once such a trend is continued, you may find that you have hip pain, and the functionality of your legs may feel reduced.
One of the reasons that ergonomic chairs are padded is to offer adequate support to the hips to prevent pressure-based conditions or reverse them if they have already occurred.
Back Pain Relief
One of the most common problems associated with improper posture is back pain. Many people only experience back pain because they aren't sitting correctly at their desks.
Ergonomic chairs support the spine's natural curvature, which reduces the potential for such pain. You'd be surprised to find how pain-free your life can be with the proper chair in your home office.
Reduces the Risk of Musculoskeletal Disorders
Prolonged sitting in non-ergonomic chairs can lead to musculoskeletal disorders, such as back pain, neck strain, and shoulder tension. Ergonomic chairs effectively mitigate these risks by supporting the body's natural alignment and distributing weight evenly.
2. Enhances Comfort and Reduces Fatigue
You can use the level of comfort you feel to determine how healthy your body is as you work. Your hips, legs, back, neck, and other body parts all feel uncomfortable when they don't have the support that they need to achieve adequate positioning.
You may articulate it as nothing more than feeling uncomfortable, but it translates to a series of consistent unhealthy positions that can have adverse effects. As the ergonomic chair proceeds to course correct all of this, you are going to realize that you feel more comfortable on a more consistent basis.
Ergonomic chairs are designed with high-quality materials and ample cushioning to enhance comfort during long work hours. By minimizing discomfort and fatigue, these chairs enable individuals to stay focused and productive throughout the day.
3. Cost-Effectiveness in the Long Run
If you already have a chair, you may not see how going out of your way to make an ergonomic chair purchase helps you to save in any way. You'd be surprised to see the ergonomic office chair health benefits and what they mean for you financially. 
Although ergonomic chairs may have a higher initial cost compared to conventional chairs, their long-term benefits and improved well-being make them cost-effective in the long run. They can reduce healthcare expenses associated with musculoskeletal issues caused by poor sitting habits.
4. Increases Productivity and Focus
Anything that can help you to increase your productivity in the office is always a plus. Office chairs are very good at helping with this, as proper posture reduces strain and creates a more effective workstation.
By offering a comfortable and supportive sitting experience, ergonomic chairs contribute to increased productivity and focus. When employees are free from pain and discomfort, they can concentrate better on their tasks, leading to higher work efficiency.
5. Customizable Support and Adjustability
If you are using a regular office chair, it tends to feel like you are trying to fit yourself in the chair's mold. It's not impossible to get an office chair in the right size, but even then, it doesn't feel like it was made for your needs and preferences.
Ergonomic chairs are designed to promote the body's natural positions and behaviors, which means it feels like the chair is adjusting to you, instead of the other way around.
6. Better Engagement
Even as you work from your home office, your engagement level remains as crucial as it would be if you were in a traditional office space. There is usually a direct relationship between comfort and the level of engagement that you feel where your work is concerned.
Thanks to the health benefits of ergonomic chairs, you have less to complain about, which means that your engagement levels are likely to be higher. This is beneficial to the company and you, as you feel greater job satisfaction.
7. Better Work Quality
If you're using an office chair that doesn't have a healthy ergonomic design, you are likely to live a life of pain and fatigue. Sometimes you wonder how sitting all day makes you so tired. What you're experiencing is the body's response to bad posture.
With an ergonomic chair in the mix, it provides you with the necessary support you need to align your body naturally. The level of pain and fatigue becomes reduced, which leads to better performance in your work.
8. Versatility and Adaptability
Ergonomic chairs are not limited to office use only. They find applications in various settings, such as home offices, study areas, gaming setups, and even in healthcare environments. Their versatility makes them a practical choice for different purposes.
Versatility and adaptability in an ergonomic chair refer to its ability to accommodate various users, tasks, and work settings while providing comfort, support, and health benefits. An ideal ergonomic chair can be adjusted and customized to meet individual needs and can adapt to changing work requirements, ultimately enhancing the well-being and productivity of employees in diverse work environments.
9. Durability and Longevity
Investing in ergonomic chairs often means investing in long-term comfort and health. These chairs are built with robust materials and are engineered to withstand regular usage without losing their supportive features.
Ergonomic chairs contribute to the long-term sustainability of an adaptable workforce. Employees who use ergonomic chairs are less likely to experience chronic pain or discomfort that can hinder their ability to take on various tasks over time. This stability supports ongoing adaptability and versatility.
Top Ergonomic Chairs from Autonomous
Autonomous, a well-known brand in the ergonomic furniture industry, offers a wide range of high-quality ergonomic chairs designed to promote comfort, support, and productivity. Let's review some of the top ergonomic chairs from Autonomous:
ErgoChair Recline
ErgoChair Pro
The ErgoChair Pro is a popular choice among professionals seeking an ergonomic chair that provides excellent lumbar support and adjustability. It features a tri-curved backrest that conforms to the natural curve of your spine, reducing back strain. The seat is highly customizable, with adjustable tilt and tension, ensuring a personalized sitting experience. The breathable mesh material promotes airflow, keeping you cool during long hours of work.
Dimensions
29"L x 29"W x 46" - 50"H
Seat height
18" - 20"
Materials
Polyester fabric with molded foam interior and durable nylon plastic frame; PU handrest pads
Colors
Cool Gray, Evergreen, All Black
Red Apple, Black & White, Baby Blue
Weight capacity
300 lbs
Warranty
2 years
ErgoChair Core
The ErgoChair Core is another standout product from Autonomous, offering an ergonomic design at an affordable price point. With its contoured seat and breathable mesh back, it offers optimal comfort and support. The chair's height and armrests are adjustable, catering to different body types and preferences. The ErgoChair Core's sleek and minimalist design makes it a perfect fit for various work environments.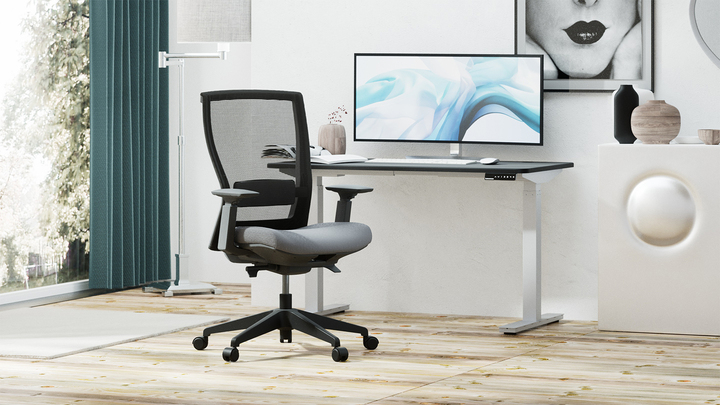 Dimensions
28" - 45"L x 28"W x 45" - 49"H
Seat height
18" - 21"
Materials
Polyester fabric with molded foam interior and durable nylon plastic frame
Colors
All Black without headrest and legrest
Cool Gray without headrest and legrest
Weight capacity
250 lbs
Warranty
1 year
Feature
Adjustable armrest, back tilt angle, seat height
ErgoStool
For those looking to incorporate active sitting into their daily routine, the ErgoStool is an excellent choice. This unique ergonomic stool encourages movement while seated, engaging your core and promoting better posture. It is height-adjustable and equipped with a 360-degree swivel, allowing for flexibility and adaptability. The ErgoStool is an innovative solution for individuals who want to reduce the negative effects of prolonged sitting.
| | |
| --- | --- |
| Product dimensions | 13"L x 13"W x 25" - 35"H |
| Seat dimension | 13"L x 13"W |
| Seat height | 25" - 35" |
| Range of motion | 30° |
| Materials | Polyester fabric with molded foam interior and durable nylon plastic frame |
| Colors | Navy Blue, All Black, Cool Gray, Evergreen |
| Weight capacity | 270 lbs |
| Warranty | 2 years |
ErgoChair Plus
The ErgoChair Plus is a stylish offering from Autonomous, boasting a sleek and modern design with an emphasis on comfort and support. It features a patented fishbone design that offers excellent lumbar support and encourages natural movements while seated. The chair's recline mechanism and tension adjustment provide a seamless transition between work and relaxation. The ErgoChair Plus is a statement piece that complements any contemporary workspace.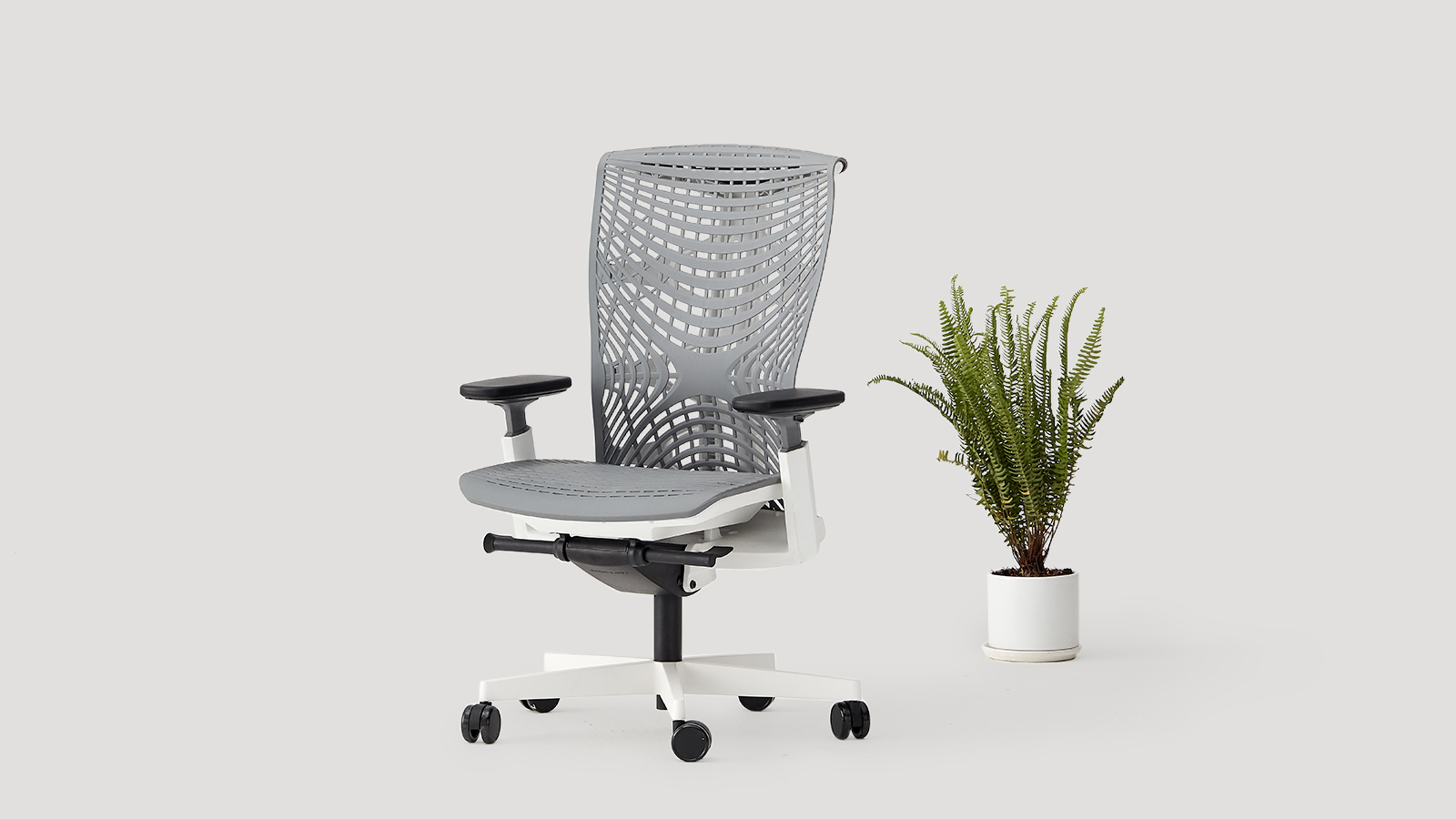 Dimensions
28"L x 28"W x 40" - 44"H
Seat height
17" - 21"
Materials
Naked TPE version: 100% TPE upholstery with ABS plastic frame.
Mesh version: 100% TPE and polyester fabric upholstery with ABS plastic frame.
Colors
Black Frame, Naked Black TPE
Black Frame, Naked Grey TPE
White Frame, Naked Grey TPE
Grey TPE with Blue Mesh
Grey TPE with Grey Mesh
Black TPE with Black Mesh
Weight capacity
300 lbs
Warranty
5 years
Final Remarks
Ergonomic chairs offer a plethora of benefits that go beyond providing a comfortable seating experience. From improving posture and reducing the risk of musculoskeletal disorders to boosting productivity and supporting the environment, these chairs are an indispensable investment for anyone spending significant time at a desk.
Prioritizing ergonomics in your workspace can lead to long-term health improvements and a more enjoyable work experience.
Video ads for product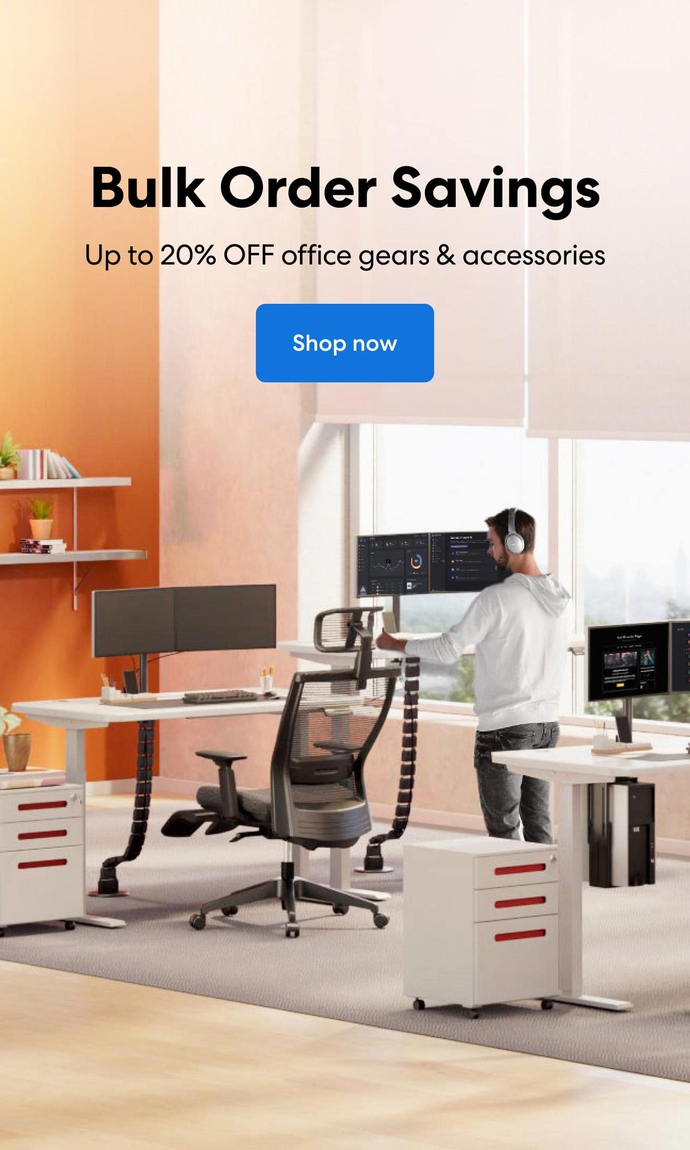 Subcribe newsletter and get $100 OFF.
Receive product updates, special offers, ergo tips, and inspiration form our team.