Workplace Inspiration
10 Inspiring Basement Office Ideas to Boost Productivity

Autonomous
|
Jun 22, 2023
410 Views
Due to the rise in remote work and freelancing culture in the modern world, the search for the perfect spot for a home office continues. Remote workers seek productive yet inexpensive ways to create the perfect, comfortable work environment to work efficiently from the comfort of their homes. While unusual home office setups such as under the stairs, hidden in the closet, or a backyard office are common, basement office ideas are the most versatile.
This is because basement office space offers the right level of privacy and seclusion from home while keeping you close to the family. With the right basement home office ideas, you can utilize the basement space, no matter how old or worn out, to create productive office setup ideas in no time and with little investment. This article has covered some easy and unique small basement office ideas for your private WFH space.
Basement Office with Storage
You must keep clutter away to attain efficiency at work. While many adjustable desks come with built-in storage for a home office, there is a lot of inevitable clutter in the form of notes, files, documents, and other important work-related stuff. Hence start by thinking of the perfect home office storage space in your basement.
You can purchase a readymade storage cabinet or a large cupboard with drawers, or if you are short on floor space, then vertical storage is the best solution. Build some shelves on the wall to keep the files and other books in place. While building a home office, you also get a home library, and who wouldn't love that?
Use Proper Lighting
For basement office ideas with no windows, the importance of proper lighting setup increases tenfold. Also, installing sufficient lights will eliminate the feeling of a dungeon, even in a worn-out basement, and you can also define the work area with the help of proper light. Once you have a designated workspace that is clutter-free, add task lighting. The environment can be made brighter with the help of wall lamps, desk lamps, ceiling lighting, floor lamps, etc. You may also spend money on a lamp that mimics natural light, which benefits plants and your mood.
Define Space with Paneling
If you have a large basement space, there is no benefit in wasting the whole space for office needs. Use wall paneling to divide the room into boundaries and make it multi-purpose. Hide the office behind sliding doors or build a wall-folding desk so the basement remains open for other activities. Even in the smallest basement office setup, the zoning strategy can be a visually effective way to design a desk environment that inspires you.
Office Under The Basement Stairs
Under your basement stairs is one of the most logical locations to set up a tiny home office, especially for people who need to use the basement space for other needs. You won't miss the head height with the workstation in the nook's tallest portion and the other uncomfortable spaces dedicated to custom storage.
Also, this idea is compact and offers the right level of privacy. Consider closing your office with doors if you want a sleek appearance when it's not in use. Pale colors will keep this type of scheme appearing airy and uncluttered.
Dual-Person Office Setup
If two people work from home, there is no better place than a basement office for both. Set a dual desk setup with sitting options on either side. Purchase office chairs wholesale or wholesale office desks to create a uniform professional space. You can also order bulk furniture from an Autonomous bulk order program and create a basement conference room for your office meetings.
Add Ergonomic Furniture
Using proper ergonomics in any setup can create a comfortable, productive space. Sitting at a desk can take a toll on the body's physical wellness; hence an ergonomic office chair is the way to begin. Choose the right furniture to achieve a comfortable office setup anywhere in the home, let alone in a basement.
The Right Color Palette
Your mood and productivity may be significantly impacted by the color you choose for your home office. While everyone has different tastes, certain color schemes are typically thought to promote a more productive work environment.
It's crucial to pick colors for a basement home office to brighten the area and make it feel more welcoming. White, beige, and light gray are light, neutral colors that can assist in reflecting light and provide the impression of space. Shades of blue or green, renowned for their soothing qualities, are good options for adding a splash of color.
Personalize The Space
If you read about the factors that impact workplace efficiency, you might know the role of touch of personalization. Since you spend a huge portion of your day in a home office, personalizing the space is highly important to make it more comfortable. You can add family photos or motivational quotes, some achievements from your work or life to get motivated during the work day. Adding fresh plants or even green artificial ones is a wonderful way to feel uplifted while working at a desk.
Sit-stand Corner Workstations
Considering it is unhealthy to sit throughout the day when working, a sit-stand workstation in the basement can greatly help. You can have a corner height adjustable workstation or a rectangular height adjustable work desk. The sit-stand desk will help you schedule your work day between sitting and standing so you don't experience fatigue or boredom. Another benefit of such a workstation is that it is compact and perfect for tiny workspaces.
Add Illusion to Create a Bigger Space
Small basement offices benefit the most from this basement design style as this idea opens up a space to create a bigger space. To add the appearance of depth and space, you can use geometrically patterned walls, colorful accent walls, and other visuals. Your basement office will now have personality in addition to the standard desk and chair set-up. And having some patterns and textures on the wall can also add a modern look to your home office without having to do much else.
Video ads for product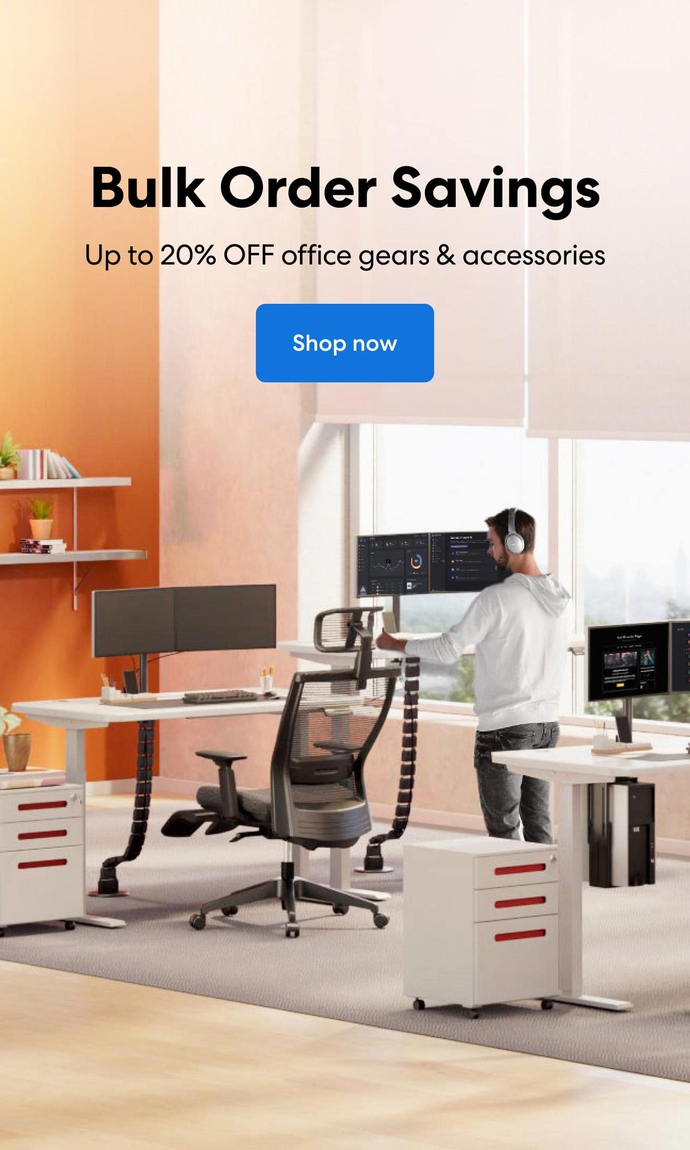 Subcribe newsletter and get $100 OFF.
Receive product updates, special offers, ergo tips, and inspiration form our team.