Smart Products
10 Vintage & Industrial Work Chairs to Decorate Office

Autonomous
|
Apr 27, 2022
1,187 Views
The work-from-home situation has become permanent to most of us, and why wouldn't it be? The benefits of remote working are huge, and not only employees but employers also find it easier for the workforce to be connected over virtual channels.
Hence, with the duty calls from home, you cannot just sit in the bed and work in uncomfortable positions. A good industrial work chair is what you need for the best minimalist look in your home office. This article will cover the top industrial work chairs for a modern and basic home office setup.
What is Industrial Design Office Style?
Here are the top picks for industrial design office chairs.
1. ErgoChair Core
A simple industrial design office chair that doesn't demand a lot but does give you a comfortable time while working, the ErgoChair Core is a popular computer ergonomic chair that fits your needs. It has a lumbar pad, an adjustable seat height, armrests, and a wide back made up of mesh.
The wide back supports the entire spine, and the mesh structure keeps you cool during hot summer. The ergo chair core is available in two colors, black, and gray. Both look extremely professional and straightforward in a work setting. This chair is specially made as an ergonomic reading chair so you can enjoy tilting back and even work in an upright posture.
2. AvoChair
Since industrial-style work chairs are all about simplicity and minimalism, one would love to add this eco-friendly office chair to their collection. The AvoChair is a rather simple design than the other candidates on our list, and it is also a reliable one. The chair has a compact design for a bedside office and keeps you comfortable with all the easy-to-control adjustable features.
3. ErgoChair Recline
We all love a comfortable industrial office chair that makes working in front of the screen a breeze. This reclining ergonomic chair from autonomous is meant for serious business where you can work, relax and subsequently take a nap thanks to its tilting mechanism. The ergo chair recline is rated as an office chair for tall people because it has a tall and wide back and a headrest to support your neck and entire skull. The chair is fully adjustable, although the only drawback is that it is available in two colors, black and gray.
4. ErgoChair Pro
An ergonomic chair, by all means, is considered the best solution to active back pain, and an office chair with adjustable lumbar support takes the lead in this case. This Autonomous industrial work chair is equipped with unique features that make it comfortable and very durable in the long run. One of the best high back office chairs provides an adjustable lumbar pad that moves up and down your spine.
The chair has a wide meshed back, a headrest to keep your neck and the head angle at optimum and adjustable armrests, which allow comfortable arm placements. The ErgoChair Pro is a modern industrial office chair made for hours of usage.
5. Hon Ignition Office Chair
A vintage industrial office chair is the best way to create an industrial office setup, and this office chair is both industrial in looks and practicality. The chair delivers one-of-a-kind ergonomic features with a fully ergonomic design. It has a stretchy mesh for comfortable back support and a contoured seat to conform to any body shape. The hon ignition office chair is one of the most comfortable chairs.
6. Herman Miller Sayl Chair
Herman Miller has a style for every need, from modern to industrial work chairs. This expensive office chair seems a luxury to afford, but it is a wonderful one-time purchase you will fall in love with. It includes a flexible elastomer back that maintains optimum ergonomic alignment of your spine.
Adjustable lumbar support is another option for reducing back discomfort. However, the catch is other adjustable features besides this one are not included in the base price, which might make this chair a not so pleasant deal for everyone.
7. Alera Office Chair
Indeed an industrial design office chair that presents all the seriousness you need while working. This chair has the most professional and old-school style, but it still fits in modern workplaces. It is probably because of its wonderful design which makes the chair worthy of all praise. It has a wide back, adjustable armrests, and a curved seat for maximum support against your bottom.
8. Steelcase Gesture
Who says industrial-style offices have to be plain boring? The Steelcase gesture office chair is one of the most fully adjustable chairs. It is highly-priced, but you will find tremendous features and pretty looks. It makes sitting for hours a hassle-free experience, and the chair offers complete adjustability.
9. Herman Miller Aeron
If you run overheated or work somewhere without air conditioning, the Herman Miller Aeron is a better alternative than many others because of the mesh back and seat. The Aeron industrial work chair will suit you well if you primarily want a chair that props you up ergonomically and is comfy for extended hours of typing at a desk. But the armrests aren't that well adjustable compared to the other candidates on our list.
10. The Ariel Office Chair
You might be asking why a stool with no backrest is the ideal "chair" for your back. Ariel focuses on your pelvic bones to keep you sitting upright. The stool's base shakes slightly, causing your body to undergo constant micro-movements throughout the day, but most importantly, it makes the user want to get up and walk around. This is a pretty good thing, considering how sitting for an extended period can be harmful to one.
Conclusion
Every workplace is an industry in one manner or another. While industrial office furniture is highly associated with professionalism and seriousness in the workplace, it is also a theme that many workplaces prefer for a minimalist and comfortable office setup. The idea revolves around industrial practices for an industrial design office space and is inspired by tough industry settings such as workshops, industries, and warehouses.
It's the idea of blending wood with metal, practical with stylish, and a form-function collaboration. Using simple materials, it transforms a bare space into a comfortable and productive workspace. The building's façade, exposed pipes, and hidden structures are openly shown, giving it a raw and edgy appearance. These spaces offer a variety of advantages, including large floor area and rent savings, but they require careful planning and competent execution. Let's pick one option and shop for it now!
Video ads for product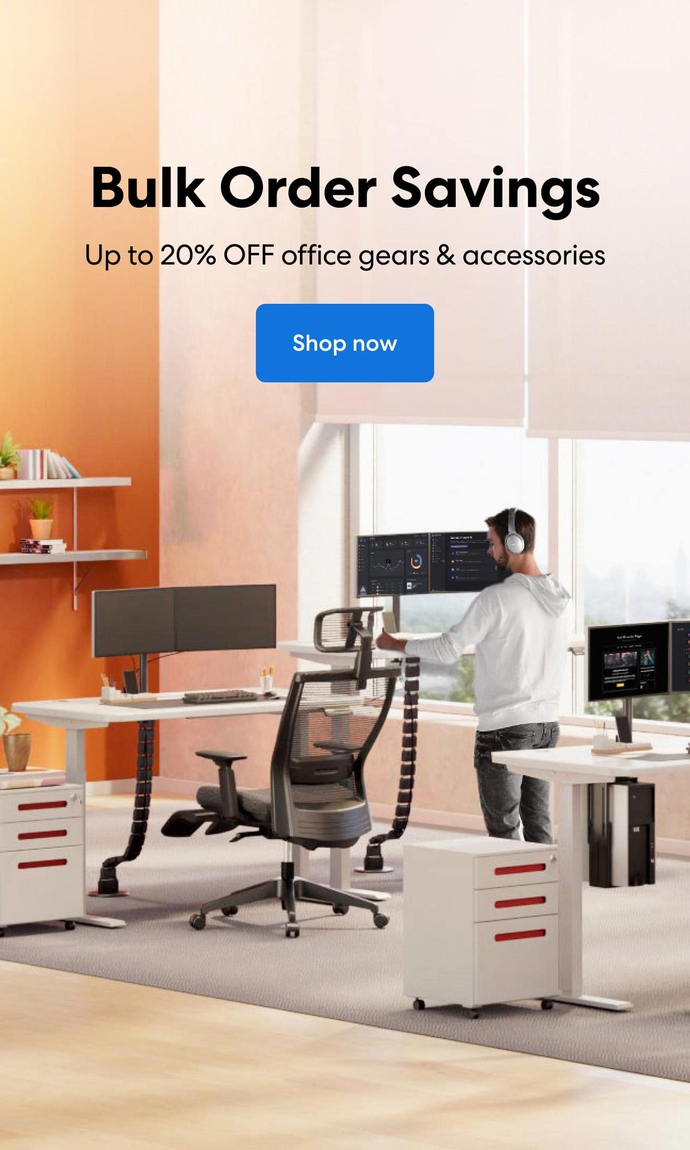 Subcribe newsletter and get $100 OFF.
Receive product updates, special offers, ergo tips, and inspiration form our team.