Smart Products
17 Best Ergonomic Office Chair with Headrest for 2023
6,612 Views
If you are looking to buy an office chair online, your best bet is to go with an ergonomic chair with a headrest. Typically, when searching for a new chair, there are some checkboxes that you need to tick off to ensure that you are not only getting the best value for your money, but you are also taking care of your health as you go along.
While sitting for long periods is not necessarily the healthiest thing to do, occurrences do pop up when it is impossible to take any other route. In these cases, you must rely on whatever office ergonomic chair you have to be able to support you over such a long time without causing you any chronic issues.
People mostly emphasize getting a high-quality ergonomic chair with excellent features. Yes, choosing a good chair is very important to reduce the physical concerns of employees and make working easier and efficient. However, getting any random chair won't correct your posture. For good posture, you must look for some best ergonomic chairs with headrests.
The headrest has a lot of benefits like it reduces neck problems, pain in the shoulders, and above all, it improves posture. Most people even consider headrests food for posture. But why is it so? In this article, you will know everything about good posture and the best office chairs with headrests.
Spine support is a very important part of the office chair design, and people often forget that the spine begins at the base of the head and ends at the tailbone. However, persons tend to think about lower back support and forget all about the upper area of the spine which needs support too.
Getting that support at the top area is the number one reason to choose an ergonomic chair with a headrest. Note that some chairs do integrated headrests, while some have them separated. The chairs with separated headrests are the best ones to choose, as they typically offer a bit more flexibility, and may even be adjustable.
With all that said, it is time to look at 17 of the best options for people who need a computer chair with a headrest.
Why are Headrests Good for Posture?
The headrest has a lot of benefits, and above all, it improves posture. Sitting on a chair for hours welcomes pain in the back, head, neck, etc., and posture is the most affected area here. A chair with a headrest scrunches the shoulders and pressurizes other parts of the back to maintain natural posture.
Have you ever noticed that when you sit on the chair at first, you sit straight and maintain posture? But after a while, you begin to slouch over, which ultimately affects your posture. However, a chair with a headrest solves this problem because it encourages users to sit more upright.
In the coming paragraphs, we have listed some of the highly efficient chairs in this regard. With these best office chairs with headrests, you can improve your posture and have a comfortable working experience.
The Importance of Good Posture
Everybody emphasizes having a good posture. But why is it so important? Well, a good posture improves overall human health to a great extent. It is also proved through various studies. In fact, maintaining a good posture is as important as eating healthy food and exercising, etc.
Posture determines how the body can fuel itself. Either you are sitting, standing, or even laying down, you need to look for your posture. Besides, a good posture also reduces tension in muscles and makes them work efficiently. It boosts energy, makes spinal joints stay in a place that minimizes injury risk, reduces back pain, and lowers the risk of having joint issues, especially some serious concerns like arthritis, etc.
However, maintaining correct posture is not easy, especially when you spend most hours sitting on the same chair. For this, you also need to get high-quality and good chairs, and in the coming paragraphs, we have some good suggestions for you.
Top 17

Best Ergonomic Chairs with Headrest You'll Love
1. Autonomous ErgoChair Pro
The final chair on the list, which is the best ergonomic chair here, is undoubtedly the Autonomous ErgoChair Pro. The customizability offered here is off the charts. If you can see it, you can likely move it to make your experience that much more pleasurable. The materials in the design make it very durable, and its supportive ability is tremendous.
The ErgoChair Pro by Autonomous has a fully adjustable design. It is highly supportive, and with its breathable seat, your superior comfort is guaranteed. This best computer chair with a headrest has an adjustable armrest, backrest, height, and seat tilt. Plus, its headrest is also adjustable that adds more to its comfort and makes it great for improving posture.
Also, the ErgoChair Pro has an excellent and smooth recline and has 5 different lockable positions. Its lumbar support is flexible and matches all kinds of seating positions to reduce back problems. This office chair for posture can support a weight of up to 300 lbs. While its woven mesh back promises optimal airflow. Another good thing about this chair is that it is made of earth-friendly material, making it more durable than most other chairs in the market. Plus, the 2-year warranty on this chair is just a bonus.
The headrest is one of many adjustable features, and it has a separated design making it independently adjustable in a relevant way to traditional seating positioning and bodily movements. Many users of the chair are unsure how they managed to survive without one for as long as they did.
2. Autonomous ErgoChair Recline
If you want a budget option for a solid chair, the Autonomous ErgoChair Recline is the best office chair with a headrest you can get. Much of its features, including the recliner and divine adjustable headrests, are things that you tend to find in models that carry a higher price tag. However, the chair manages to be both supportive and comfortable without requiring you to break the bank to own it. This chair is rated as one of the best reclining chairs with footrests.
ErgoChair Recline, like all other Autonomous chairs, is designed to provide maximum comfort to all users. This best ergonomic chair with headrest has an adjustable height, lumbar support, recline, and armrests, and all of them are crucial for optimizing comfort. Besides, this mesh ergonomic office chair with headrest also offers headrest adjustability to ensure better sitting posture.
Also, it has a highly supportive foam seat, excellent reclinable mesh back, and lumbar support to lower back issues, and its weight capacity is 250 lbs. Along with having impressive features, this chair also has a beautiful design which is why every user loves it.
As autonomous states, the ErgoChair Recline provides you with toe-to-top comfort, so if you are suffering from chronic pains associated with seating, you may want to consider choosing one.
3. ErgoChair Pro+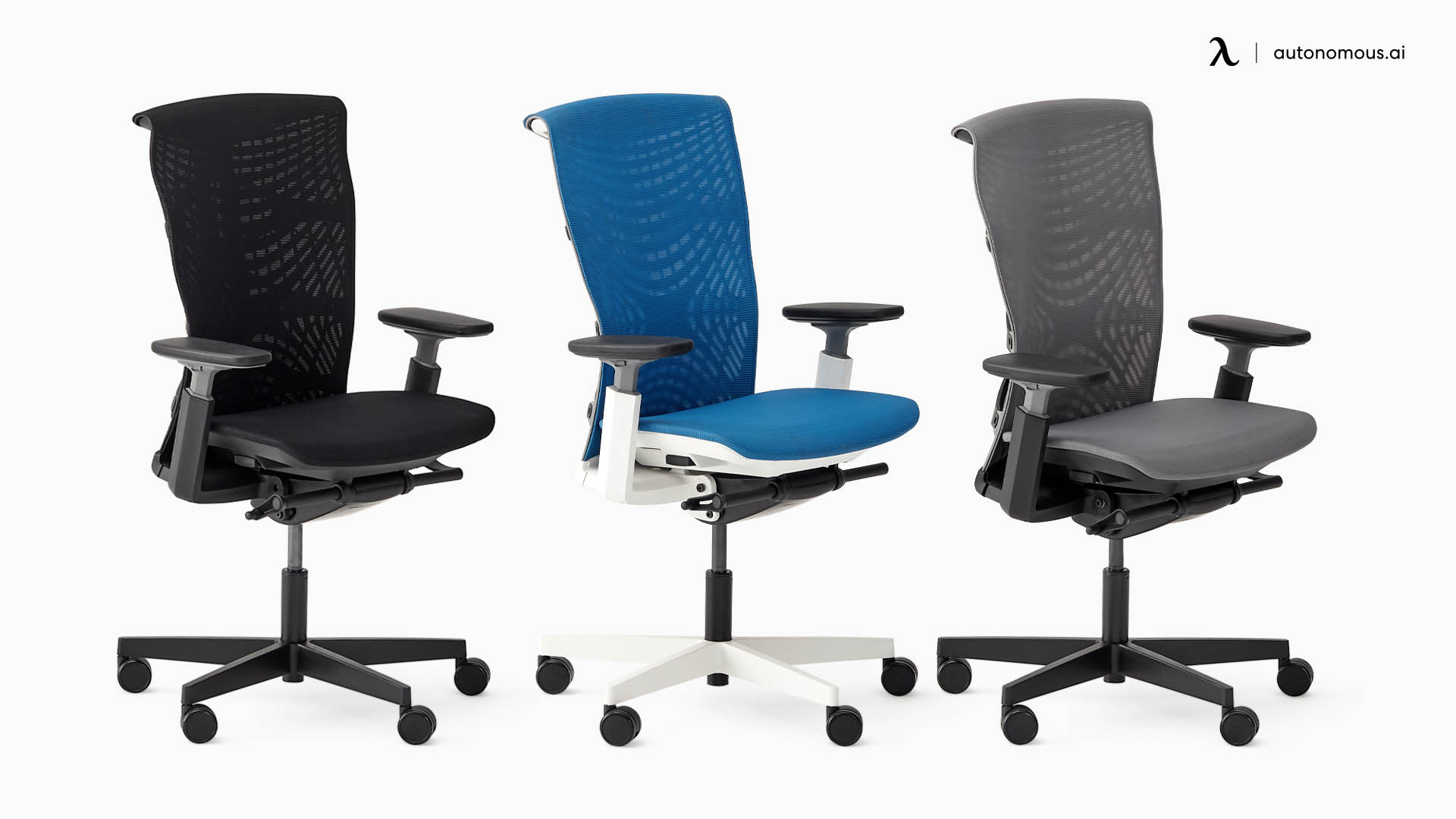 Another popular Autonomous product, the ErgoChair Pro+, makes another best item in the best desk chairs with headrests. This chair has a very dynamic design with frameless construction that ensures unhindered movements and boosts natural mobility. Besides, this chair is also made of earth-friendly material that makes it 10 times more durable than the other office chairs.
The ErgoChair Pro+ also has adaptive spinal support that promotes good sitting posture and makes sitting for longer durations an actual thing. It has two different options, i.e., breathable mesh and cooling naked TPE. Plus, with its 300 lbs. weight capacity, you can sit comfortably without worrying about anything. It comes with a warranty of 5 years. So, with this best ergonomic chair with a headrest, your investment is in safe hands.
4. AvoChair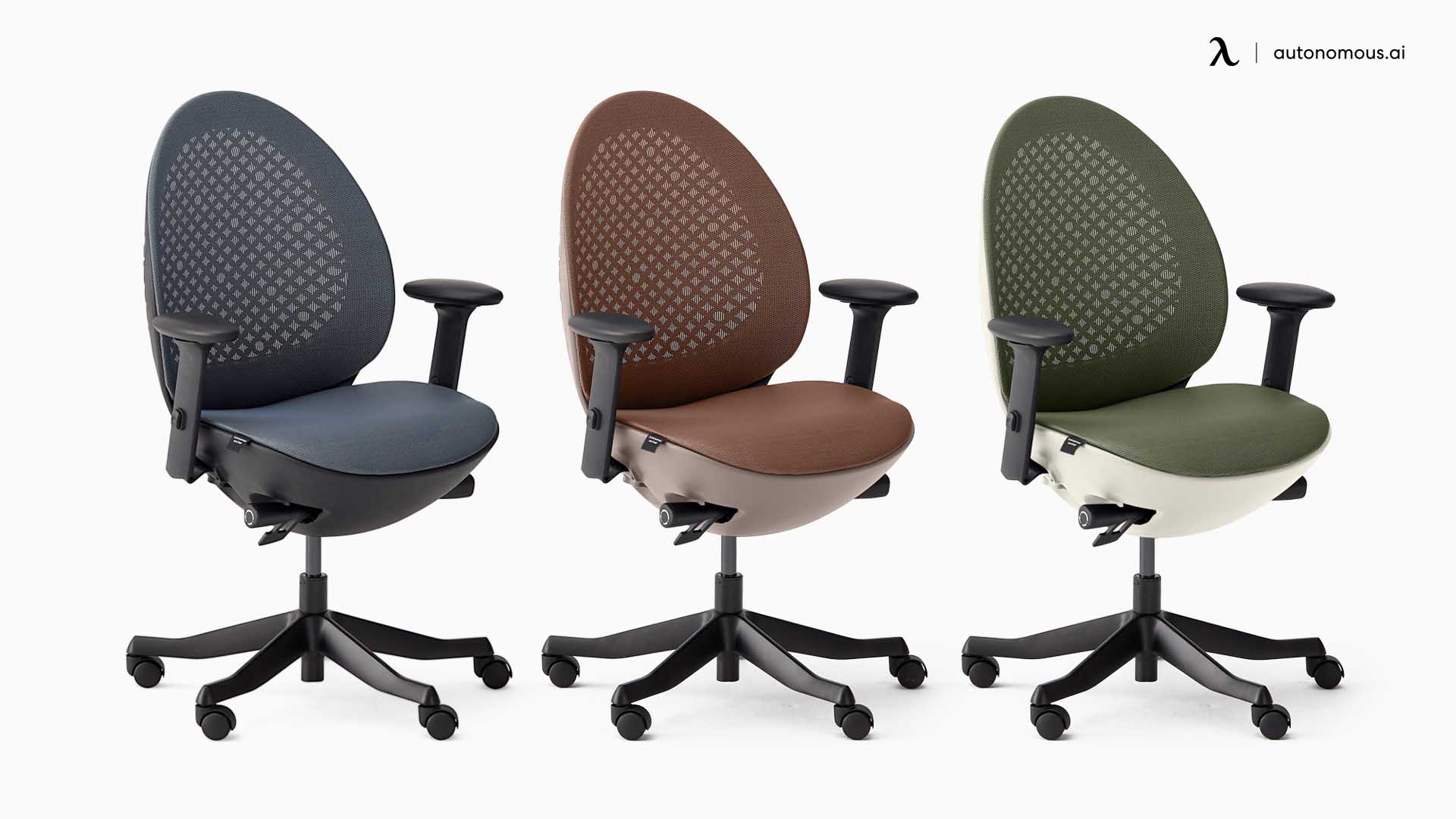 This is another best desk chair with a headrest from Autonomous. Clean design, great functionality, and higher comfort are some of the features AvoChair is known for. This chair has an adjustability feature for back tilt, tension, height, and armrest. It also has an elastomeric mesh back that makes it an ideal chair with spine support, while its mesh seat makes long sittings comfortable.
Besides, Autonomous has structured it with soft and gentle waterfall-style edges. This chair is made of a strong and sturdy diecast aluminum alloy base that makes it more durable. Also, it is good for the users and the environment because it is made of recycled material. The AvoChair has a warranty of 2 years.
The right chair can improve your posture and boost your comfort. That's why the choice of chair is important to ensure a comfortable sitting experience. The above-listed best ergonomic chairs with headrests are specifically designed for this purpose.
So, set a budget aside, and get these chairs for your workplace and home office to begin working in an environment with the least physical distraction. Also, take care of your posture as it is an important health concern and, if possible, get a separate headrest for the office chair and maintain your productivity and comfort.
5. Nightingale CXO
Dialing things back from the exceedingly cheap options of ergonomic chairs with a headrest above, this one is incredibly expensive, and it is not hard to see why. With four tilt lock positions, lumbar, arm pivot, arm depth, arm height, seat depth, and seat height adjustments, you are always going to be as comfortable as possible when you use this one.
The build quality is tremendous, which means you are going to have this ergonomic desk chair with a headrest for some time to come. Surprisingly, it is available in both a 350-pound and 450-pound weight capacity, which means bigger and heavier persons can also take advantage of the comfortable design. With that being said, it is not suited to taller persons, so you may want to not consider this one unless you fall within the average height bracket. Do not forget about the separated headrest, which curves around your neck to preserve positioning.
6. Sihoo Ergonomics Office Chair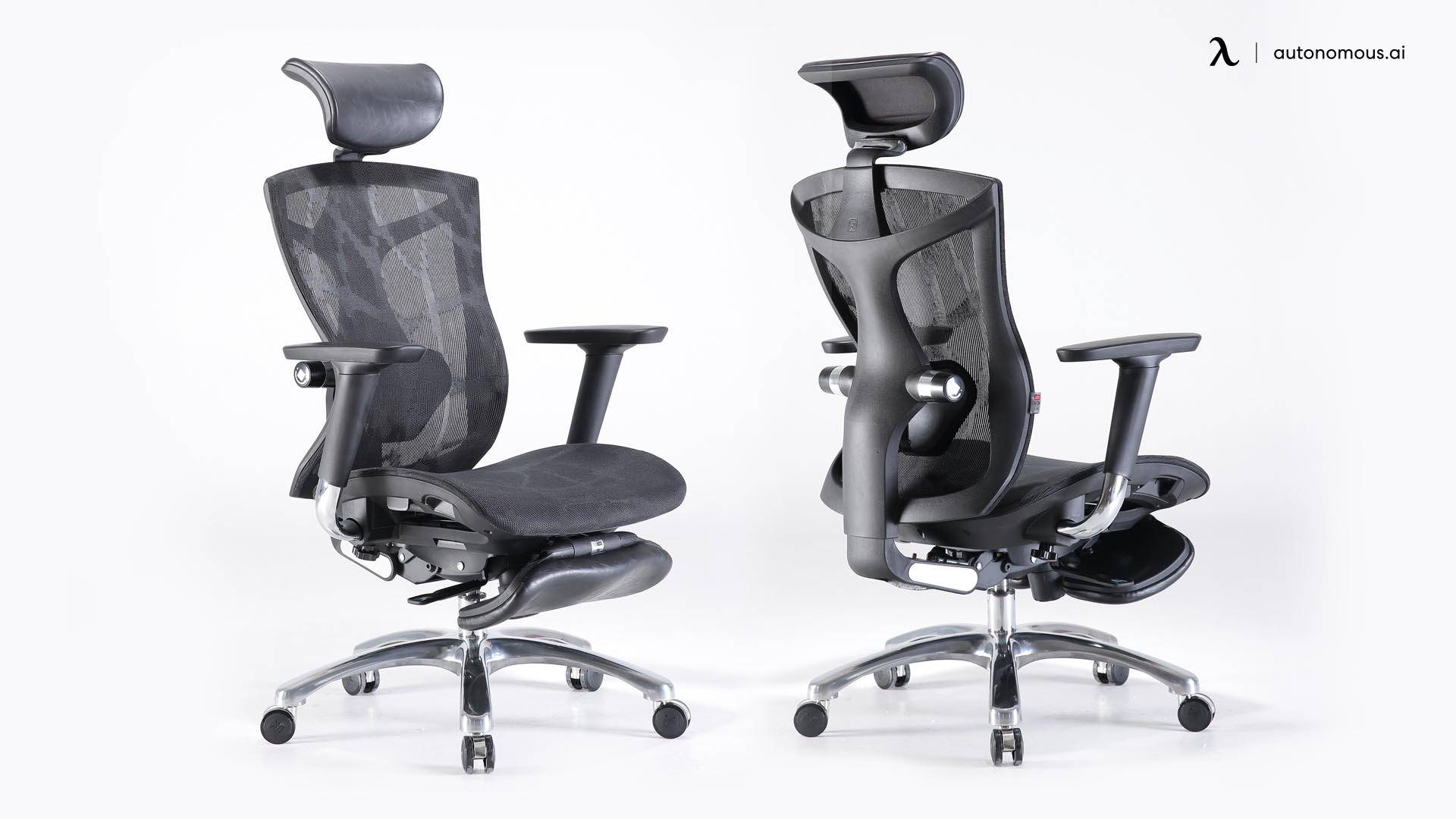 While it may not be as cheap as the Flash Furniture option, this is another best office chair with headrest for those who may be on a budget. It looks as traditional as an ergonomic chair with a headrest can get, but it does the job it set out to do very well. There is a mesh back design, which is curved to meet the contours of your spine as required.
The armrests are vertically adjustable, there is lower back support, and there is even a spring-lock tilt mechanism. This cheap ergonomic chair is not going to win the award for the best ergonomic chair with a headrest, but it does a tremendous job for the super affordable price tag that it boasts.
7. Flash Furniture High-back Mesh Chair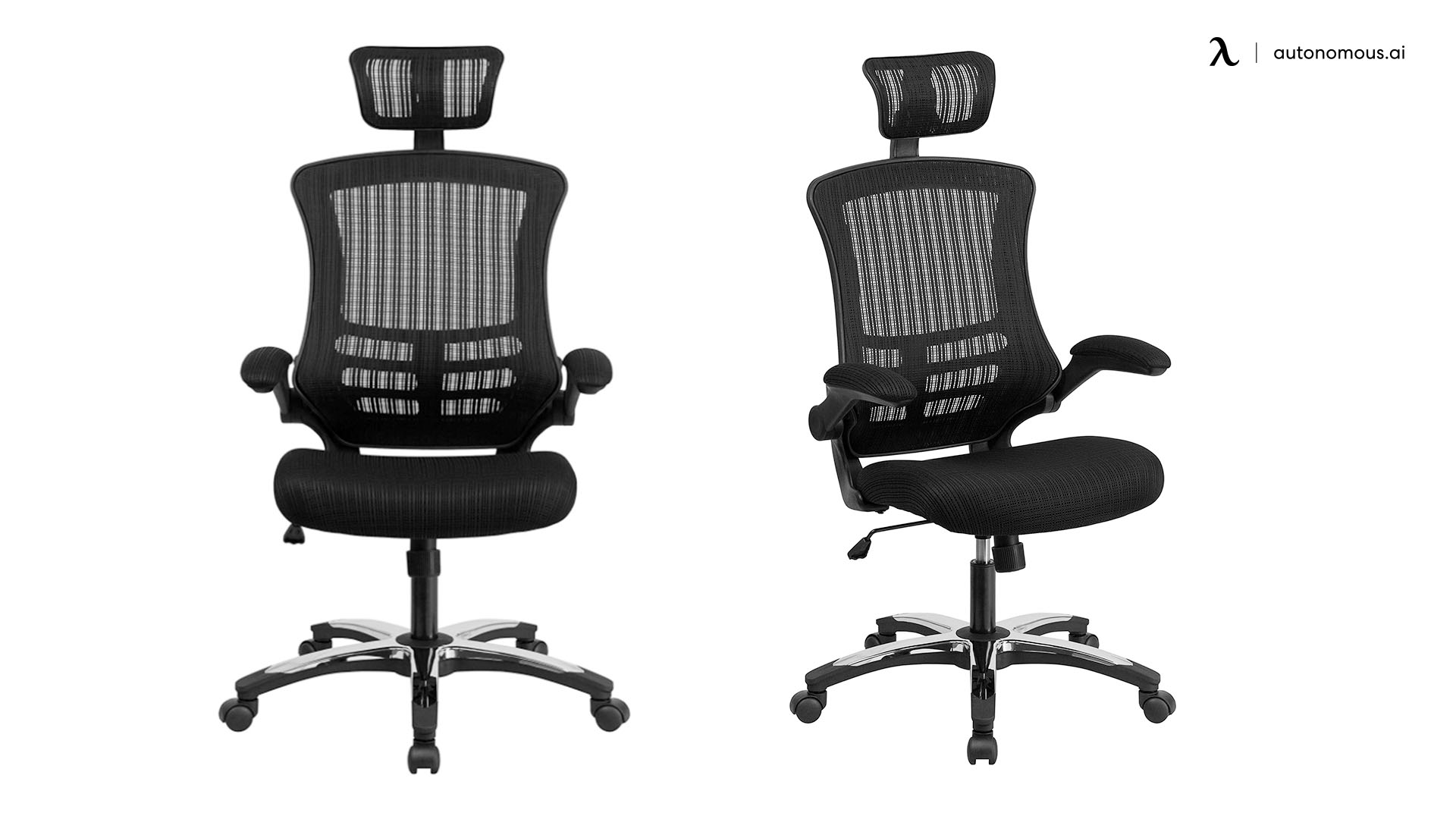 Here is the budget option for those who are looking for an ergonomic desk chair with a headrest. It is a mesh body chair, and it may undoubtedly be the most versatile in its price range. Whether you like to lean back or want to ensure that your neck and head are comfortable, this affordable ergonomic chair with headrest has a separated headrest design that offers adjustability for comfort.
Additionally, there is firm lumbar support, tilt tension adjustment, and adjustable armrests too. Of course, the build quality is not as solid as some of the other options on the list, but for the price, you would be hard-pressed to find another ergonomic chair that can rival this one.
8. Comfort Products Commodore II
This ergonomic chair with a headrest features an upholstered leather design with a soft feel, for a comfortable seating experience. This is only complemented by the choice to include a superb amount of padding in both the backrest and the armrests.
Reclining makes a return here, which helps you to stay in a comfortable and healthy position consistently without keeping things too sedentary. The headrest is integrated, but it still manages to do its job incredibly well. As you choose, several wonderful colors are available, so getting something that complements your office space should not be a problem.
9. Hbada Reclining Office Chair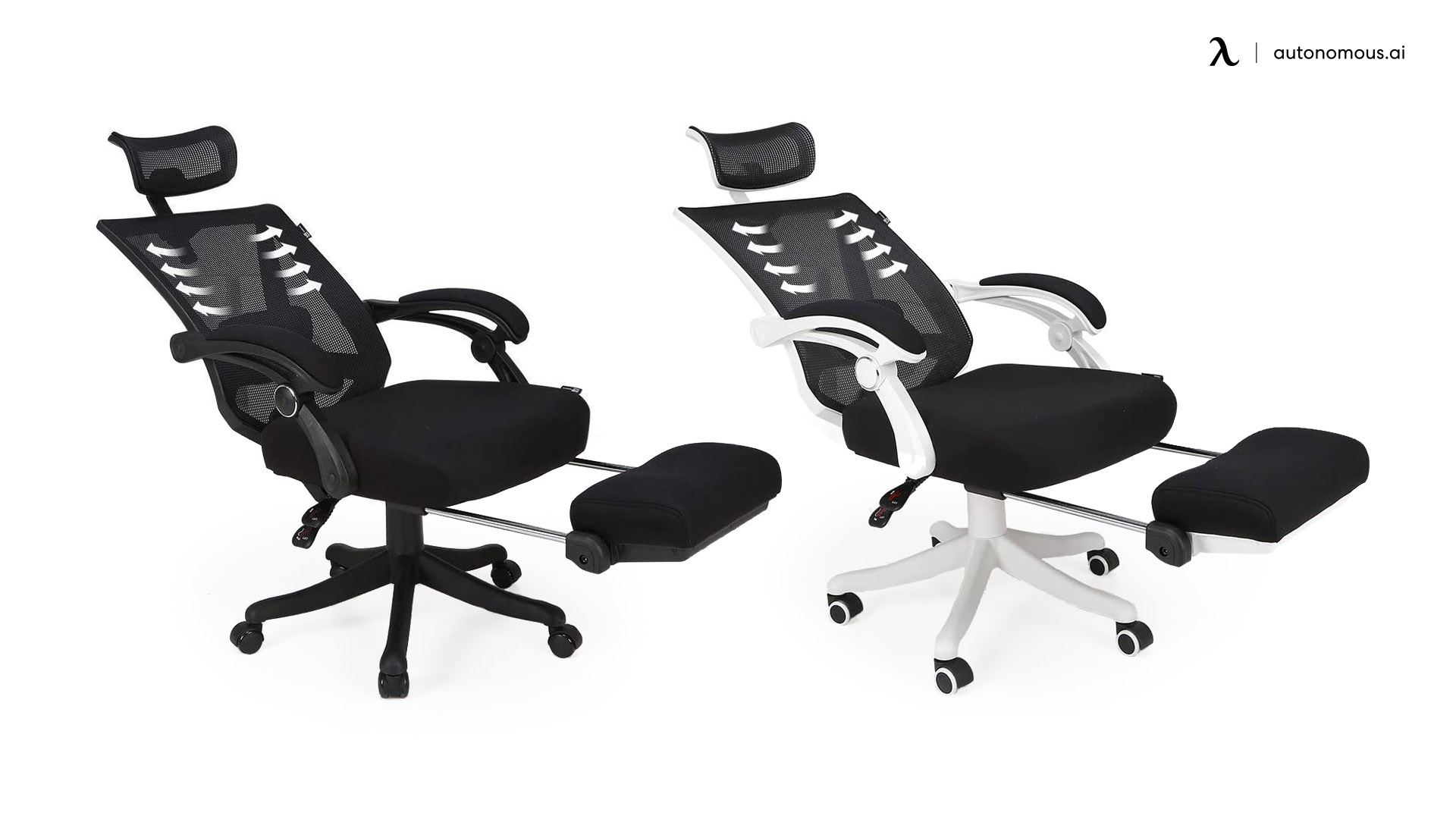 One of the first things you are likely going to do when you get your hands on this computer chair with a headrest is to learn how to adjust your office chair. That is because it comes with a reclining feature which is great for switching things up from the traditional sitting position that could potentially contribute to health complications. It has two eye-catching color options, and a headrest that is well-placed to ensure you never have problems at the top of your spine.
There is a mesh back design, so you can consistently remain cool as you work. When you are ready to use the reclining feature, pull out the retractable footrest and relax.
10. Smugdesk Ergonomic Chair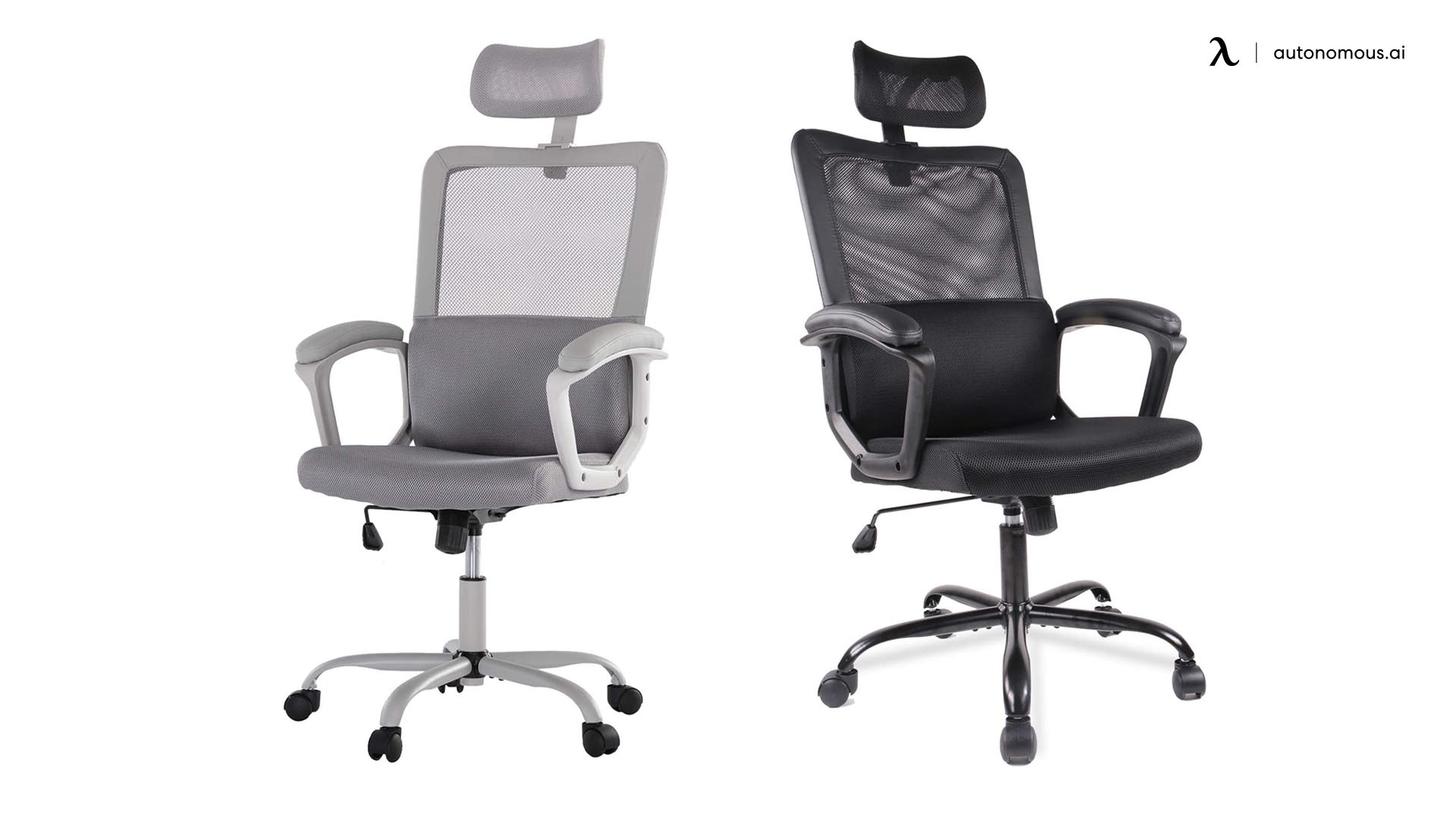 While you may want an aesthetically pleasing design when choosing an ergonomic mesh office chair with a headrest, you may also desire some level of simplicity, so that it doesn't drown out whatever you may have going on in the room. If this sounds like you, then you may want to consider the Smugdesk ergonomic chair.
It is not as curvy as many other office chairs, instead opting to use defined edges to separate itself from the rest. There is no doubt that you are going to feel as if you are sitting on a unique piece of office furniture as you work with the Smugdesk chair.
Ergonomic features are present, including a retractable footrest and adjustable armrests. Of course, a headrest is also present, which is conducive to ensuring that your neck stays where it should while you work.
11. Duramont Adjustable Ergonomic Chair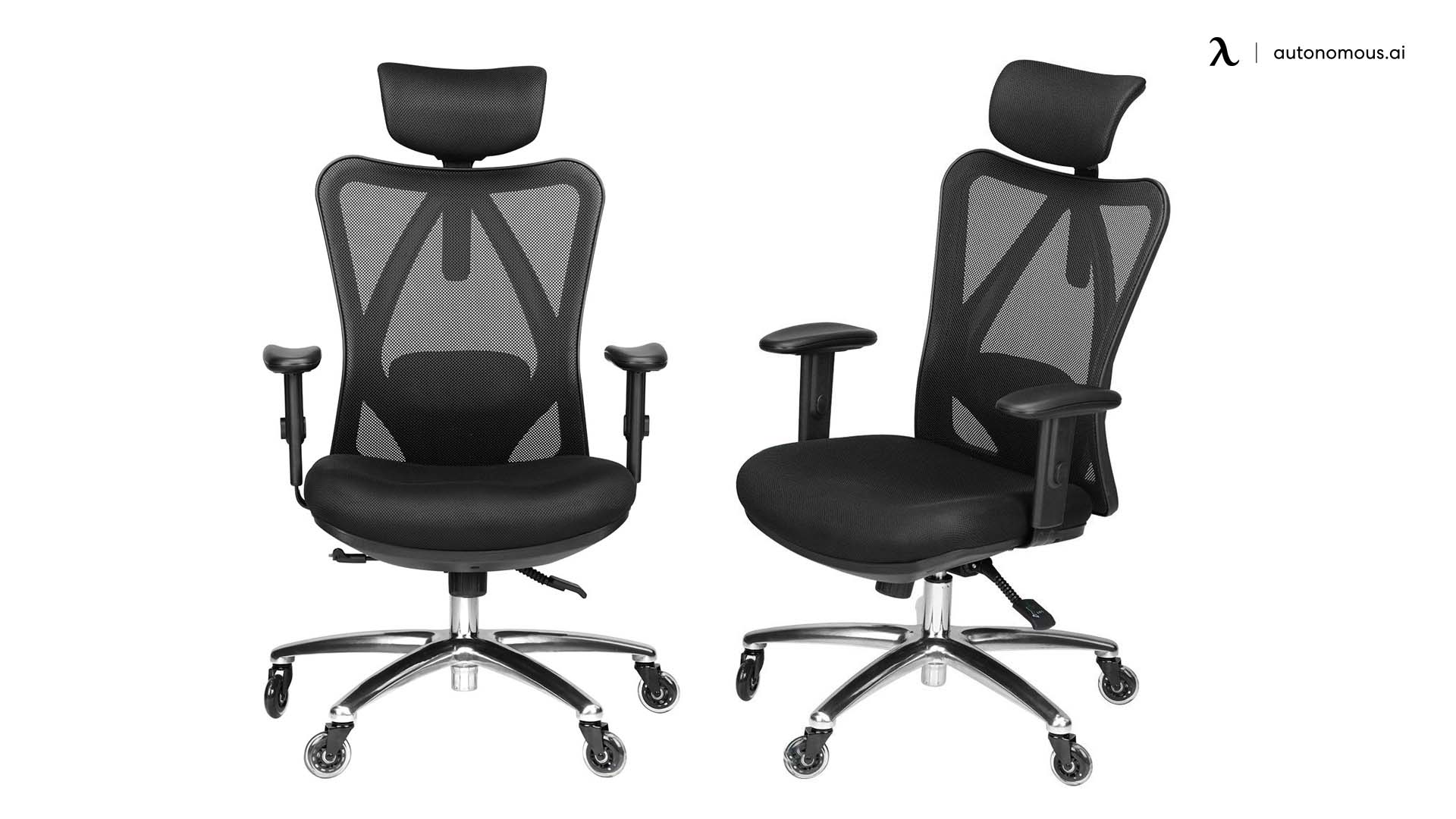 Duramont is next on the list with this mesh executive office chair. There are more movable parts than you would expect, making for an individual experience for each person who may decide to buy one. Some of the responsive features that contribute to this are a height-adjustable seat, adjustable armrests, and backrest tilt to take care of your lower spine health.
On the upper spine side of the spectrum, there is a separated headrest that yields several different stages of adjustments. Apart from the practicality of the mesh chair design, the unit also looks tremendous and should fit itself into almost any office design seamlessly.
12. Humanscale Freedom Desk Chair
This is an all-around great-looking ergonomic chair with a headrest that comes in a series of incredible colors made to fit almost any office aesthetic you could potentially throw it in. As was the case with the Steelcase gesture office chair, its price is not on the lower end of the spectrum.
However, the unit lends itself to the principle of ergonomics in a tremendous way. On the topic of headrests, this one is automatic, which means when you adjust your body position, the headrest adjusts itself on the fly to accommodate you wherever you may be. Cushioning is present in full force, ensuring that you work in comfort and style, and that you do not have to worry about health complications.
13. Steelcase Gesture Office Desk Chair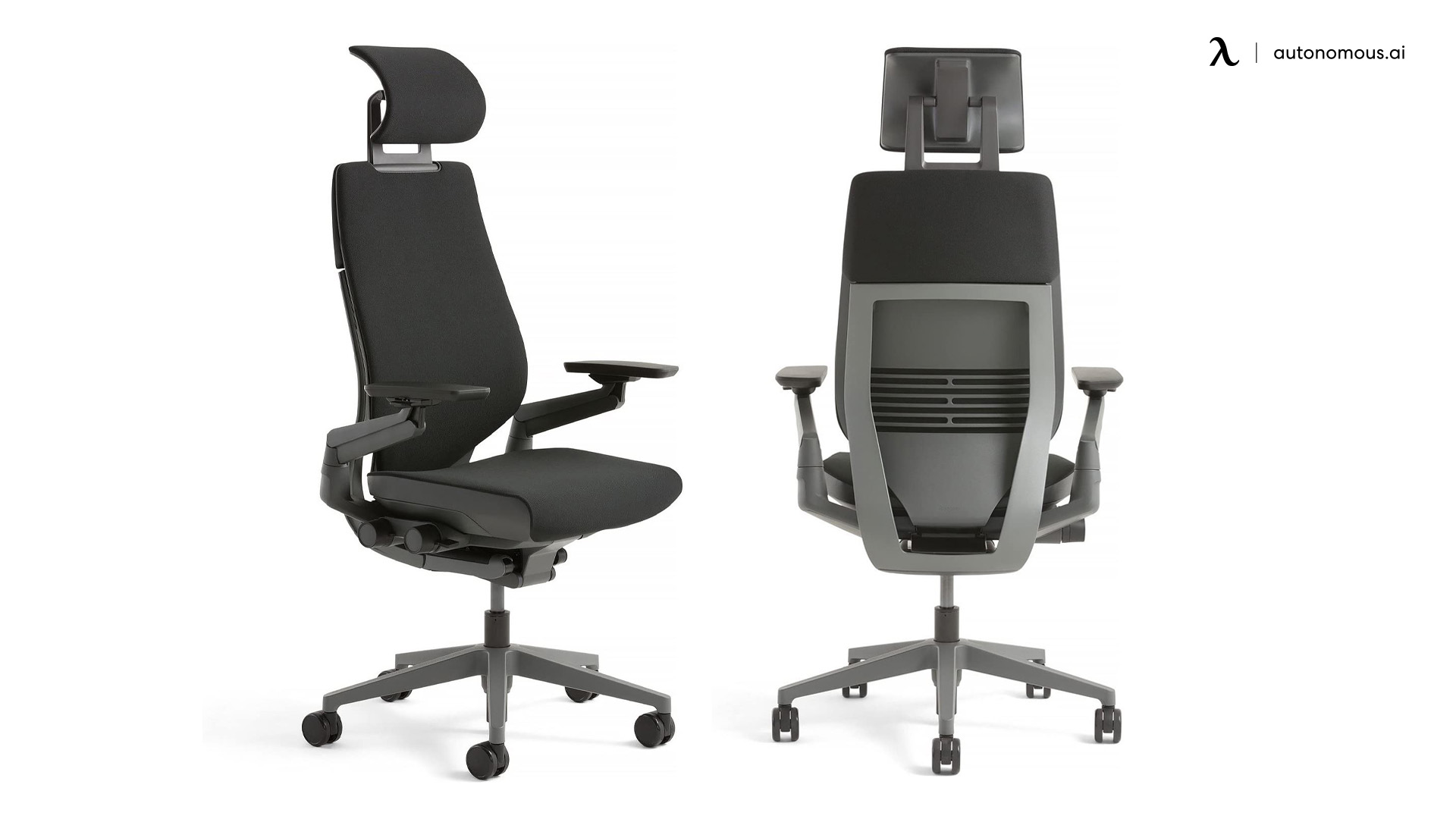 First, if you are going to be taking this ergonomic desk chair with a headrest, get ready to spend quite a bit, as this is far from the budget option in the mix. However, once you seat yourself and begin working, you are going to start to see the value almost immediately. It effortlessly supports both short and tall users with a level of adjustability that you are not going to find in many other chairs.
It features full customization, including armrests that can somewhat move the way a human arm does. Additionally, the headrest is separated, which makes it more freely adjustable for better head and neck support.
14. Clatina Executive Chair
This computer chair with a headrest reinforces why you should never judge a book by its cover. While many office chairs have a plushier or wider look, this one looks incredibly flat, which would leave you to believe that there is no padding or support for your back. However, padding is present in an almost invisible manner, which makes for a comfortable seating experience that is complemented by an incredible form factor.
Take advantage of seat height, armrest, lumbar support, and headrest adjustability to keep you working productively and comfortably for as long as you may be sitting on the chair.
15. Ergohuman Swivel Chair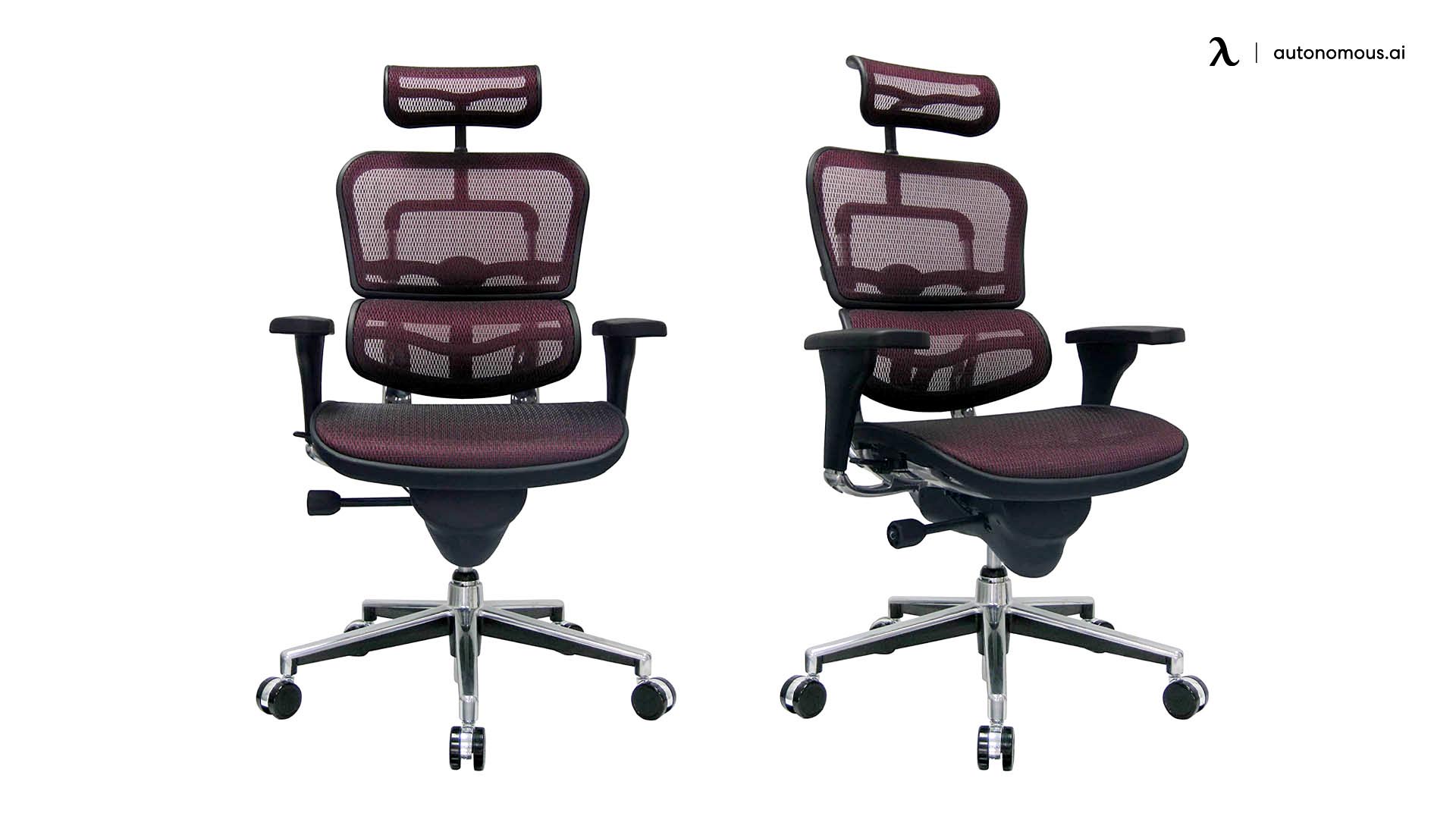 Ergohuman gets the first spot on the list of ergonomic chairs with a headrest, thanks to this ergonomic mesh office chair with a headrest. It features a high-back design, which makes it well suited to people of different heights. There are a ton of adjustability features to ensure you get a seating experience that is both comfortable and customized. Some of the areas you can adjust are the seat, lumbar area, backrest, and armrests (in a 3D fashion). Naturally, there is also an adjustable headrest present, which contributes to tremendous comfort in the neck area as you work.
Unlike most chairs that feature a single backrest area, the upper and lower segments of the backrest are separated, which yields an independent back support experience.
16. Ticova Ergonomic Office Chair
This Ticova chair is another that features a traditional office chair look, which is not going to take too much away from the rest of your office. The padded seat is tremendously comfortable, and the mesh backrest offers great breathability. While the headrest may not have the curve that some of the other options do, it is padded to ensure that your neck can rest with little to no attention.
Feel free to adjust the seat height and armrests too, making for a customized and comfortable seating experience for anyone who uses the chair.
17. TOPSKY Mesh Ergonomic Chair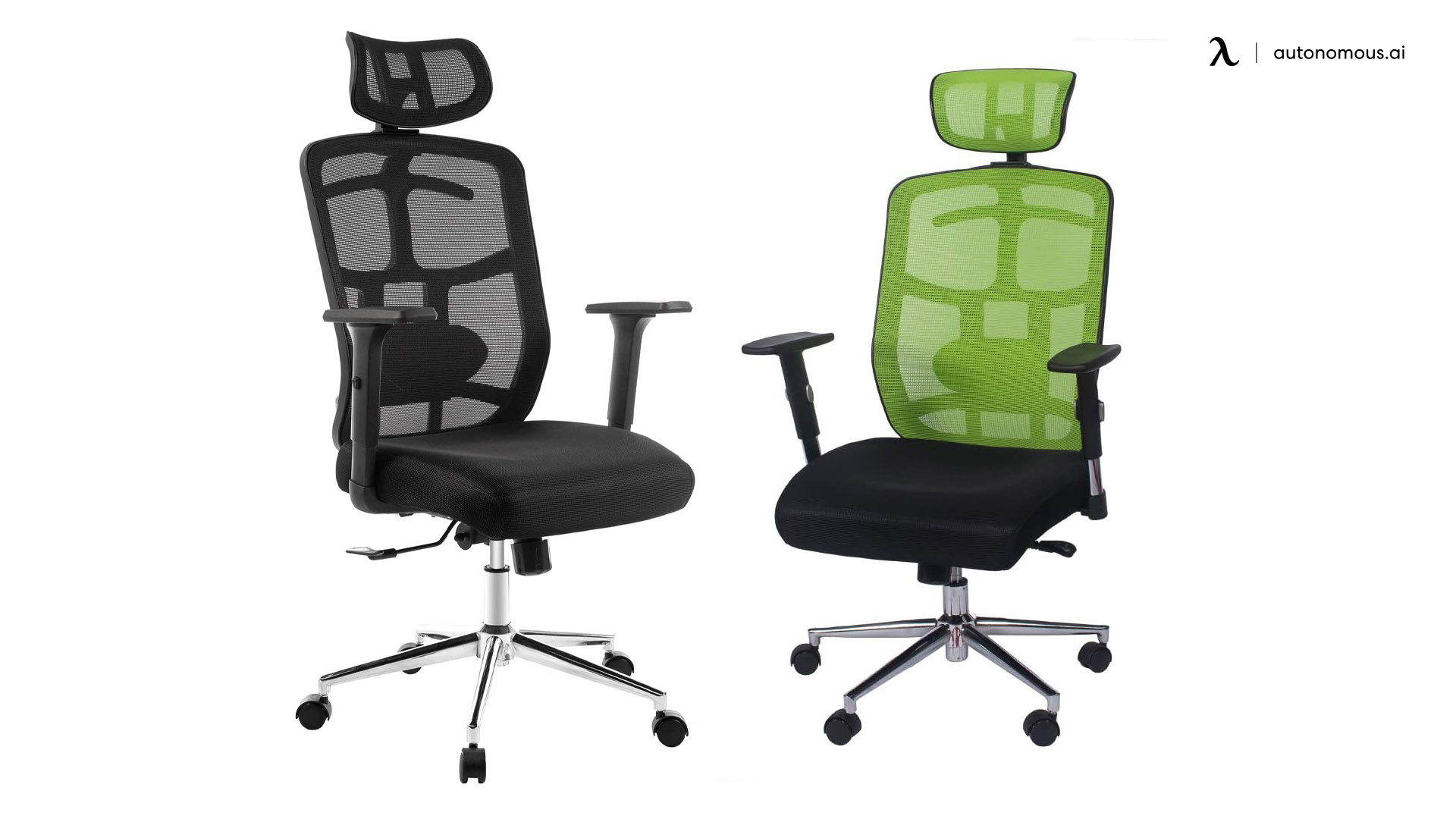 This ergonomic chair with a headrest provides a tremendous amount of posture support and ensures that your head is consistently aligned with your spine. It features a mesh back design to prevent you from dealing with the horrors of excessive sweating while you work.
There is a rare hanger present, so you can hang your backpack, bag, or coat easily enough. The manufacturer included a lumbar cushion, which has a dynamic position design, so feel free to adjust it to wherever feels comfortable for you. The headrest has the perfect curve for your neck, and it is separated from the backrest to provide you with an adjustable design.
Hey, you have special pricing through your company.
Get exclusive rewards
for your first Autonomous blog subscription.
WRITTEN BYAutonomous
We build office products to help you work smarter.