Workplace Inspiration
2 Person Desk Setup Ideas That Boost Productivity

Autonomous
|
May 20, 2021
4,865 Views
Every day we hear that there are some new additions in the workplace ergonomics. Large firms take good care of their ergonomics, making a friendly environment for their workers; however, smaller businesses should also keep a keen check of that irrespective of the available space. You might be trying to be economical with the available space, so a 2-person desk setup would be ideal.
When any office worker witnesses a shortage of space at their workplace, that does not mean they can ignore the ergonomics and stuff their smart office accessories without thinking of their workplace comfort. A poor desk setup can negatively impact your productivity and affect your team's performance, and no one can afford that. Since teamwork is the key to a higher output, you can think of a 2-person workstation setup as a means of boosting your teamwork skills as well.
We know that you might be able to plan a single person desk setup, but a two person office setup requires more planning. With the right desk setup ideas for 2 people, you can organize your office in a way that is suitable for your colleagues as well. We know that you must need our assistance in this regard; therefore, we have shared some precise double desk setup ideas below. So, without any delay, let us have a look at them. 
Get a reliable standing desk
The basic equipment that you require to set up any office is a reliable desk. Since here you are planning for a two person office setup, you can think of getting a double desk like SmartDesk Core Duo. With a larger area for work, both workers will be able to organize their accessories and documents freely.
In addition to the space occupation, you have to keep a keen check of the work ergonomics as well, so you should actively use the automatic height adjustment feature of an office standing desk to adjust the height as per your requirement. This adjustment will allow you to have a more comforting experience and avoid any common muscle strains.
As far as the correct work ergonomics are concerned for a 2 person desk setup, you should set your SmartDesk Core Duo's height in a way that your forearms rest on the desk's surface, and your arms are perpendicular to them. There are also other aspects that you need to consider while ensuring you set your work ergonomics.
Light up your workspace!
Once you have selected the SmartDesk Core Duo as your preferred desk for your 2 person desk setup, the next thing you should think of should be about the ways you can add more light to your workstation. Adequate lighting directly impacts your productivity and focus, so improving your office setup's lighting would be a pivotal way to boost productivity. You can also find multiple research that has proven how natural lighting can impact your circadian rhythms and improve your sleep cycle.
All that leads to the idea of getting enough lighting in your 2 person office setup, but the question is, how much would be enough? Well, one way to have that would be to add natural ceiling lights in your office, as that is a reliable and energy-efficient way of getting adequate lighting. However, you can also think of adding LED desk lamps with temperature adjustments to ensure you can shift them as per your requirement.
One thing that you should remember while adding a desk lamp would be to avoid having the lamps that have higher light intensity, as that may cause optical impairment.
Adjust your monitor screen
Your 2 person desk setup with work ergonomics matter the most. So, one way of doing that right is by adjusting your monitor screen to your eye level. Although you could do this by adjusting your standing desk's height up to some extent, it can be done more precisely by using a monitor arm. Once you have attached your monitor screen to a monitor mount or an arm, you can adjust the height of your screen without having to adjust your desk. Ensure that the screen is not more than two inches above your eye level.
Specialize your workspace for your tasks
Would you like to have a workspace that has your random stuff like your gaming controller, your camera, your files from some other project, your pens, and any other random stuff lying on your desk when you must focus on one specific task? No, you will not like that; no one does. Having  accessories that are not directly associated with your task only makes your workspace more crowded, difficult for you to recognize the more important stuff, and create frustration with your co-worker.
To avoid all that, it is better that you specialize your two person office setup to ensure you both only have those accessories on your desk which are directly associated with your project. Avoid having any extra files or documents, and restrict your desk with the more important workspace gadgets and accessories.
In this way, you will stay more focused, and you could cash your valuable time while working on your projects rather than wasting it figuring out stuff that is important and the ones that are not.
Organize accessories to minimize clutter
Since you have specialized your 2 person desk setup, you are now left with the items that you were supposed to remove from your desk. Although these items were not important enough to be lying on your desk, you are required to keep them organized to ensure they are easily accessible when you need them.
You can think of getting a drawer organizer to keep your desk accessories in a more organized way. Such organizers will make it easier for you to spot your pen, highlighter, or any other smaller accessories pretty conveniently.
One another reason that can make your 2 person desk setup look unorganized is the lingering cords. When you are working in an office setup, your desk usually has a lot of cords connected to various gadgets such as your monitor, CPU, mouse, keyboard, etc. One effective way of organizing your cords is by getting a cord tray. You can attach a cords tray beneath your desk and place your cords there to have a more organized working area for the two of you.
Personalize!
Everyone likes to have a connection with their office to stay more engaged and motivated while working on their tasks. The best way to have a more immersive work experience at a 2 person desk setup would be to personalize it. You can place a few collectibles or your family photo frame on your side of the desk.
Such accessories are a little addition but contribute a lot to a productive desk setup. When you have such motivational items in front of you, you tend to remember your purpose, and nothing can divert your attention from your work.
Your workplace is your sanctuary, a place where you would spend most of your day. So, it is pretty common that you lose interest in your job when working longer hours or even have burnout. Such consequences can have a negative impact on your productivity, making you less productive. But, when you have your family's photograph, you know who is the reason why you are spending all those hours at the office, and it is your love for them that keeps you going strong and motivated in your field.
This is not the only thing you can think of doing to make your office space more personal. You might be a person who likes privacy, so in such a case, you can use a privacy panel for your 2 person desk setup to separate yourself from the rest of the office and have a better focus on your work.
Invest in ergonomic chairs
You must invest in some good ergonomic chairs while planning your two-person workstation setup. Even if you have invested in a standing desk, you should have a durable seating surface, as only intermittent standing is advised while you work, and standing for long hours can be harmful to your muscles as well.
The ErgoChair Pro is ideal for your 2 person desk setup, so it will be wise to invest in a pair of these chairs. There are certain factors that you should consider while buying an ergonomic chair. These factors are all associated with the comfort and adjustment level that a chair is offering. Luckily, the ErgoChair Pro has all those adjustment features that make any ergonomic chair suitable for long-term use. So, investing in such a chair would be one of the best desk setup ideas for 2 people.
Add some file cabinets
When you have invested in all the ideal accessories for your 2 person desk setup and have organized them aptly on your desk, your files and documents are among the last things that remain. A good way to deal with them would be to invest in a pair of file cabinets for each of the two workers that use this desk setup. This will not only provide both of them with a specialized space to place their important documents but will also help them keep their desk setup minimal.
No matter what choices you are thinking of making while aligning your office, it is always better to have a minimalistic setup. A minimalist desk setup has become more of a buzzword these days, and almost all offices promote such design. This is because it can be one of the simplest yet ideal double desk setup ideas that helps keep your mind clear and focused. As a result, you become more productive and can get more work done in a shorter period.
Make your workspace green
You would have heard how beneficial it is to make your workspace green. The case is pretty much similar to a two-person workstation setup. You can think of adding feng shui plants like peace lilies to promote peace and harmony in your workstation. Certain plants promote luck, wealth, power, and well-being, so you can add them as well. Such office desk plants not only make the environment refreshing but have the potential to boost your productivity and remove any toxins from the environment.
Play some background music
When all is fine, the end is fine. As an office worker, you can think of adding a peaceful white noise in the background to give the final touch to your exquisite 2 person desk setup. It is often noticed that workers find it too distracting to work in a noisy environment.
Even the slightest noise like the typing sound or distant chatters of your colleagues can be too distracting when you are trying to focus on your work. In such a situation, having soothing classical background music can alleviate your mood. And, if you do not like classical, you can opt for any other music piece or just some white noise that can cancel out any irritating background noise.
Wrap Up
We shared some of the most iconic double desk setup ideas that will help you become more productive and provide a more friendly work environment. All of this might take you some time to adapt, but once you align your two person office setup well, there is nothing that can stop you from boosting your productivity and raise your team's output.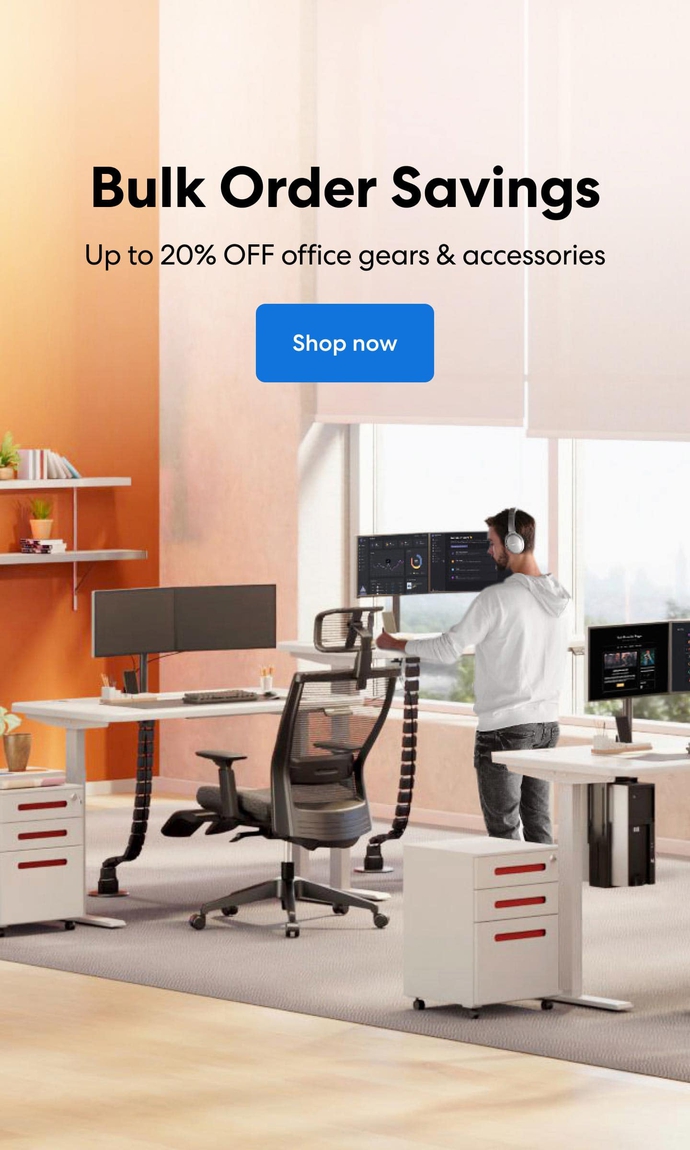 Subcribe newsletter and get $100 OFF.
Receive product updates, special offers, ergo tips, and inspiration form our team.