Smart Products
20 Best Office Chairs for Sciatica Pain (2023 Review)

Autonomous
|
Oct 19, 2021
5,990 Views
Regardless of whether you work from home or go to an office five days a week, the workplace today is not designed to help individuals who have back pain. If you battle with back pain, you should consider purchasing the best office chair for sciatica and pain relief. 
A prolonged working session might aggravate your lower back pain and lead to sciatica. This can be alleviated with constant stretching and physical activity, but it can still be uncomfortable if left untreated, or if the repetitive motion (such as sitting all day) is not adjusted. 
You can help mitigate your sciatica problems in addition to physical activity by using an ergonomically appropriate stress chair. Numerous producers have established a market for people dealing with sciatica and other back problems, which today leads to several of the best budget office chairs. 
What is Sciatica?
Sciatica is a disease caused by pinching the sciatic nerve between the top and bottom of the buttocks. In addition to your hips and buttocks, your pain might radiate across your lower back when the sciatic nerve is pinched. Some severe cases can affect your legs. 
It is possible to solve sciatica without surgery and with physical exercise and stretching. Naturally, in the most severe circumstances, surgery may be required. Therefore, it is important to know what kind of chair is best for sciatica.
20 Best Office Chairs for Sciatica Pain You Should Know
1. Autonomous ErgoChair Pro
The ErgoChair Pro is an intelligent reclining ergonomic chair, which is perfect for a gaming or home office set-up. 
While a business chair and a gaming chair often have many differences, the adjustable design of this chair allows you to use it in many settings. This model can be used, for example, to build an angle gaming desk or home office with the Autonomous SmartDesk Corner. 
An external mesh design is a fantastic feature that allows for breathability. The exquisite TPE skeleton is easily viewable in a well-lit environment. This chair with wheels allows for increased mobility and efficiency. 
It can help you maintain your posture by applying magnetic fields to improve your back health. Hence, many consumers believe this model to be the best office chair for lower back pain. 
2. Autonomous ErgoChair Plus
ErgoChair Plus is Autonomous' most expensive high-end model for those considering buying an ergonomic chair. However, it is still good value for money. The product is delivered unassembled, but it should not take more than five to six minutes to assemble. 
You only need a screwdriver because there's already an Allen wrench included. The entire assembly process is easy, and the instructions are simple to read and understand. 
This best office chair for sciatica
 was considered highly functional and ergonomic by many testers, irrespective of their body type. Users can lie back while having their neck, head, or lumbar region fully supported. These features indicate it is the best chair for a herniated disc. 
3. Autonomous ErgoChair Recline
Welcome to the Autonomous ErgoChair Recline world of comfort. This is the most popular reclining ergonomic chair in this price category thanks to its ergonomic design and breathable mesh back, which keeps you cool and comfortable all day. 
The ErgoChair Recline offers a custom-designed seat with enhanced padding and a flexible footrest that alleviates back pain. At the same time, the back support promotes good posture. 
Unlike many other chairs, this desk chair for sciatica provides hours of relief thanks to its lumbar support. 
Although many of the features in the more expensive chairs are not in the ErgoChair Recline, you can modify tilt and tension on the backrest and headrest for outstanding support. 
4. Herman Miller Aeron
The Herman Miller Aeron is a costly product, but for a good reason. With features such as a mesh back, a robust base, and three different sizes, the chair is ergonomically designed to keep you comfortable all day long. 
A tilt and a seat angle adjustment are provided. You can adjust the arms and lumbar completely for personalized preference. It is composed of high-quality materials and should last for many years, as you should expect. 
The Herman Miller Aeron is the way to go if you want a sciatica relief chair. 
5. Conference Chair by Orren Ellis Renda
This office chair offers you a pleasant sitting experience if you want an attractive conference room chair that does not break your budget. 
There is a stainless-steel foundation and a padded seat with many color variations in the Renda Conference Chair. You can also find a tilt mechanism and an adjustment of seating height with this desk chair for sciatica model. 
6. Herman Miller Sayl
This is another best office chair for sciatica for you. The Sayl has a trendy, unique style, but it's also relatively comfy and distinctively designed. It includes a wide mesh back that Herman Miller believes can adapt to the user. This means that the chair can help you keep your spinal cord in its natural position. 
There are many other design considerations that create an enjoyable experience. You also get an adjustable height of 15.5 to 20 inches, as well as carpet-friendly casters. 
7. Alera Elusion
The Alera Elusion Series Mesh Mid-Back Chair is another high-quality budget-friendly choice that delivers many of Herman Miller's features for less than $180. This office chair provides flexibility with a multi-function mechanism that can change the back angle, tilt, and arm height. 
It has a beautiful, curved seat cupboard that can keep you comfortable throughout the day. The mesh back also provides a relaxed, airy, and breathable feel. 
8. Conference Chair by Mercury Row Pinero
This ergonomic office chair is another excellent choice for people looking for a budget-friendly chair. The stylish eight-color chair is built to resist demanding operations and can readily handle an eight-hour day of work. 
Its padded seat, back, and armrests keep it comfortable all day long. The height of the best office chair for sciatica, angle of seat, tilting mechanism, and support are adjustable. 
9. Leather La-Z-Boy Executive Chair by Aberdeen
La-Z-Boy is noted for its convenience. Do not look any further if you're searching for a custom computer chair that can recline your and provide a comfy atmosphere in your area of work. 
Zoned core technology and a foam layering system are combined to create lumbar support and pressure reduction. 
Thanks to the comfortable, high headrest, you may not have to spend your days stooped over your computer screen. The headrest supports your head and sustains good posture. Due to its bonded leather finish and light beige color, it is also trendy and timeless. 
10. Alori Task Chair
Because of its ergonomic backrest, aerated padded seats, and other standard features, the Alori can compete with alternatives twice the price. 
The chair consists of top-grade materials, including PU rotors that work well on tough and soft surfaces. Your sitting experience may be pleasurable, complete with lumbar support and a padded seat to keep your hips and legs in a comfortable position. 
11. Humanscale Freedom Headrest Chair
If you fight back discomfort, you should select the human-scale chair, which has an incredibly ergonomic design. 
This best office chair for sciatica is more ergonomic for a range of reasons. First, the chair has an automated headrest and a leaning movement that keeps the eye level constant as you recline down. 
The covers are appropriately modeled so that the sensitive backrest of the chair fits your body and adapts when you lie down. 
12. CJS Kiro Ergonomic Foldable Office Chair
If you need a good office chair for a bit of space, this chair is worth considering. Furthermore, the chair includes a mesh back and a comfortable fit. 
The chair features a variety of modifications to fit your needs and comes in several colors, and it comes with a 10-year guarantee which covers replacement parts. Therefore, this desk chair for sciatica should last for an extended period. 
13. Flash Furniture Mid-Back Drafting Chair
A drafting chair is an excellent alternative when you must sit up a bit higher than conventional office chairs allow. The cooling mesh and comfortable upholstered seating ensure you stay comfortable while you work. 
It has padded flip-up arms that make it a bit more mobile than standard office chairs. The best office chair for sciatica is perfect for architects and other graphic artists. 
14. Steelcase Gesture Office Desk Chair
If you are forced to sit in a chair for people with shorter statues, it can adversely affect your neck and back. This height-adjustable sciatica relief chair may solve these harmful effects. 
The chair includes several changes and a highly adjustable headrest for more users. It has an excellent design for large individuals. Also, the armrests are state-of-the-art and can be moved like a human arm and supported in different positions. 
15. Vertagear S-Line 2000
If you want a gaming chair that you can also use in an office environment, the Vertagear S-Line 2000 is a good choice since it is classically designed with gaming in mind. 
This sciatica relief chair model is available in many colors and is comfortable enough for most applications - gaming and office work. 
The chair is easy to assemble. It is composed of high-quality components, including ultra-high-density foam. The base is also strengthened with smooth glide racing casters. 
16. Razer Iskur High-Density Foam Gaming Chair
If you have sciatica symptoms and want a gaming chair that may not contribute to your suffering, this best office chair for sciatica model is highly recommended. 
It has a suitable backrest and a lower back curve that you can adjust. False leather covering is on the chair, and a high-density foam covering is utilized. 
The 4D armrests, back tilt, and the height of the seat is also included. 
Customers have offered good ratings, and players who have tried several models are the most satisfied. They think it's a very durable but heavy desk chair for sciatica. 
17. Objectchair Ergopro Adjustable Office Chair
This is another model with a pull-out mesh but is available in four colors. It can also be inclined to 135 degrees and has three lockable positions. 
The headrest consists of a respirable mesh and may be adjusted in height. It has four-dimensional controls on the brackets and the typical size setting of the seat is with a gas lift. 
This desk chair for sciatica offers incredible support for persons with back difficulties, so that it is unbelievably pleasant. 
Customer ratings are positive overall, and this chair has been regarded as very comfy by most users. One of its highest qualities is the support, which is easy to assemble. 
18. Dumont Ergonomic Chair with Lumbar Support
This mesh task chair is a good alternative if you prefer breathable back support. It's strong with a maximum capacity of 330 lbs. composed of alloy steel with a padded seat. 
The usual seat height, backrest, and tilt voltage are included in the adjustments. However, you can also modify the height support and the angle and size of the headrest. 
Many clients say that this is a good chair that is very ergonomic and easy to put together. Support is one of its best characteristics, and it provides high quality. 
Customer support is responsive, and it comes with a five-year warranty. 
19. Hag Capisco Adjustable Sit and Stand Chair
This saddle chair is a perfect partner if you have a standing desk or platform. The chair has a height of 10.4 inches to alternate between standing and sitting. 
It's a comfy and ergonomic sciatica relief chair with adjustments both in height and depth. It is also possible to set the back tilt and size, and the load is up to 250 pounds. 
Most clients must speak about this chair in a good way. Many have commented that assembly is uncomplicated and offers heavy individuals considerable support. 
Pain reduction is one of its highlights. However, some individuals think the cushion isn't particularly thick and can be uncomfortable sitting for an extended period. Therefore, this is the perfect choice to alternate seamlessly between sitting and standing. 
20. Sidi T80 Ergonomic Home Office Chair
The last best office chair for sciatica in the list is Sidi T80. The seat height, depth, and width of this sciatica relief chair are all adjustable. The backrest can also be adjusted for width and height and a headrest, brackets, and lower backrests. 
In addition, the tilt tension and angles can be adjusted for the comfort of your back, and the maximum weight capacity is 300 pounds. 
This chair is incredibly convenient and easy to assemble, with lots of outstanding ratings. Ergonomics is one of its highlights, and it looks good in an office setting. 
Final Thoughts
When you have problems with sciatica, lower back pain, or lower leg discomfort, a doctor may recommend that you buy an ergonomic office chair. Doctors may also advise that you stretch regularly and avoid sitting for extended periods. Consider these options when choosing the best chair for sciatica.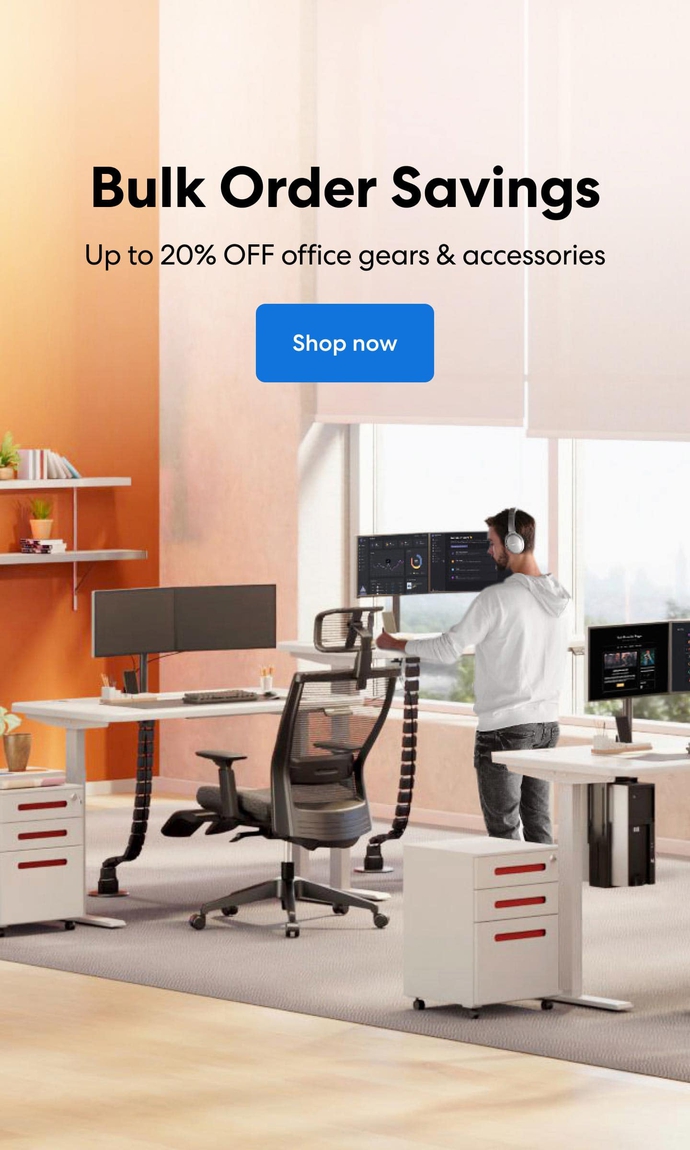 Subcribe newsletter and get $100 OFF.
Receive product updates, special offers, ergo tips, and inspiration form our team.