Smart Products
20 Office Chairs with Adjustable Height, Tilt, and More

Autonomous
|
Aug 10, 2021
3,893 Views
Do you find it challenging to find an adjustable armrest office chair that suits all your preferences? Office workers typically do not put much effort or thought into selecting an adjustable office chair. This is your very first blunder! 
The best solution for all your problems is an adjustable desk chair with customizable height, tilt, and more. We live in a time where everything, even a workplace chair with adjustable features is continuously changing. Chairs that were once designed solely for sitting have now been updated to include features that improve your general health and well-being, give a bit of style to your workstation, improve comfort, and lessen lumbar pain. 
If you want an office chair with adjustable lumbar support, height, tilt, and more read our top 20 options below. 
One of the disadvantages of a lower back pain office chair is that it can be quite costly; however, there are affordable adjustable computer chair options as well. 
20 Office Chairs with Adjustable Height, Tilt, and More
As an office chair with adjustable seat depth, height, tilt, and depth becomes more popular, demand for them continues to climb. There are a variety of companies and choices to pick from. We have produced a list of the top 20 office chairs with adjustable height, tilt, and more. You should consider the following options: 
1. Autonomous ErgoChair Pro
The Autonomous ErgoChair Pro was designed primarily to relieve lower back discomfort with its adjustable features. This adjustable height chair features an Italian-designed tilt mechanism as well as comfort and aesthetics. In addition, the tilt feature enables you to adjust your office chair to obtain maximum support and efficiency. 
A back support device that can be adjusted is also included. The innovative lumbar support of this adjustable desk chair may be customized to guarantee that you have total control over the placement and support given by each movable piece. 
Pros of ErgoChair Pro
The Autonomous ErgoChair Pro is fully customizable. You may change the height,

tilt mechanism, headrest, and arm width to suit your needs.

This adjustable height chair contains a mesh backing that is breathable and adapts to the curvature of your spine.

Autonomous uses top-quality materials to make sure you get optimal style and comfort. 
Cons of ErgoChair Pro
The ErgoChair Pro is an expensive product. It's an

adjustable back chair option you have to budget for and plan to spend money on. 
2. Autonomous ErgoChair Plus
The ErgoChair Plus is widely regarded as the best option for those with lower back pain. In addition, this mesh backing adjustable height chair features a fishbone structure and a unique appearance. It is made of modern TPE materials that focus on supporting your back and assisting you in maintaining your posture. 
Advantages of ErgoChair Plus
The Autonomous ErgoChair Plus is designed to be extremely smart.

It has several health advantages.

This

adjustable office chair encourages good posture and safeguards the spine.

There are a number of components that can be adjusted. 
Disadvantages of ErgoChair Plus
The ErgoChair Plus is a high-priced product. Remember, however, this item is a long-term investment. The office chair may work at its best for many years without causing any problems.

 
3. Autonomous ErgoChair Recline
This particular office chair combines affordability, health benefits, and comfort in one package. Furthermore, the ErgoChair Recline is a one-of-a-kind item that has a footrest, which many comparable office chairs lack, as well as all of the features that a good ergonomic adjustable desk chair should have. It is the ultimate well-rounded chair, containing everything you could possibly imagine. 
Benefits of ErgoChair Recline
It has a comprehensive support structure.

The chair contains an auto-balance feature.

Exceptional lumbar support is provided by the ErgoChair Recline.

It includes adjustable features and a footrest.

This choice is less expensive than many of the others. 
Cons of ErgoChair Recline
Several parts of this

adjustable computer chair have fixed angles that you can't change. 
4. Autonomous AvoChair
The Autonomous AvoChair is inspired by the beauty of nature and appreciates the features nature has to offer. It uses effective and simple ergonomics. The height, back tilt, and armrests are all adjustable on this eco-friendly adjustable height chair. Furthermore, the elastomeric mesh backrest and seat are made entirely of recyclable materials. 
The functional and stylish adjustable office chair is the answer to good posture. If you're thinking about getting an Autonomous AvoChair, you can rest assured knowing you receive the following:
A unique positioning perspective

Curvy and comfortable spine supports.

Materials that are good for the environment.

 
5. Autonomous ErgoStool
This unusual ergonomic office chair may be beneficial to office professionals looking for a cost-effective alternative. The ergonomic stool that engages your core is great if you want posture control and effective ergonomic functions.
6. Herman Miller Ergonomic Chair for Back Pain
This popular adjustable computer chair was designed to promote proper spine alignment and alleviate back discomfort. The back support function, armrest height and depth, seat angles, tilt settings, and dimensions are all totally configurable. 
Regrettably, the price point of these products is frequently out of reach for most people. Herman Miller produces highly high-quality products, with many things costing over $1,000. 
7. Modway Articulate Mesh Chair with Lumbar Support
Since this adjustable office chair offers configurable functions and a lumbar support component, this is an excellent pick. This chair has all of the essential elements, making it a more suitable and inexpensive option. 
The Modway Articulate is not the most long-lasting product among the chairs on this list. It is a practical and inexpensive chair, but it is not intended for long-term usage. 
8. Steelcase Leap Fabric Chair
The Steelcase adjustable office chair takes advantage of technology by including a feature that enables the device to adjust to the person's every movement. As a consequence, you do not have to worry about your joints being strained by a lot of pressure. This adjustable desk chair can also be adjusted. One feature that sets it apart from the competition is a portion on the sides that supports and hugs your thighs. 
Nevertheless, some people argue that this chair's price to performance ratio is unjustifiable since it does not deliver the same comfort level as several other office chairs. 
9. Viva Office High Back Mesh Chair
One adjustable back chair that combines style, cost, and luxury. What more could you possibly want? The Viva Office High Back Mesh Chair has a mesh backrest that has its own set of benefits. The airy and refreshing effect is one of the benefits. When working, this factor makes it easier to stay motivated. The comfortable and flexible characteristics, like those of many other adjustable height chairs, may be beneficial to you. 
10. Zipcode Mesh Chair with Lumbar Support
The ergonomic qualities of Zipcode's Mesh Chair with Lumbar Support are thought to improve wellness and health. The back support is provided by the unique mesh backrest, which follows the natural curve of your spine. One may expect reduced back discomfort as a result of this. 
The downside of this adjustable office chair is that it lacks enough comfort due to its shallowness and lack of cushioning. 
11. Tempur-Pedic TP9000 Mesh Chair
The Tempur-Pedic TP9000 Mesh Chair is made of durable memory foam to keep you as relaxed as possible, making it excellent for people who suffer from lower back pain.  
12. Serta Ergonomic Executive Office Chair
Did you realize that a single office chair with lower back support as well as gorgeous leather materials? The Serta Ergonomic Executive Office Chair is made of sumptuous high-quality leather and features built-in motion tech to assist you in developing core flexibility and strength. 
13. OHAHO Gaming Chair
This is a good choice if you want an adjustable office chair that can be used for both work and gaming. OHAHO's Gaming Chair provides all of the support you need, whether gaming or working at your desk the entire day. In addition, this adjustable computer chair has a unique design that aids in the relief of lower lumbar pain. 
14. Embody Chair by Herman Miller
The Embody Chair is a one-of-a-kind adjustable back chair that was created with health and fitness in mind. Its design makes sure that you are comfy when you are forced to sit at your computer for long periods of time. This adjustable office chair is designed to stress the importance of blood circulation. It relieves the pressure on your back, allowing you to recover from the negative effects of past poor posture. 
This office chair is a significant financial expenditure that may be difficult to justify because it does not provide neck or head support. 
15. X-Chair X2 K-Sport Management Chair
If you buy the X-Chair X2, make sure to include the additional heating and massage mat for an extra $100 or so. It makes you feel like you are in a cozy store at the mall in your home office. 
16. Branch Ergonomic Chair
While the Branch Ergonomic Chair is slimmer than many other office chairs, it isn't overly flamboyant, which may be a positive thing. We quickly forgot that we were working all day in this $300 office chair once we were seated in it at home. However, isn't that what a good adjustable office chair is for? 
This Branch Ergonomic Chair offers seven easy-to-adjust adjustment settings (armrest width and height, and how far forward you need them, seat height, seat position in respect of the backrest, and backrest angle). One criticism we have is that the padded seat was not as pleasant as other mesh chairs. 
17. Hon Exposure
The Hon Exposure is dependable, inexpensive, and functional, but it is not very flashy. Additionally, the Hon Exposure, which costs roughly $200, features adjustable armrests and height, as well as office chair lumbar support that can be slid inwards and outwards to offer lower back support. 
This adjustable office chair is comfy but slightly stiffer than the Branch Ergonomic Chair, which had a little more flair but was also around $90 more expensive. Overall, the Hon Exposure is a solid choice, although there are more intriguing options available. 
18. AmazonBasics Classic Office Chair
You do not have to break the bank to obtain a decent seat, and the AmazonBasics Classic adjustable office chair is our best budget selection. This adjustable computer chair is incredibly affordable at $120, but it includes all of the functions that most customers require. You won't have a sweaty back due to the microfiber cover's ability to wick away moisture. 
This adjustable back chair provides complete body support, allowing you to relax while having your head and neck supported. Because of the adjustable height and five revolving rollers, it should work well on all surfaces. You may also determine how effortless it is to recline the entire seat by adjusting the back tilt.
19. Space Seating Professional AirGrid
The mechanics that allow for adjustable back support and tension zones are not inexpensive to produce; therefore, most low-cost adjustable office chairs are not highly adjustable. The Space Seating Professional AirGrid finds an excellent balance, as you can customize many of the features of this sleek adjustable desk chair for about $200. 
Additionally, the height and location of the AirGrid's arms can be adjusted, as well as the tilt of the chair, which is a crucial feature for achieving a comfortable sitting posture when leaning back or forward. The armrests can be moved left and right; however, the slope and angle cannot be changed. 
20. Furmax Office Mesh Chair
The Furmax is a nice option if you do not want to spend your salary on an adjustable office chair but yet want a comfortable seat for your back. It has a deep, cushioned seat and a mesh backing with lumbar support, so your back doesn't become overheated while still getting the support it needs. The chair height may be modified from 19 inches to around 24 inches, as per internet customers. 
The Final Verdict
When it comes to selecting the best adjustable back chair with customizable height, tilt, and more, there are numerous possibilities. Features and materials are only a few of the things to think about. Thankfully, this is a growing market with many options. 
It is time to pay attention to the type of office chair you use during your work hours. Which adjustable computer chair drew your attention the most? Are you ready to buy an ergonomic chair?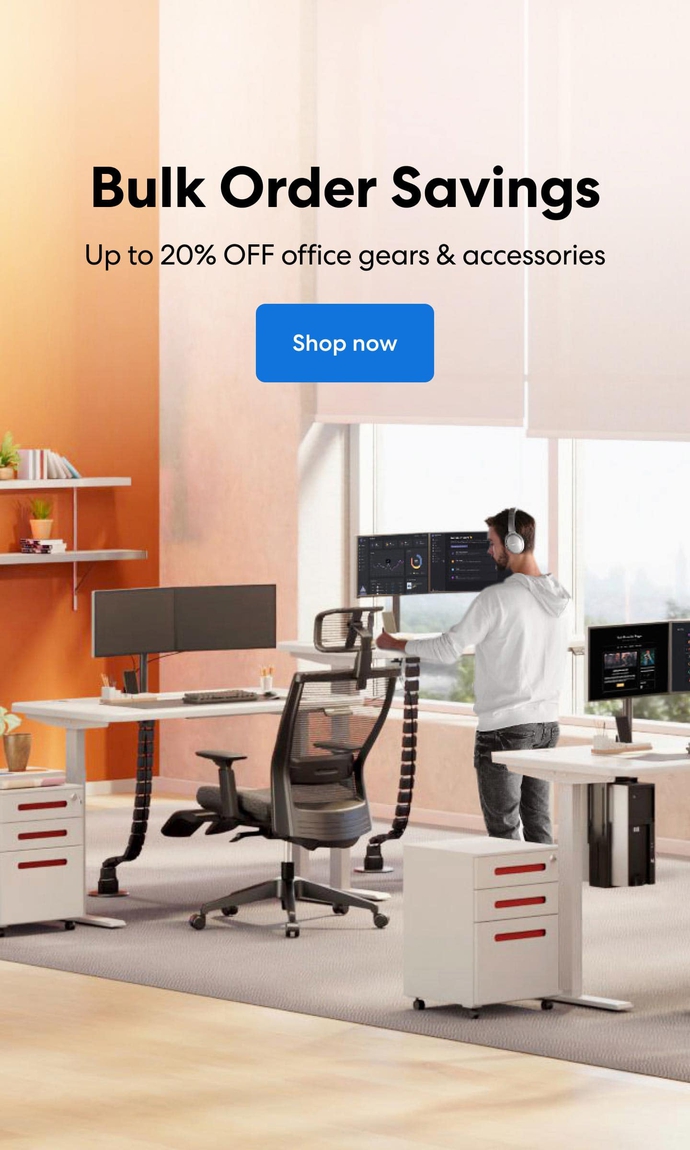 Subcribe newsletter and get $100 OFF.
Receive product updates, special offers, ergo tips, and inspiration form our team.