Smart Products
3 Best Dual Motor Standing Desk Frame for 2023
4,649 Views
Choosing the right standing desk is often a difficult decision. This is because there are so many great options to choose from. There are so many different variations such as a manual crank desk, dual motor vs single motor desk. The best of the bunch is the dual motor standing desk base. It offers quick adjustment speeds that can be programmed automatically on some desks. These desks are often extremely quiet, tending not to make much noise when adjusting. Due to the dual-motor, they are also able to support more weight than other variations.
However, you are probably aware of most of that, hence you are reading this article. When it comes to choosing the best dual-motor standing desk frame, there are a few options that stand out from the rest. All these options have great features, as well as some of them being budget-friendly. Taking these two factors into consideration, we have compiled a list of some of the best dual-motor standing desk frames available. The desks are listed below, along with a description of some of the benefits that they have to offer.
Best Dual Motor Stand Desk Options
Listed here are some of the best adjustable standing desk options available. They are all suited to different needs, ensuring that no matter what you are in the market for, you can find one that suits your needs. Whether you need a standing desk frame for a dual monitor or one that has quick adjustment times, this list covers them all.
1. SmartDesk Frame
The SmartDesk Frame is a great option for dual motor standing desk frames, especially for anyone who is experienced with DIY or who wants to save some money. The desk frame is available at an extremely reasonable price, making it a very popular choice. It comes unassembled, so you have to put it together yourself; however, the assembly is not very difficult and takes between 15 and 30 minutes to complete. The desk frame is both durable, and reliable.
Incorporated into the desk's design are four programmable height settings. These can all be programmed to different heights to make for easy adjustments to a variety of positions at the touch of a button. This can prove extremely handy when you need to change your positions as you do not need to remember the height you want to adjust the table to. The frame can also support and lift a weight of up to 300 lbs.
All things considered; this is a great option for anyone who needs a great dual motor standing desk frame. Important to note is the fact that the tabletop is not included with the desk frame, meaning you have to either purchase one separately or make your own. This should not be much of a deterrent though as a tabletop is very simple to make.
The home office version of the frame comes with a five-year warranty, whereas the premium version is coupled with a seven-year warranty.
2. Flexispot Standing Desk
Choosing this dual monitor sit-stand desk frame is an investment that you're sure not to regret. The desk is affordable and is also reliable, making it one of the best options for you to consider. The desk can support weights up to 300 lbs. which gives you a lot of room to work with, especially if you have a lot of equipment to go onto your desk.
Assembly is also required for this desk; however, once again, the assembly process is pretty straightforward. The assembly process should take you no longer than an hour. There are also a variety of tops for you to select from, all made from different materials and with different finishes.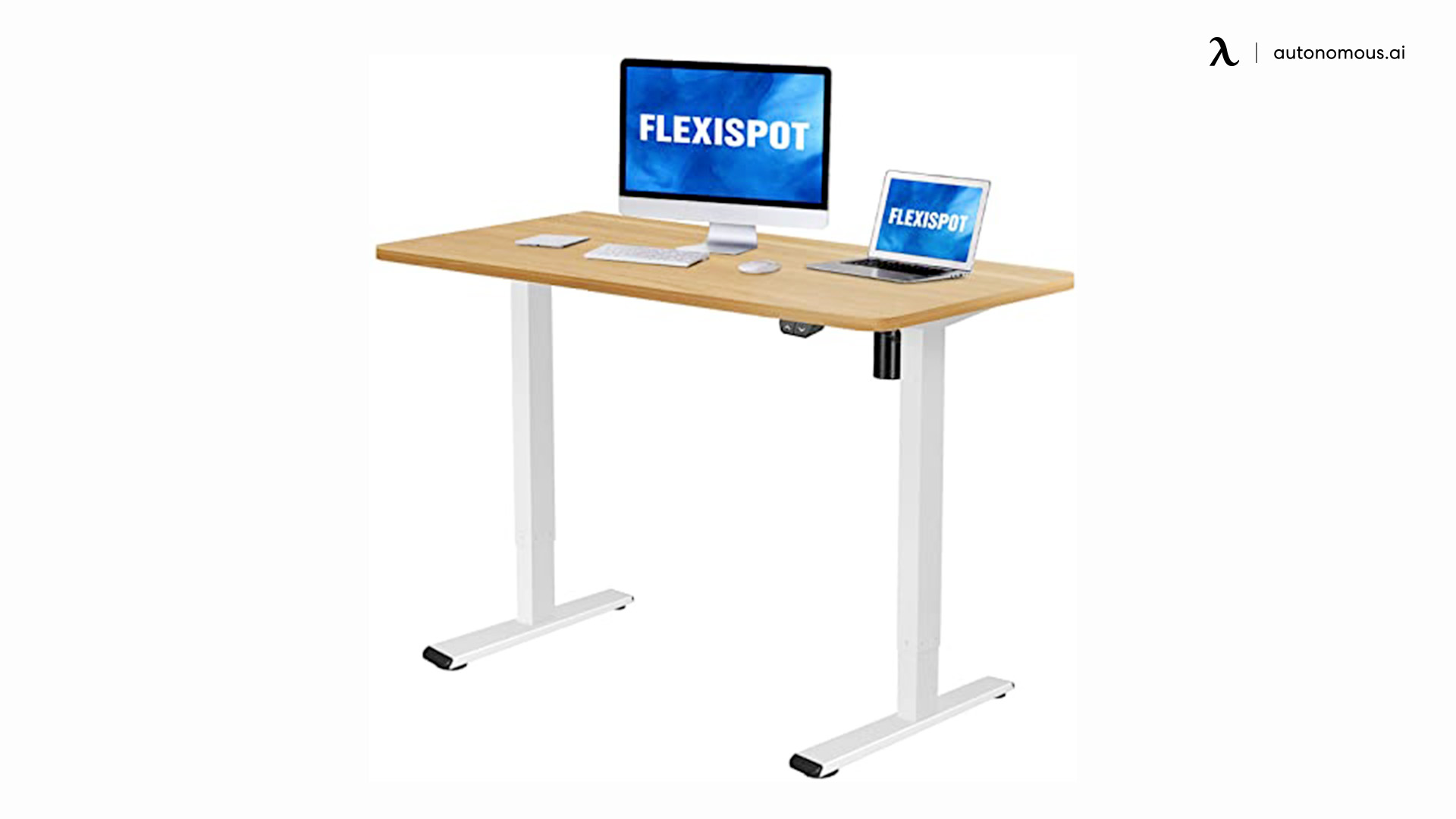 The desk has three programmable height settings operated by an LED display which is able to automatically go to sleep when the desk is idle. Incorporated into the desk is an alarm system that reminds you when to take a break from your screen should you decide to enable it.
The features offered by this desk, combined with the fact that it is available at such an affordable price makes it a no-brainer. It is a standing desk frame for dual monitor that you cannot go wrong with.
3. Ikea IDASEN
This desk is a feat of engineering. The desk can be controlled entirely from your smartphone or tablet by installing the desk control app. This means that you can adjust the height of the desk without even touching it. All you have to do is tap the desired height on the screen, and the motors get to work at adjusting the desk to the height you have selected.
The desktop is durable and very easy to clean. It has a net added underneath it so that you can organize all your cables, keeping the desk looking neat. This also frees up a lot of space that can be used for more useful things.
Due to the amount of space offered by the desk, it is one of the best dual monitor sit-stand desk frames available. It has more than enough space to support two monitors and also has the weight capacity to deal with the additional weight.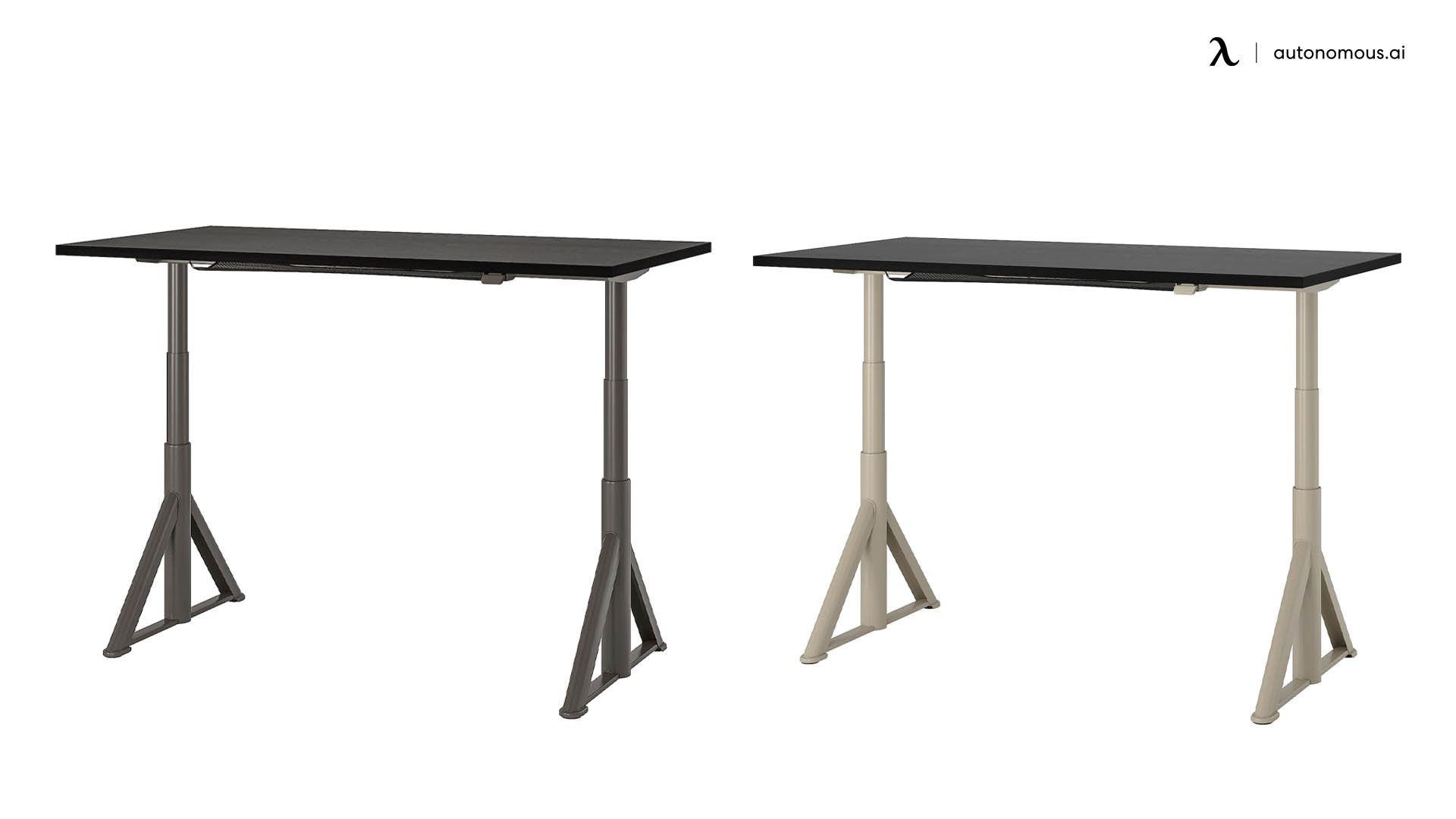 It is able to seamlessly transition between height settings, making it a preferred choice by many who have a home office. The electric standing desk frame is one of the best you can find.
Ikea's IDASEN does have some pros and cons to it. The pros of the desk are that it:
Can be adjusted through an app.
Is durable and sturdy.
It is easy to maintain and clean.
The cons associated with the desk are that it:
Is a pretty expensive option.
Now, although this desk only has one con, many people are not willing to pay the price tag; however, should you still be interested, it is a great dual motor standing desk frame.
The Bottom Line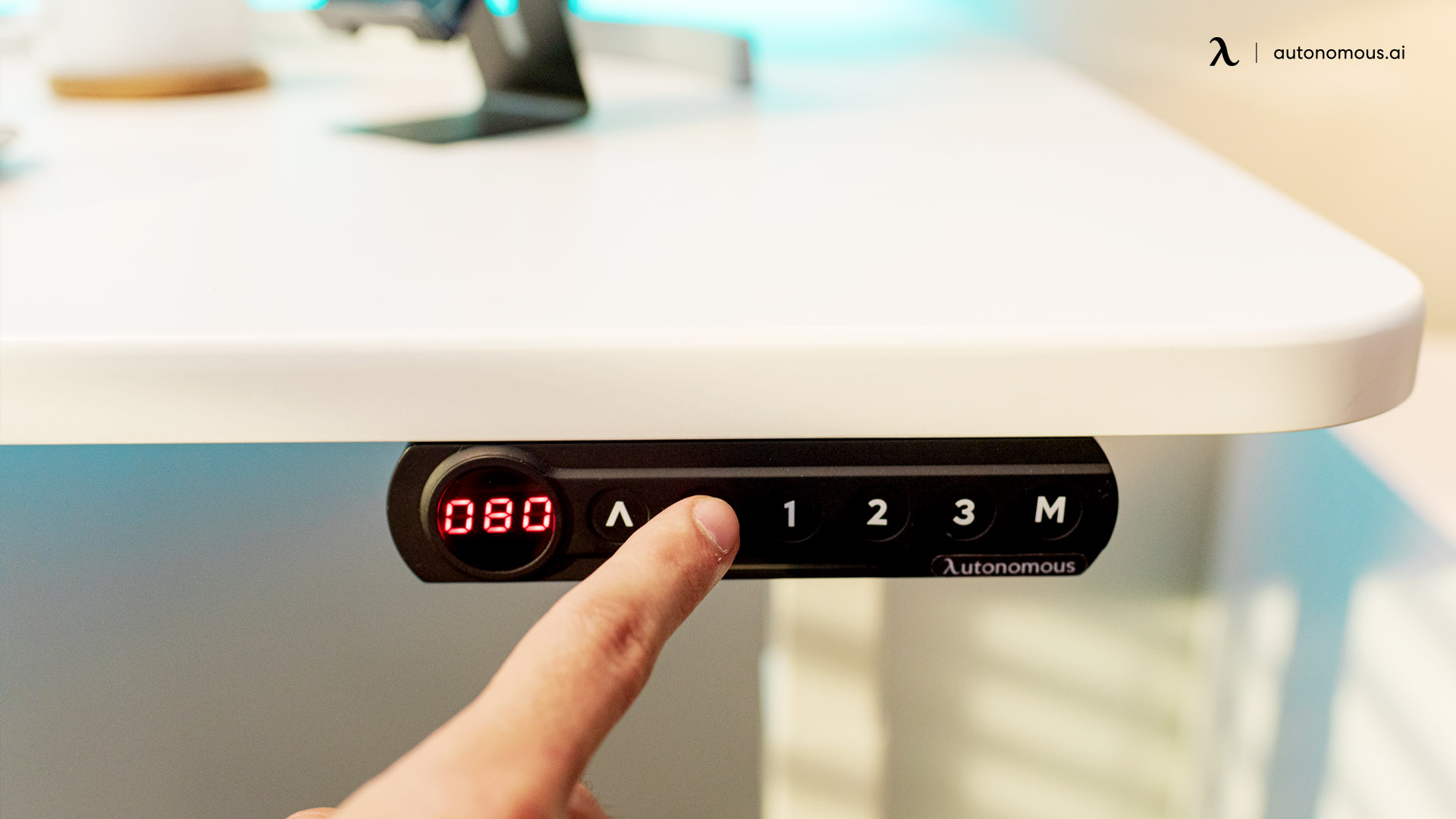 Therefore, when choosing the right electric standing desk frame for you, these are some of the best options for you to consider. They all offer great features that every standing desk should have. Go ahead and purchase the desk today and reap the benefits it can offer.
Subcribe newsletter and get $100 OFF.
Receive product updates, special offers, ergo tips, and inspiration form our team.
WRITTEN BYAutonomous
We build office products to help you work smarter.