Everyone knows that businesses set out with the intention of turning a profit. However, it's also a known fact that quite a bit of spending is necessary to achieve this. Much of it is done on employees in the form of salaries and providing them with the facilities that they need to do their jobs effectively. so, why do so many firms not capitalize on employee discount programs? 
You would think that this would be a no-brainer, considering the kind of value that doing so would bring. So, it's almost a question of if companies are aware that employee discount services are out there and how they can take advantage of them. 
The information here aims to help you to understand this, so you can take advantage of the data you gather for your employees. Sometimes, it's about providing necessities, while in other cases, it's about the quality-of-life improvements that can increase your staff morale.
With that said, here are some of the best employee discount programs on the market today and what they offer.
6 Best Employee Discount Programs Today
1. Edenred Benefits and Employee Discount Program
When you look at Edenred's business model, it's quite simple. The company simply allows purchasing things to be more streamlined and convenient. So, what you find is that there are specific purpose-driven payment solutions for various necessities or gifts. 
A couple of examples are fuel cards, commuter vouchers, meal vouchers, etc. How does this kind of thing benefit the firm and its employees? 
Well, suppose you have a system setup that compensates your workforce for travel based on the distance, medium used, etc.? Sometimes, such a system comes with high scrutiny since employees may believe that the firm is not providing enough resources to handle the required trips.
In this case, you could essentially prepare ahead by loading up a voucher based on the calculations and providing it to the employee. if you use an even more intuitive payment method, you wouldn't even need it physically to have it loaded up, which allows you to make additions where needed while the employee is on the go. 
If nothing else, it shows a level of care and attention to detail. Additionally, it makes it much easier for you to provide value-based incentives to your workforce such as gas vouchers, gift certificates, and the like.
2. TicketsAtWork Discount Program
TicketsAtWork offers you a very welcome service and employee discount programs, as far as corporate discount programs go. You would think, like most others, that it would have a product or service that it directly provides that it discounts or makes easier to purchase and use. 
Instead, it functions as more of a gateway to other potential useful benefits. The idea behind its operation is to help companies to make their employees feel that much more valuable. How does it do this? 
Through strategic partnerships with a host of attractions and service providers, your employees can get access to exclusive discounts on the things that they want to enjoy in their downtime. Of course, the best part of all of this is that you don't have to worry about any of this costing the company a fortune.
The available discounts span thousands of different possibilities including tours, theme parks, sporting events, hotels, car rentals, concerts, etc. If you ever wanted your employees to love what they do beyond whatever reasons they may already have, this is one of the ways to do so. 
It makes things that much more attractive to your existing workforce and positions your firm as a desirable place to work, which is a great position to be in whenever you are on the lookout for new talent.
3. Corestream Employee Perk Program
So, this one is less of an employee discount program in the traditional sense, as what it offers is more along the lines of an alternative payment method. However, your employees are still going to remember that the business took the step to offer this kind of added convenience. 
Note that you do have some of the traditional price cuts and special offers, but the quantity here is much lower than you may find with another of the many company discount programs available. 
The payroll deduction purchase solution is really the meat of the matter here. It offers an alternative form of a salary advance that is immediately used on the most desirable items.
How does this offer improved convenience? Unfortunately, having money is enough for many people to spend it incredibly recklessly. This principle applies even when a salary advance has been taken, potentially for a very specific reason. 
So, what if the employees don't get the cash in hand, can instead go directly to where the necessities are, get them, and have the money deducted from their salaries? It's more efficient and effective that way. 
Of course, you can expect quite the level of participation in a program such as this one. Note that as an employer, there's going to be a high level of responsibility on you to maintain a close relationship with Corestream to preserve the integrity of the payroll system.
4. Access Perks Discount Program
You could say that there is no more appropriate name for the task at hand here than Access Perks employee discount programs. It brands itself as America's largest employee discount network, which is a huge statement to back up. 
The idea here is to be integrated with purchases that your employees would be making daily anyways. So, what if the said purchases could be cheaper and more convenient?  
It's one of those employee discount services that offers company branding, meaning you can really make it yours, without your workforce knowing what is happening behind the scenes. Of course, that feeds even more effectively into the narrative that the business cares about those who are contributing to its success. 
Single-use discounts are quite common in this industry, but one of Access Perks' standout features is its unlimited use options that are usable at theme parks, department stores, almost three-quarters of a million restaurants, etc.
Savings tend to range between 10% and 50%, which makes for quite the attractive upper end of the spectrum. 
There is an employee portal, which is customized to show the discounts available, as well as a host of other incredibly useful information. Digital coupons are supported, meaning when workers show up to a location to redeem benefits, they can simply show their phones, and everything is taken care of from there. 
Access Perks also offers email marketing support, which helps to drive the level of engagement that your employees are showing towards the program. 
No one can deny that the selection here is quite vast, and it's going to be creating quite an excited workforce. It's a great way to help people save while they contribute to their local businesses. 
Travel deals are also a dime a dozen here. Sometimes, there are huge car rental and hotel stay deals that show up under this category. There are even exclusive offers that are only on the table for your business. 
Thankfully, Access Perks employee discount programs makes itself very accessible if you want to request a demo and a consultation to better understand how it all works.
5. Abenity Employee Discount Program
If you have ever heard of company discount programs before, then the Abenity one is probably not lost on you, as it happens to be quite popular with the employers that implement it and the employees that benefit from it. 
You know that a company is making quite the mark when it can boast over 300,000 discount offers that make up its employee perk program. While there are many contexts in which less is more, this is not one of them, meaning Abenity made the right choice. 
The range covered by these programs is nothing short of unbelievable. Discounts on movie tickets are available and fall under the more traditional side of the spectrum. However, employees could even get huge discounts on new vehicle purchases.
As awesome as these things are, where Abenity shines is its customization that it puts in the hands of employers. You see, the provider is very willing to form new strategic partnerships where possible. Therefore, it allows companies to put their own suggestions and programs forward, creating greater relevance to their workforces. 
So, for example, imagine that there is a gym that you would like to allow your employees to use at a greatly reduced price. If it's not already a part of the Abenity catalog, you can certainly have a discussion to get it there.  
Just in case there is any doubt about what this company does, you may want to know that Microsoft and IBM rely on Abenity for quite a number of its employee perks. 
There is also the ability to choose the level of service that fits you best. There is a basic service, a full enterprise class service, and just about everything in between. The full enterprise service includes a local intranet page, a branded iPhone app, and greater insights to truly tailor things to your company and its workforce.
6. You Decide Employee Discount Program
The name of this provider pretty much says all you need to know about it where employee discount programs are concerned. it is quite unique though when you consider its own workforce. Typically, the type of companies providing these services have large staff complements working simultaneously.  
This Georgia-based provider has less than 25 employees, which is quite impressive to pull off this kind of feat. While it is independently owned, it has a partnership with the aforementioned TicketsAtWork that it leverages for the bulk of its offers. 
Therefore, it effectively profits from sales commissions that it takes from another company that profits from sales commissions. Things begin to sound a bit confusing when you say that way, but it does work out in the end.
Though the options are obviously limited, You Decide aims to allow businesses to choose tailored perks for their staff members. It's not the same level of customization that Abenity would give you, but it's still quite respectable for what it is, especially given the size of the company. 
Delta Airlines is one of the biggest customers currently making use of this one, so it should give you an indication of You Decide legitimacy here
Autonomous Bulk Order Program
Autonomous Bulk Order Program is a groundbreaking program of Autonomous - your gateway to seamless and efficient office furniture procurement! At Autonomous, we understand the unique needs of businesses aiming to create productive and inspiring work environments without the hassle of managing individual orders. With our Bulk Order Program, you gain access to a streamlined and cost-effective solution for acquiring top-quality office furniture in large quantities.
Whether you're furnishing a startup, a rapidly growing company, or a well-established enterprise, our program is designed to cater to your specific requirements. Explore an extensive selection of ergonomic chairs, height-adjustable desks, storage solutions, and more, all crafted to enhance comfort, productivity, and wellness in the workplace. Experience unparalleled convenience and professional support from our dedicated team, ensuring a smooth and effortless process from order placement to final delivery.
Elevate your office furniture sourcing experience with the Autonomous Bulk Order Program today!
Final Remarks
Certainly, there are numerous corporate discount programs on the market. As someone who works in HR or as an employer, the onus is on you to do what you can to ensure that job enrichment plays a big part in the effort that your workforce gives. 
Sometimes, it costs a lot less time and money than you may think to do so, and the rewards are insurmountable. The employee purchase program options above combine necessities and quality of life improvements that can be discounted.
Your workforce is no doubt going to appreciate all of it, and you set yourself up to have a company that is known as a great place to work.  
Doing so strategically places you in a position to acquire some of the best talent that is typically looking for both quality and quantity of life.
Video ads for product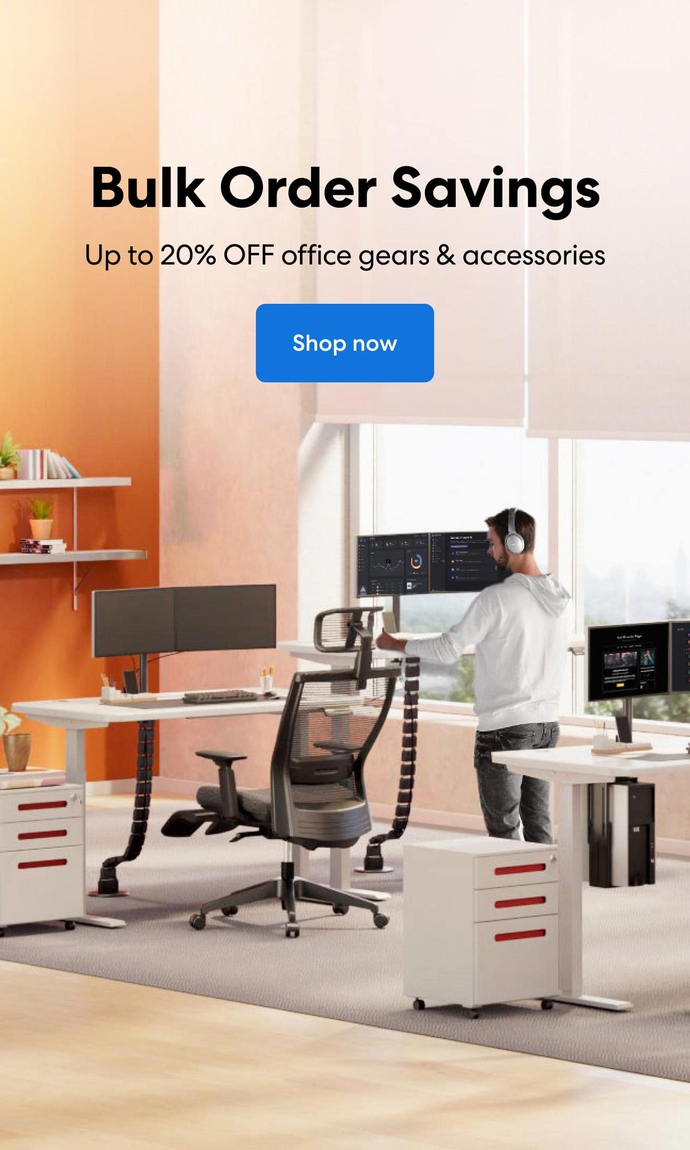 Subcribe newsletter and get $100 OFF.
Receive product updates, special offers, ergo tips, and inspiration form our team.