Productivity
What Are Employee Perks? 5 Awesome Ideas for Business
1,267 Views
There's not a company that can work without employees. They are the ones who take care of everything and make sure the company's up to date with all the work of the week.  
Considering that, it's essential to make an effort to keep workers from leaving your business. The best way to do that is by providing them with enough office supplies and attention for them to feel comfortable while working.  
That's the reason companies offer employee perks to their workers. However, not many people understand what that term means.  
Not understanding what an employee perk is represents a huge problem to businesses worldwide. Since managers don't know what the whole thing consists of, they don't give their workers proper company perks.  
If you are interested in knowing what employee perks are, this is the page for you. Keep reading this article to know more about the matter! 
What Are Employee Perks?
Employee perks are non-wage benefits or advantages given to workers of a company. These company perks for employees go beyond salaries and other workers' benefits. It's essential to not confuse employee perks with workers' benefits. They could seem the same but are quite different.  
Workers' benefits include health insurance, breaks, a salary, and others. Employee perks, on the other hand, count as additional things you can give your workers if you want so. 
The difference between them is that workers' benefits tend to be mandatory and part of the indispensable needs of an employee. 
Bosses are not obligated to give employees perks in their companies. However, successful businesses and financial experts recommend doing it. Even if it's a small advantage or job perks, giving it to your workers can boost their productivity at work, creativity, and even enhance their work performance. 
Apart from that, there are tons of benefits that come from offering employee benefits to your workers. If you are not so sure about starting a job perks plan in your business, you can always start with small things. You can stop giving it to them if you don't like it or if it's not profitable in the future. 
Benefits of Employee Perks
As we mentioned before, offering employee perks brings wonderful benefits to your company, and even to you. To understand this, you need to part from the belief that your employees are what determine your company's success. 
If you have bad employees, your products or services may turn out to be of poor quality, too. Because of that, people can keep themselves from buying things from your company and can even tell other customers to stop doing it. 
That's the worst-case scenario. However, the complete opposite happens when you have excellent employees. 
When workers feel more comfortable while working, they do an overall better job. Apart from that, they are more proactive to start new projects and even help new people getting into your company. The reason for that is that they feel you care about them and that they are important.  
Taking employees for granted is the worst thing you can do for your company. They may leave after a few months if they feel underappreciated. Workers take employee perks into account when looking for companies to work for.
These company perks for employees are extremely beneficial for managers looking for new employees for their team. Depending on the company perks you give your workers, you can make the working way easier for them than it was before. 
There are many different types of employee perks, so you can choose the ones that work better for your company and your work style.  
Some Employee Perks
We want to help you implement employee perks in your company in the best way possible. Because of that, you can read a list of some employee perks that you could give your workers. You can give them more than the ones suggested in this article, so don't worry about that.  
Ergonomic Products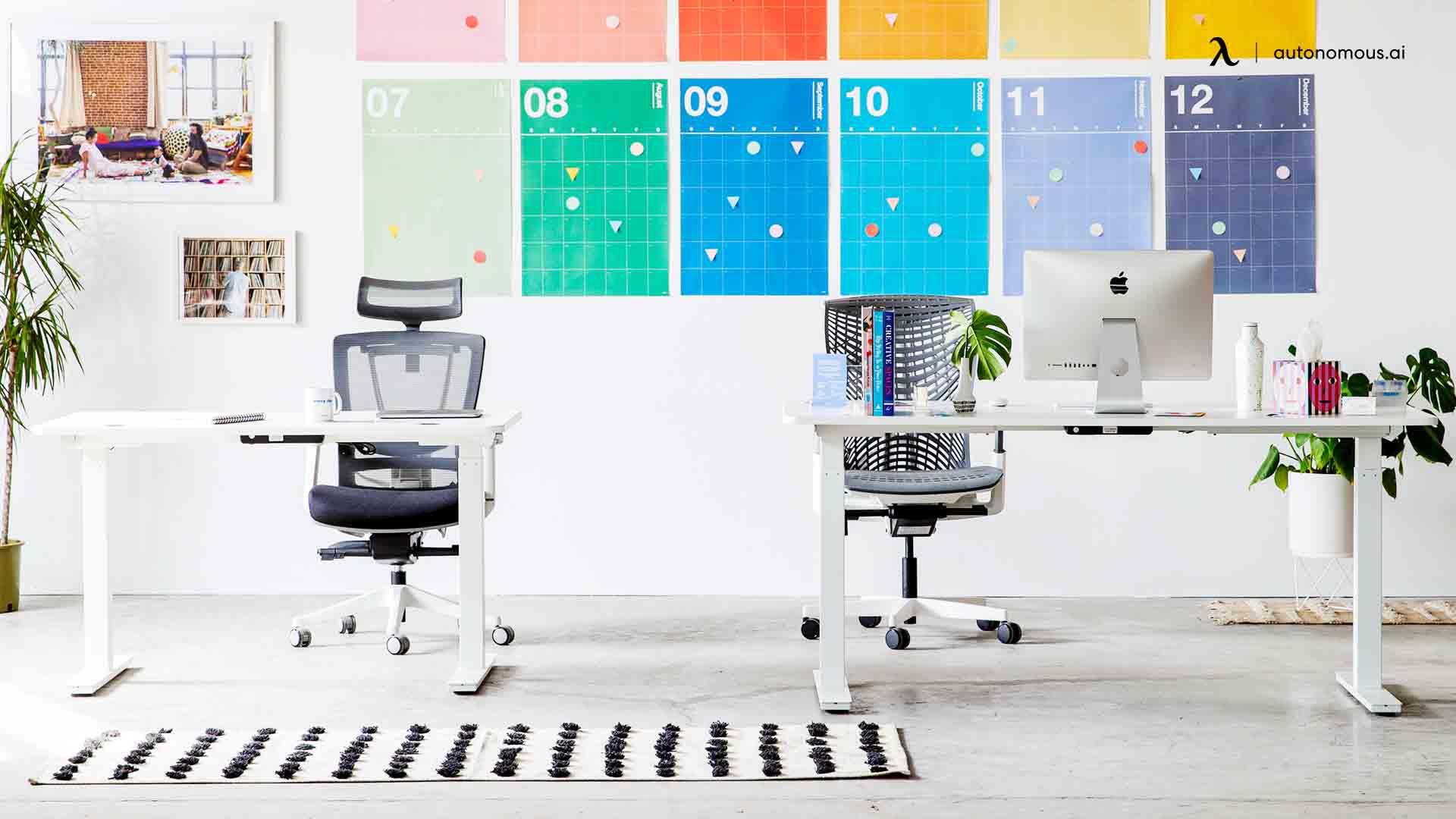 Ergonomic products are something essential and cool employee benefits for office workers. These items help them work for extended periods without suffering from back pain and neck pain. Apart from that, the comfort they give your employees makes them feel more active while working.  
That reduces stress, anxiety, and helps you prevent mental exhaustion.  
The reason these items are so good is that they offer lumbar support, which corrects your posture and encourages micro-movements while working. Tons of office workers try their best to find an ergonomic chair or an electric standing desk for their offices. 
Unfortunately, it's not that easy to find a home office furniture sale for an affordable price. 
You can change that, though. Ergonomic products are some of the employee perks you can offer in your company. Getting office items for them can significantly improve their work performance. However, we understand if you think it's too expensive to buy all that.  
We have the solution for you. The Autonomous EPP for Employer can help you purchase all the items you need for your workers without spending all that money. Receive the best discounts on ergonomic products from this company by signing into their employer program!
The only thing you need to do to get into this program is going to the Autonomous website and submit your email. Then, the page tells you what to do. This program brings benefits such as better pricing, upgraded services, and even the possibility to charge your things to a company. 
Regardless of that, your workers can also get their gear by themselves if they feel like it. Home office stipends also count as employee benefits. Autonomous also offers an employee purchase program for workers in need of ergonomic products for their workspace.  
Don't hesitate to get the best ergonomic items for your company!  
Recreational Programs
It's not difficult to get burnt out if you work all day. The problem is that not many people have time for hobbies after their work shift ends. That can progressively increase your workers' stress and decrease their productivity.  
Some companies organize recreational programs to help their workers have more enjoyable activities for them. That includes free gym subscriptions for them, sports playing, pools, and other team bonding activities.  
Giving them that space to talk to each other and have fun makes them think of their office as a place where they can be themselves and have an enjoyable time. 
That can make them forget about the work-related stress of unfinished projects and even other problems in their personal life. Having those recreational groups can also make your workers think of you as a reliable manager or boss, which is always a good thing.
If you don't want to invest in a sports team or gym subscription, you can just offer your employees a game room. There, they can relax, take breaks, or even play something. Game rooms at offices are excellent to help workers who stress a lot while working.  
Pet-Friendly Office
Not everyone has someone to leave their pets with when they go to work. While some pets such as cats or birds can stay alone for extended periods, some others can't take care of themselves. Because of that, leaving them alone for a long time can represent a danger to them. Here is one of the cool employee benefits. 
You don't want to lose an employee because they need to stay home taking care of their pets. If your workspace allows it, you can consider having a pet-friendly office. That way, your workers can bring their little friends there while they work.  
Regardless of that, you can't have them distracted by their pets. The ideal thing is to prepare a space for that and hire some people to take care of them while employees work. That may need you to add another person to your payroll, but it can help all your other workers at the same time.  
We understand not all offices have enough space for an employee perk of this kind. However, if yours is capable of having a pet room, you should tell all new employees that they can use it for their furry friends. That gives your company more appeal when recruiting new people.
In spite of that, if you are considering pet care for your office, you first need to analyze some things. As we mentioned before, the space you have is what determines if you can offer pet-care services. 
Apart from that, even if you have the space to prepare a pet room, make sure that pets don't make any noise that could distract your employees from their work. 
Giving your workers some job perks always requires you to invest some money in it. Some best employee perks are more expensive than others. That's the reason many companies avoid offering them to their workers. Yet, we think it's a worth-trying alternative. 
Child-Care
If pets need someone to look out for them, imagine what happens with kids. Tons of parents have to leave their jobs or take early vacations because they need to take care of their children. 
Many offices and companies have child-care services for their employees. That means they hire babysitters to address any child-related situation that could happen during office hours. This employee perk is ideal if your workers can't work from their houses. However, make sure to get the correct equipment to do it. 
When we say office equipment, we mean everything needed to properly take care of a baby. Regardless of their age, children need to be safe while waiting for their parents to stop working. That includes having enough food to cover lunch and any other thing they want to eat throughout the day. 
Child care tends to be more difficult to offer than pet-care services. It's not unachievable, though. Everything depends on how your company works. Remember that the employee perks you offer your workers must adapt to the way your team works. 
Trying to offer an over-complicated company perk can have negative effects on the company.  
Free Lunch
Workers who need to spend all day at the office need to spend tons of money on lunch and street food. That represents a problem for people who need to save money for the end of the month. You can do something to address that situation. 
If you spend some money on lunch services for your workers, they are going to appreciate it. Apart from that, having lunch can be a team bonding moment for your employees. When the people working for your company have a decent relationship with each other, teamwork gets easier. 
You don't have to hire a professional chef to cook expensive food for your employees, as long as you give them enough food for them to keep working the rest of the day without feeling hungry. That also prevents your workers from eating during office hours. 
What some companies do is make a little food store available. Doing that may not represent free lunch for your workers, but at least you are giving them the opportunity to buy lunch without going too far away from their workspace.
Bottom Line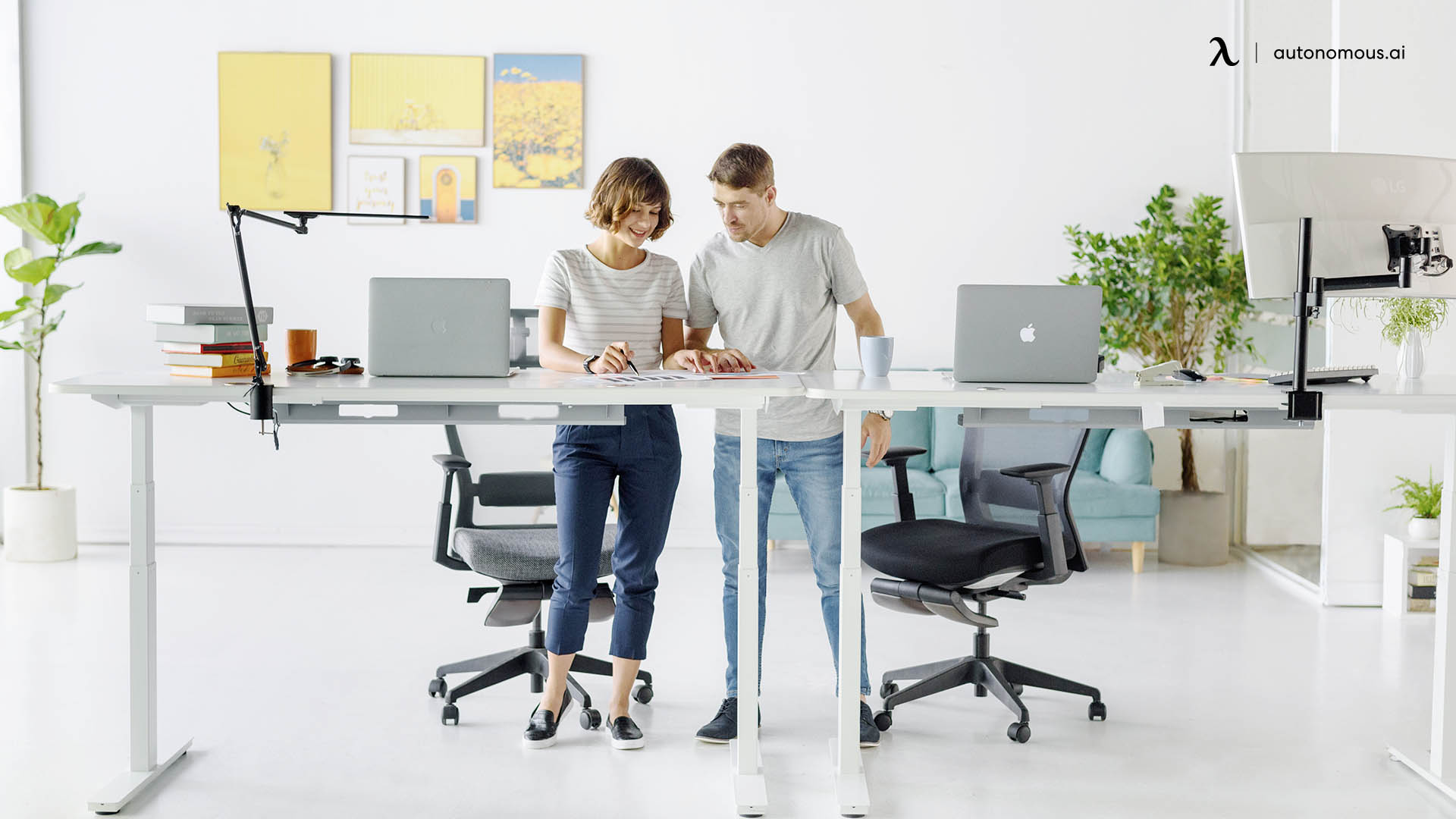 Keeping your employees with you is an important thing to do while leading a company. That can be what determines if your employees stay with you or decide to go with your competitors instead. 
Some businesses offer better employee perks than companies with similar products as a strategy to take workers from your company to theirs. 
Try to study your workspace and analyze what you can do with the space and equipment you have. That means seeing how to fit your office is for some employee perks. If your office can't possibly have a child-care station, then try to offer another kind of service. 
The best and easiest-to-get employee perk you can offer in your company is ergonomic products. Take advantage of the Autonomous purchase program to get all the items you need for your office.
Subcribe newsletter and get $100 OFF.
Receive product updates, special offers, ergo tips, and inspiration form our team.
WRITTEN BYAutonomous
We build office products to help you work smarter.