Latest Updates
Autonomous x Thinkific Employee Discount Program
990 Views
A purchase from Autonomous will give you access to some of the best deals and products available anywhere on the web. The company thoroughly researches every item, and that is why the prices tend to be what they are. This can be made easy with the Thinkific employee discount offer. Whatever type of products you are interested in, this Thinkific employee purchase program will help you save more.
Introducing the Programs for B2B from Autonomous for Thinkific Employees
Buy now (discount according to company level)
What if you didn't have to approve expenses, handle receipts, and reimburse staff? The employee purchase program simplifies the process of buying bulk office furniture products for your company. The platform allows your employees to select products that best suit their unique work from home setup and directly request approval from your company.
If an employee wishes to make a charge request for a product that he/she has selected from their company's autonomous store. In terms of company administration, each employee requests you be notified via email.
Buy more save more (bulk order/ wholesale)
You can improve the work environment by providing your colleagues and yourself with the most appropriate home office products and essentials. As a benefit of this program, your company will have its employee purchasing portal. Our range of ergonomic desk chairs, ergonomic standing desks, and office equipment will help every member of your team find the right product for them.
It is easy for users to understand how our volume pricing and Thinkific employee benefits work, with a clear savings progression. Employees or departments that wish to purchase multiple units or a work from a home kit in a single purchase can do so - whether the department manager upgrading the office or the employee buying a gift for a close friend or relative.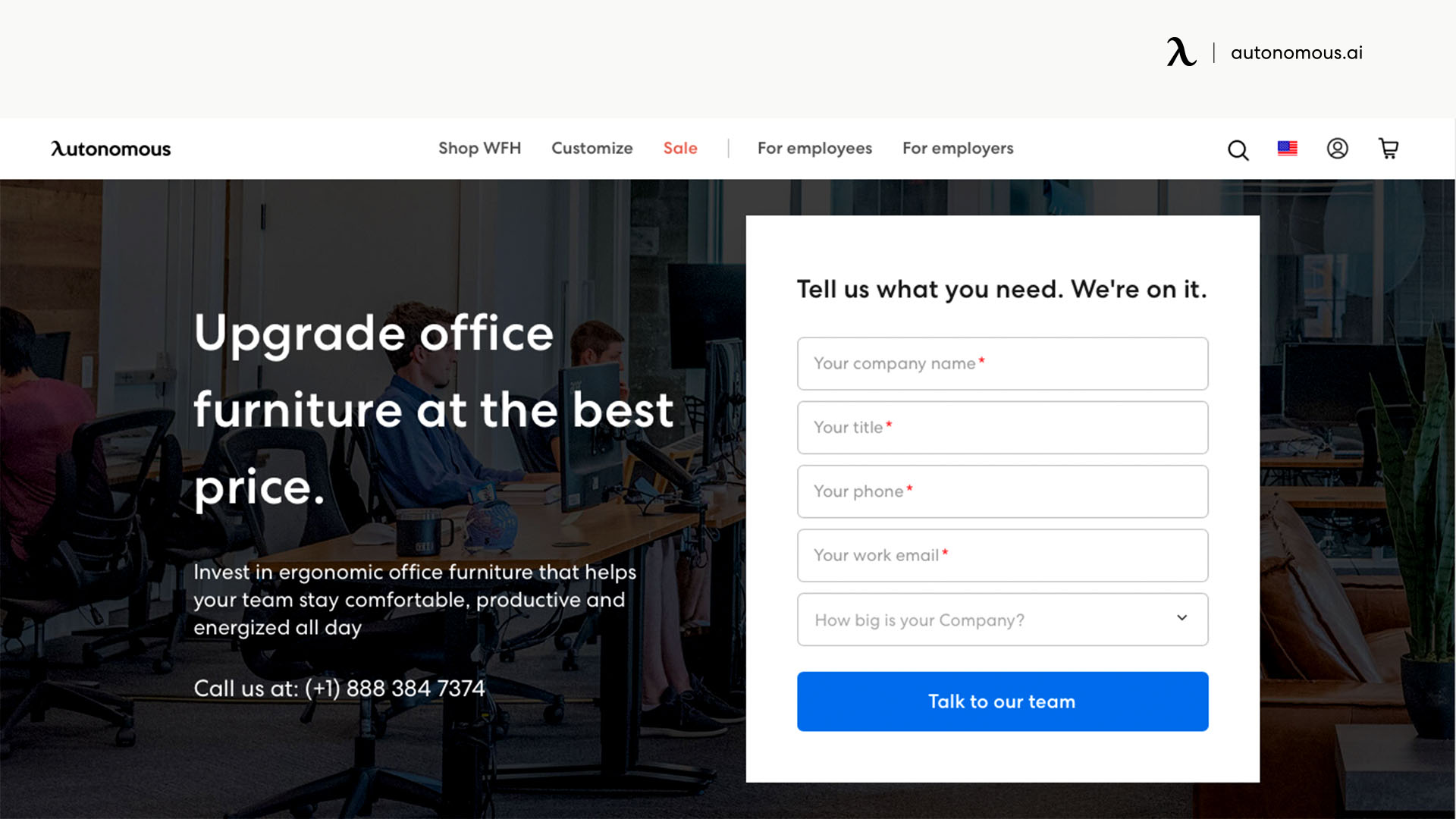 Pay for me (charge to a company)
With an Autonomous online e-store, every organization member can instantly access company benefits. You can enter in your work email address at autonomous.ai/employees. A "magic link" will be sent to you that describes how to use Autonomous EPP. Signed-in users can see their company discounts applied across the site. Employee Purchase Program members enjoy progressively greater discounts over time as they accumulate company discounts. You get better discounts as you accumulate more business!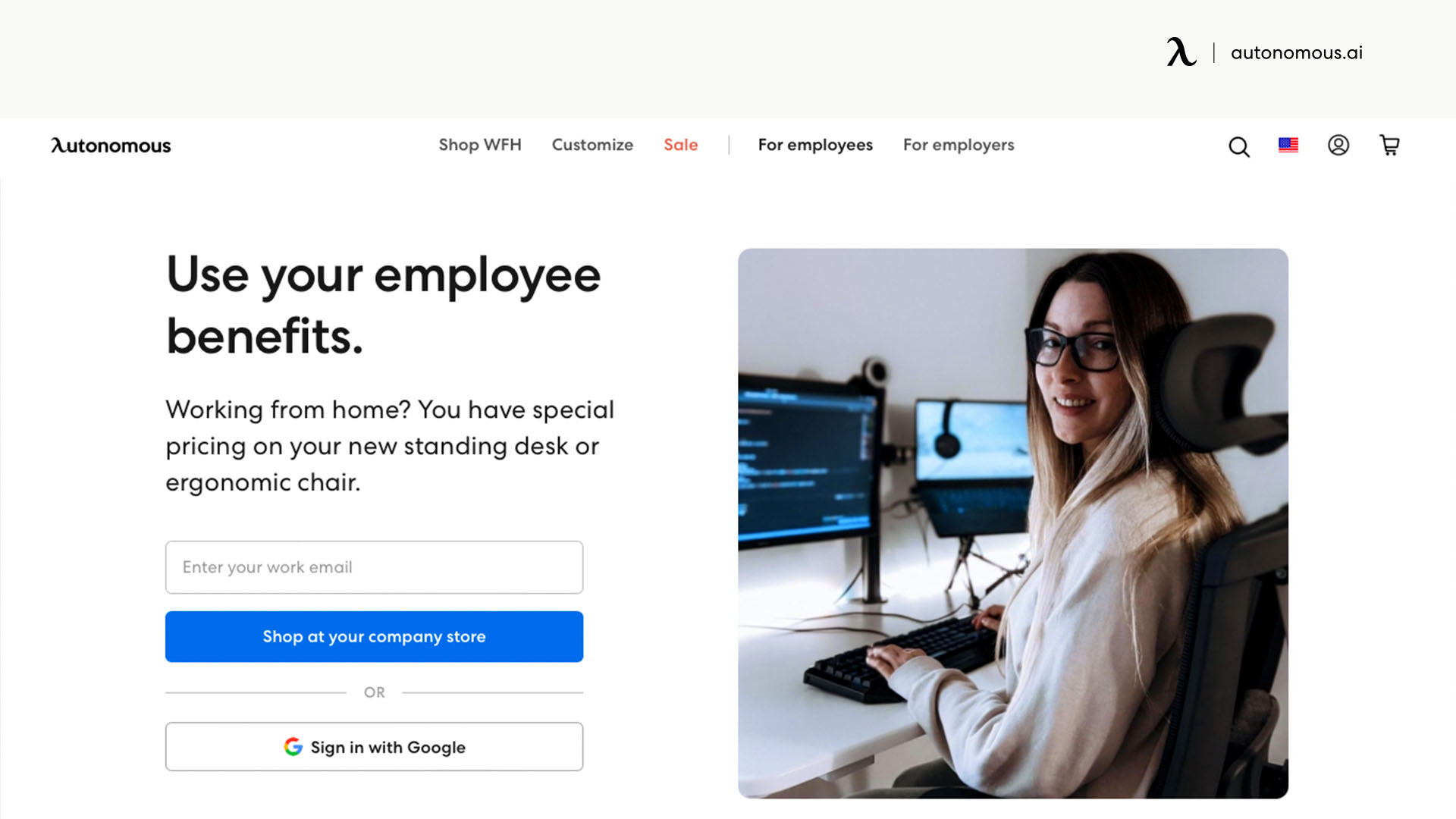 Some Popular Autonomous Products
Autonomous wants to open up virtually endless possibilities for you. The original SmartDesk indeed started it all, but today there are many more options to choose from. Autonomous offers a wide selection of products, including standing desks, accessories, specialty desks, home office products, and more. Additionally, Autonomous also offers a unique selection of accessories available through our Thinkific employee referral program.
1. Autonomous SmartDesk
Electronic height adjustment is possible with the Autonomous SmartDesk Core and SmartDesk Pro. Control is on the right side; with the up/down button, you can change the height manually or save four different height positions, so there will be no need to change the Thinkific employee purchase program as frequently.
Ideally, the first height should be that highest position, the second height should be one's sitting position, the third height should be one's standing position, and the fourth height should be the highest position. You don't have to re-setup the system after pulling the plug since you save all of your settings in the memory.
It is quick and easy to alter the height of the entire standing desk by pressing the preset memory buttons. Then it moves up or down without any effort. Left of the control is a display of the current height of your desktop.
Business Edition comes with upgrades over Home Edition, such as a dual motor on two legs, a greater height ranging from 24 inches to 51 inches, a weight capacity of 300 pounds, and a five-year warranty under our Thinkific employee benefits 2021. Under the desk are two actuators controlled by a control box. You can see them hidden under the desk. The engines are very quiet when operating.
2. Autonomous ErgoChair
Here is another perfect option in the Thinkific employee discount program. The chair has a great ergonomic design that permits better posture and boosts productivity by supporting your lower back. High-quality design with a high level of customization meets the most stringent industry standards. This product is also very easy to assemble.
The recliner office chair comes in four types: Recline, Core, Pro, and Pro+. These recliners offer 22° of recline and adjustable tension. Each chair features five lockable positions, and it supports your spine and lumbar area.
A gentle resistance is added by the woven mesh, which is ultra-breathable. The back and seat move together using a 2:1 ergonomic design, so you can stretch and recline without stressing your legs, thighs, and lower back. 
3. Autonomous smart accessories
Desk lamp
Autonomous has a wide selection of lamps that you can install on your desktop or the floor. Other than our Light Bar and LED desk lamps, we even feature cool new items from other brands as well. Those top office lighting picks include the Lumicharge LEP lamp with a wireless charging feature and three light colors with ten brightness levels. The wireless charger comes with a docked charger and a built-in USB port on the back, making it an extremely versatile and functional device.
Then you have the Brightech Logan LED and the Swoop LED floor lamps. The Swoop always sparks a conversation due to its unique asymmetry. The floor lamp's gold and black accents add sophisticated style to any room. Elegant and stylish, the Logan will enhance any room with its metal arc, the luxurious base of black marble, and gorgeous natural linen shade.
Standing desk mat
You cannot miss this product in the Thinkific employee discount. At the moment, you can purchase a desk pad to go with your SmartDesks. Desk pads are ideal protective layers for desks, made from responsibly-harvested oak cork tree shavings and vegan leather. These are ideal for supporting mouse performance and are perfect for daily Thinkific benefits Oracle use.
Using non-woven technology, ultrafine nylon yarns that replicate the fibrous collagen structure of real leather are arranged to replicate the ultrafine nylon yarns of real leather. A non-woven fabric made from our technology is soft to the touch, liquid resistant and stretchable, yet strong in performance.
4. Other brand products
Lexon's Magnetic Desk Organizer is both a modern and functional way to organize your desk and control clutter. A patented design on this desk organizer ensures maximum organization, efficiency, and longevity.
Even their other office accessories, like the Oblio Charger, are on display. This portable charger is a beautiful tulip shape, offers UV sanitization and wireless charging. This product is sure to get people talking about a masterpiece of modern design that kills all harmful bacteria and viruses on your mobile device discreetly.
With this power bank, you can wirelessly charge your devices or use a USB-A or USB-C cable for charging. With an elegant design, an efficient thermal cooling system, and durability built into the build, you can charge with confidence.
Subcribe newsletter and get $100 OFF.
Receive product updates, special offers, ergo tips, and inspiration form our team.
WRITTEN BYAutonomous
We build office products to help you work smarter.