Smart Products
Best Office Chair for a Designer or Creative - Top Picks for 2023

Autonomous
|
Jun 8, 2021
4,122 Views
Creatives and graphic designers commonly require an array of devices to conduct their work. This equipment can be pretty expensive, but you certainly require these tools to ensure you can work effectively. However, these graphic designers and creatives typically forget some essential elements in their workspace, like an ergonomic office chair.
You might not think too much about it and simply grab any office chair that looks good enough to include in your graphic designer workspace. This can be a costly mistake, as an office chair for designers can make or break your performance during your working day.
Graphic designing and creativity are hectic tasks. Being a graphic designer means you should prepare yourself to sit in front of a computer for hours. That's why to stay productive and work with ease, designers and creatives need ergonomic office chairs.
An ergonomic working area has the power to enhance your comfort while supporting your back, encouraging you to work for extended periods. Additionally, incorporating the best ergonomics into your office can enhance productivity levels. Meaning, you can create higher quality work more effortlessly.
However, the market is saturated with endless ergonomic office chairs for designers. This makes it challenging to find the right designer desk chair. Luckily, we have conducted extensive market research to locate the top picks for the best chair for creative use.
Designer computer chairs are structured to ensure easy long sittings. Using a normal chair or even stool etc., can be the biggest mistake for the designers. They will welcome bad physics and uncomfortable working experience. A lot of office product manufacturers around the world build stylish office chairs that optimize comfort levels. Continue reading to find out everything you need to know.
Why Does a Designer Need a Good Ergonomic Chair?
A designer ergonomic office chair offers excellent lumbar support, which helps prevent back pain while allowing you to work more comfortably for extended periods. Graphic designers commonly suffer from back pain because they don't sit properly in ordinary office chairs.
The design incorporated in an office chair for creative workers combats this back pain and encourages proper spinal alignment. This is because the construction of these chairs is equipped to mimic the natural curvature of your spine.
Proper spinal alignment promotes sitting posture, which improves the natural alignment of your spine, hips, and shoulders. Thus, reducing abnormal strain on your body while preventing harmful seated postures like leaning forward or slouching.
What Should You Consider When Purchasing a Designer Ergonomic Chair?
To choose the right designer ergonomic office chair for a designer desk, you should consider several factors making up the design of these chairs. Such elements include:
Seat Material
The material included in your designer ergonomic office chair should have enough padding for optimal comfort when seated for extended periods. Additionally, you should consider chairs that are constructed with breathable fabric, like mesh.
Such material enhances breathability and maximizes airflow to ensure you remain refreshed even when you're seated for extended periods. Leather isn't a suitable option because it can cause sweat to build up while you're seated, which can cause discomfort.
Backrest
The backrest included in an ergonomic office chair for designers should be between 12 and 19 inches wide. If this backrest is separated from the seat, you're required to adjust it in both angle and height. Additionally, your spine's natural curvature should be supported by this backrest with special attention being shown to the lumbar region.
In contrast, if this office chair is designed with the backrest and seat being one piece, you should have the ability to adjust it backward and forward. A locking mechanism works to secure these angles from moving too far backward once you're seated, which is beneficial for optimal support.
Lumbar Support
Lower back support in an ergonomic chair is vital. Your lumbar spine has an inward curve. Not offering support to this area while seated for extended periods can lead to slouching. This flattens your spine's natural curvature while straining the structures in your lower lumbar region.
When purchasing a designer office chair, you should choose designs that include a lumbar support system with height and depth. Having such features ensures you provide the right support to your lower back's inward curvature.
Seat Depth and Width
Your ergonomic chair should be equipped with enough depth and width to support your body comfortably. This is generally 17 to 20 inches wide while the depth (back to the front of the seat) needs to have enough space for you to sit. Your spine should be placed against the backrest while leaving approximately two to four inches between the chair's seat and the back of your knees. Additionally, you should be able to adjust your seat's backward tilt.
Seat Height
The seat height included in your designer office chair should be easily adjustable. When finding this feature, you should seek a pneumatic adjustment lever in this design, as it offers the easiest way to make such adjustments.
A seat height ranging from 16 to 21 inches from the floor should work for most graphic designers. Such range allows users to have their feet on the floor while their thighs remain horizontal and arms even with the desk's height.
What Is the Best Office Chair for a Graphic Designer?
Here are our top picks for the best office chair for a designer:
1. Autonomous ErgoChair Pro
The ErgoChair Pro is known as one of the best ergonomic chairs for designers available on the market. Its fully adjustable design offers optimal comfort while providing enhanced support even when you're seated for extended periods. 
A well-liked feature that comes with the design of this ErgoChair Pro is that it can effortlessly improve your posture. Effective lumbar support is included in the chair's design, which provides this exceptional adaptability. Additionally, the quality cushioning offers enhanced comfort.
Features
This ergonomic office chair for designers is equipped with adjustable seat tilt, backrest, headrest, armrests, and height.

The quality and flexible lumbar system can support any seated position.

It's equipped with a woven mesh back for optimal airflow.
2. Autonomous ErgoChair Plus
Autonomous also offers the ErgoChair Plus. This ergonomic office chair for designers is designed with a fully adjustable and customizable system. Hence, you can effortlessly adjust the chair's armrests, seat height, tilt angle, and lumbar system. Having such features ensures you receive customized support and optimal comfort.
This ergonomic chair's intuitive design can fit any stature and body. While aligning with any body type, you're also guaranteed unmatched comfort and adjustability. Such functionality is also available to taller users.
The fishbone design is another prevalent feature of this ErgoChair Plus, which is constructed with durable and advanced TPE material. This unique construction promotes maximized airflow, ensuring you remain refreshed and comfortable while working at your desk for long hours. A well-liked advantage that comes with using the ErgoChair Plus is that you can promote lumbar health while naturally correcting your sitting posture.
Features
The frameless construction consists of earth-friendly TPE for enhanced durability while offering unhindered movement.

It's equipped to provide adaptive spinal support.

This design encourages natural mobility, which reduces the pressure placed on your hips and lower back.
3. ErgoChair Recline
ErgoChair Recline by Autonomous is one of the best options available in the market. The company already has a popular name in its office products, making it the best fit for designers and people belonging to other professions.
The ErgoChair Recline will be comfier than your sofas and couches. This minimalist office chair has an adjustable height, lumbar support, recline, armrests, leg rest, and headrest. So, designers or creatives can easily adjust it according to their body shape and comfort level. Besides, it also has a reclinable mesh back and lumbar support to reduce back complaints.
4. AvoChair
Another famous chair by Autonomous, the AvoChair, is another nice option for designer task chairs. This chair has excellent functionality and ergonomics. Also, it has an adjustability feature, including height, tension, armrest, and back tilt. It has an elastomeric mesh back and seats. With the diecast aluminum alloy base, long-lasting life is guaranteed. It can support the weight of 250 lbs.
5. Ergohuman Eurotech
Reclining is one of the best features offered in a designer ergonomic office chair if you want to reduce the strain placed on your back and shoulders. However, this design should also include a headrest to ensure you gain optimal comfort and support. That's why the Ergohuman Eurotech is an exceptional product for graphic designers and creative workers. Additionally, this office chair for designers also includes various tension and height adjustments, quality lumbar support, and an effective pneumatic lift system.
Features
Tilt tension control is included in this design for optimal comfort.

You gain a wide seat height adjustment range.

A tilt locking feature allows you to recline your seat and set this position in place.
6. Alera Elusion
If you're searching for a quality designer office chair on a budget, the Elusion from Alera is the right choice for you. It's equipped with an excellent combination of support and comfort with its mesh back, tension adjustable options, and impressive recline.
The product is constructed with durable materials, which makes it a worthwhile investment if you're looking for an affordable upgrade in your ergonomic workspace.
Features
The multifunction mechanism allows back angle adjustment that aligns with seat height and adjustable tilt.

The inclusion of cool and breathable mesh fabric offers enhanced airflow.

Premium fabric upholstery and waterfall edging are included in the contoured seat cushioning to relieve leg pressure and promote blood circulation.
7. Humanscale Diffrient World
You might have a workspace that doesn't offer much room for movement. If this is the case, you want ergonomic furniture that can fit in these limited areas without taking up too much space. The Humanscale Diffrient World is the right product for your workspace with its slim width.
The design is equipped with adjustable armrests that you can lower and lift for support. Additionally, you receive a 10-year guarantee on the mechanisms making up this chair. However, you aren't likely to use this guarantee as this designer ergonomic chair is constructed with durable materials and top-notch adjustability features.
Features
When purchasing this Humanscale product, you gain a 10-year money-back guarantee.

The armrests included in this design are fully adjustable.

It's equipped with a high back that you can comfortably recline. 
8. Vertagear Trigger 275
It's a massive misconception that gaming chairs don't work as well as office chairs for graphic designers. A gaming chair, like the Vertagear Trigger 275, offers excellent customization and support while allowing you to remain cool and refreshed for hours.
The adjusting seat height, armrest height, lumbar support, and backrest height offer customized comfort and support so you can work for extended hours on your project without suffering from back or neck pain.
Features
The design of this ergonomic office chair for designers is fully customizable with adjusting 4D armrests, lower back support cushioning, backrest height and depth, and seat height.

It's made with more than 350 individual components.

You can recline this chair up to 33 degrees while locking it in 22 different positions.
9. Herman Miller Embody
This Embody Chair manufactured by Herman Miller is designed by Bill Stumpf and well-known for offering exceptional ergonomic benefits. It's designed with numerous features that promote circulation for a more comfortable seated experience. This unmatched comfortability has made this product a favorite among many graphic designers and creative workers.
Moreover, the exoskeleton implemented into the chair's construction mimics the human spine. The purpose of this office chair for designers helps promote correct spinal alignment and posture despite how long you're seated, as slouching is prevented.
Features
The high back adjustment is designed to mimic your spine's natural curvature while offering an impressive reclining feature for optimal support while seated for extended periods and at varied postures.

Pixelated support offers a sense that you're floating because you're balanced perfectly with the dynamic inclusion of pixels.

This ergonomic chair includes arm pads, tilt limiter, adjustable seat depth, and fully adjustable armrests.
10. Herman Miller Aeron
This ergonomic chair for designers is designed to promote a healthy lower back by significantly reducing any discomfort and pressure. Including an effective cushion and high-back offers this pressure relief while you also gain optimal support and comfort. Such additions allow you to rest your hips while supporting your lower back and head simultaneously.
Additionally, mesh fabric is incorporated in the chair's back and lumbar support construction. This office chair for designers offers improved support while maximizing breathability. From such addition, you can remain refreshed even after prolonged use.
Features
The fully adjustable arms are equipped with a range of 6.8 inches and 10.8 inches above the seat while sliding backward and forward with a range of more than 2.5 inches. Additionally, these armrests can pivot 15 degrees outward.

Two individual pads are included to adjust to your spine's curvature for optimal comfort and support.

The tilt limiter allows you to set the recline range with the option of three different postures.
11. Humanscale Freedom
Niels Diffrient is an American industrial designer who has helped construct many ergonomic products that consumers swear by. One of these products is the Humanscale Freedom. This chair highlights the manufacturer's shift between producing manually adjusting ergonomic chairs and self-adjusting ones.
It's equipped to intuitively offer tilt and recline tension functionality while also allowing you to make alternative adjustments for optimal comfort and support. Although there are numerous self-adjusting options available on the market, the Humanscale Freedom offers the best performance. Furthermore, it works well when combined with many designer desk accessories.   
Features
The automatic headrest functionality can cradle your head and neck, which relieves pressure when you're seated for extended periods.

The contoured cushioning included in this chair's design aligns with your body's natural curves, enhancing contact while decreasing concentrated loads.

The responsive backrest automatically adapts to required changes in your spine for unmatched comfort.
12. Flash Furniture High Back Mesh Chair
The Flash furniture high back mesh chair is the best option for designers and creatives with a limited budget. It has an adjustable headrest that keeps the neck supported. Besides, the lumbar support on this chair for graphic designers lowers the pain in the back, which is a bonus. Other key features include flip-up arms. The chair also has a great swivel. So, get ready for easy movement.
13. BOLISS Big and Tall Office Chair
This chair for graphic designer is specifically designed for arts and design enthusiasts. The BOLISS big and tall chair offers impressive functionality to optimize the comfort level of all graphic designers. It has big cushions. These cushions have molded foam structures wrapped with fabric to make long-sittings possible.
Also, it reduces physical concerns, especially at the lower back and hip area, because of its excellent ergonomic design. This chair's other notable features for a graphic designer are backrest tilt adjustability, high-quality mesh, and mute PU casters. Besides, it also has an impressive weight capacity of 500 lbs.
14. Herman Miller Mirra 2
The Herman Miller Mirra 2 is a good designer office chair. It has combined high functionality and a beautiful design, all in a single chair. This chair comes with a lot of adjustability options. With the Herman Miller Mirra 2, you can easily maintain a good posture. However, it is a little expensive. So, you should set a good budget for this.
15. Razer Iskur
Though specifically designed for gamers, the Razer Iskur is also a suitable chair for graphic designers. It is a fully adjustable structure with lumbar support and all other necessary features for the better comfort of the designers and creatives. It will align your spine to maintain good posture, especially during long hours. Besides, this chair also has adjustable 4D armrests, which is a must-have feature for designers.
16. Noblechairs Icon Chair
 The Noblechairs Icon chair has been made with soft PU leather and foam. The combination makes the seat very comfortable. Also, the chair has a reclinable back of up to 135 degrees. The weight capacity of this extended height office chair is 330 lbs.
17. Duramont Ergonomic Office Chair
Another budget-friendly option on the list, the Duramont ergonomic chair for graphic designer, is also comfortable for designers and creatives. Its adjustability feature also incorporates a back tilt limiter, recline lever, lumbar support, and more, which is quite surprising considering its price.
The seat is made of soft and breathable mesh. That's why it's easier to sit on it for longer durations. The weight capacity of the Duramon ergonomic chair is 330 lbs. It is also equipped with rollerblade caster wheels that allow you to have quick movements. While with the high-quality and sturdy material, higher durability is ensured.
18. Steelcase Silq
Steelcase Silq has great back support. As highlighted above, the chairs for designers have to be very comfortable because of their long sittings. The arms and shoulders of Steelcase Silq offer great support despite movements. It will automatically adjust according to the body shape of designers. Also, the chair has adjustable height.
19. Sihoo Ergonomic Chair
With stylish design and high ergonomics, you will get everything with the Sihoo 24-hour chair. It has an adjustable footrest, backrest, and headrest. While its lumbar pillows just add more to its comfort. Plus, the breathing mesh material ensures better air circulation. It is easy to assemble and also budget-friendly.
20. La-Z-Boy Hyland Executive Office Chair
This chair for graphic designer has an adjustable height, recline, and tilt. Its ergonomic design and comfortable seat cushion combined with padded armrest and solid wood make it the best fit for all graphic designers. It is made of bonded leather and has a weight capacity of 250 lbs. This chair is known for its long-lasting life.
Our Final Thoughts
The list of best chairs for graphic designers is not exhaustive here. However, the above-listed chairs are a few of the best ones. Every graphic designer must get them to lower their physical distractions and concentrate more on their productivity and creativity.
The right chair for a designer can enhance their performance and make sitting for extended periods easier on their body and mind. However, choosing the best office chair for designers is dependent on your specific preferences. We hope that our selection has given you some ideas of the different options and helped you pick one for your workspace.
Besides, the choice of the right desk and other office accessories is also as important as the chair. All these collectively boost the working experience of designers. So, don't solely depend on chairs and look for some of the best desks, monitors, and more.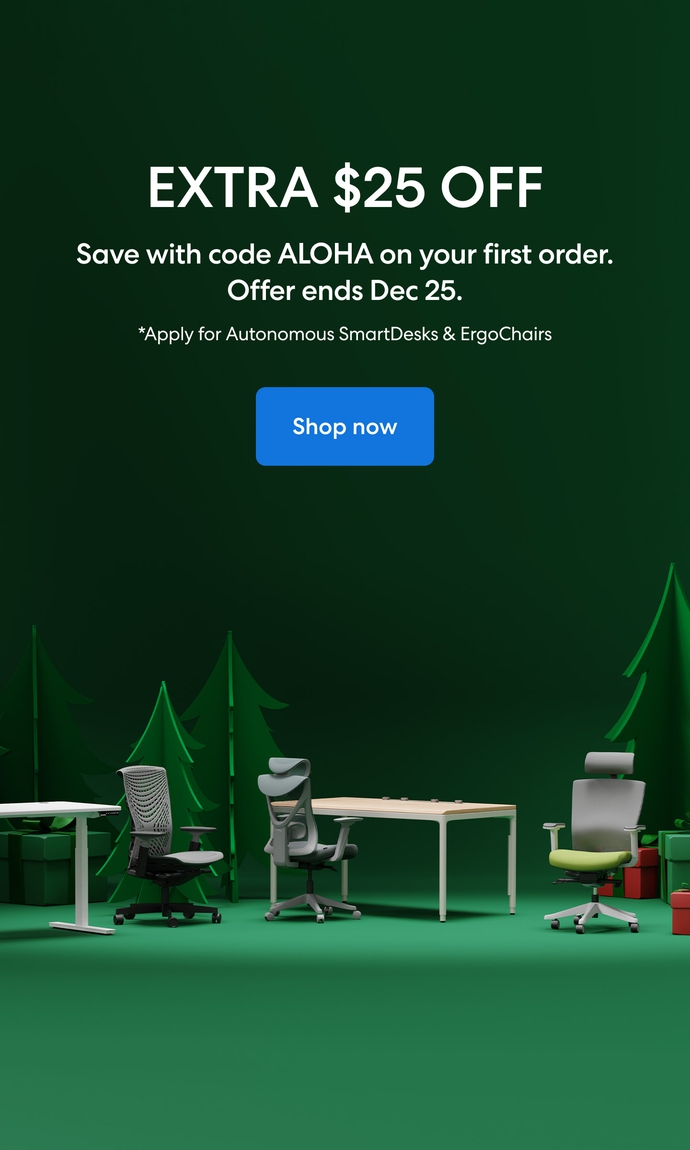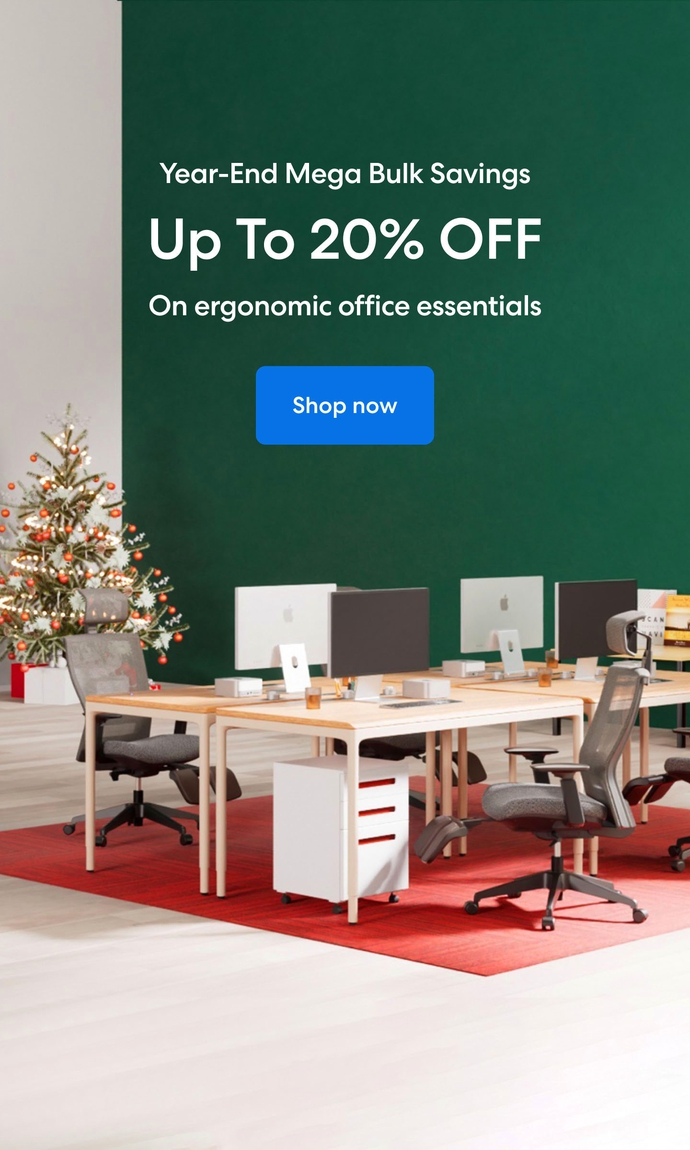 Subcribe newsletter and get $100 OFF.
Receive product updates, special offers, ergo tips, and inspiration form our team.