With chronic back pain, particularly persistent neck or backache, ergonomics can either be part of this problem or a quick fix. Ergonomics is the science of just how we function and operate in our environments. Since that's eight hours of improper posture, muscular stress, straining to view the computer monitor, and not taking care of your vertebrae throughout the workweek can lead to persistent back or neck discomfort.
On the other hand, Ergonomics can also help you prevent some types of chronic back pain depression. You might perhaps avoid chronic muscular tension or back pain resulting from poor posture and other types of persistent spinal pain if you make a concerted effort to practice appropriate ergonomics each day. If you already suffer from severe pain, excellent ergonomics and the best exercises for chronic back pain can help you manage it and get through the workday composedly.
Some of the Chronic Back Pain Symptoms
An aching or soreness anywhere within the spinal area and occasionally to the bottom towards the buttocks and legs is the most common sign of back pain. Based on the nerves involved, certain chronic back pain might produce discomfort in other places of the body. The discomfort usually passes without medication; however, if people experience any of the following symptoms, they should consult a doctor:
Slimming down

Persistent fever

Swollen or inflamed back

Stubborn back pain which does not go away even after resting

Discomfort in the legs

Soreness that extends to the knees

A significant back injury, impact, or trauma

Urine incontinence

Fecal incontinence, or the inability to regulate bowel motions

Numbness in the area of the genitals

Numbness in the area of the anus

Tingling in the buttocks

As per our chronic back pain guidelines, you must seek medical assistance. If you have any numbness or weakness, or whether you have back discomfort: 
Which does not get any better with rest

After an injury

Accompanied with tingling in legs

With a lack of strength

Along with fever

With unexpected weight loss
You may also use a standing desk and an ergonomic chair to prevent any future chronic back pain. You can purchase any ergonomically designed furniture for your office from the Autonomous website at half price. Autonomous currently provides exceptional savings through their Employee Purchase Program, created for employees who have always wanted to afford luxury furniture goods.
Best Ergonomic Office Furniture to Relieve Chronic Back Pain
Even if you are working remotely or at the workplace, one critical factor that's certainly escaping your notice is what stabilizes your body when you're sitting at your workstation. That's correct, and we're discussing your desk chair and many other workplace furnishings for convenience and total wellbeing, particularly your back's wellness.
In addition, the appropriate workplace furniture can aid in the prevention of lower back problems and avoid many reasons for chronic back pain. If you have constantly been suffering from chronic back pain, the appropriate workplace furniture may greatly impact how you feel. Here is our list of the best ergonomic office furniture to help with chronic back pain, including the best chair for lower back pain and many other devices.
1. ErgoChair Pro
For those who wonder, "What is lumbar support?" – The ErgoChair Pro comes with an integrated lumbar cushion, which is both simple and pleasant, and it provides adequate back support. You may recline the seat back, and the seat elevation can be adjusted, providing for a much-needed leaning or stretching position. This armchair is a wonderful addition to any private office area because it is very light and less bulky than almost all of its rivals.
2. AvoChair
This chair is devoid of bulk and sharp edges. Everything with this armchair is intuitively meant to stimulate movement, fluidity, and natural wellbeing, from gently cascaded roll-offs to soft spheroid arm cushions. The lumbar support and the chair are covered in a robust, super breathable mesh fabric with the perfect amount of flexibility and friction. It glides with you, promotes healthy posture, and protects your spine's natural structure.
3. KERDOM Ergonomic Chair
This comfortable, breathable office chair with a broad back, 3-dimensional adjustable armrests, and an executive reclining chair with rolling blade tires. The industrial-grade steel, precise bearings, and long-lasting PU chair casters go into the tires, ensuring that they will not scratch our flooring, be stained, or be damaged. You may glide freely and safely, even on carpeting.
4. Autonomous Standing Desk
This is a strong power standing workstation with a robust twin motor structure and a single-piece ergonomic tabletop. There are six color combinations to choose from. It includes strong but silent motors, a T-style heavily loaded structure, and a long-lasting laminate tabletop. The border has an ergonomic curvature, and it makes individuals feel like they are in the cabin of a spacecraft since it's contemporary and high-tech.
5. ErgoActive Lumbar Support Pillow
This is it. This backrest cushion retains its form after periods of weight have been exerted, thanks to a special combination of high-density polyurethane. The ErgoActive Lumbar Support Pillow's customizable straps allow you to use it anywhere. With this lumbar cushion, you can update your office furniture, workstation seats, pc chairs, recliners, pushchairs, aircraft seats, or even wheelchairs to align your spine appropriately.
6. ThermalComfort Lumbar Support Pillow
This heated lumbar support pillow follows you around, providing three types of massages and 6 types of thermostats for your spinal curve, ensuring that you are calm and comfortable regardless of where you are seated. You may remain warm with a constructed warming process or chill down with blowers by keeping your back aired with this pillow. It also comes with a pulsating massager with three intensity settings to assist your back muscles in relaxing and increasing blood flow in your spinal curve. It may also turn on and off periodically every fifteen minutes.
7. ErgoFoam Lumbar Support Pillow
The ErgoFoam lumbar support pillow was created with biomechanics, allowing you to remain seated in a comfortable vertical position. Ergonomics increases oxygenation and minimizes tiredness and pain in the back and shoulders. This breathable mesh drains away humidity, leaving you cool and comfortable, unlike many pillows that make you sweat. It gives lumbar and cervical support that other backrest cushions can't match.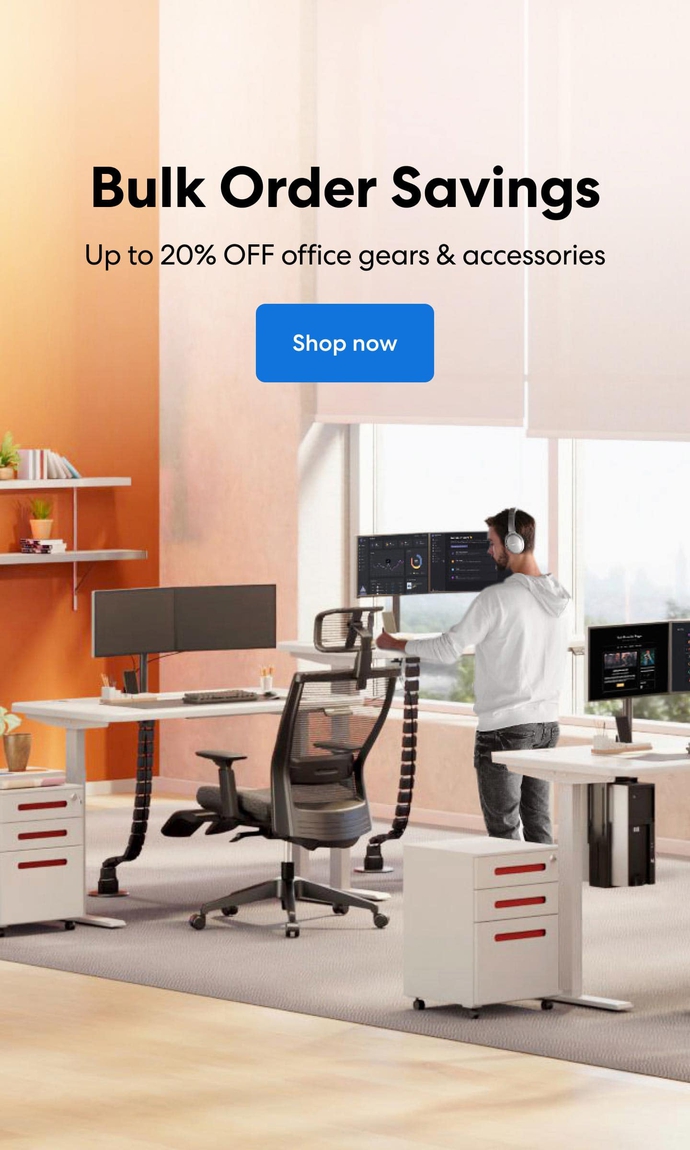 Subcribe newsletter and get $100 OFF.
Receive product updates, special offers, ergo tips, and inspiration form our team.