Smart Products
Furniture Store in Aurora, Illinois: Top Listing and Buying Tips

Autonomous
|
Aug 26, 2023
837 Views
Furniture forms an integral part of our lives, offering utility and adding aesthetic value to our living and working spaces. For those residing in and around Aurora, Illinois, the quest for high-quality and stylish furniture can seem overwhelming due to the sheer number of available options.
This blog post aims to simplify that quest by offering insights into three popular furniture stores, and some helpful shopping tips. Read on to find the next furniture store in Aurora, Illinois you need to visit first.
1. Autonomous
If you are looking for modern office furniture stores near Aurora IL, one shop that cannot be missed is Autonomous. This innovative brand, known for its ingenious use of technology, has made a significant impact in the realm of office furniture.
Incorporating a sleek and functional minimalist design, Autonomous products not only look amazing but are also built to endure. They started turning heads with their initial release, the "SmartDesk." This standing desk was an impressive marriage of form and function, and it only marked the beginning of their journey. Today, Autonomous offers a wide range of smart ergonomic office furniture, including their ergonomic office chair and the versatile L-shaped standing desk. So, if you prioritize high-quality materials, robust construction, and thoughtful ergonomic design, Autonomous might be your perfect match.
Pros
Autonomous isn't just about great products; they also understand the value of a good deal. With their bulk order program, you can save money by getting wholesale office furniture. The concept is simple and effective - the more you buy, the more you save. Plus, they offer flexible shipping, delivering your order exactly when you need it.
Need a helping hand to plan your workspace? Autonomous offers a free office layout service, providing a 3D design layout to help visualize your workspace. You can adjust and suggest changes, ensuring the space meets your needs perfectly. The service includes personal customer support, a suggested shopping list, and a concierge service. It's all designed to save you time and money and alleviate any stress related to office setup.
To top it all off, this furniture store in Aurora offers a lucrative referral program. If you recommend them to someone who makes a bulk purchase, you could earn rewards such as a discount office desk or a large office desk worth $5000 to $15000. Sounds enticing, right?
Cons
It's worth noting that Autonomous specializes in office furniture and does not deal in household items such as beds or sofas. They're focused on revolutionizing the work environment rather than home decor.
2. Macy's Furniture Gallery
If you're looking for furniture in Aurora, take advantage of Macy's Aurora furniture outlet. This expansive section of the larger Macy's department store offers a wide range of furniture types suitable for various areas of your home or office.
From sleek leather couches perfect for a modern living room to sturdy dining sets ideal for family gatherings, and comfortable beds promising restful sleep, Macy's Furniture Gallery has an impressive array of options.
Pros
Variety: Macy's proudly offers diverse styles to cater to all preferences. Whether your aesthetic leans towards traditional, modern, rustic, or contemporary, there's something for everyone at Macy's.
Quality: The furniture at this furniture store in Aurora is known for its durability and craftsmanship. They carry several high-end brands known for producing long-lasting, quality items.
Service: Macy's provides reliable delivery services and often offers promotions that include free or discounted delivery. They also provide a credit card with special financing options for furniture purchases for those who prefer to pay over time.
Convenience: As a comprehensive department store, Macy's allows you to shop for more than just furniture. You can easily pick up a new lamp for your living room, a set of dishes for your new dining table, and perhaps even a new outfit, all in one trip.
Cons
Price: Since Macy's often stocks furniture from higher-end brands, their prices can be a notch above other retailers. That said, their regular sales and clearance events can bring even the most luxurious pieces within a more affordable range.
Availability: Not all pieces are available in-store at all locations or may be exclusive to online shopping. Therefore, it's important to confirm the availability of specific items online before planning your visit to the store.
Wait Times: Delivery times can vary depending on the item. Special orders or high-demand items might require a longer wait, so factor in potential delivery timelines while making your purchase decision.
With its diverse selection of high-quality furniture, Macy's Furniture Gallery stands as a strong contender for those seeking to upgrade their home or office.
3. Value City Furniture
Value City Furniture is another furniture store in Aurora, Illinois, that you simply have to swing by. Known for their extensive selection, they've got your living room, bedroom, dining room, home office, and even your outdoor spaces covered!
Although they mainly carry residential furniture from American Signature, Inc., VCF is not limited to just that. Their diverse catalog expands further with pieces from over 30 additional manufacturers sourced from across the United States and abroad. With such a wide array of options, you will surely find something that catches your eye!
Here's the lowdown on shopping at Value City Furniture:
Pros
Big Range: From cozy loveseats to chic dining sets, you'll be spoilt for choice with their vast collection.
Pocket-Friendly: Unlike some of the more upscale retailers, Value City offers quality pieces that won't break the bank.
Flexible Financing: They provide special financing options with manageable installments that stretch up to 60 months.
Regular Sales: Keep an eye out for their frequent sale offers, perfect for nabbing a bargain!
Cons
Common Designs: Since they're a retailer, some designs might not be unique, and you may see them in other people's homes. If having a one-of-a-kind piece is essential to you, this is something to keep in mind.
Wait Times: Patience is crucial! Depending on the piece, you might have to wait a while before it reaches your doorstep.
Quality vs. Price: While the affordable price range is a big plus, remember it can sometimes mean a compromise on the quality front.
Furniture shopping can be a daunting task. Here is a list of helpful tips you can follow to make your furniture shopping easy:
Measure Your Space: Nothing is worse than buying a piece of furniture that doesn't fit in your room. Measure your space carefully, and consider the size of the doorways, staircases, or elevators the furniture will need to pass through for delivery.
Consider Your Lifestyle: If you have kids or pets, look for durable, stain-resistant fabrics. Light-colored furniture might not be the best choice if stains are a likely issue.
Delivery and Assembly: Find out if the store offers delivery and whether the furniture will come fully assembled or in flat-pack form. Some stores offer assembly for an additional fee.
Check the Return Policy: Make sure you understand the store's return policy before you buy, just in case the piece doesn't work out.
Online Shopping: Don't rule out online shopping. Many websites provide extensive measurements and images, as well as customer reviews. Just be sure to check the return and exchange policies.
Conclusion
Selecting furniture, whether for your office or home, can be complex, but it doesn't have to be stressful. Understanding what different retailers offer and being clear about your needs can make the journey smoother. Autonomous, Macy's Furniture Gallery and Value City Furniture each cater to different preferences and budgets, providing a plethora of options for consumers in Aurora, Illinois.
We hope this breakdown has helped you decide which furniture store in Aurora, Illinois you are going to visit next.
Video ads for product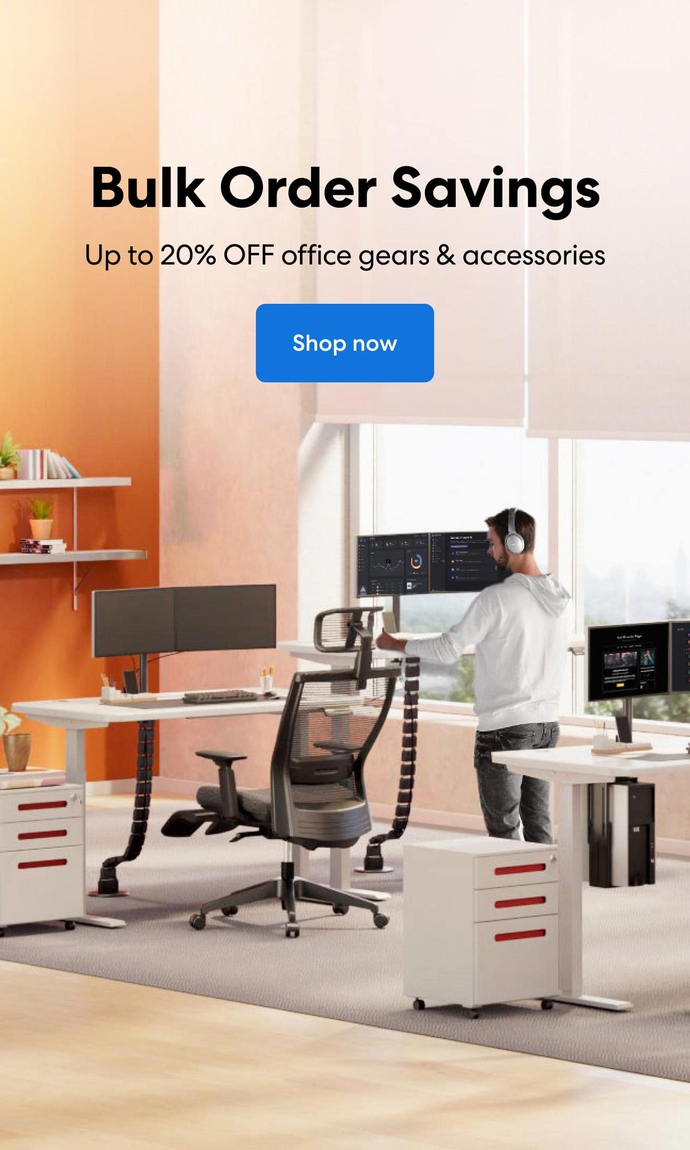 Subcribe newsletter and get $100 OFF.
Receive product updates, special offers, ergo tips, and inspiration form our team.