Smart Products
25 Large Size Office Desks for Home Office & Work
3,168 Views
Having a large office desk is essential if you want to keep your work items organized and make sure you don't waste any time looking for them while you're completing all the important tasks related to your job. Read on and find out more about the top 25 alternatives you could go for!
Top 25 Large Office Desks for Your Workstation
Working at a desk is an effective way to accomplish tasks. A large office desk serves as a workstation for everyone, whether you're a student doing homework or an executive reviewing business documents. Tables and desks come in various sizes, shapes, and dimensions. Your lifestyle will determine the size of the desk you need.
Choosing a large home office desk that is the right size for your needs is a good idea. Standard large desk sizes are 60-inches x 30-inches with a height of 30 inches, which will suit most purposes. In general, these dimensions should be used as a baseline to accommodate most general use cases.
You can then determine the right size desk based on what you will be using the desk for and what your setup requires. Many types, sizes, and configurations of desks are available for purchase. Narrowing down your options can be daunting. Below are some helpful tips to start choosing a long office desk.
1.  Autonomous' SmartDesk Pro XL Top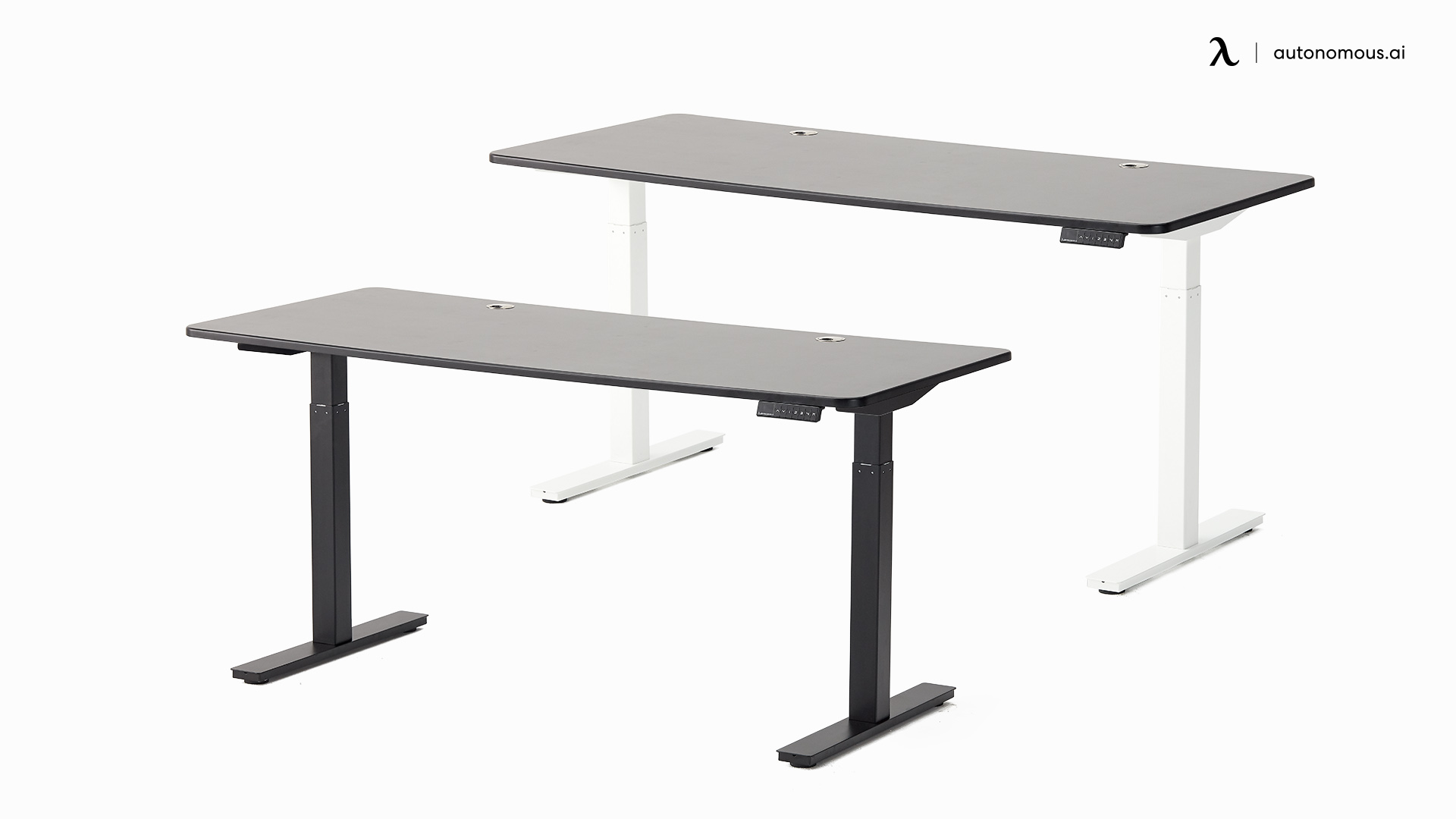 Autonomous has proven that it's one of the best brands to produce incredible desks, and the SmartDesk Pro is yet another example of a wonderful piece of furniture you could get for your office. 
You get a fantastic height range with this model, as well as a motorized foundation you can use if you want to turn it into a standing desk. 
Even though you have to assemble it before using it, doing so is extremely easy. Overall, the long office desk has various customizable features, which is essential if you want something you can personalize. 
2.  Autonomous' SmartDesk Corner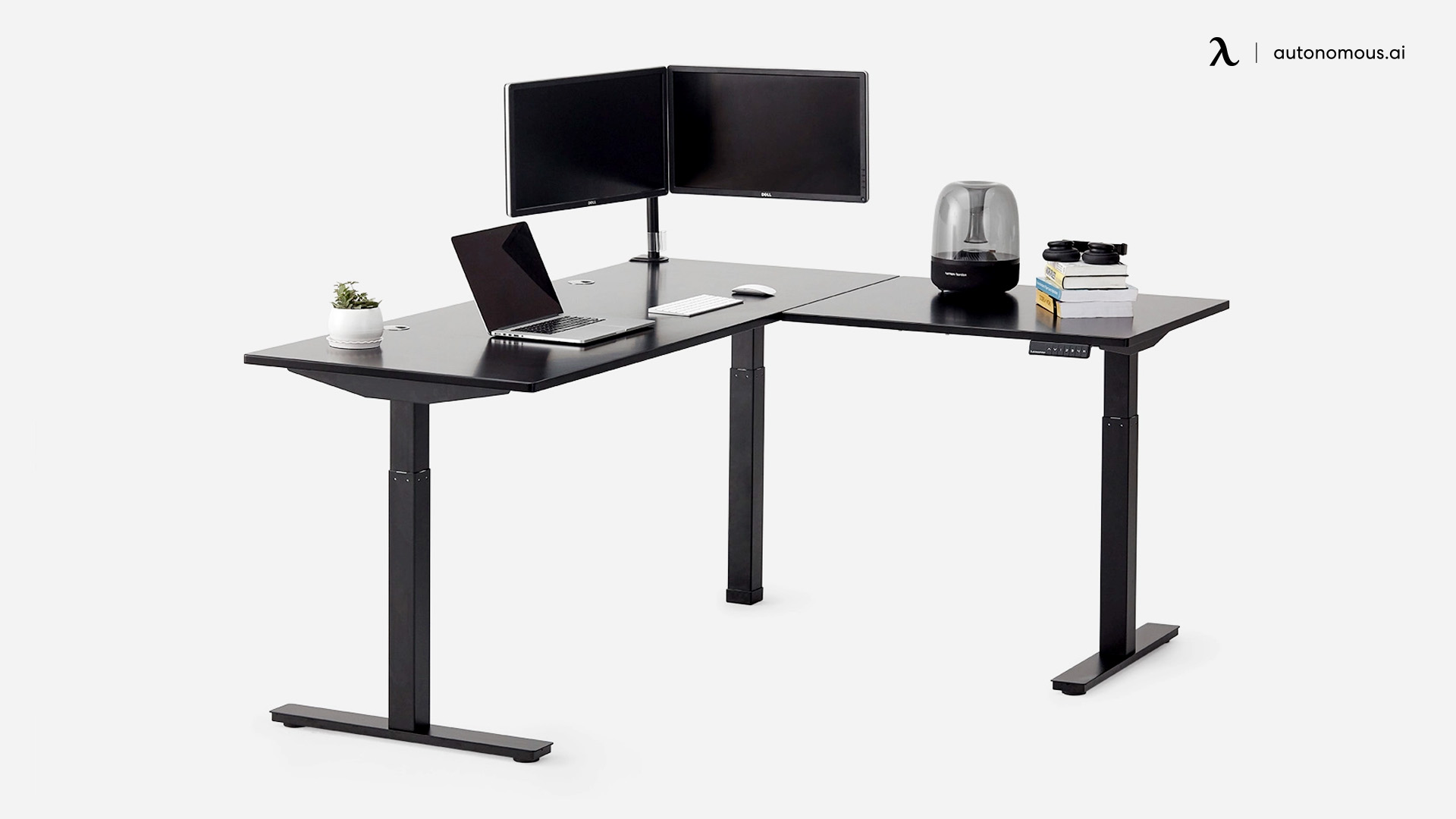 Autonomous' SmartDesk Corner is one of the best L-shaped standing desk options you can find out there. Its remarkable features, beautiful design, and convenient price are loved by many customers, which is why you may feel the same way. 
It's not easy to find an office standing desk that has it all, but the SmartDesk Corner can fulfill your expectations with no issues. The design of this long office desk is stunning but still simple, so it's the perfect match for many customers like you.
3. SmartDesk Connect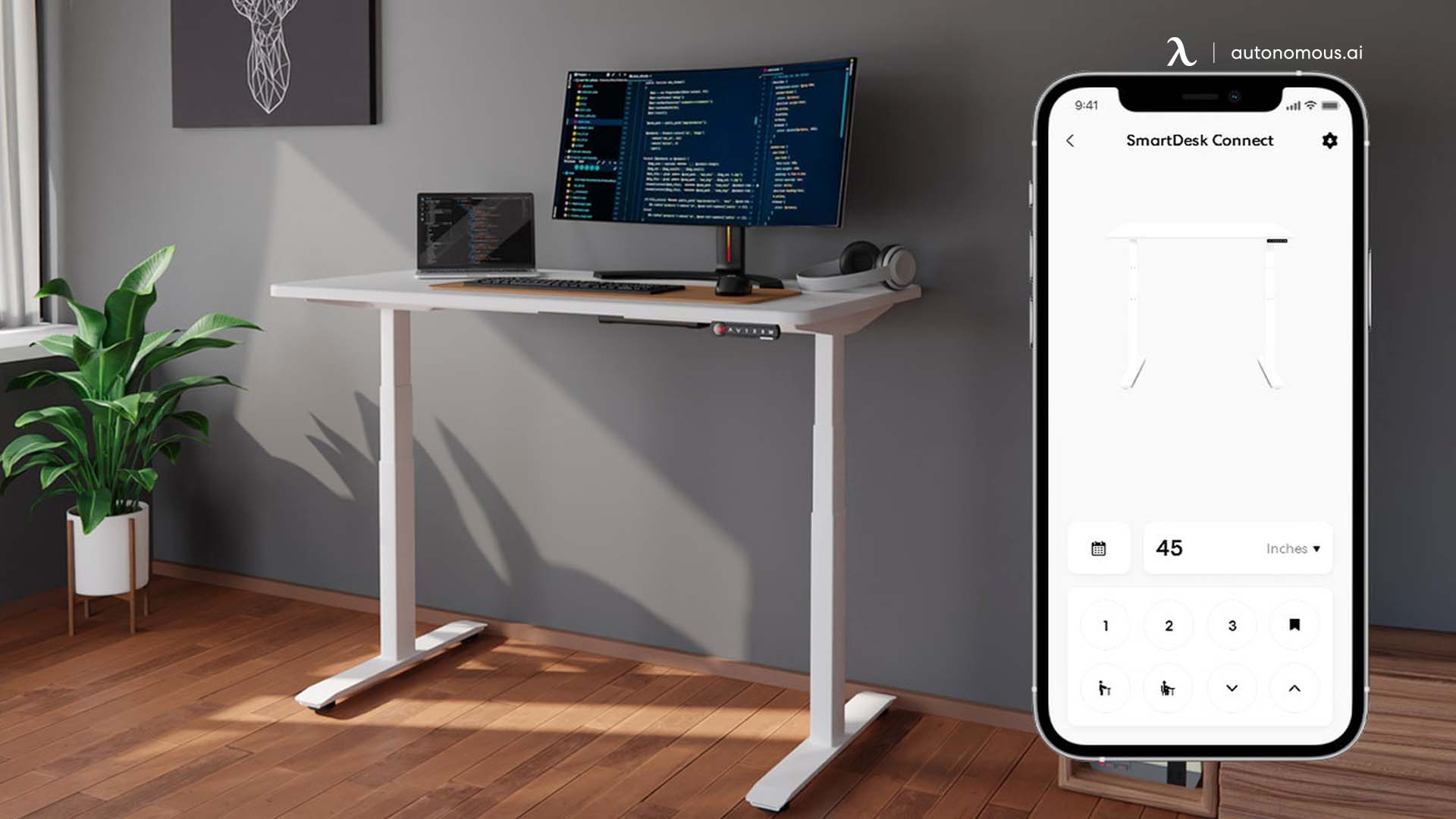 We introduce the most advanced feature of SmartDesk with this all-black office desk yet. Your SmartDesk can be accessed from any location with the standing desk connect app. A built-in sensor stops the engine when it detects obstructions above or below the desk.
In addition, it has a big office desk steel frame made from the strongest steel available and has a 7-year warranty. You can control it remotely with your phone, tablet, or computer. Choose how often you want to stand and sit.
4. SmartDesk Pro by Autonomous x Wistopht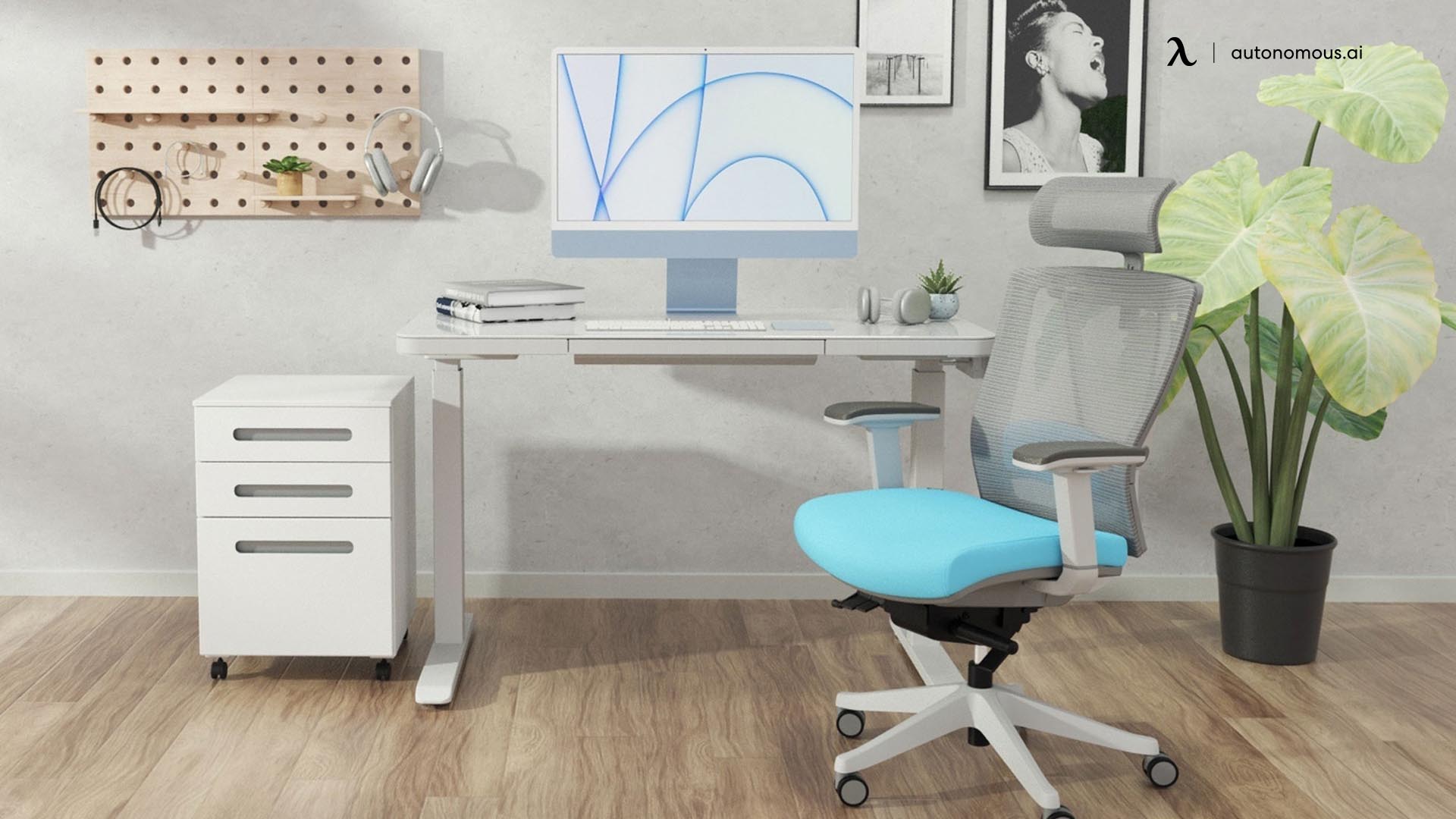 It just got better! SmartDesk Pro has just got even better! No matter how minimalist or technologically advanced your workspace is. You can still have an advanced workspace even if your workspace is minimalistic. So that you can work in an ergonomic WFH environment, let your standing wide office desk do all the work.
Now that SmartDesk collaborates with Wistopht, we can create a better large office desk converter. The company sells over $1 million worth of electronic products every year, making it one of the world's leading manufacturers.
A standing desk, made of tempered glass, combines science and technology to enhance human performance. UL, ETL, CE, FCC, EMC, QI, and RoHS, among others, ensure high quality and effectiveness.
With SmartDesk Pro large white desk, you can work however you want. This premium standing desk allows you to easily transition from sitting to standing, ensuring that you remain comfortable throughout the day. Solid construction made of SPCC cold steel plates enables the SmartDesk Pro to support 265 pounds of gear and withstand years of daily use.
5. SmartDesk Core by Autonomous x Timotion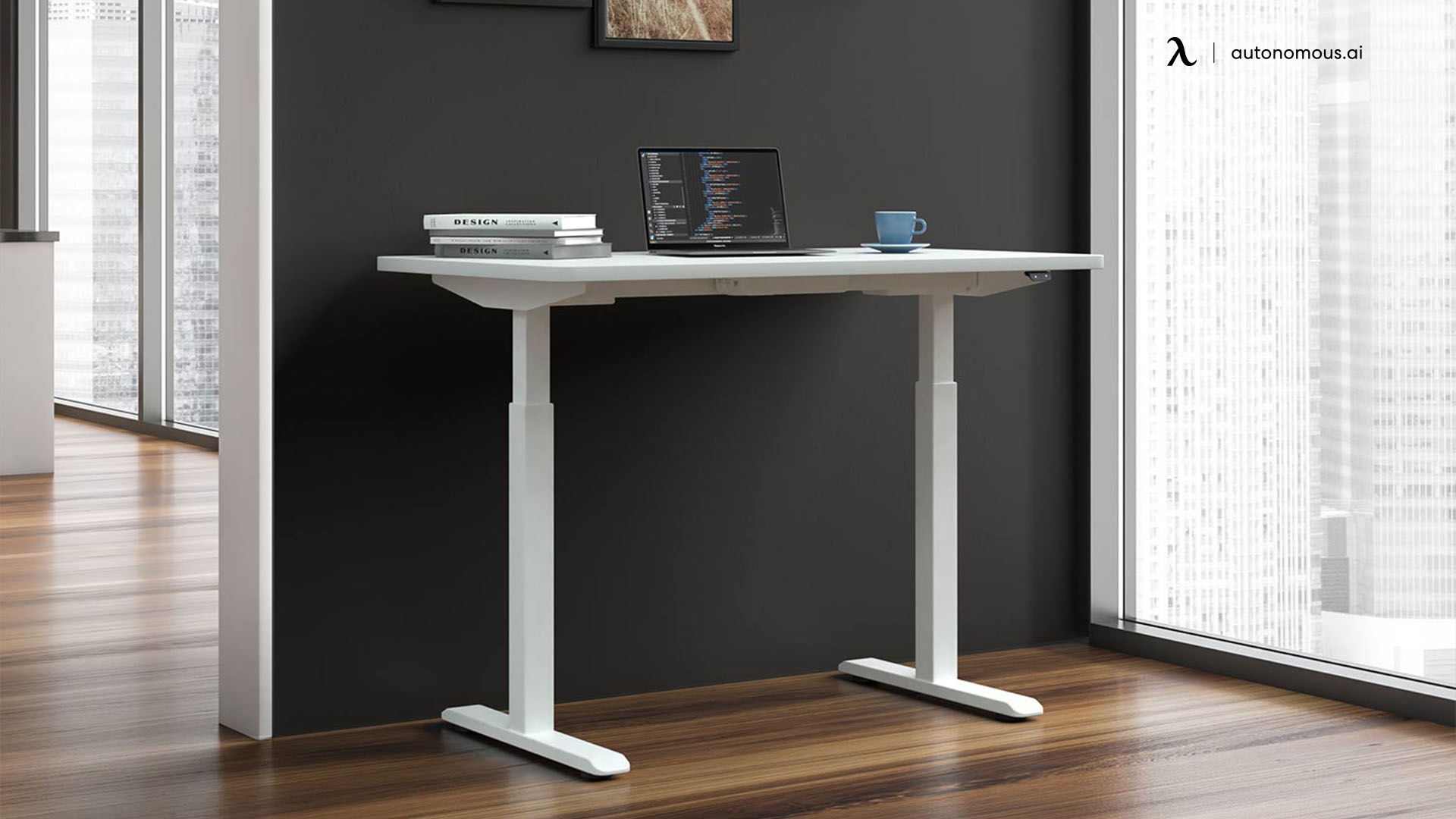 In addition to its sturdy white electric sit-stand desk frame with a spacious desktop, the SmartDesk Core by Autonomous x Timotion has a minimalist look that fits moist home office aesthetics.
You can readjust aspects of the SmartDesk Core by Autonomous x Timotion to sit or stand comfortably between 27" and 45"; it is perfect for most users. With a sturdy steel frame and a rectangular column, plus an electric motor with power, you can easily lift to 270 lbs.
Embrace the larger size of the SmartDesk by choosing the biggest desktop option, with plenty of room for everything you need for work. Our large office desk is designed using procedures and materials that have been rigorously tested for international quality standards, such as UL508 and SAA.
6. Standing Desk by Mount-It! Sustainable Melamine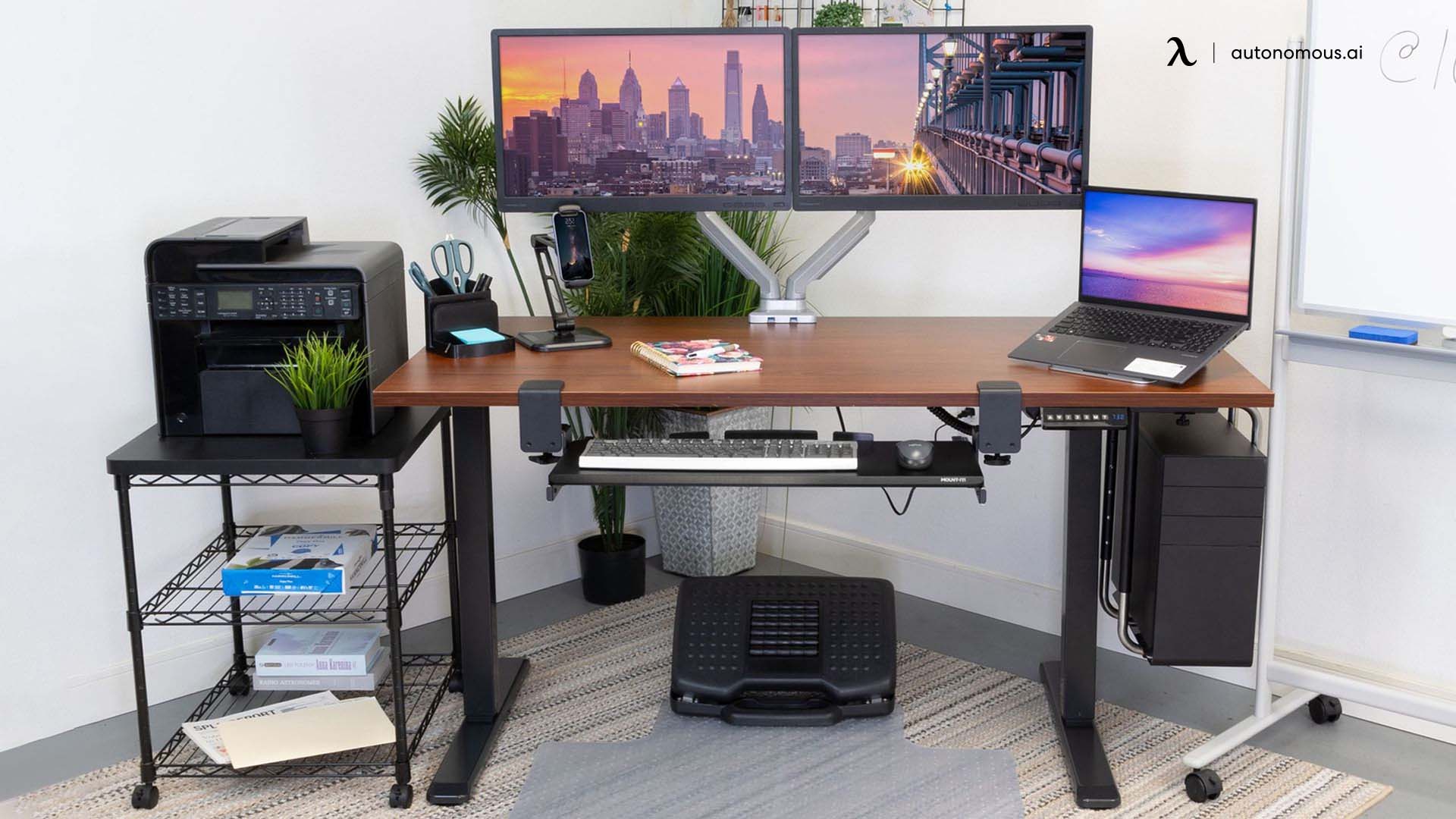 The medium-sized rustic standing desk has a 59" W x 29.5" D tabletop, so it does not take up a lot of space, but it is large enough for multitasking. It's easier to get up from your chair whenever you wish without interrupting your work with this desk equipped with an electric motor to elevate your workstation. It also features three programmable presets.
An extra-wide desktop of 59" long and 29.5" wide is available for everything you need. This desktop can be expanded from 39.4" to 63". Using a smooth, quiet electric motor, the desk height can be adjusted from 29.7" to 49.4".
7. Computer Desk with Hidden Dual Monitor Lift by QuarterSign™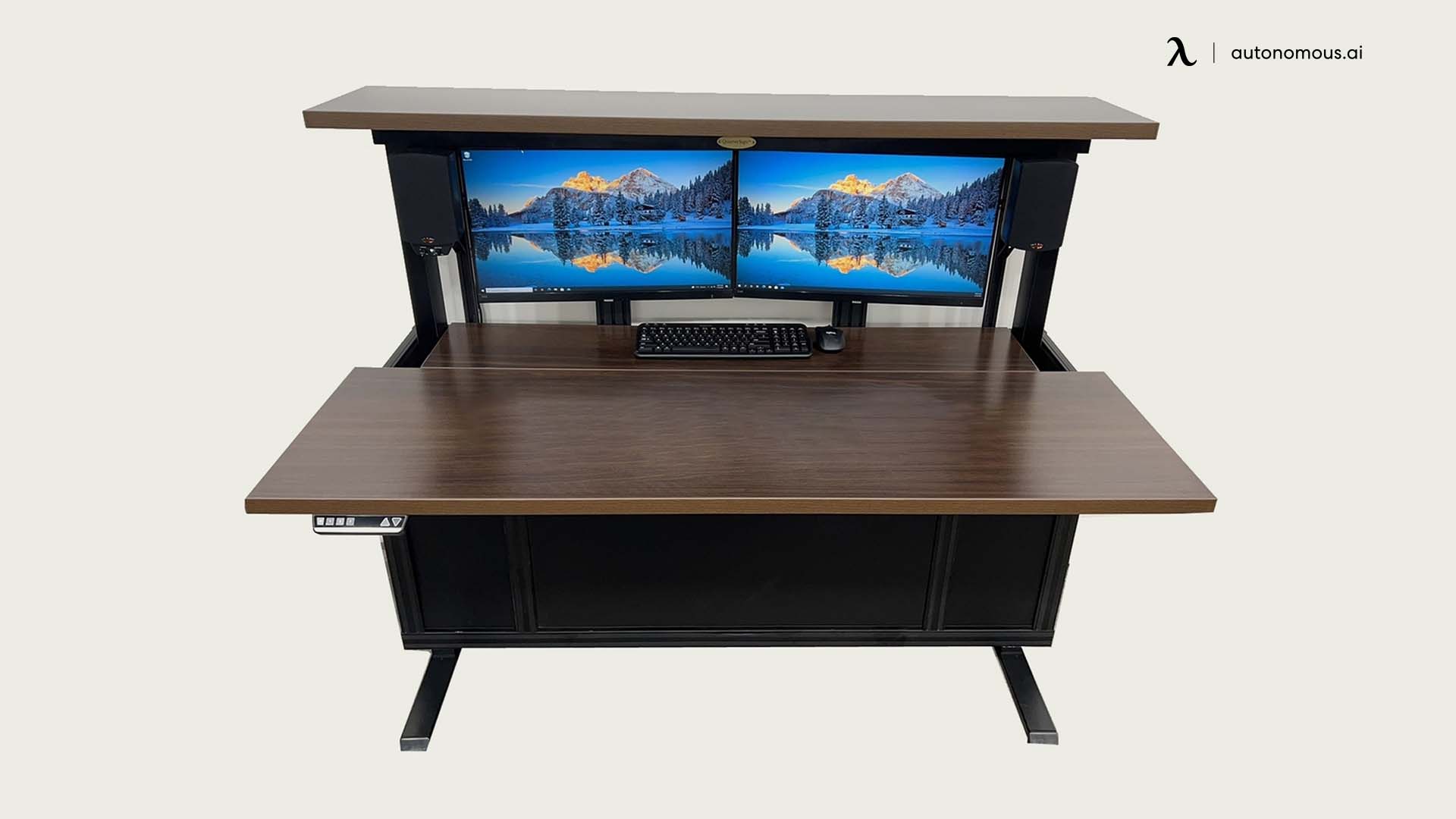 To hide your office when not at home, use where space is limited. Besides dual monitor computer workstations, this desk can also serve as standard desks and dinette tables.
You can even position a VESA monitor mount in this package for either one or two monitors. This monitor rises up to 19", allowing for two 27" monitors or a single large screen of 50" wide.
This computer desk with a hidden monitor can accommodate two 27" monitors with space for speakers, a Soundbar, or a single large monitor that measures up to 50" long. It has an electronically-operated lifting mechanism that raises the desk 19" above the desktop when fully raised.
8. Swish Console Desk by Bludot
Just because you're an office worker doesn't mean you're not creative. You might love to let your imagination fly and find innovative ways to decorate your surroundings. Luckily, the Swish Console is a great alternative for that! 
Bludot's Swish Console is known for having an identity crisis. In other words, it's a blank canvas because it's extremely straightforward. Thus, you can take advantage of its high-quality material, and personalize it the way you want. You could also refrain from making any changes and enjoy the simplicity that it offers you. 
9. Whitaker Desk by APT2B
Take a look at the Whitaker Desk. Once you do it, you might quickly notice the big office desk's strange design is beautiful, appealing, and rare.  
You may not know it, but the Whitaker Desk is a large office desk that's meant to blur the lines between classic and contemporary styles. It has a solid ash frame and walnut drapes to ensure you always see its authentic features. 
The oversized computer desk is a wonderful alternative if you want something that can last for a few years, and since it has three drawers, you can ensure you keep everything you need near you at all times! 
10. Idasen by Ikea
Ikea is a very well-known Swedish brand, which is famous for its appealing products and affordable prices. Among its big office desk models, the Idasen is one of the most popular ones customers love. 
Buying the Idasen means you get a modern design to impress anyone who sets eyes on your desk. Furthermore, its surface is resistant to both scratches and stains, so it is a very convenient acquisition if you want something long-lasting. 
11.  Studiodesk by Bluelounge
Many office workers look for a way to manage unwanted clutter, which is very common, regardless of your organization skills. 
Therefore, brands like Bluelounge have made excellent desks such as the Studiodesk. It is a beautiful model with drawers wrapped in black leatherette, and a design that ensures you can secure all your peripherals. 
Lastly, the Studiodesk's tabletop is made of MDF, which protects the desk against stains, scratches, and wear. 
12.  Celine Desk by DWR
DWR offers you a simple but elegant desk that can make your surroundings look completely different, even if you don't add much more. 
If you get the Celine Desk, you can enjoy a stunning design that matches any type of style you want. Furthermore, the large office desk is one of many people's favorites because it's very simple but it's useful. 
13.  Desk 02 by Artifox
Minimalist office workers dream of having a large home office desk such as the Desk 02 by Artifox. With a walnut table top and dark stains that complement the model's steel accents, your surroundings can look amazing, even if you don't add a lot of desk accessories. 
Desk 02's features include a dock to keep your peripherals fully charged all the time, and you can also use the cable grid on the gear to organize your cables and ensure nothing falls over.  
14.  A Walk in the Park by Bludot
Bludot is famous for offering customers many convenient options, especially if you're looking for a wide office desk. A Walk in the Park is made of solid wood mahogany, so it's a sturdy model that can last for years. 
Furthermore, this big office desk features a white oak or walnut surface to ensure scratches and stains don't damage it. Its sleek style and a wide tabletop, ideal to hold all the items you need to use while you're working. 
15. Computer Desk by Tribesigns
Finding a top-quality large home office desk can be very challenging. However, Tribesigns makes it easier since its Computer Desk is one of the most affordable and beautiful options on the market. 
With an innovative design, this long office desk may be the ideal solution if you want to try out fun desk ideas and accessories. Additionally, the piece of furniture is made of very sturdy materials, which is why it is extremely durable. 
16.  Hayes Desk by Modern Digs
Finding a large home office desk with a remarkable classic design can be more challenging than you think. However, the Hayes Desk by Modern Digs is a model you might want to examine if you're ready to give your office a vintage look. 
The Hayes Desk is a large office desk famous for its classic design that's completely made of modern materials. Thus, you can get the best of both worlds as you embellish your surroundings with the model's suede surface and steel frame. 
17.  Eames Desk by Herman Miller
Charles and Ray Eames blend seamlessly in the Eames Desk by Herman Miller, which looks good regardless of the year and whatever decorations you choose to add. Since it is a timeless big computer desk, you can combine it with anything you want and it still has a fantastic appearance. 
A great thing about the Eames Desk is that it has a number of customizable features, such as the tabletop size and the drawers' configuration. All you need to do is to choose what suits your needs the best! 
18.  Airia Desk by Herman Miller
Airia by Herman Miller is a product of the Observatory, and although the long office desk is beautiful, you should never think that's an obstacle for functionality. On the contrary – it is extremely useful. 
Herman Miller's Airia Desk offers you several organizers, drawers, and specific cut-outs to help you make your workdays easier. If you use the desk's features, you can keep all your cords, cables, and items in one place. 
With the Airia Desk, you can quickly access everything you need without wasting any time. Therefore, the desk can help you be more productive at your job since you have the space you need to keep your things neat and organized. 
19.  Swag Leg by DWR Nelson
DWR Nelson created a unique and artistic design with a tapered metal silhouette and machine-formed metal legs. Only the best craftsmen make Swag Leg desks, so by buying one, you're getting a top-quality piece of furniture. 
All Swag Leg desks have different drawers and storage places, making it the perfect wide office desk to use if you need space to keep your things organized. 
Not having enough storage space could bring you many problems, such as wasting precious time by getting up to find them. Instead of doing that, you could simply use the Swag Leg and optimize your work! 
20.  Smart Desk by Sean Woolsey
The another item on the list is Sean Woolsey's Smart Desk, which is a premium large office desk, widely known and loved by many customers due to its fantastic design and convenient features. 
You can get fantastic storage options if you buy this long office desk since it has three spacious drawers and a desk organizer made of black walnut.
21. Jarvis Bamboo by Fully
When you're looking for an incredible large computer desk for your office, you might want something versatile, especially if you're thinking about having a three-monitor setup. 
Fortunately, the Jarvis Bamboo is ideal if you want to personalize your space since it offers various options to choose from. You can easily go from a sitting to a standing desk. 
The bamboo desktop is a fantastic model since it's minimalistic and simple but also very classy and stylish. You can combine it with any office desk décor you have, and it still looks amazing!
22. Rectangular Desk by Everywhere
You may want to set up a multi-monitor desk, but it doesn't necessarily mean you need an extravagant one. On the contrary, if you prefer simplicity, there are many options, such as Everywhere's Rectangular Desk. 
Take a look at the Rectangular Desk - it is probably one of the most minimalistic options on the market. Therefore, regardless of the style you want for your workstation, this alternative might work for you.
A wide office desk like the Rectangular Desk can make your surroundings look clean, neat, and tidy. Furthermore, it is exceptionally strong, and it's made of 67% recycled materials. 
23. Industrial Storage Desk by West Elm
West Elm's choice is a unique example of a wide office desk with wonderful features. Firstly, it's made primarily of mango wood, which makes each model look slightly different from the rest. Thus, you may buy the same option other people do, but your desk is still completely unique. 
Secondly, the Industrial Storage is a large office desk designed with many options to store items, for example, different drawers and a big tabletop to keep all you need near you. 
Finally, West Elm's large office desk can enhance any office. Thus, it may be the option you were looking for to make your surroundings beautiful. 
24. Culla Desk by Article
As a responsible office worker, you may want to take your workspace to the next level by buying the best desk you can. Article offers you a model you might like since it keeps your surroundings simple, but it's still stylish. It's called the Culla, and it's one of the brand's most popular alternatives. 
Among all the desk options you may have, the Culla could be the one that stands out due to its eye-catching design. The table has a slimline, while the surface is made of dark wood. 
At the same time, the model's legs are angular, which creates a unique silhouette you may not find in other alternatives.  
25. CB2's Drommen Desk
Furthermore, not every brand can say their desks are an architectural piece of work, but CB2 is definitely famous for making incredible alternatives for your office. If you take a look at the Drommen Desk, you may quickly notice that its design is one of the finest you can find out there. 
The Drommen's angles are unique and unusual, and it's made of acacia wood, which is why it's very sturdy. Lastly, with this desk, you can keep your items in order by simply using its drawers and cable management system.
Office Desk Dimensions for Beginners
For a freestanding desk, the minimum width is 48 to 72 inches; the depth is 24 by 36 inches, while the height is approximately 30 inches. So that you can freely move around and access the file cabinets, there should be a minimum clearance of 33 to 36 inches from the desk, the wall, and the file cabinet. 
It is recommended that the minimum clearance on the opposite side of the desk be at least 48 inches to accommodate a couple of chairs across the desk. Generally, a built-in desk will have the same dimensions as a freestanding desk and require minimum clearances. You can customize this large office desk however you wish to fit your needs.
You can even place the desk against a wall to create a home office. There should be a minimum clearance of five feet behind the desk to ensure there is enough space for one person to work and another to walk behind the large office desk.
Keynote Takeaways
Every big office desk on the list has unique features, which is why you should evaluate all options before choosing the one you want for your office. 
However, remember that a wide office desk could enhance your work productivity. Thus, you should get started now and pick your choice. In less time than you think, you can start enjoying the benefits of using a spacious piece of furniture while you're working.
Keep up with Autonomous news
Stay informed, stay inspired with our new blogs.
WRITTEN BYAutonomous
We build office products to help you work smarter.