Smart Products
Unveiling the Giants: Exploring the Top Global Office Furniture Brands

Ethan Johnson
|
Sep 27, 2023
643 Views
Few people will second guess which brand they buy from when selecting office furniture. The global office furniture market is not necessarily filled with super recognizable brand names. Despite this, looking into the top brands to see what each one offers could be a good idea. 
Like with any industry, there's a reason why these brands make it to the top. Without producing quality products, there's no way to become a global furniture company. Since office furniture is probably not on the list of priorities to include in next year's budget at any company, it's good to know which brand creates long-lasting furniture. 
Some brands have embraced modern designs, while others still cling to the past. That's not to say that one path is better, but knowing what to expect from each brand always helps the buying process.   
Apart from naming which company is the top global office chairmaker, this piece aims to explore why that's the case. That way, the next time someone finds themselves looking for the best office furniture, they'll have a better sense of where to look.
1. Autonomous: A Rising Star in The Industry
Based out of Riverside, California, this global office furniture company, which began operations in 2015, has yet to become a global office chair provider. It is, however, one of the up-and-coming contenders in the industry. Autonomous is betting big on modern and more comfortable furniture designs. 
People looking for where to buy an ergonomic chair would do well to give the Autonomous options a look. This brand doesn't provide a very traditional office chair, or desk, for that matter. That doesn't mean that Autonomous is not in the discount desks market. 
This company provides modern workplace solutions like a corner standing desk at reasonable prices. The best prices it offers are a part of the Autonomous Bulk Order Program. In simple terms, this program gives clients discounts for ordering more office furniture. 
Medium and large companies can benefit the most from the program since it offers up to 20% off on bulk orders. This discount makes Autonomous a good option for those companies that value purchasing an office ergonomic chair for every employee. 
Autonomous may have the best ergonomic chair lineup on the market today. Some other chairs from different manufacturers may bring more to the table. When it comes to the whole line of office chair options from one brand, though, these are right there at the top.
Pros 
This company offers a wide variety of high-quality ergonomic chairs.
The Bulk Order Program is uncommon in the industry.
Multiple smart desk options are also available from this brand.  
Cons 
It may not have the worldwide presence of some of the other brands on the list.
People looking for more traditional types of office furniture may need help finding that here.  
2. HNI: A Truly Worldwide Office Furniture Company
HNI is one the biggest global office furniture companies, at least when taking into account total revenue. According to some of the latest data, it ranked near the top, budding shoulders with much larger operations. 
Does this mean it's the best company to buy a sit-stand desk from? Perhaps the main reason that HNI is getting so big is because it offers products for different types of workplaces and even homes. The brand typically sells custom-made furniture that prioritizes design, even over comfort at times. 
The company, based out of Muscatine, Iowa, draws from the city's rich art culture to be able to craft furniture with unique designs on desks, chairs, and other popular items. Almost everything is custom-made, so it's not a brand that can provide too many quick solutions. 
HNI produces desks and chairs from various materials. A wide variety of wooden desks and tables are available, as are steel-based products. Variety can be good when shopping for furniture, but it makes it hard to understand how durable each product will be. 
One of the things that HNI does an excellent job in is creating an entire office space. The company will sell a desk, a chair, and some cabinets that all go together. That can help anyone save on an interior decorator. 
The main reason why this global office furniture company has grown so much is because it's become a global furniture company opening up HNI International. While the brand has yet to penetrate plenty of global markets, it seems well on its way to doing so. That can only mean a growing revenue share in the coming years.
Pros 
There are many options in the following departments: desks, chairs, and other office amenities.
Prebuilt full office spaces are available directly from the site.
Pretty much everything that the company offers can be tailor-made to the client's requirements. 
Cons 
Getting office furniture to set up a space quickly can take a lot of work if this is the brand in charge of the project.
The focus of the brand may be on something other than office furniture. That can cause problems in the coming years.   
3. Global Furniture Group: Premium and Low-Cost Office Furniture
This global furniture company is based out of Toronto, Canada. Like HNI, it's become one of the most prominent players in the office furniture market and has since developed different spin-offs. 
What's interesting about this brand is that it carries most of its modern smart desks and unique office space accessories under the Global Furniture group label. This brand even sells an acoustic pod resembling a small fridge. This pod helps workers to isolate themselves and concentrate. 
The company has a subsidiary called OfficesToGo. OfficesToGo is the brand that sells wholesale office chairs and many of the "lower" quality products that the company makes. While this is another global furniture company where potential buyers can find anything they need, the lower-cost options may also lack design and quality.  
With many of these companies that have such an extensive catalog of products, it can be hard to get a sense of how durable each of them might be. The advantage in this department that Global Furniture Group has over HNI is precisely OfficesToGo. Buying from the lower tier brand can help small businesses access office equipment. 
When it comes to the variety that this company offers and the deals that potential customers can find, they are certainly worth a look. Even though the OfficesToGo products may not feature the same quality as the ones from the mother brand, that doesn't mean they are all awful.
Pros 
Clients can find more than just simple office furniture.
It's one of the few top brands that offer reasonably priced products.
The smart desk options are some of the best in the industry. 
Cons 
The quality of some of their OfficesToGo products could be better at times.
As the price of a product drops, so does the effort when it comes to design. 
4. La-Z-Boy: A Furniture Company with Good Office Furniture Options
La-Z-Boy is arguably the surprise inclusion on the list. The reason it made the list is because it does sell office chairs. It may also be the most recognizable brand on the list. Is this brand truly a direct competitor to some of the others on the list? 
It may not be a direct competitor of others on the list, but that could change eventually. Particularly since the home office concept is becoming more and more popular across the world. La-Z-Boy could become a global office desk powerhouse if the brand added the product to its catalog.   
Home office furniture is something that La-Z-Boy is going all in on. This focus means that the brand offers more oversized chairs that seem inspired by elegant office chairs of old. Those looking for an office desk for home use may not benefit from looking through this brand's options. This global office furniture brand doesn't carry too many desks anyway. 
What's the biggest issue with most of the products from this brand? Simply put, these chairs and desks are not going to come cheap. Therefore, its market base is mostly made of professionals looking to set up a high-end home office space or top companies building their executive offices. 
This doesn't mean that the brand is not worth a look when shopping for office chairs. Maybe some of the brand's couches can also serve as accessories or furniture for specific areas within an office. That could be an interesting investment, even if employees do not use these couches regularly.
Pros 
The office chairs that the brand makes will surely appeal to an older audience.
Chairs from this particular brand are some of the most comfortable on the market today.
La-Z-Boy is a brand that more people recognize. That makes it more likely that those sales will increase if people know the store sells office chairs. 
Cons 
Buying products from this brand will be too expensive for the average small company.
This company has shifted away from offering more office furniture solutions. 
5. Haworth Office Furniture: Trying to Bring A Modern Twist To Office Furniture
All of the companies that have made the list so far feature some type of modern take on an office furniture classic. Haworth is a bit like Autonomous because it's hard to find too many traditional options within their catalog. 
Working out of Holland, Michigan, Haworth has become a mixture of an interior design company and a furniture manufacturer. That helps explain some of the modern twists in its smart desk options and file cabinets.  
The problem with moving away from traditional chairs, or seating in general, is that what's new can hit or miss the customers' taste. Some of the options at Haworth, such as their booths, seem like an exciting piece to set up in a library. Sitting there daily in an office can be a hard sell to some employees.   
On the other hand, Hartwoth's benching line, which is their take on a traditional cubicle, is an intriguing product. It's basically a table with panels separating each individual space. The concept of having a table for multiple people that can be height adjusted is a "modern one," for sure.
Customers usually have to contact their sales team directly when shopping for Haworth products. This is especially true for people who want to buy desks from the brand. There are more desk variations available than the ones shown on the site. 
Haworth can be a great brand to explore when looking for custom office furniture. Most other brands on the list just sell their mass-produced products and expect people to adapt them to their office space. The products in the Haworth catalog, for the most part, can be adapted to fit different-sized spaces.
Pros
This is the brand that people looking for custom office furniture can turn to.
The mixture between an interior design company and a furniture maker has given the company exciting results.
Haworth truly excels in providing different types of table variations for customers. 
Cons
Haworth may not be the brand people want to turn to if they're looking for quick solutions.
Simple or traditional chairs and desks are nowhere to be found in this brand's catalog. 
Final Thoughts on the Top Global Office Furniture Brands
Some brands on the list did not get as big as they are selling office furniture alone. Oddly enough, one of the best-selling brands, Global Furniture Group, still heavily emphasizes its office furniture department. Potential buyers may take that piece of information as a nice stat line. 
What is clear is that some office furniture giants have morphed into interior design companies. While that concept may generate more revenue, someone starting a company or setting up an office is more likely to benefit from buying at Autonomous or OfficesToGo. 
Both brands will not only offer lower-cost options but also an easy way to get an office furnished quickly. Autonomous may have the edge because of its bulk order program and its products' durability. 
While Autonomous and OfficesToGo favor a particular market, it does not mean that the rest of the options on the list are terrible. Other companies cater to completely different audiences—many of these brands' accessories can work great in a home office setup. 
Generally, when someone is setting up a home office space or a company is redecorating their executive offices, there's more time to look into accessories. In those situations, high-end brands like HNI are definitely worth a look.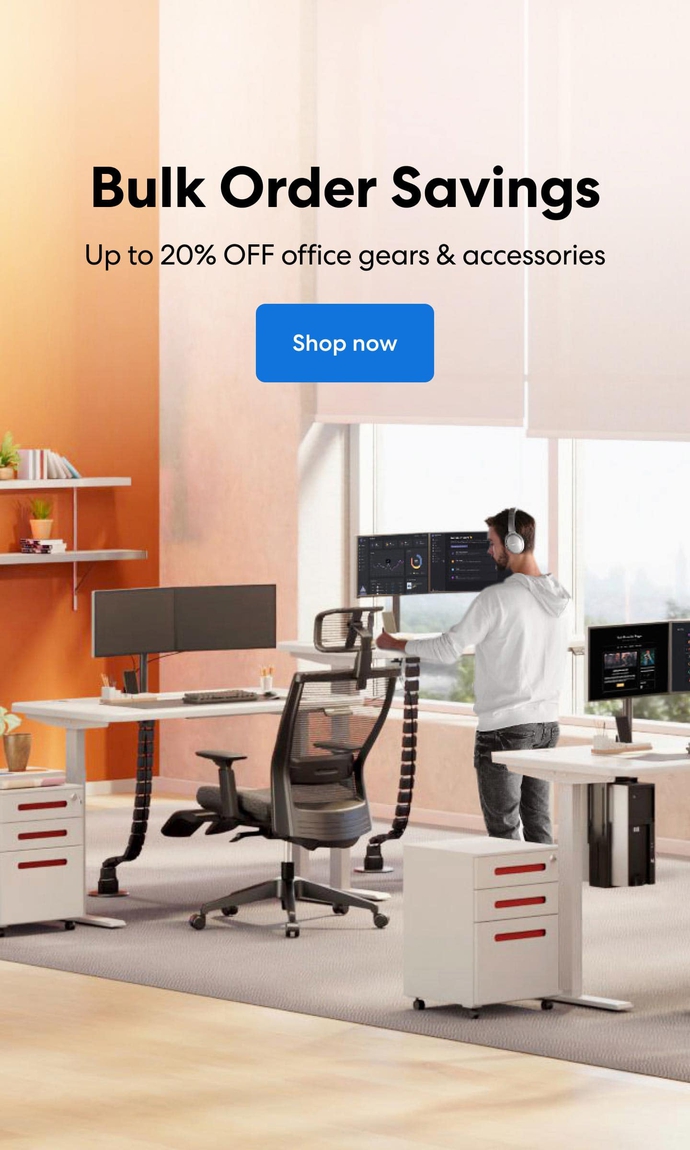 Subcribe newsletter and get $100 OFF.
Receive product updates, special offers, ergo tips, and inspiration form our team.