Smart Products
Finding the Best Furniture Stores in Danville KY for Home and Office

Autonomous
|
Nov 17, 2023
996 Views
Furniture stores in Danville, KY, provide modern and unique furniture for both homes and offices. However, not all of them are value-to-money. In this article, we have come up with 5 best furniture stores in Danville, KY, for you to shop from.
But before that, let's look at some of the must-buy furniture items you need to consider for your home or corporate office.
Office Furniture List
Ergonomic Chair
The first thing you need to get for your office is an ergonomic chair that provides comfort while you are working for long hours. On the other hand, if you are buying ergonomic chairs for your organization, then you will see a drastic change in overall productivity.
Desk
A desk is where an employer can work and place his equipment. So, its surface should have ample space to accommodate all of the equipment. Moreover, if you want to increase productivity, we would highly recommend getting height-adjustable tables.
Seat for Visitors
A seat for visitors is a must. It is difficult to meet and serve every guest at the same time, so a guest waiting area with comfortable sofas for your guest to wait is something you can't compromise on.
Presentation Equipment
Ideas are better presented if you use whiteboards to explain, so buy some markers and pens with whiteboards to convey the message more effectively.
Cabinets and Other Storage
Cabinets and other storage are important for employees to keep their important files. A separate storage should be there for every individual employee. It keeps things organized and improves efficiency at work.
Office Kitchen Table and Seating
Office kitchen helps you keep your employees healthy by providing them with fresh food throughout the day. A healthy employee who is fit to work with consistency all day can make your organization grow immensely, therefore, office kitchens can be a great addition.
5 Best Stores in Danville KY
Little HomeStead
Little HomeStead has everything you need for your home or office furniture. All the furniture is divided into several categories such as bedroom, dining, home office, TV and media, etc. All these categories are further divided into sub-categories, which shows the impressive variety of products they have in stock. Moreover, all the products are built with the highest quality materials at the most affordable prices, making it a perfect choice for people shopping with limited budgets.
Wayfair
Wayfair is undoubtedly one of the most famous furniture stores in Kentucky. You can find furniture from more than a hundred different furniture manufacturers, including Alessi, Amana, and Anne Klien. However, the best part about shopping from this store is its design and planning services. These services allow you to make a custom design of your room to get a good idea of how the furniture piece would look after setting everything up. On the other hand, people on tight budgets can benefit from the Wayfair financing option to get their favorite furniture with ease.
Mattresses and Moreky
Mattresses and Moreky is known for premium quality furniture and mattresses in Danville, Kentucky. A wide range of living room, dining room, and bedroom furniture. The only downside of shopping from this place is that you won't find any product on their website, so the only way to check the products is by visiting the store located at 975 Hustonville RD, Suite 25 in Danville. On the other side, a positive side of visiting the store is that you will be welcomed by the friendliest of staff you will ever meet, helping you with all the information required about the material and other specifications. A 12-month financing option is also available for those worried about furniture being out of budget.
Discount House 2
Discount House 2 has the best home accent furniture in the city. Most of the furniture listed is from Ashley's, which is the most popular furniture manufacturer in Kentucky. However, this doesn't mean that there aren't any other brands for you to explore. There is a whole "Shop by Brand" section where you can find manufacturers such as Aria Design, Bernards, and Corinthian Furniture.
Vendors Village
Vendors Village is popular for its eclectic variety of home décor items that you won't find in other conventional stores in the city. Moreover, the quality of used furniture you will find here is second to none. One of their stores is located at 1041 Ben Ali Drive, Danville, so you can visit them anytime between 10 a.m. to 8 p.m. to get a unique shopping experience.
Shop Modern Office Furniture with Autonomous
The best place to buy office equipment and office supplies in Danville, KY, is the Autonomous online furniture store. It offers a wide variety of premium office products such as ergonomic chairs, standing desks, and much more. As the name of the products suggests, they are all built to ensure comfortability and style. Office supplies and equipment such as monitor arms, keyboards, and even stationery are available to buy at the store. All of the products listed on the website are premium built quality, with all designs tested and certified BIFMA. The popularity of the store is due to its ambition to go beyond the imagination of innovation. They always try new techniques to make their product more ergonomic for their customers without having major effects on the price.
Autonomous Bulk Order Program
Autonomous Bulk Order Program is a great way to save a lot of money from your purchases. If you buy using the bulk order section, you will get additional discounts on your purchases. The discounts will be applied directly to each item depending on the number of units ordered. The higher the quantity you will order, the more discount will be applied. The best part, however, is the opportunity to get office supplies at a discount as well, ensuring that you never run out of them during office working hours.
Moreover, you can also benefit from the referral program. All you need to do is refer your friends and make them use your code to make the bulk purchase. Once the transaction is being completed, you will unlock the reward tiers offering various prizes.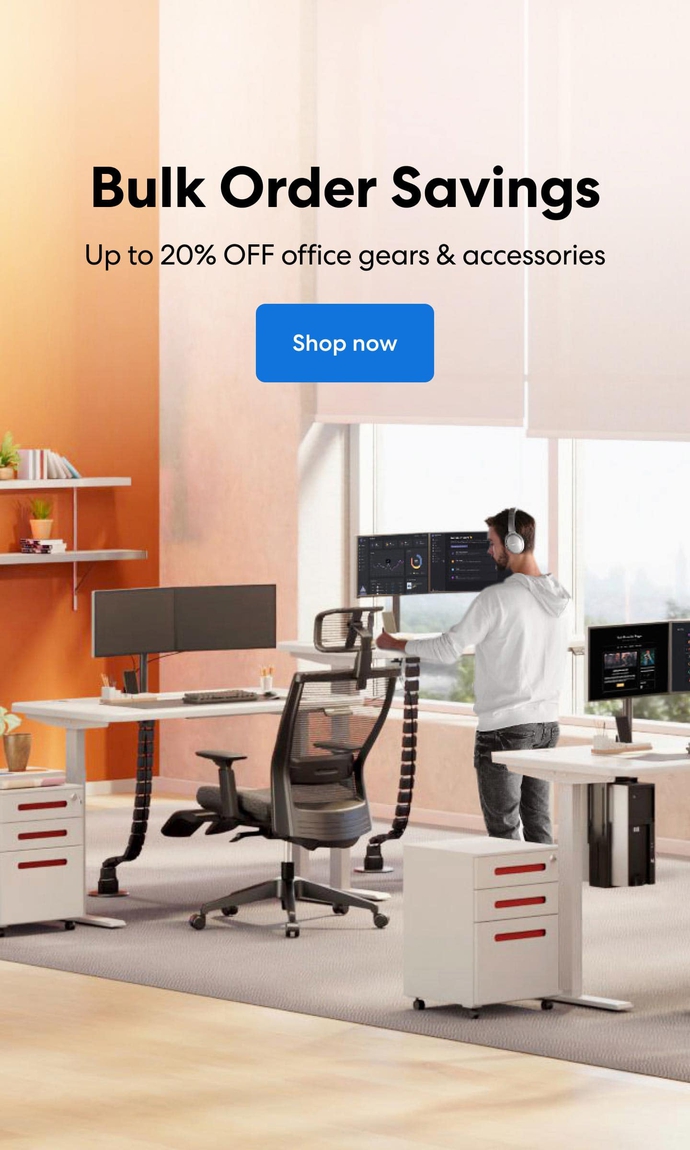 Subcribe newsletter and get $100 OFF.
Receive product updates, special offers, ergo tips, and inspiration form our team.