Productivity
How to Adjust Office Chair Tilt Step by Step
3,164 Views
Congratulations on buying an ergonomic chair for yourself!
It is time now to make the most effective use of your chair as you have invested in yourself!  Your prime aim to maintain good health and avoid or reduce your health concerns due to bad posture should take focus now.
The ergonomics department of Cornell University mentions that more than 50% of the workforce complains about health issues due to bad posture.  There are clear guidelines on how to enable ergonomics to work for you. Merely buying a chair is not good enough. That's only a job that has begun well, and the rest is up to you. For example, Cornell University recommends a 110 degrees chair recline when doing most basic keyboard tasks and operating a mouse. However, there are riders to this too.
Here are more views on an adjustable tilt office chair.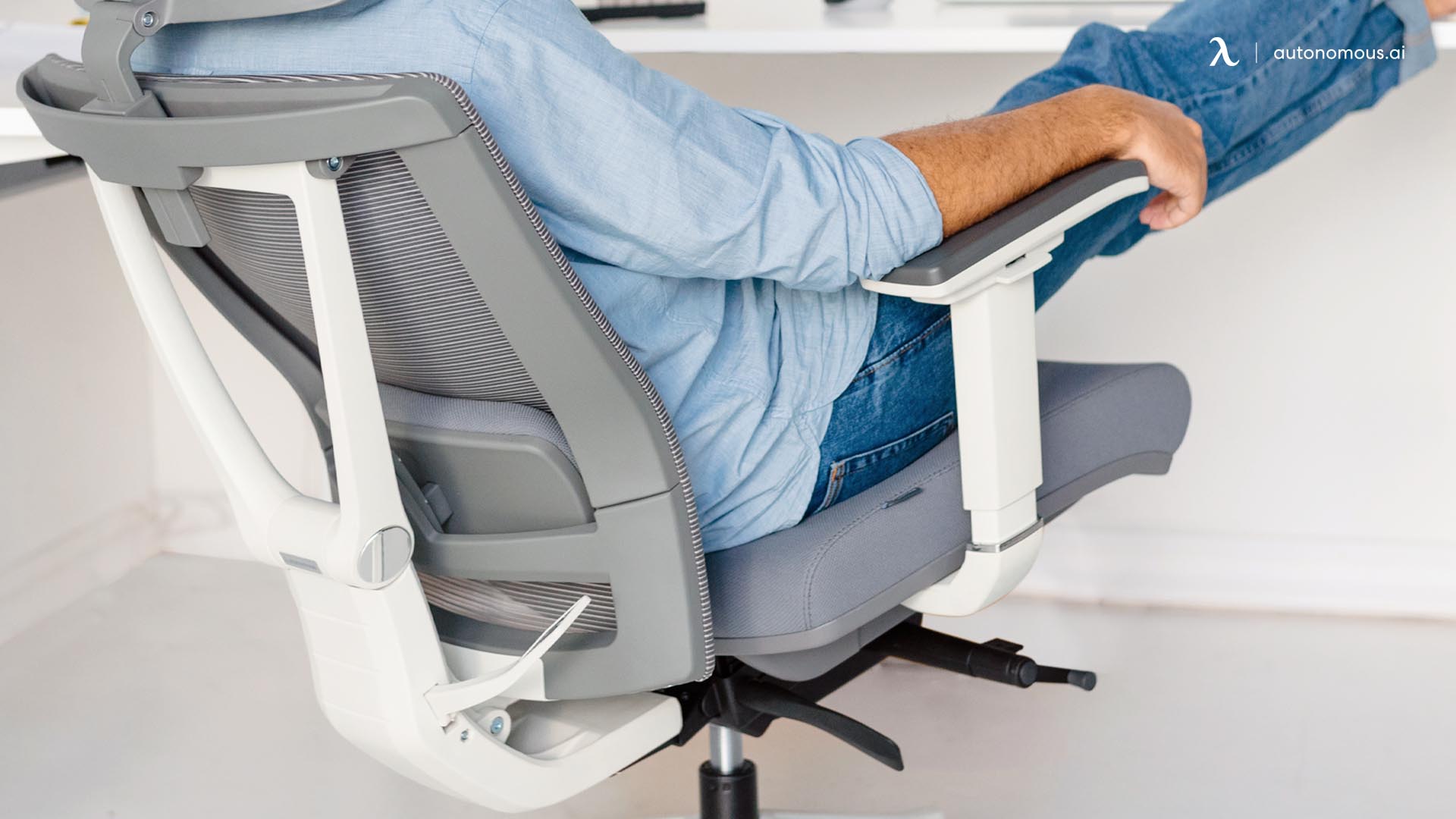 It is disheartening if you invest in an ergonomic chair but do not use it correctly or have not read instructions on how to tilt the chair back.
For all you know, incorrect postures may land you into worse trouble on the health front.
Office chair tilt mechanisms are of various types.  You can look for a certain type that is most helpful to you.  Take time to know and manage an office chair mechanism for your well-being. Let's find out how to adjust office chair tilt!
Getting started
Take the time to know your chair and adjust the office chair seat angle. Read up the instruction manual or explore the chair using it if you are more of a kinaesthetic person or a hands-on person.
Having invested, you have necessarily committed yourself to maintain your health or improve it.  Take time to adjust the chair to your body and the kind of work you do.  For example, if you are frequently on calls, adjust your headrest to rest your head and relax the neck muscles. If you work at your desk for most of the workday, adjust your seat height to ensure your knees are at a ninety-degree angle to the floor.
Here is our review on how to adjust an office chair.  This guide is generic and not specific to a type of office chair.
This review shares a specific guide on adjusting two of the best office chairs.
How to adjust the seat tilt and backrest?
How to adjust office chair tilt? An office chair tilt control is a critical part of managing its seat tilt and the backrest or the seat recline. You can read more about an adjustable tilt office chair here.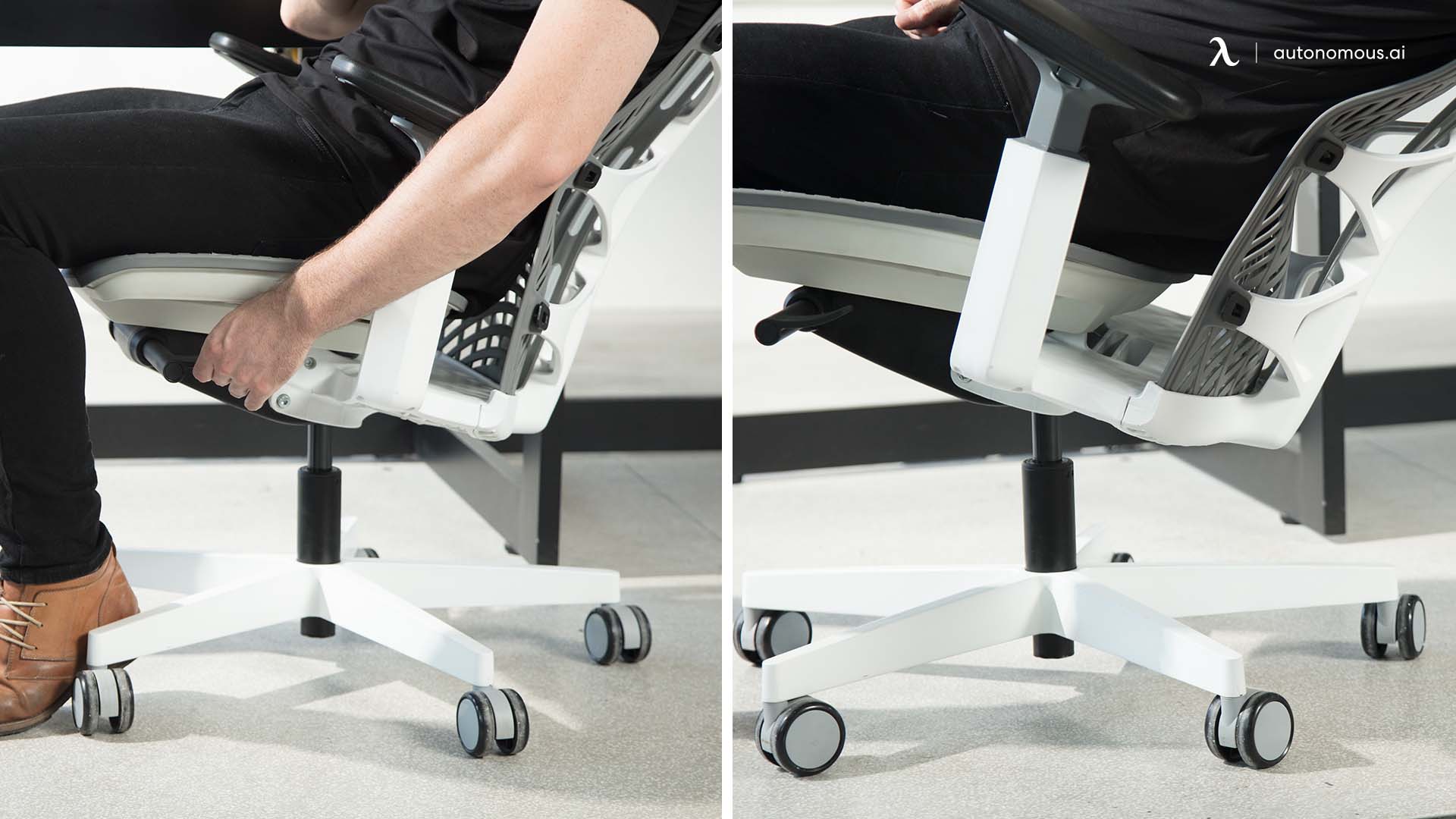 Let's explore more about how to tilt chair back.
1. ErgoChair Plus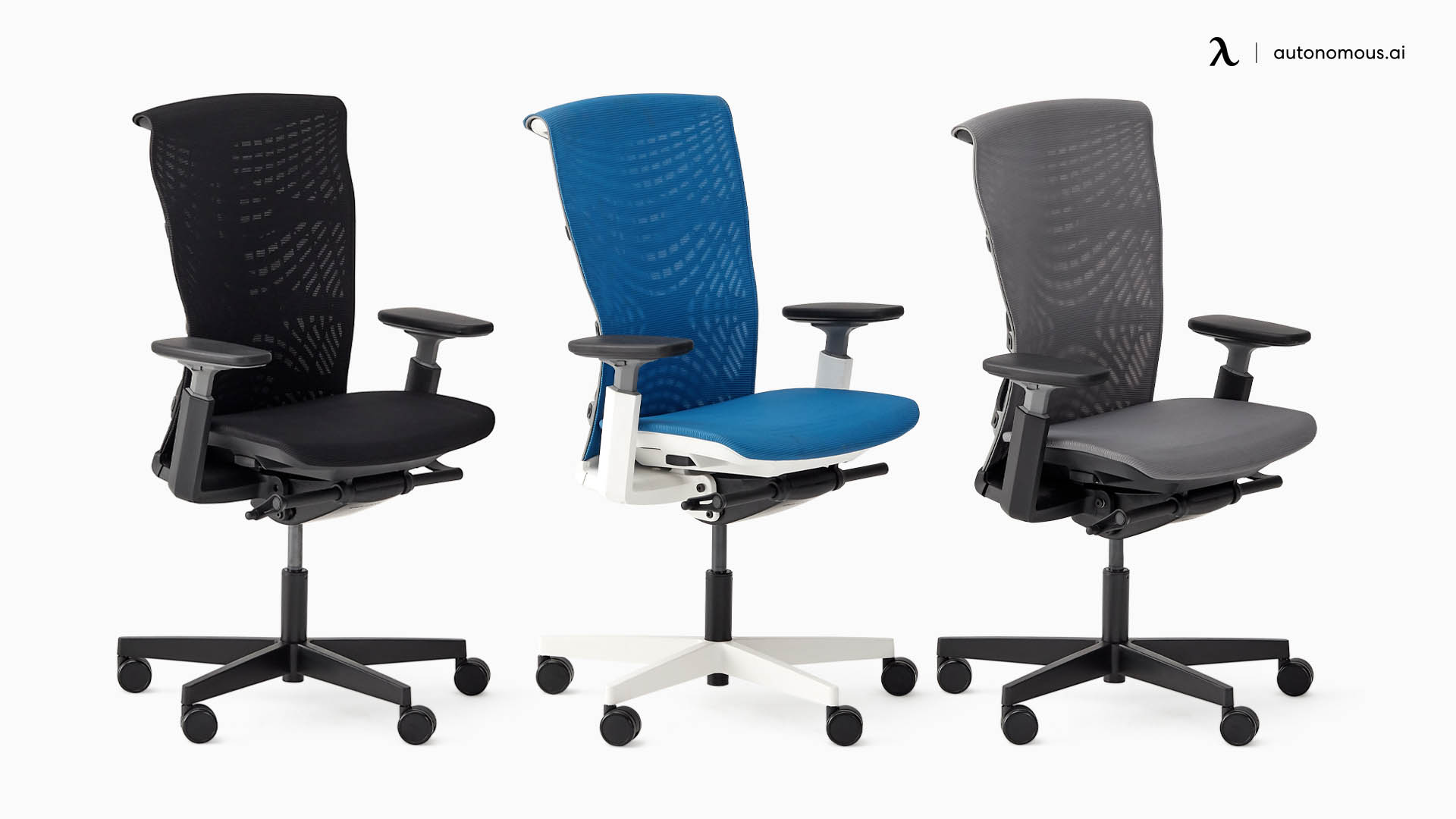 Follow this helpful link on how to adjust ErgoChair Plus.  If you are a practical, do-it-yourself person, you could also review our video on YouTube. The backrest supports the entire weight of your back once the chair back tilt is adjusted. It involves two steps to adjust office chair seat angle as follows:
Adjust the seat backrest tension of ErgoChair Plus – on the right-hand side, flip a lever to increase or decrease the tension for the seat tilt. Easy isn't it?

Using the left-hand side lever, you can lock or unlock the use of a seat recline. Flip-up to unlock and move the seat recline to your chosen position. Now flip the lever down to lock it. And you can easily recline and rest your back till the time you want.  You get up to twenty-five degrees of seat recline that can be locked in eleven different positions for your back to recline. Amazing, isn't it?
2. ErgoChair Pro
If you are looking to buy ErgoChair Pro, you have made the right decision. ErgoChair Pro adjustment shares the best way to get the most out of this executive office chair. If you are more of an audiovisual person, our video may be helpful to you. But for those of you who like to follow a step by step guide, here is how to get optimal use of your new office chair.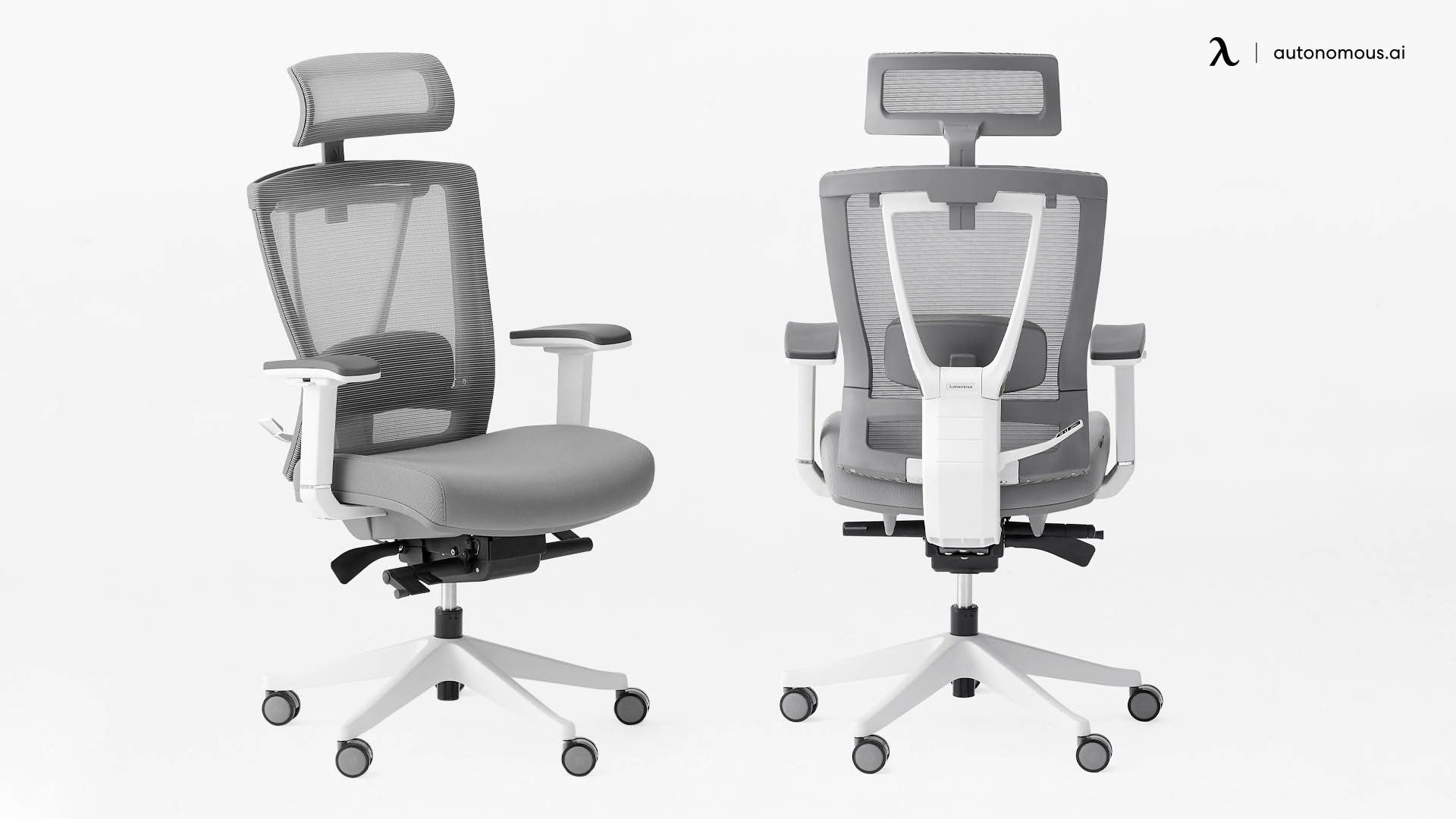 One critical reason is to reduce any pains and aches arising from stiff spine or back (lumbar or upper back). To manage this, get the best of your chair tilt.
You have a choice to manage the lumbar support by flipping a lever on the right-hand side towards the back of your seat. Flipping it down or up gives you increased lumbar support or decreases it respectively. You can also increase or decrease the back tilt tension by rotating the lever anticlockwise or clockwise. 
For the entire seat to tilt back, press the lever on your left-hand side down.  Adjust the seat recline and pull up the handle to lock it.
Some folks may have longer legs and hence need the seat pan to move forward, or vice versa. To move your seat forward or backwards, press the inner lever on the right-hand side down.  Move the seat forward or backwards.  Now you can also adjust the seat tilt. Flip another lever under the seat on your right-hand side to unlock the seat tilt. Tilt the seat according to your need and then lock it back again.
With both the seat tilt and the position of the seat pan moving backwards/forward, you have ensured that your legs and pelvic muscles get maximum comfort. You will notice the easing of tension in leg muscles, giving you better blood flow.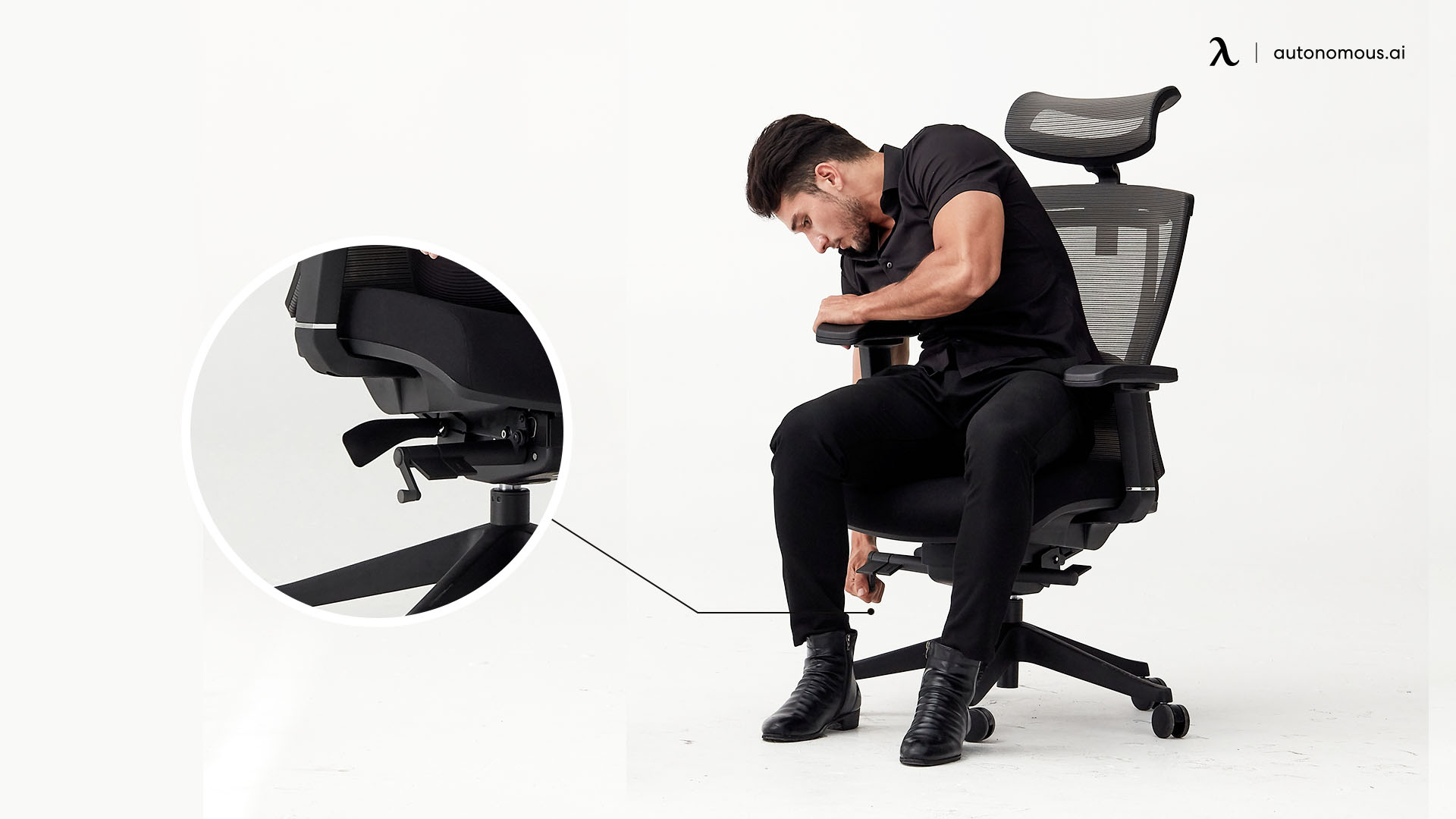 Summary
Now, it's no longer difficult for you to know how to adjust office chair tilt. Merely buying an ergonomic chair is not your answer to better health and well-being; you will need to adjust and manage the chair settings to ensure you optimally use your investment in it. 
Subcribe newsletter and get $100 OFF.
Receive product updates, special offers, ergo tips, and inspiration form our team.
WRITTEN BYAutonomous
We build office products to help you work smarter.