Are you a remote worker designing a luxurious home office and want to add a DIY L-shaped office desk? If yes, we are more than happy to inform you that we have all the relevant information that you want in this regard. We have shared a complete guide on making an L-shaped desk, as we know that most of you don't know how to begin with that.
Getting a DIY desk is a perfect option when you cannot buy one of the pricey L-shaped desks available online. People with a tight budget often think that they can't correct their work ergonomics with a minimal budget, but DIY ideas are a great way of doing that. We know that some of you might be wondering why we have stressed upon getting a DIY L-shaped standing desk. Well, you should know what this desk is and how it can be beneficial for you as a remote worker. So, let's read further to know more.
What is a DIY L-Shaped Office Desk?
A DIY L-shaped office desk is a self-designed corner desk that can conveniently fit in any corner space you like. L-shaped office desks give you more room for organizing your accessories, so managing things becomes easier with such modern office furniture. Especially if you have multiple monitors or a larger CPU, it is better that you get an l-shaped desk.
When you design a office desk DIY, you have the liberty of making any alterations in its design. The DIY standing desk kit is easily available online, so you can order it and then adjust its height and other features as per your desire. You get the desk's frame in the kit; however, you have the liberty to choose the desk color and design on your own.
The ability to customize your desk helps you get a workspace where you are comfortable working, so in that way, you get to utilize your own creativity to become more productive. Since we are discussing the ways you can be economical while designing this desk, it is important to know what factors are required to evaluate to design a DIY desk efficiently.
What Needs to be Considered When Making a DIY L-Shaped Office Desk on Budget?
You could have simply bought an L-shaped standing desk online, but the budget constraint often restricts you to designing one on your own. Since you have a tight pocket, you will have to consider certain aspects while you design.
Average Cost of a Standing Desk Frame
Since you will be designing an L-shaped standing desk on your own, it will be best if you could buy a standing desk frame. Your desk rests on these standing desk legs, so it is better to buy sturdy ones. If you are interested in creating a more durable DIY corner office desk, you should go for a slightly expensive one. The expensive ones usually have a longer warranty period; however, we would suggest you read the customer reviews, as they help in making the right choice.
Model
One factor that can help you judge a DIY L-shaped office desk's affordability is by evaluating the model you can buy. There are usually the low-end models that are designed by Chinese companies, and the high-end ones by Taiwan, the USA, or Europe. You get a greater range in the height adjustments of the advanced models; however, by the rule of thumb, they cost you more.
Required Space
You can evaluate your work's requirements better. Therefore, you should evaluate how much space you will need to perform your daily office tasks. You can check for the tools and desk accessories that you will be placed on your desk. Thus, you will get an idea regarding your DIY L-shaped standing desk's surface area.
Height Adjustment
The height adjustability of a desk helps you decide how you will set your work ergonomics right. If an adjustable standing desk has a larger range of adjustments, it is better for a larger number of people. However, a smaller range is only suitable for short-heighted people. This also helps you keep moving while working, which is important for staying productive.
Material Used
Since you are designing a corner standing desk for the longer-term, it is better to check which materials are used to make a desk frame. The sturdy ones are more durable and have a better life.
Steps to Make a DIY L-Shaped Office Desk on Budget
The question of how to make an l-shaped office desk is no longer difficult to answer. Since you are aware of the factors that are to be evaluated to create a DIY L-shaped office desk, it is better to look at the steps that will lead you to the successful creation of your desk.
1. Select a Suitable Design
There are multiple DIY office desk design ideas available online. You are required to choose the one that goes well with your budget.
2. Construct/Buy the Suitable Frame
This is dependent upon your budget. If you can afford to buy a DIY desk frame, then you should go for it. Otherwise, you are required to construct one.
3. Assemble the Desk and its Panels
You can glue the desk legs and later add the desired panel for placing on top to create a surface to work. Since it is an L-shaped desk, you will need two cut panels as per the required size. Assembling all parts helps you get the ideal DIY corner desk. If you can afford an electric standing desk frame, you can build an adjustable standing desk that would correct your work ergonomics.
Conclusion
Building a desk from scratch is often quite challenging. However, getting a DIY desk kit lets you showcase your creativity and makes your job easier. A DIY L-shaped standing desk can be highly beneficial when it comes to becoming more productive. So, you can always think of getting one to improve your performance.
Video ads for product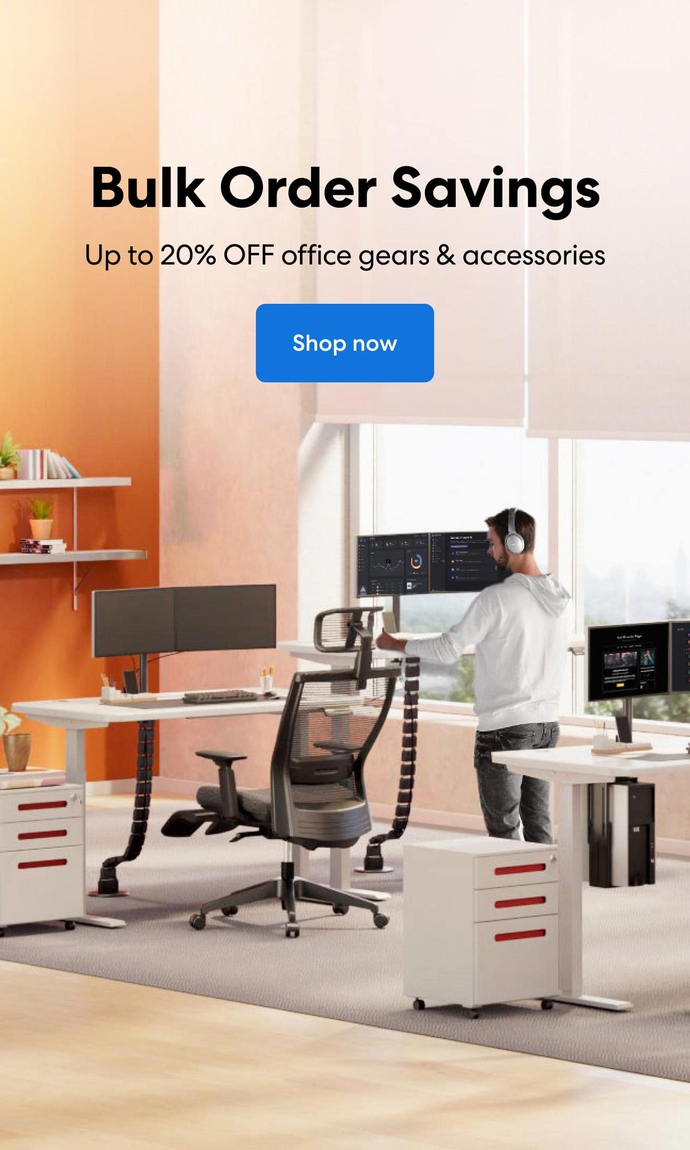 Subcribe newsletter and get $100 OFF.
Receive product updates, special offers, ergo tips, and inspiration form our team.