Hybrid working is a hot new buzzword you might be hearing more and more about as the COVID-19 pandemic promises to continue challenging employers around the world well into 2022. Companies must continue to balance efficiency with the health and safety of all employees, and while many noteworthy examples like Google and Facebook have transitioned to a distributed workforce at least until the end of this year, others are looking for an alternative approach.
Hybrid working from home is one of many strategies companies are using to maximize team cohesiveness and productivity while taking safety and health into consideration. Before we dive into the details, it's helpful to examine the landscape of working from home and what options are available.
Types of Remote Setups
1. Co-located: This is the pre-pandemic norm, where all employees and team members are expected to work in the same location during rigid office hours.
2. Split teams: This involves using separate locations where employees are split into different teams and operate directly with team members, while coordinating remotely with other team members.
3. Distributed (fully remote): This solution is what big tech companies like Google and Facebook have adopted, opting to use technological solutions like Google Teams, Zoom, and Slack to keep lines of communication open while every employee works safely from home.
4. Hybrid work from home: As the name suggests, this solution involves a mix of onsite and remote employees, similar to the split teams approach, except with some employees working from home instead of at an alternative location with a separate team. This approach is often referred to as "remote friendly" or "hybrid remote."
What are the pros and cons of hybrid remote teams?
Though this is an increasingly popular trend in workplaces around the world, it's worth taking a look at what exactly the benefits and downsides are of such an approach.
Pros
With this model, a company's hiring possibilities are limitless, as the remote-working sector can include employees from anywhere in the world. This opens up many possibilities that would be limited by the formerly dominant co-located system.

Remote workers in this approach enjoy a more flexible schedule, free to break up their working hours more loosely and able to work on their own terms. This could potentially mean more time spent with loved ones, and more freedom to get things done that wouldn't be possible with a rigid 9-5 office schedule.

Remote workers can also set up a private home office. With smart ergonomic furniture becoming a hot trend for people working from home, it's easier than ever to find affordable and ergonomic solutions that are more personalized and aesthetically pleasing than a bland office cubicle.

When it comes to safety, this approach has the potential to maximize productivity and efficiency by allowing essential work to be done in an on-site, collaborative space with small gatherings, while limiting the spread of the virus by keeping other employees working safely from home.
Cons - for leaders and managers
This approach requires a well-organized and structured vision for the team in order to ensure the right people are working in the office, and as many people as possible are working from home on the same schedule while meeting critical deadlines. This may be challenging depending on the size of the team, as well as the amount of work that can be done remotely.

Employers must be able to train remote teams and new employees who work remotely. This can be particularly challenging for leaders whose management style is more hands-on. It requires adopting alternative approaches that, depending on the circumstances, may not be as effective as in-person training.

Lack of leadership can cause projects to stall and team members not delivering what is needed at the right time. There may be confusion without a lack of clear communication—a hurdle that is made more difficult to overcome with remote workers.

Working remotely means it's difficult for some employers to

evaluate team members' performance. In-person observation and close contact is replaced by occasional video conferences, which make it difficult to gauge each employee's contributions and work ethic.

Maintaining a cohesive team spirit and company culture is a near-impossible task when most of the team works remotely and barely interacts with each other. Zoom parties can be good for team building, but they don't have the same effectiveness of an in-person gathering.
Cons - for team members
There can be many communication gaps between team members as they may be working different schedules are difficult to contact at critical moments.

The remote team and in-person team may not cooperate as cohesively as those who are working together on-site, creating a divide in the two types of team members.

Remote workers lacking in-person work experience may be hindered from future promotions or career advancement opportunities.

Employees who work from home may face difficulty

balancing a work-life schedule, staying motivated, and maintaining the same level of productivity and efficiency as they would in a focused office environment.
How to set up a successful hybrid remote team
Using the hybrid remote model, it's important for leaders and managers to maintain open lines of communication, and to keep those instances of communication as frequent as possible. Leaders can make remote works feel included with frequent check-ins and updates from the in-office team.
Leaders should also have a clear development plan and job requirements. This can be accomplished with an employee handbook or set of communication guidelines so the expectations for every employee are made clear from the start.
Of course, using technological tools to keep in touch with team members is critical, so employers should evaluate how to use these tools as effectively as possible, incorporating them into the daily workflow to maximize open communication and cooperation. Remote workers should also be given a company stipend to set up a comfortable and productive workspace at home so they have all the tools they need to do their best work.
Advice for team members
Employees, on the other hand, should maintain focus and morale while trying to be as flexible and understanding as possible during what is surely a challenging transitional time for many. Every team member should try to maintain social connectivity however possible to maintain those bonds of camaraderie in a team and ensure everyone works together cohesively and respectfully. 
Remote workers should absolutely invest in a very worthwhile home office upgrade. The SmartDesk 2 Home Office with its minimalist aesthetic and variety of finishes makes a perfect foundation for any home office, blending into any aesthetic and giving remote workers the option to work standing or sitting to combat a sedentary lifestyle. While sitting, the ErgoChair 2 is an ergonomic home office chair that ensures proper spinal alignment, adjustability, and support to reduce aches and pains. It's not only good for your productivity—it's good for your health!
For those working in the office, a privacy panel for desks is a great way not only to give individual workers a sense of privacy, but is great for safety and social distancing as well. All in-office employees should wear an effective antiviral mask, like the Autonomous Graphene Mask. 
What do you think of this latest trend in offices around the world? Sound off your thoughts in the comments below and tell us what you think is the most effective work style, and how you stay safe and productive in the office or at home.
Video ads for product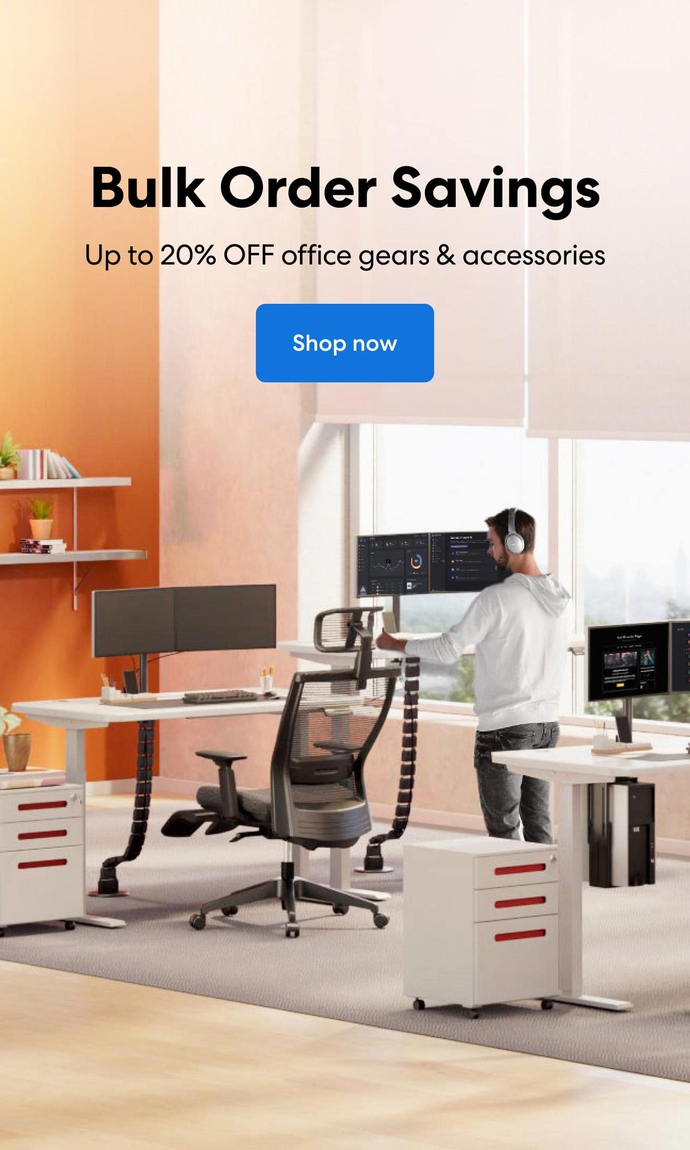 Subcribe newsletter and get $100 OFF.
Receive product updates, special offers, ergo tips, and inspiration form our team.