Table of Contents
Welcome to the ultimate guide for Cyber Monday enthusiasts! As the digital shopping world gears up for the grand Cyber Monday event of 2023, it's time to unveil the secrets of securing the best deals and discounts. Whether you're on the hunt for a premium Cyber Monday gaming chair to elevate your gaming experience or eyeing the trendiest furniture additions for your space during Cyber Monday furniture sales, you're in for a treat. Join us as we explore the labyrinth of Cyber Monday deals and find the best tips and tricks for you this year.
Top 5 Tips and Tricks For Cyber Monday Online Deals
These top 5 tips will help you greatly with your Cyber Monday online sales:
1. Do Your Research Beforehand
Doing your homework is crucial for a successful Cyber Monday online shopping experience. Do not put off till the last minute perusing the online offerings of your preferred retailers and manufacturers. Avoid waiting until Cyber Monday to start hunting for discounts. In this approach, you may compile a shopping list while comparing costs and reading customer reviews. You may also follow the stores' social media pages, download their apps, and sign up for their newsletters. By doing so, you may get entry to exclusive deals, promotions, and discounts that may not be offered elsewhere.
2. Set a Budget and Stick to It
Having a firm budget in place is essential for successful Cyber Monday online purchasing. The thrill of a good bargain might lead you astray, causing you to spend more than you had intended. Avoid overspending by setting a budget for Cyber Monday and then sticking to it by just buying what you need in areas like electronics, furniture, apparel, etc. Then, keep a tally of your internet purchases and stop when you reach your budgetary limit. You may do this with the use of applications, spreadsheets, or other internet resources. Always consider your needs and budget before jumping on a bargain.
3. Use Multiple Devices and Browsers
One useful piece of advice for Cyber Monday online shopping is to shop from various devices and browsers. In this way, you can make sure you don't miss out on limited-time offers or bundles. Some websites, for instance, may alter their rates or discount policies based on the kind of device or web browser you use. Also, certain stores may sometimes conduct limited-time specials known as flash sales or lightning deals. Use your laptop, smartphone, tablet, Chrome, Firefox etc., to your advantage in your search for the finest Cyber Monday sales in 2023 online.
4. Check the Return Policy and Warranty
When doing any kind of online shopping on Cyber Monday, it's always a good idea to research the store's return policy and the product's guarantee. It's possible that anything you ordered may arrive broken or incorrect, or that you could just change your mind after making the purchase. In such instances, you want a simple process for returning or exchanging the item. Therefore, before placing a purchase, make sure you read and fully understand the return policy and warranty terms and conditions. Pay attention to the time range, delivery costs, return procedure, and any restrictions. Keep any paperwork related to your purchases, including confirmation emails and receipts.
5. Shop Early and Use Fast Shipping
Last but not least, start your Cyber Monday shopping early and take advantage of expedited delivery options. Online stores and shipping companies saw massive spikes in traffic and delivery requests on Cyber Monday. As a result, there's a chance your orders won't be filled properly or on time, or that you'll get an incorrect item. To prevent this, early morning and afternoon Cyber Monday shopping sessions are your best bet. By doing so, you may avoid the crowds during peak shopping times and increase your chances of purchasing the products you need. Pick a dependable delivery method that gets there quickly, like express or priority mail. In this way, you can be certain that your orders will arrive when promised.
Following these tips and tricks will get you very far in your journey to make the most of your cuber monday online shopping.
FAQs
1. What's the best way to find deals on office chairs and standing desks on Cyber Monday?
To snag the best deals on office chairs and standing desks on Cyber Monday, start by researching early, as mentioned in our tips section. This will allow you to compare prices and discover the most attractive offers. Subscribe to newsletters and follow retailers' social media accounts to gain access to exclusive deals on these ergonomic office essentials.
2. Are there specific brands known for offering great Cyber Monday deals on office chairs and standing desks?
While various brands participate in Cyber Monday, some renowned ones, like Herman Miller, Steelcase, and Varidesk, often provide impressive discounts on office chairs and standing desks. Keep an eye on these brands for exceptional quality and value.
3. How can I ensure secure online transactions on Cyber Monday?
To ensure secure online transactions on Cyber Monday, follow these tips:
Use a secure payment method, such as a credit card, with strong fraud protection.
Enable two-factor authentication (2FA) on your accounts.
Beware of phishing scams, and don't enter your personal information on websites that you don't trust.
Keep your software up to date and regularly monitor your accounts for unauthorized charges.
By following these tips, you can help to protect your online transactions and financial information on Cyber Monday.
Conclusion
It's not uncommon for the search for the perfect office chair and standing desk to define the thrilling world of Cyber Monday shopping. Remember that thorough planning, careful budgeting, and strategic gadget use are your best friends as you go off on this exciting adventure. You can prevent any problems from affecting your purchasing experience by carefully reviewing return policies and going for fast shipment.
On Cyber Monday, invest in your comfort, productivity, and well-being by searching for exceptional bargains on office furniture. With your plan and funds in place, you may create an ergonomic paradise at your office. The Cyber Monday shopping season is now open!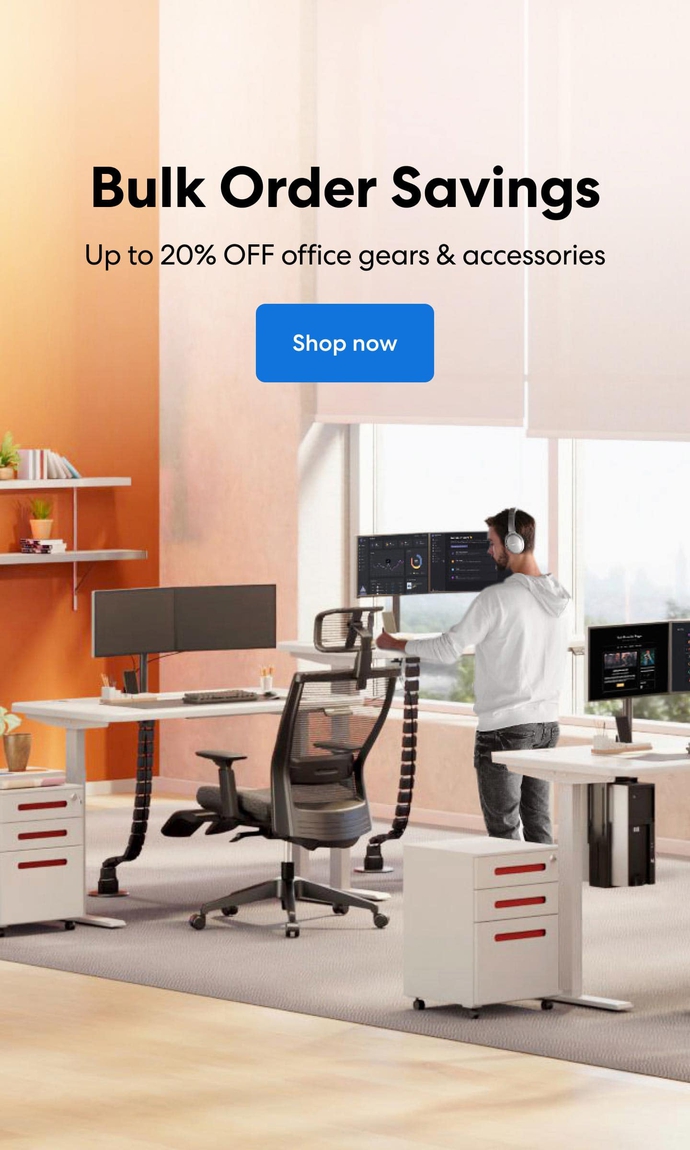 Subcribe newsletter and get $100 OFF.
Receive product updates, special offers, ergo tips, and inspiration form our team.