Latest Updates
Don't Miss These Amazing Cyber Monday Office Furniture Deals for 2023!

Autonomous
|
Oct 31, 2023
582 Views
You've been waiting for this, and it's finally here – Cyber Monday, the day when office furniture deals are at their best! 
If you're looking to spruce up your workspace or revamp your home office for 2023, you're in for a treat. Get ready to snag some fantastic pieces on Cyber Monday office furniture deals and create a workspace that's functional and stylish. 
You Shouldn't Miss Out on These Pieces of Furniture on Cyber Monday
This is the best time of the year to upgrade your workspace. From chairs and desks to handy storage systems, there's a lot to look forward to. 
The Ultimate Office Chair Upgrade
Investing in a comfortable and ergonomic office chair is a must if you spend long hours at your desk. 
Cyber Monday is the ideal time to score big discounts on high-quality office chairs. Look for features like lumbar support, adjustable armrests, and a breathable mesh back for a chair that'll keep you comfortable and focused all day.
Stylish Desks for Productivity
Your desk is the heart of your workspace. It's where you get things done. Cyber Monday offers a wide range of deals, whether you prefer a sleek modern design or a classic wooden finish.  
Consider a home standing desk for a healthier work setup or compact options for smaller spaces. Whatever your style, you'll find a desk that suits your needs and budget.  
Storage Solutions at Unbeatable Prices
Organizing your office space is essential for productivity. Cyber Monday is the perfect time to pick up storage solutions like filing cabinets, bookshelves, or multi-drawer units. Keeping your workspace clutter-free can do wonders for your efficiency and focus. 
Functional and Stylish Office Accessories
It's the little things that make a big difference. Look for deals on desk organizers, task lighting, and cable management solutions. These accessories enhance your office's functionality and add a touch of style to your workspace.
Home Office Makeovers 
If you're working from home, you can transform your workspace into a place you love to be. Consider looking for cheap office furniture sets, which often come at discounted prices on Cyber Monday. You can get a coordinated look for an efficient and aesthetically pleasing home office. 
Our Top Stores with the Best Cyber Monday Office Furniture Deals
Don't forget to prioritize quality when buying furniture online. Look for reputable brands and read reviews to ensure you're investing in products that will last. Cyber Monday is a great opportunity to save but also a chance to make smart and lasting choices. 
Fortunately for you, our review below can streamline your shopping experience and make it worth the time and money. Give it a read if you're in the mood to splurge on amazing deals!  
1. Autonomous
This brand is a one-stop shop for ergonomic office furniture and accessories. You can find a wide range of products to upgrade your workspace. From ergonomic chairs to cable management solutions, Autonomous has got you covered. 
You can save up to 70% during its Cyber Monday sales events. It even has a Bulk Order Program where you can save a large amount on bulk orders. Plus, you get free shipping, which is always a bonus.
Autonomous SmartDesk Core
Choosing the right furniture is crucial when creating an ergonomic and efficient office space. If you're on the hunt for a versatile and stylish smart desk, the Autonomous SmartDesk Core deserves your attention. You can also save up to 7.5% by buying the product through the Bulk Order Program! 
With a sleek white or black frame, it seamlessly blends into various office layouts. The product boasts a quiet operation that won't disrupt your work environment. Working at just 45dB, you can enjoy peace and focus without distractions. 
Adjusting the desk's height is a breeze thanks to its single-button push controls. You can switch between different height ranges effortlessly, ensuring you remain productive throughout your workday. 
Safety is a priority, and this adjustable desk includes anti-collision technology to protect you and your workspace. It also has memory settings, remembering the exact height you need.
Autonomous SmartDesk Pro
The Autonomous SmartDesk Pro is all about adaptability and convenience, and it's available in many shades to match your office decor. As always, you can save up to 7.5% on your purchase with the Bulk Order Program. Did we mention you can also enjoy free shipping?  
Find the perfect ergonomic setting for your work style with the adjustable height options.
This Cyber Monday office desk offers four programmable settings, so you can switch between different heights with a simple push of a button. There's no need to fumble with manual adjustments; it's all at your fingertips. 
The SmartDesk Pro has an electric dual motor that ensures smooth and uninterrupted height adjustments. It's both efficient and quiet, emitting only 40dB of sound. 
Thanks to its robust build, the desk can handle a heavy load, making it perfect for multiple monitors, equipment, or any workstation essentials. The solid steel frame and natural wood top can withstand the demands of your work. 
As a thoughtful touch, the desk also has pre-drilled monitor holes for easy cable management. Keep your workspace looking clean and organized.
Autonomous ErgoChair Pro
Your search for the perfect ergonomic office chair ends here with the Autonomous ErgoChair Pro. It's a masterpiece available in six shades to match your office aesthetic. 
From the armrests to the height, backrest, headrest, and flexible lumbar support, this chair allows you to tailor your seating experience to perfection. Enjoy a smooth recline with five lockable positions. 
This Cyber Monday office chair allows you to lean back and relax or maintain an upright posture for productivity. 
The woven mesh back ensures optimal airflow, preventing sweating and keeping you cool during long work hours. 
It's the perfect solution for an anti-fatigue experience. Customize the tension, ensuring the chair perfectly adapts to your body and seating preferences. Take advantage of the 7.5% Bulk Order Program deal to upgrade your office space without straining your budget.
Autonomous ErgoChair Plus
The Autonomous ErgoChair Plus sets the bar high with its frameless construction and dynamic design. This chair is more than just a seat; it's a comprehensive spinal support system. 
Its breathable mesh promotes natural mobility and comfort, keeping you cool during long work hours. No more sweating and discomfort. This Cyber Monday office chair is built with eco-friendly TPE materials, making it a durable, long-lasting, and eco-conscious choice.
You can customize your seating experience with ease. The product has 11 lockable positions and an adjustable tension for ultimate comfort. If you're considering buying a handful at once, the Bulk Order Program lets you save up to 7.5% on your purchase.
2. Wayfair
Wayfair specializes in multi-functional office furniture and accessories, providing practical solutions for your workspace. The brand website showcases many versatile products for home and corporate offices.  
Hampton Combination Table
In a world where office furniture can be expensive, the Hampton Combination Table is here to prove that you can have a multi-functional office desk without breaking the bank. This modern, wood grain-finish table is currently on sale, offering a whopping 38% OFF. 
It's a jack-of-all-trades, offering a variety of recreational activities and functional features. This table is a game-changer, quite literally. It's not just a Cyber Monday office desk; it's a billiards table, a table tennis setup, and a dining table all in one. 
While it offers plenty of functionality, be prepared for a somewhat challenging assembly process.
Elliana Task Chair
If you're searching for a budget-friendly yet stylish task chair, the Elliana Task Chair by Wayfair is here to meet your needs. Known for its quality and affordability, Wayfair offers a wide range of Cyber Monday office furniture, and this is the best ergonomic chair deal on the website. 
Its clean and simple design fits well in various settings, making it a versatile choice for work and study areas. The faux leather upholstery is skin-friendly, adding to your comfort during extended use. 
With five nylon casters, this chair moves silently and smoothly, so you won't be distracted by squeaks or creaks. It features high-density sponge foam, ensuring your comfort during long hours of sitting. The chair is supportive and comfortable, making it an excellent choice for daily tasks.
3. Amazon
This brand needs no introduction. It's a vast online marketplace offering various products, from office furniture to electronics, books, and more. Amazon is famous for its competitive prices and the convenience of shopping from home.
Steelcase Series 1 Office Chair
Among the many versatile products on Amazon, the Steelcase Series 1 Office Chair has a classic and modern design. It features a light gray color with a solid black back.  
The chair has carpet casters, making moving and gliding on rugs and mats easy. Relax and lean on the 100% polyester backrest. You can adjust the seat height to match your desk and work needs, ensuring an ergonomic posture. 
With the Steelcase Series 1, you're getting a comfortable, durable, and stylish addition to your workspace without breaking the bank.
Christopher Knight Home Storage Ottoman
The Christopher Knight Home Storage Ottoman is more than just a seat. It's a sophisticated and multi-functional piece of furniture on Cyber Monday deals. 
Its soft fabric, deep button tufting, and waffle stitching make it stylish and durable. Plus, its versatile storage capabilities make it a practical addition to any home, especially if you're working to maximize your space.
The ottoman's compact size makes it ideal for small spaces. It can serve as a place to sit and store office essentials, making the most of your available space.
4. Branch
This well-known brand specializes in offering a wide range of office furniture and supplies. Branch has a global reputation for providing quality products that cater to various corporate needs. What sets it apart is its commitment to offering a comprehensive solution for outfitting your workspace.
Branch Standing Desk
Do you want to give your workspace an upgrade? The Branch Standing Desk could be your solution. You can choose from four desktop shades and two leg colors to match your office aesthetic perfectly.
This desk provides excellent stability, ensuring it remains sturdy even when you switch between sitting and standing positions.
A brushed grommet for cable management keeps your workspace tidy and ensures that your cables are organized and out of the way.
Branch Ergonomic Chair
When it comes to creating the ideal workspace, the Branch Ergonomic Chair is here to make a statement. 
This Cyber Monday office furniture piece offers eight adjustment points, allowing you to tailor the chair to your comfort preferences. From seat height to armrests and lumbar support, you're in control. 
Designed for maximum ergonomic support, this chair helps you maintain proper posture and reduces the risk of discomfort during long work hours. The high-density cushion provides comfort and support for your entire workday.
5. Ashley
This brand excels in making high-quality products with budget-friendly price tags. Ashley is famous for its commitment to craftsmanship and eco-friendliness. You can find beautiful products on its website. 
Ashley Baraga Home Office Set
Is it time to upgrade your workspace with a new look? Check out the Ashley Baraga home office set in white. The L-shaped design of this office desk for sale provides enough workspace, ensuring you have plenty of room for your tasks. 
Also, the matching chair ensures maximum comfort with its 360-degree swivel feature. The smooth casters let you glide across the room without damaging the floor.
Realyn Home Office Desk
The last product on today's review is Ashley's Realyn home office desk. This cottage-style desk is perfect for people who love antique pieces.  
You can choose between a distressed white or brown shade. This Cyber Monday office desk has framed drawers, corbels, and tapered legs. It's a piece that exudes warmth and character. 
Keeping up with the demands of modern technology, the furniture piece comes with dual USB ports and built-in power support to keep your devices charged and ready.
Final Words 
Cyber Monday 2023 brings an array of fantastic deals on office furniture that are just too good to pass up. Whether you want an office chair for sale or a smart table, the options are endless. 
Don't miss your chance to upgrade your workspace, boost your productivity, and create a more comfortable and organized environment. Cyber Monday is here to make it happen, and our top picks are the cherries on top of a perfect work-from-home setup. Happy shopping!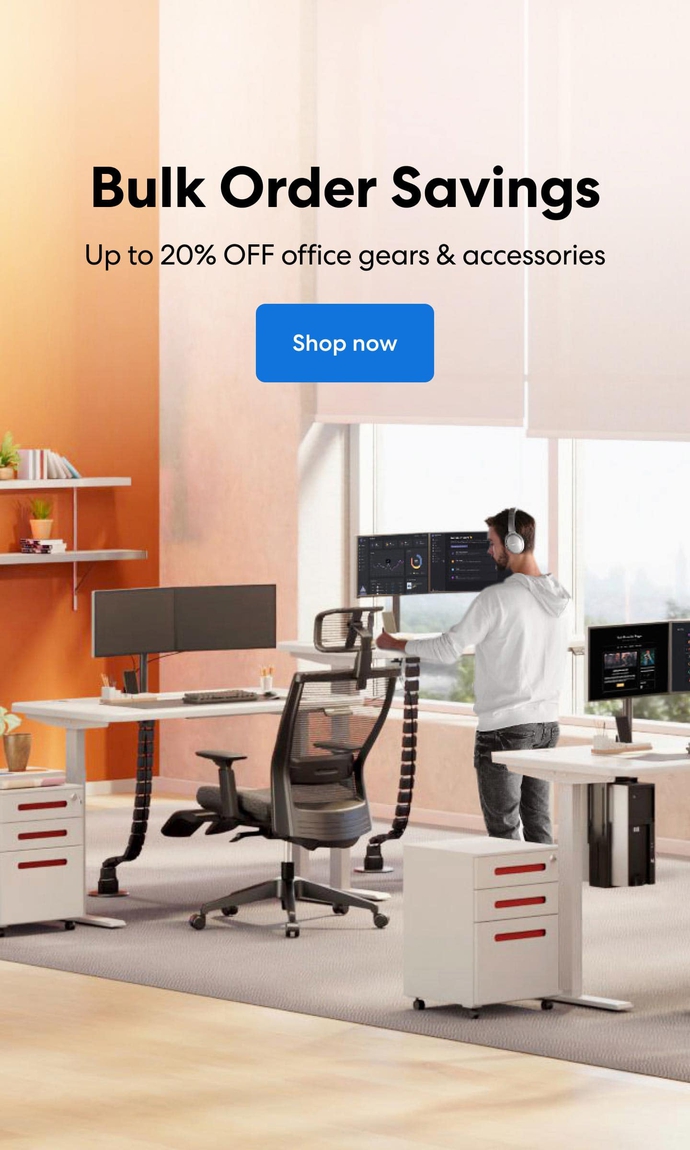 Subcribe newsletter and get $100 OFF.
Receive product updates, special offers, ergo tips, and inspiration form our team.