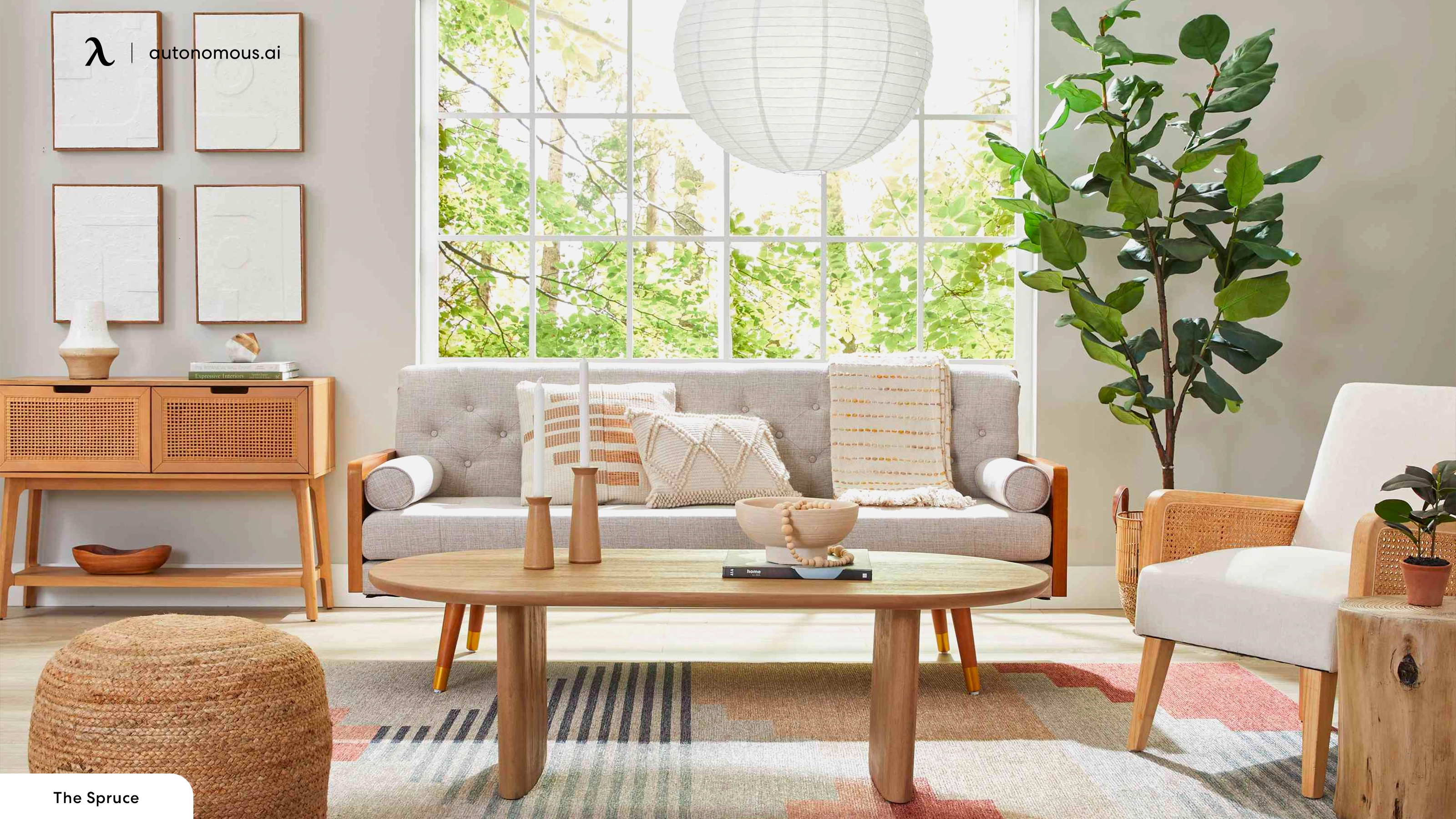 Smart Products
Why Do People Prefer Buying Furniture Online for Their Workspace?

Autonomous
|
Aug 1, 2023
378 Views
If one thing is clear, it's that we are in the digital era. In recent years, we have seen technology evolve in many ways. In fact, we were also forced to adopt a predominantly online world. One industry that has changed along with this is the furniture industry. Today, buying online furniture is definitely the way to go. 
Many people have changed the way they shop for furniture. Online shopping isn't just the preferred way of shopping when it comes to clothes and other smaller items. People are big fans of e-commerce when it comes to their office furniture too. Below, we're going to explore some of the reasons for this as well as the best place to buy all your furniture online for your workspace. 
Buying Online vs. Buying In-person
First things first, let's break down the differences between buying online vs. buying in person. When embarking on a traditional shopping journey, you have to clear out a whole day or more to spend time visiting multiple stores, browsing through all the options, and let's not forget, dealing with the pushy salespeople. 
Online shopping takes away all of these problems. You're free to explore hundreds of options from the comfort of your home or office. Plus, it's much easier to compare prices and reviews. This way, you can make your own decisions without feeling pressured, rushed, or overwhelmed.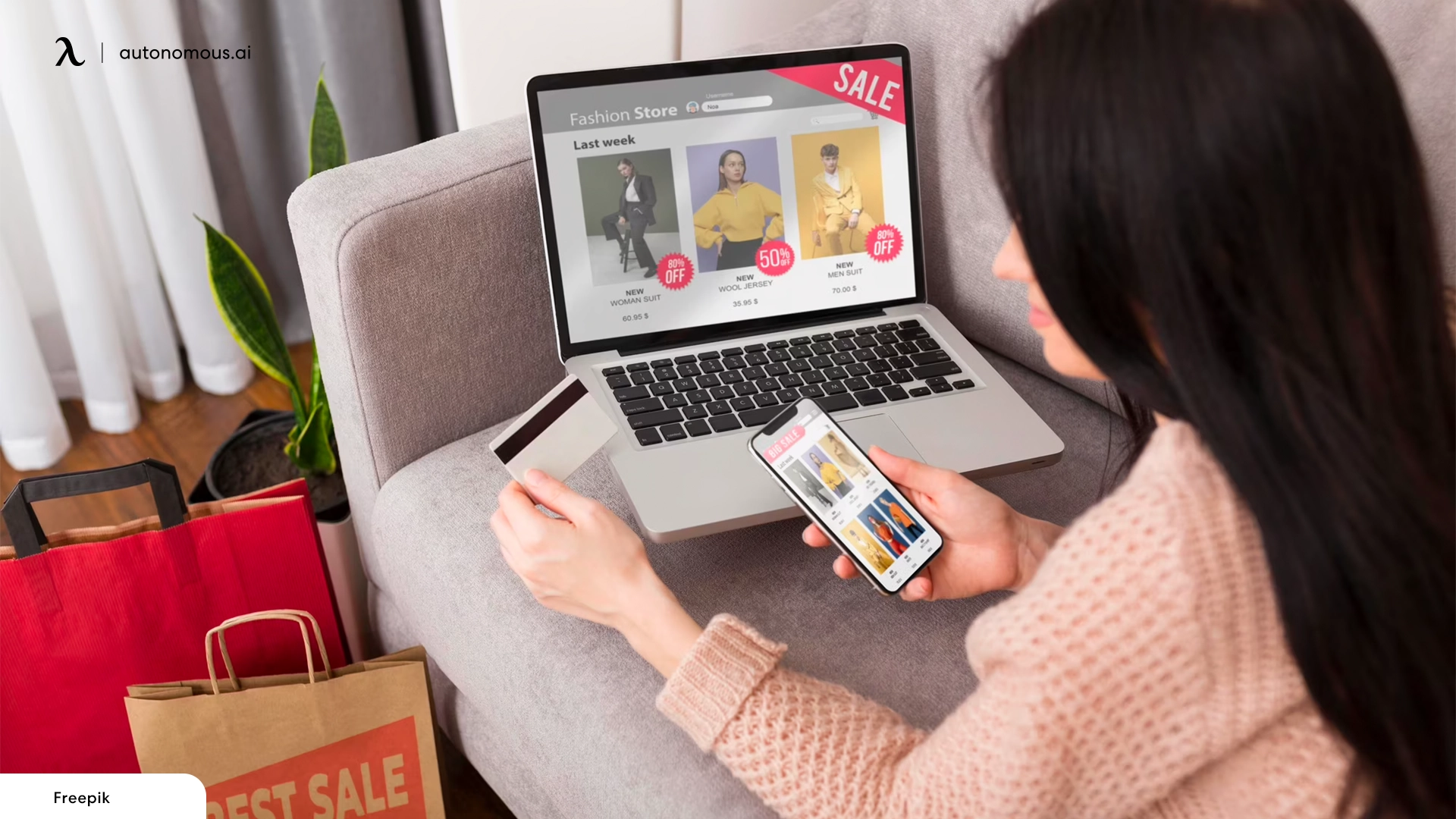 Why Do People Prefer to Shop Online?
One word: convenience. Most people prefer shopping online for office furniture because it's much more convenient. You can access hundreds of options of exactly what you're looking for with just a few clicks. There's no traffic on the road, finding parking spaces, having to walk in and out of 100 stores, or waiting in long queues. Plus, you also don't have to worry about having to shop at specific times when stores are open. 
If you're someone who has a 9-5, how are you supposed to go furniture shopping when shops are only open from 9-5? Well, buying furniture online is open 24/7, which is the exact type of flexibility you need. You'll be able to shop at your own pace and convenience regardless of your busy work schedule. 
The significant cost savings are another reason why people don't go to furniture stores but rather choose online shopping. Online furniture retailers generally offer much more and better deals because they don't have to worry about the same overhead costs as physical stores, such as paying rent. Therefore, if you're looking for affordable furniture, one of our top tips is to look at an online retailer.
Lastly, you're spoiled for choice when shopping for furniture online. When you shop in person, you're limited to the stock the retailer has in store. Online stores for furniture usually have a wide selection of designs, colors, and styles, meaning you can find something that perfectly suits your preferences and tastes. Furthermore, online shops are also known for collaborating with other brands, which gives you even more variety and unique styles to choose from.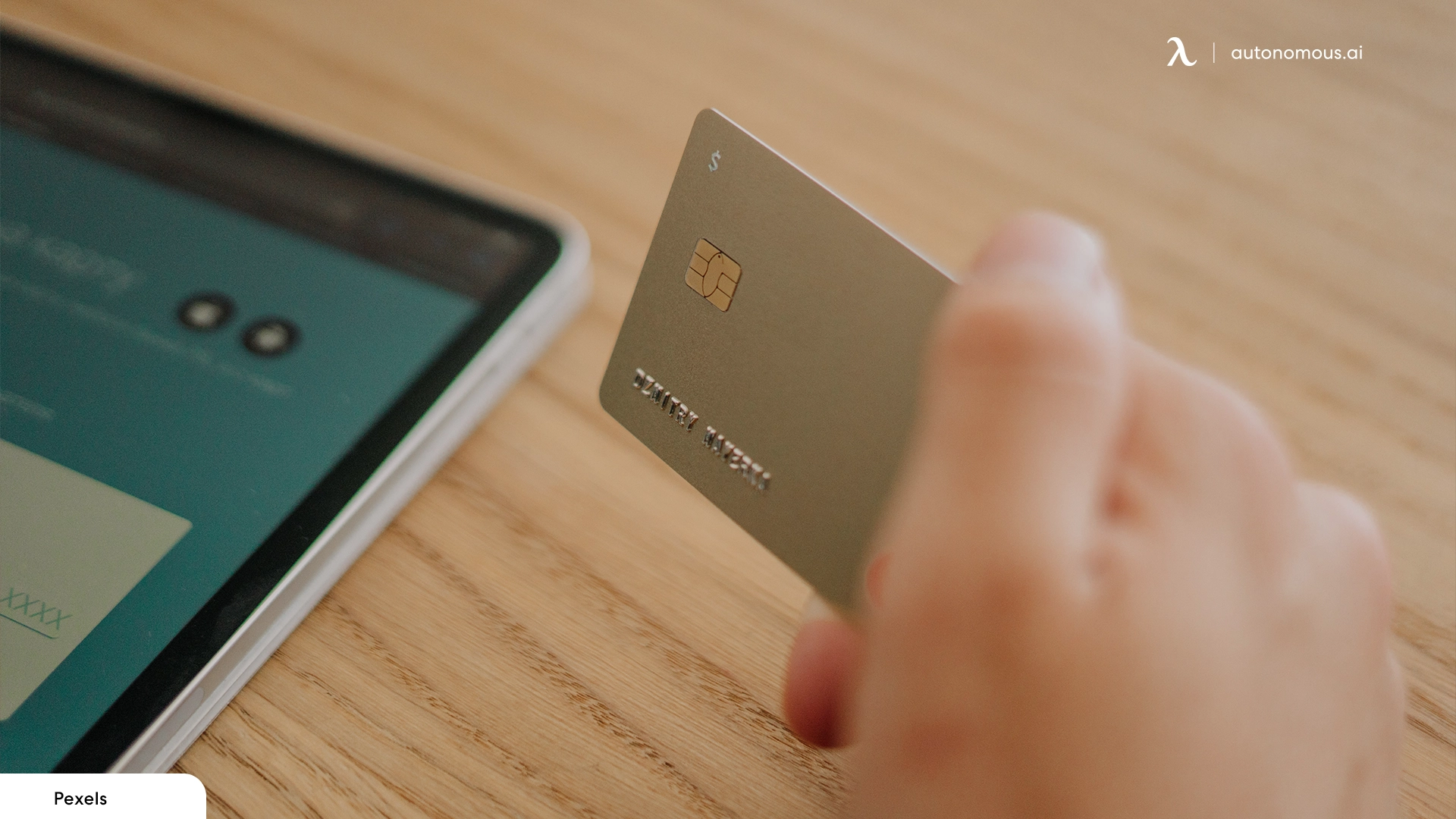 Looking for an Online Furniture Shop? Have a Look at Autonomous
Now, with so many options out there, how do you know which online brand you can rely on to deliver high-quality items and timely service? Autonomous is a dream one-stop shop for all workspace enthusiasts. This online store provides a comprehensive range of office furniture that is designed to suit different styles and spaces. From desks to chairs, cabinets, office accessories, and more, you'll find everything you need on Autonomous. 
Why Shop at Autonomous?
As we've mentioned above, there are countless online retailers out there. If that's the case, why should you shop for all your furniture office needs at Autonomous? Well, as an online furniture shop, Autonomous ticks all the boxes. In fact, it is possibly one of the best places to buy office furniture online. This trustworthy brand offers affordable, stylish, high-quality, and customizable solutions for your office furniture needs. When you buy from the Autonomous brand, you can rest easy knowing that you're getting good value for money. 
Furthermore, the customer service team is always willing to handle any of your queries promptly, so there is nothing to worry about.
The Autonomous Bulk Order Program
Have you heard about the Autonomous Bulk Order Program? Well, this is a program designed specifically for businesses or people looking for wholesale office furniture. With this program, you can enjoy significant discounts and specialized assistance from the Autonomous customer service team. Not only does the Bulk Order Program make purchasing furniture online more affordable, but it also makes the process simpler and more efficient. If you're looking for a discount office desk or wholesale office chairs, you need to join the Bulk Order Program. 
What Are Some of the Best-selling Office Furniture at Autonomous?
Well, if Autonomous is as great as it sounds, surely there are some best-selling stand-out furniture pieces, right? Right! The following products are known for their countless positive reviews and popularity amongst the countless Autonomous customers. If you're looking for Autonomous office furniture to test the waters, we highly recommend the following items. 
1. Autonomous SmartDesk Core
In today's world, if you don't have a height-adjustable standing desk, you should strongly consider getting one. The Autonomous SmartDesk Core would be the perfect place to start. With its clean and minimalist design, you'll be able to switch between sitting and standing positions easily. Apart from convenience, it is extremely beneficial for your health and is known to boost productivity and motivation. We could all do with a bit of that, couldn't we? 
This premium home standing desk also comes equipped with smooth motorized adjustments, a sturdy frame, and a spacious desktop. You can also save your favorite height settings with its programmable keypad settings, meaning the desk will truly feel like it has been custom-made specifically for you.
2. Autonomous SmartDesk Pro
The SmartDesk Pro is quite similar to the SmartDesk Core in that it offers various advanced features, such as a broader height range and a dual-motor system for enhanced stability. If you're someone looking for luxury, customization, and ultimate comfort, this is certainly the option for you. 
This is also a highly reliable smart desk as it is extremely sturdy and can carry the weight of all your work items and accessories.
3. Autonomous SmartDesk Corner
Those looking for an L-shaped standing desk need to have a look at the Autonomous SmartDesk Corner. This desk is designed specifically to maximize your space and give you enough room for multiple monitors or workstations. The Autonomous SmartDesk Corner gives you flexibility by allowing you to configure your desk layout according to your specific preferences. 
Available in black, white, and walnut, it can suit any type of office design. You also don't have to worry about a loud motor either that will cause noise in the office. The use of a whisper-quiet triple motor makes this desk ideal for all types of work settings.
4. Autonomous ErgoChair Pro
Most people deal with unbearable neck and back pain because of the poor-quality choice of office chair. If you're an office worker or someone who spends a lot of time sitting at your desk, you absolutely need an ergonomic chair that prioritizes your comfort, health, and support. 
The Autonomous ErgoChair Pro has all the features you could possibly want in an office chair. From lumbar support to an adjustable headrest, various customization options, and more, you'll be able to improve your posture and say goodbye to excruciating back pain.  
Furthermore, this premium chair is available in various colors, such as black, gray, green, red, blue, and black and white. It is an absolute bargain when looking at all the features and design. It has to be one of the best ergonomic chair options on the market. 
Another standout feature of this chair that we simply have to mention is the woven mesh back. Once again, this just adds to the comfort of the chair as it allows for optimum airflow. Therefore, you don't have to worry about getting all sweaty or sweating through your shirt.
5. Autonomous ErgoChair Plus
Similar to the previously mentioned chair options, you're getting improved lumbar support when opting for this chair. However, one of the additional features that the Autonomous ErgoChair Plus offers is an extended weight capacity. Therefore, this chair caters to a wide range of people as everyone deserves ultimate comfort. Furthermore, you can choose between its breathable mesh or cooling naked TPE and five color options, which means you're spoiled for choice and don't have to settle for something you don't absolutely love. 
When it comes to chairs, it really doesn't get much better than this. The ErgoChair Plus is dynamic in many ways. From its sleek and professional appearance to its focus on human support and well-being, it would be difficult for any chair on the market to top this option. If you're someone who spends long hours sitting at your desk and could use the extra ergonomic support, the ErgoChair Plus would be an amazing office chair for you.
6. Autonomous ErgoChair Core
The ErgoChair Core could be considered as Autonomous' entry-level chair. It has all the basic and essential features you would look for when trying to increase comfort and support. When investing in this chair, you can expect an adjustable height range, lumbar support, and a tilt mechanism. There are two levers that enable you to choose the posture support that benefits you the most. Needless to say, this makes it easy to move your body around however you like.
Therefore, it's the ideal option if you're looking to branch into ergonomic chairs and want a cost-effective solution. You'll also benefit from the breathable mesh back that many other Autonomous office chairs have. Keeping this mesh clean is a breeze, which is essential in the workplace.
The Bottom Line
As you can see, there are a number of reasons why online shopping should be your go-to option when looking for the best furniture for your workspace. From convenience to exclusive deals, bulk savings, variety, and 24/7 service, it's a no-brainer that this is the way to go. 
Instead of the stress of in-person shopping, you'll be able to shop at your own pace, read reviews, compare prices, make informed decisions, and more. If you're looking for an online store that offers all these benefits, Autonomous is the place to look at! This online furniture shop has a wide range of furniture that's stylish, high-quality, affordable, and will enhance your well-being and productivity. 
Plus, with the Bulk Order Program, getting popular pieces such as the SmartDesk Core and ErgoChair Plus has never been easier. If you haven't already, it's time to take your shopping experience to the next level by delving into the world of online furniture shopping. We guarantee you'll have a comfortable and productive workspace in no time.
Video ads for product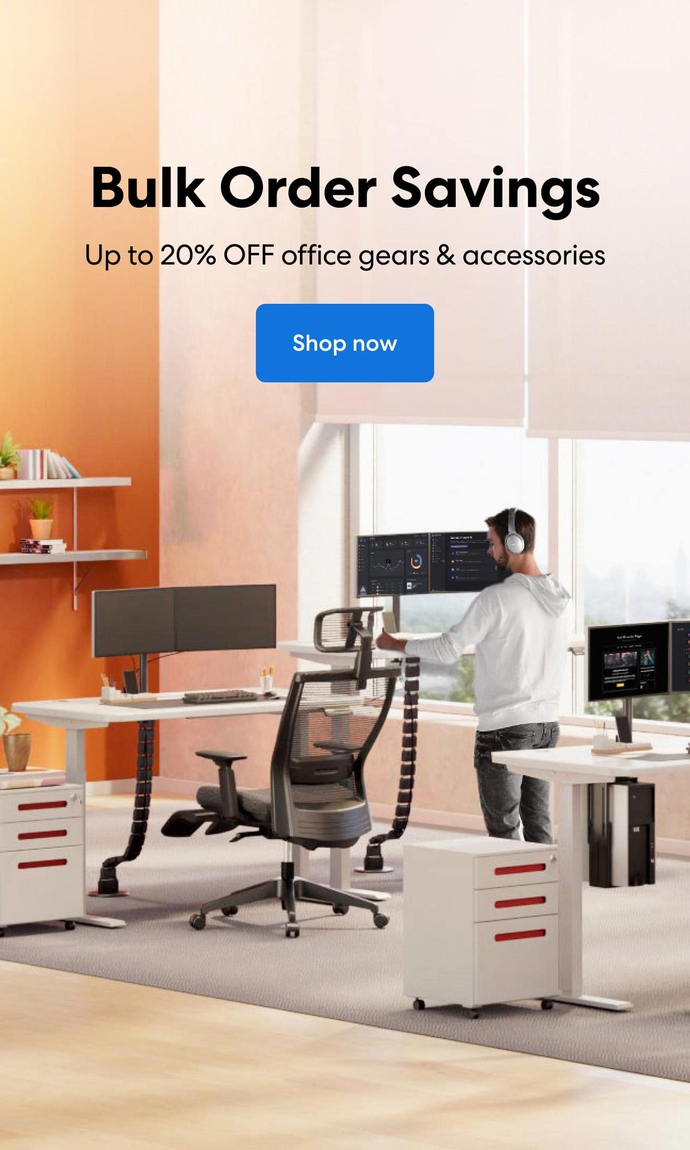 Subcribe newsletter and get $100 OFF.
Receive product updates, special offers, ergo tips, and inspiration form our team.