Latest Updates
July 4th Firecracker Sale: Unbeatable Deals and Savings!

Autonomous
|
Jun 26, 2023
556 Views
One of the biggest trends in recent years is the increasing ability for you to work from anywhere. While cloud technology and other advances support remote communication, you still need the hardware to work in comfort. And that's where we come in, offering you all kinds of ergonomic furniture for the workplace.
And this July 4, we're offering you some incredible deals to help secure your work independence! 
July 4 Sale - Up to 50% OFF!
The July 4 Sale (27 June to 4 July) is set to include some of our most popular products, including SmartDesk Core, ErgoChair Recline and other highlights. Here's a selection from Autonomous products:
SmartDesk Core 53" x 29" (Oak or Walnut Top): A classic in our extensive product range. It delivers all the space and functionality you need to get things done. $549 -> $469
ErgoChair Recline: The office chair that allows you to chill. With one of the most generous reclines on the market, work productively in comfort. $399 -> $329
And there are even more cool products available from our top-selling vendors:
WalkingPad C2:Make exercise a part of your work routine with this walking pad. Easy to assemble and setup, it can sit under your desk and be ready when you need it. $859 -> $431
WalkingPad A1 Pro:This foldable, compact, smart and easy-to-store walking treadmill makes it easy to take a light workout with you anywhere. $899 -> $456
Mount-It! Full Motion Dual Monitor Desk Mount: The full motion range allows you to adjust your screens to the right height and angle, reducing strain on your eyes and back. $119 -> $65
Mount-It! Laptop and Monitor Stand: Completely adjustable, free your desk space and work ergonomically with an all-in-one desk mount that elevates both your laptop and secondary display. $119 -> $64
Lamp Depot RGB Corner Lamp: Remote Control: Completely adjustable, free your desk space and work ergonomically with an all-in-one desk mount that elevates both your laptop and secondary display. $249 -> $129
These are just a selection of highlights in the July 4 Sale, with plenty more to be found online. Don't forget to check out the sale page from 27 June! 
And in this special sale, Canadian residents will also be able to take advantage. Just note, we'll be making offers in CAD so be sure to visit the site from 27 June to discover more.
Flash Sale
And we've got more for you! Between 3-4 July we'll be hosting a FLASH SALE! The flash sale will feature some unbelievable deals including SmartDesks and ErgoChairs for just $9! You'll also be able to get $3,000 OFF a StudioPod or $1,500 OFF a WorkPod!
But you'll need to move quickly and it's exclusively for US residents. So keep your eyes peeled and the finger on the mouse, ready to move when you need to!
And Happy July 4 for 2023!
Terms & Conditions
Our terms and conditions may be posted on the site during the promotion only and are referenced herein.
We reserve the right, in our sole discretion, to refuse any disputes that do not follow our Terms and Conditions at any time.
Entry period: June 27 - July 4 (9am - EST)
Location: US & CAD Only
This promotion is a limited-time offer and shall be offered on a "first come first serve" basis and may be ended early in case the item is out of stock.
Promotion trial & return policy
Please note that the trial & return policy does NOT apply to these promotion products—and the warranty policy is guaranteed. Therefore, no Return or Exchange is accepted under any circumstance.
Due to logistical constraints, once orders have shipped, they can't be canceled. We are sorry to inform you that the promotion will NOT be applied to Alaska, Hawaii, and Puerto Rico.
Discount code application terms and conditions
Our discount codes and referral codes are not applicable for products on promotion. Codes are applicable for full-price products in your order and only one code can be used per order.
Store credit is applicable for products on sale. However, the credit applied can not exceed $200.
Changes in Terms & Conditions
Autonomous may change the Terms & Conditions at any time. You are responsible for checking these Terms & Conditions from time to time for any changes. If you continue to participate after we post changes to these Terms of Service, you are signifying your acceptance of the new terms.
Autonomous decisions on all matters related to the promotion will be final and decisive. Autonomous will not be liable for any claims made by you, or for third party claims, or losses of any nature, including but not limited to, any loss of profits, loss of expectations, indirect, special, or other damages, and any related claim of any nature, including direct, indirect, third consequential party, consequential damages or other harm caused by or related to this promotion.
Video ads for product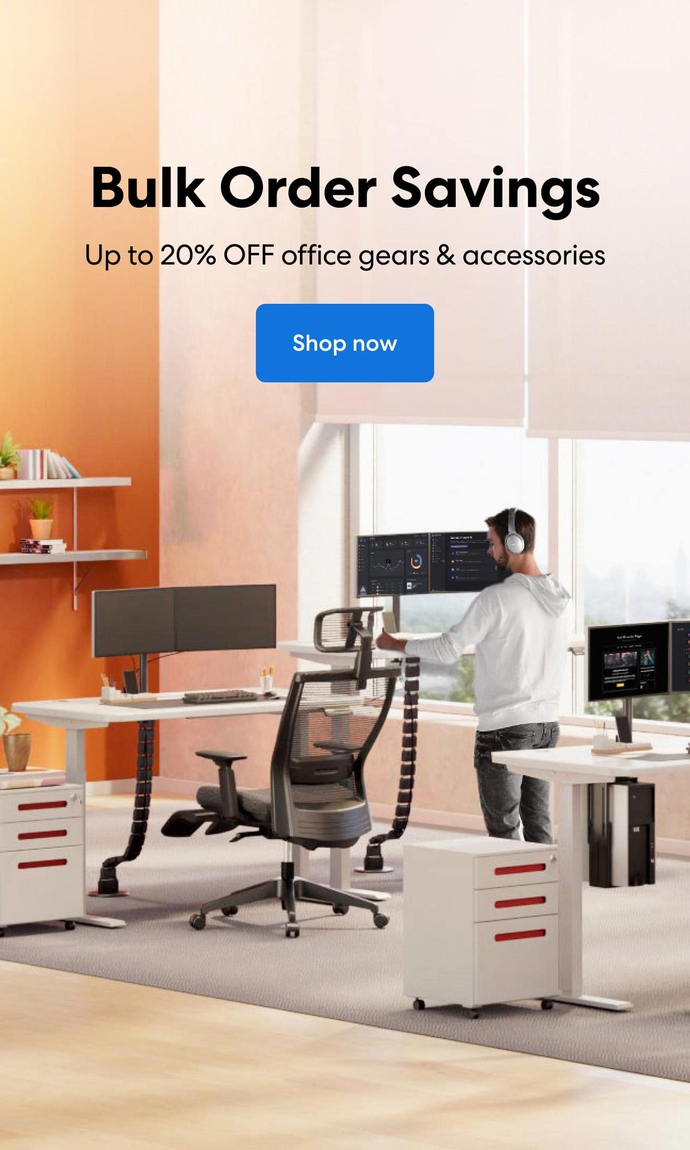 Subcribe newsletter and get $100 OFF.
Receive product updates, special offers, ergo tips, and inspiration form our team.