Latest Updates
Limited Bundle Offer: 50% Off ErgoChair Recline with SmartDesk

Autonomous
|
Oct 17, 2023
622 Views
Are you ready to transform your workspace into a haven of comfort and productivity? At Autonomous, we're thrilled to introduce an irresistible limited-time bundle offer, designed to take your workspace to the next level. Starting from October 17th through October 30th, when you purchase any Autonomous SmartDesk, you'll enjoy an exclusive 50% off on our ErgoChair Recline, $399 -> $199.5. This is the perfect opportunity to elevate your workspace and take care of your well-being without breaking the bank.
SmartDesk Core - Your Foundation for a Healthier Workday
The SmartDesk Core is your key to a more dynamic and health-conscious work routine. It's not just a desk; it's a smart investment in your well-being and productivity. Here's why the SmartDesk Core stands out:
Ergonomic Excellence: The SmartDesk Core is designed with your health and comfort in mind. You can seamlessly transition between sitting and standing positions, reducing the strain on your back and improving your posture. This ergonomic desk ensures you maintain the right position while working, promoting long-term health benefits.
Smooth and Silent Operation: Equipped with dual electric motors, the SmartDesk Core adjusts effortlessly and quietly, so you won't disturb your colleagues or family members while switching positions. Enjoy a seamless transition from sitting to standing with the push of a button.
Sleek Design: Aesthetics matter. The SmartDesk Core boasts a modern, minimalist design that complements any workspace. Its clean lines and variety of tabletop finishes let you customize your desk to fit your style.
SmartDesk Pro - Redefining the Standing Desk Experience
The SmartDesk Pro represents a revolutionary leap in standing desks, designed to meet the needs of fitness enthusiasts while delivering exceptional desk quality and a tranquil workspace.
What does peak performance entail, you might ask? Well, picture this: a robust lifting capacity of 310 lbs, effortlessly adjusting at a remarkable speed of 1.3 inches per second, ensuring a solid decade of unwavering productivity. Even at its maximum height of 52 inches, the desk maintains incredible stability with less than 0.5 degrees of wobble, offering an impeccable work environment. The SmartDesk Pro operates quietly, emitting a mere 40 dB, so you can concentrate without disruptions.
With the SmartDesk Pro, transitioning from a seated position to a standing one is a breeze. Save your preferred desk heights and switch between them with a single touch, making the shift from work to relaxation seamless and convenient.
SmartDesk Corner
The corner office: a space that offers more room for your creativity and the power to accomplish your tasks with ease. 
Twice the Space: Enjoy double the workspace to fuel your productivity.
Whisper-Quiet Triple Motor: Experience the difference with our advanced triple motor system, operating silently to maintain a peaceful work environment.
Impressive Weight Capacity: With a robust weight capacity of 400 lbs, the SmartDesk Corner can handle your equipment and essentials without breaking a sweat, thanks to its solid steel frame.
Height-Adjustable Range: Customize your workspace effortlessly with an adjustable height range from 29.4" to 48", accommodating your preferred ergonomic setup.
4 Programmable Settings: Save your perfect desk positions for easy access and seamless transitions.
Modular Segments for Tailored Fit: Designed with modular segments, the SmartDesk Corner can be adjusted to fit perfectly in any corner, offering flexibility to suit your space.
Free Cable Tray Included: Each SmartDesk Corner comes with a complimentary Cable Tray, ensuring a tidy and organized workspace.
Unlike most electric standing desks equipped with a single motor, the SmartDesk Corner stands out with its three motors, providing superior performance and stability. You'll notice and appreciate the difference when your workstation is set up and effortlessly lifts your equipment on its solid steel legs.
The responsive keypad allows you to save your preferred desk positions, making it a breeze to transition from different work postures – whether you're using a balance board, seated on a stool, reclining in your chair, or standing in front of your monitor. Experience a new level of comfort and productivity with the SmartDesk Corner.
The Desk - A Marvel of Ergonomic Excellence
The Desk stands as a testament to the pinnacle of ergonomic innovation. With its commanding quad-motor system and a sleek, smooth-edge tapered design, it effortlessly earns a place in an elite class of its own. Here's what sets The Desk apart:
Quadruple the Power: Featuring a robust quad-motor system, it boasts double the power to effortlessly transition between sitting and standing, ensuring a seamless and efficient workspace.
Unmatched Stability: The Desk offers double the stability, providing you with a solid and reliable platform for your work. Say goodbye to wobbling or instability concerns.
Elegance Meets Function: This desk marries ergonomic innovation with a quiet elegance that seamlessly fits into any workspace. Its attractive design complements your decor while delivering unmatched performance.
With The Desk, you can trust in rock-solid performance, quiet sophistication, and ergonomic excellence. Elevate your work experience with a desk that's designed to empower your productivity and well-being.
ErgoChair Recline - Where Comfort Meets Support
The ErgoChair Recline is your ideal ergonomic partner, providing the ultimate support and comfort for your extended work hours. Here's why the ErgoChair Recline is the choice of the discerning professional:
Customized Comfort: The ErgoChair Recline offers an array of adjustable features, allowing you to fine-tune your seating position. From the height and angle of the headrest to lumbar support, armrests, and recline tension, you can adapt it to your exact preferences.
High-Quality Materials: Crafted from premium materials, this chair combines comfort with durability. The breathable, environmentally-friendly mesh fabric ensures you stay comfortable and cool throughout your workday.
Exceptional Lumbar Support: The ErgoChair Recline prioritizes your health. Its superb lumbar support encourages proper spinal alignment and reduces the risk of discomfort, even during long work sessions.
The Bundle Offer: Your Path to Complete Workspace Comfort
For a limited time, you can harness the perfect synergy between the SmartDesk Core and the ErgoChair Recline. Here's why this bundle offer is too good to miss:
50% Off ErgoChair Recline: When you purchase the SmartDesk Core during this exclusive offer period, you'll unlock a 50% discount on the ErgoChair Recline. It's an opportunity to upgrade your workspace setup while saving big.
Dynamic and Comfortable Workspace: By combining the SmartDesk Core and the ErgoChair Recline, you'll create a workspace that caters to your body's needs. Enjoy the convenience of sitting and standing as you work, complemented by the luxurious comfort of the ErgoChair Recline.
Health and Productivity: A well-designed workspace is more than just aesthetics; it's a reflection of your commitment to health and productivity. This bundle offer allows you to experience the perfect balance of ergonomics, style, and functionality.
Don't let this opportunity pass you by. Invest in your well-being and productivity by taking advantage of our limited bundle offer. Create a workspace that supports your health and comfort while enjoying a substantial discount on the ErgoChair Recline. This offer is available only from October 17th through October 30th, so act quickly and experience the transformation for yourself. Unlock the potential of your workspace and embrace a healthier, more comfortable way of working.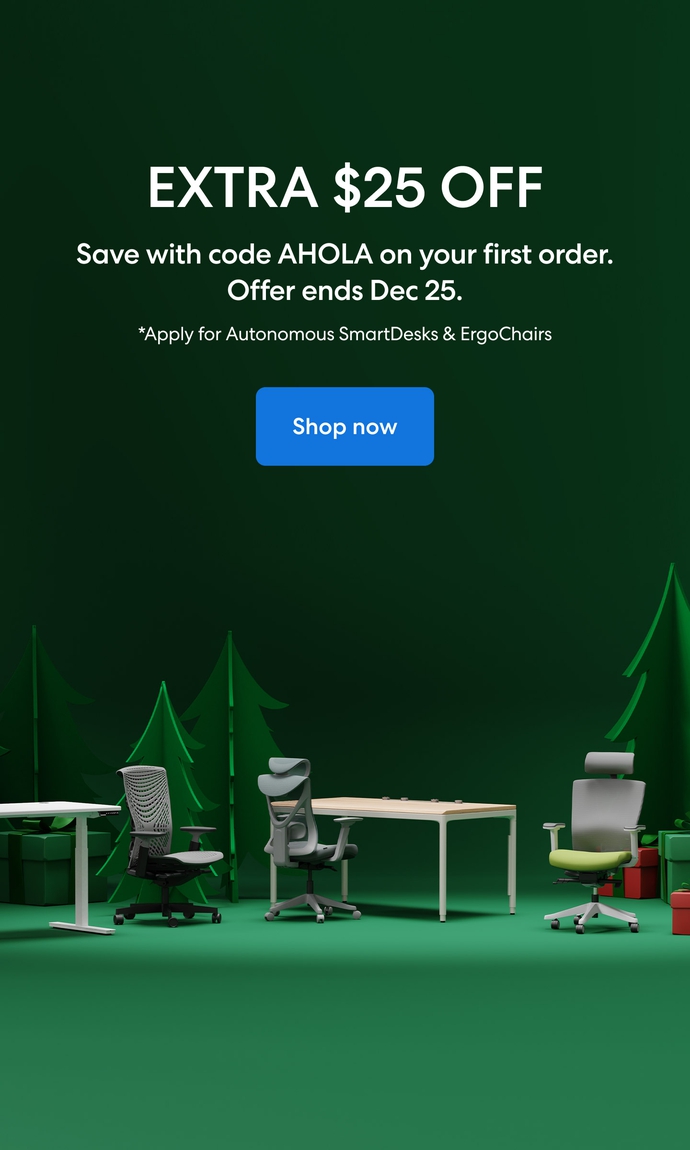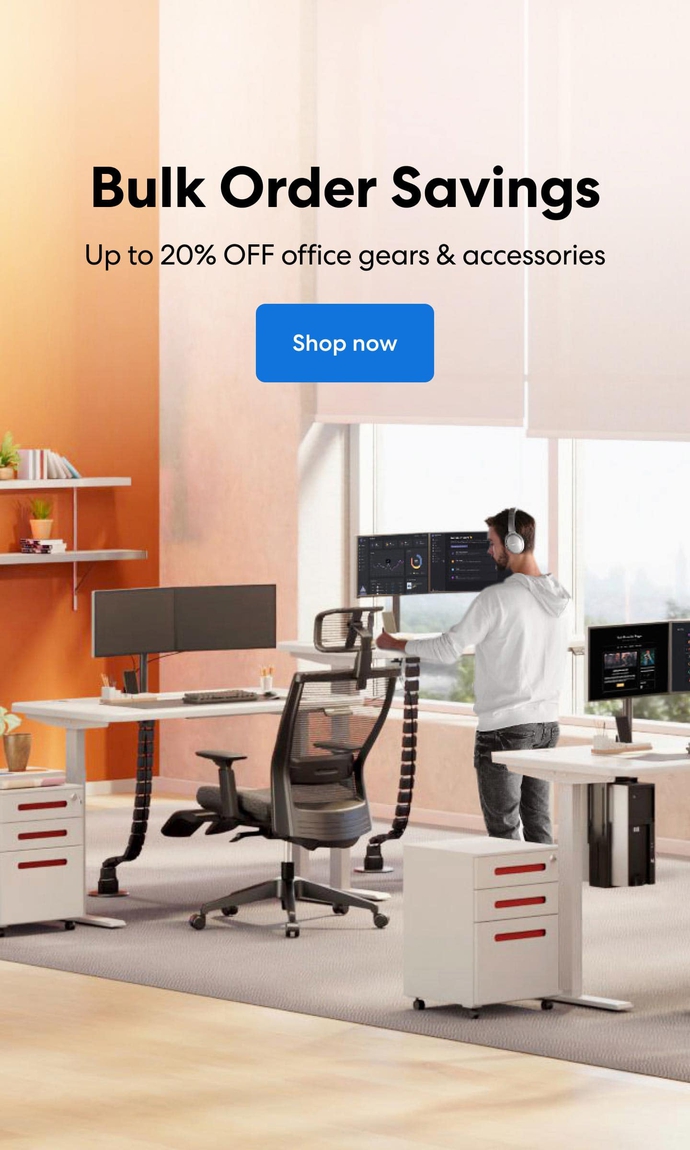 Subcribe newsletter and get $100 OFF.
Receive product updates, special offers, ergo tips, and inspiration form our team.