Smart Products
Modern and Functional Office Furniture in Toronto, Canada

Autonomous
|
Nov 7, 2023
564 Views
Everybody wants their office to elude a sense of luxury through its furnishings but at an affordable price. Thus, the temptation to furnish your office with the best used items is strong; it's a sustainable and affordable option that can upgrade the look and feel of your office without breaking the bank.
The aesthetics of an office can be greatly improved by investing in high-quality furniture, which also plays an important role in encouraging productivity and comfort among workers. As a result, we'll go into the most important factors to think about when shopping for second-hand office furniture in Toronto.
Things to Consider When Buying Used Office Furniture
1. Recognize the Need for Office Furniture
Knowing what you need from your office furniture before searching the second-hand market is essential. It's easy to get carried away while shopping for used office supplies in Toronto, buying pieces that may look beautiful but aren't practical for your home.
The available space should be your first consideration. Find out what kind of office or workspace furniture will fit in that space by taking the appropriate measurements.
Especially in busier locations, you'll need to make sure people can easily navigate around the furniture. Keep in mind any radiators, windows, or pillars that could prevent you from arranging the furniture as you'd like.
2. Planning and Budgeting
Once you have established what pieces of furniture you need, you can move on to the planning and budgeting stage. Used furniture is a great way to save money, but it's still important to budget carefully.
Get your office furniture budget under control first. The list of must-have pieces of office furniture in Toronto should serve as the basis for this financial plan. Do some preliminary research on internet marketplaces or wholesale office furniture stores in Toronto to obtain a basic notion of pricing for used furniture.
3. Look For High-Quality Used Furniture
One of the best advantages of buying second-hand modern office furniture in Toronto is the access to branded pieces at a fraction of the retail price. These high-quality furnishings will be of great quality and last you much longer than newly made local ones.
However, it would be best if you still inspected the pieces to guarantee they are free of serious defects. If you take your time and look around, you can save yourself a lot of hassle and money.
4. Avoid Previously Repaired Items
Used office furniture in Toronto should be avoided if it has been fixed in the past. This is because it is possible that the repaired item, such as a wholesale office desk, can break down again in a short period of time due to poor repair quality.
If you want to know if a product has been repaired, you should ask the vendor; if they don't know, buying it is probably not a smart idea.
5. Think Of Design Aesthetic
It's a prevalent misconception that you can't combine vintage and contemporary pieces. Sure, you can. However, the piece's aesthetic value should still be taken into consideration. Pick out furnishings that work well together and complement the room's existing decor. Traditional layouts seem to be safe bets when it comes to striking a balance between durability and appeal.
You should consult the vendor if you're equipping an office and aren't sure what kind of furniture will look best. They will assist you in locating an item that meets your needs and complements your current decor.
6. Try It Out Before Buying
The internet has unquestionably altered the dynamics of office furniture stores in Toronto. Everything from our wardrobe staples to our weekly grocery and home furnishings is bought online now. Used furniture is a great way to save money, but trying it out before you buy it is important.
It's understandable that you're not always able to check everything beforehand, but if possible, you should try it out, inspect it, and check its condition before finalizing the sale. After all, you wouldn't want to shell out more cash for furniture that needs rapid maintenance and repair.
7. Prioritize After-sale Service
Used office furniture won't last as long as newer pieces. Therefore, the availability of an after-sale service or warranty from a given source is crucial. In the case of office chairs, this is especially important because the gas lifts can dry up and stop working after some time. You can get more usage out of your used wholesale office chair by using a gas lift, and some vendors even repair or replace used chairs.
8. Consider Buying Samples
Many office furniture stores in Toronto may sell their sample stock when they're no longer needed. These products have been gently used, making them an excellent second-hand purchase.
Inquire with a salesperson if the second-hand office furniture store in Toronto you're considering has any display models you can inspect. When you buy these things, you'll get the greatest possible price.
Shop Modern Office Furniture in Toronto with Autonomous
Autonomous was established in 2015 as a company devoted to technological advancements in every sector. They have specialists in both software and hardware on their team.
The company's mission is to supply its customers with the best ergonomic office chairs and standing desks available; they put a premium on creating goods that are both easy to use and technologically advanced. As a result, Autonomous provides go-to online office furniture in Toronto.
What separates Autonomous from the competition isn't just the excellent value and innovative designs they offer but how they're wired.
The team is never afraid to take risks and perseveres to do better. Researching, prototyping, testing, final product release, and customer feedback are all equally important so the company can do an even better job next time.
Autonomous Bulk Buying Program: High-End Office Furniture with Bulk Price
If you're wondering where to buy office supplies in bulk, now is the moment to stock up on Autonomous home and office furniture by placing a bulk order.
Investing in their office supplies in bulk is a great choice as every piece of furniture is durable, functional, and affordable.
The website's automated bulk order service simplifies the wholesale acquisition of all equipment and furnishings, providing top-notch customer service with the most affordable office supplies in Toronto.
Conclusion
There are several factors beyond visual appeal when stocking an office with furniture. While it's true that purchasing previously owned office furniture in Toronto can save you money, it's important to take into account not only price but also practical concerns like ergonomics, durability, and comfort.
By making thoughtful purchases, you can furnish a workplace that does more than just look good; it also improves the morale and productivity of your employees.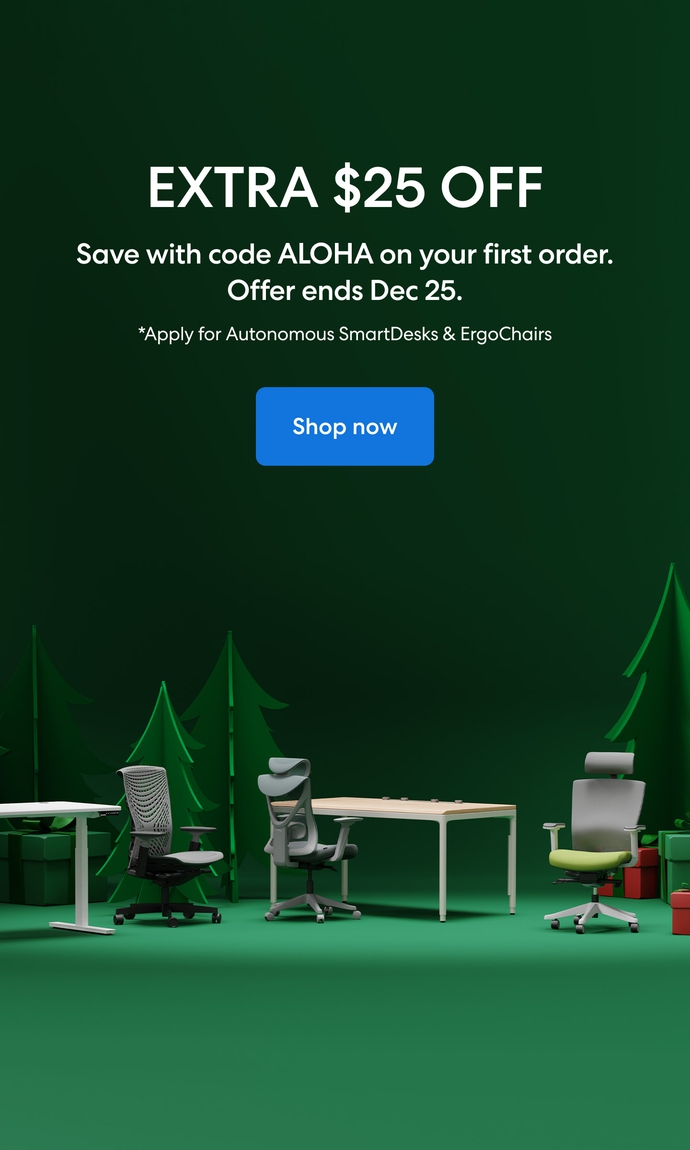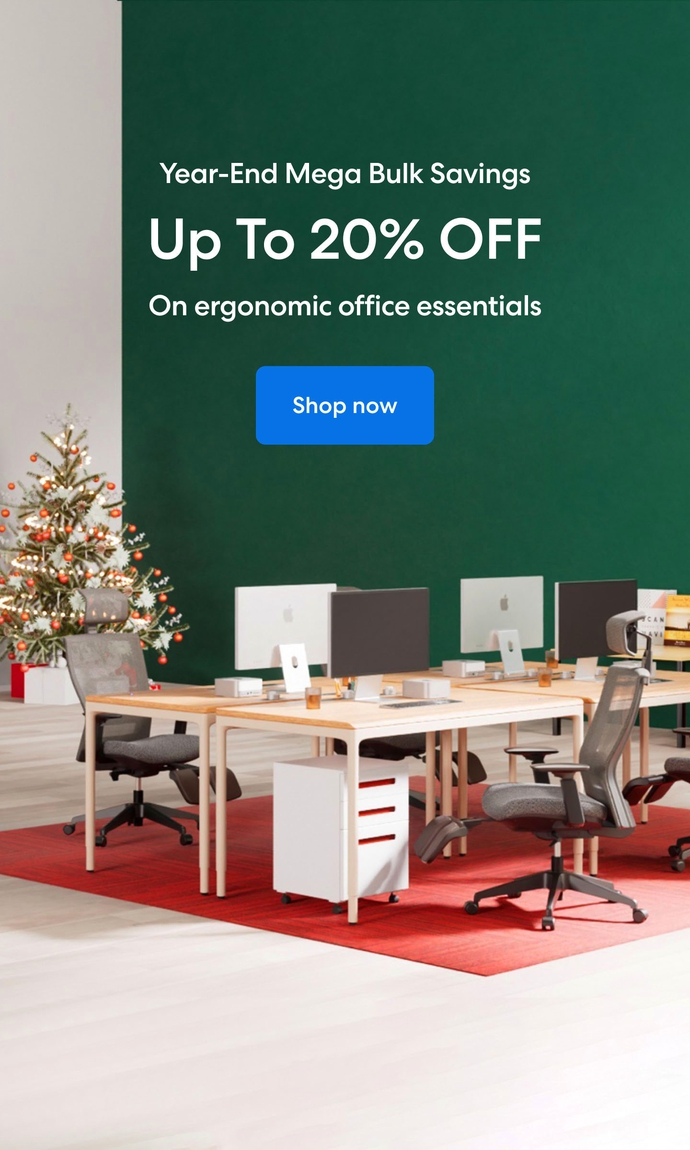 Subcribe newsletter and get $100 OFF.
Receive product updates, special offers, ergo tips, and inspiration form our team.