Smart Products
Can You Mount an iMac on a Monitor Arm?
980 Views
Office workers are curious to learn the right ways to adopt an ergonomic workspace. Luckily, if you have a monitor arm for a desk, you can attain that. You might have a multi-monitor iMac setup, so adjusting all the screens comfortably will only be possible if you have the right desk accessories. That's why gamers, streamers, and programmers like to have their iMac on a monitor arm.
The workstation ergonomics are all about adding comfort to your work style and making you more productive in return. If you have your iMac PC monitor at a fixed height, it may put a lot of strain on your neck when you work for extended hours. However, once you mount your iMac on a monitor arm, adjusting your monitor's height and angle becomes quite easier.
Since programmers, gamers, streamers, and even office workers use iMac often, they all have a common question as newbs; how to mount an iMac on a monitor arm. Mounting an iMac on a monitor stand is often a challenge for newbies because they don't know which monitor stand for the desk is ideal for their iMac and how they will go about the mounting procedures.
Therefore, we are here to help you out! We have discussed whether you can mount an iMac on the monitor arm in this blog. We have also shared how you will go about the mounting procedure and have shared some suitable monitor arm choices for you. So, stick with us till the end! 
How to Mount iMac on Monitor Arm?
The built-in iMac stands are not adjustable, so there is no other way than to get a monitor arm to adjust your iMac's height and avoid any muscle strain. We know that some of you must be thinking about the VESA adapter that Apple offers, but you can only use it effectively if you have an iMac pro. The regular iMac does not come with any conversion kits.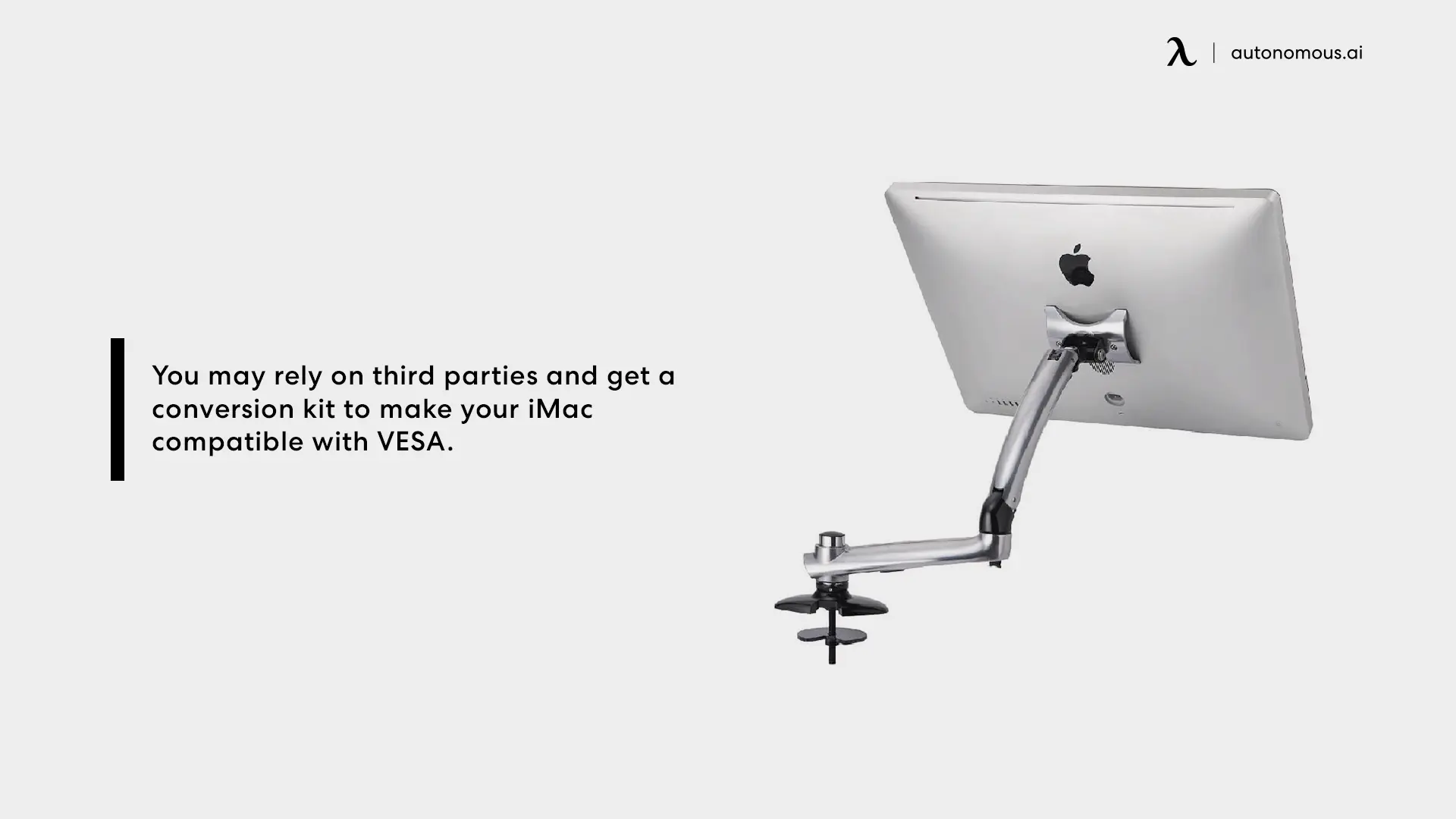 You may rely on third parties and get a conversion kit to make your iMac compatible with VESA. The conversion kit lets you freely mount your monitor on a monitor arm and adjust its height per your requirements. Once you have a conversion kit and the right monitor arm, you can simply attach it to the iMac, affix the monitor arm to your desk, and mount your iMac.
You must remember that if you need a conversion kit for the iMac Pro, you will have to buy it from the Apple store only and that the conversion kits are compatible with regular iMac models that were released after 2011. 
How Can You Choose the Right Monitor Arm for an iMac?
The weight-bearing capacity of any monitor arm is a primary aspect that determines whether it will be suitable for your iMac. The recent iMac version weighs around 19.7lbs. So, you must select a monitor arm that comes with a decent weight-bearing capacity.
In addition, you must evaluate the load-bearing capacity of your office desk. The office desk should have the capacity to carry all computer accessories without collapsing. A weak tabletop may get weakened if your monitors are too heavy. Some people think of affixing reinforcement plates to stabilize the desktop and monitor arm.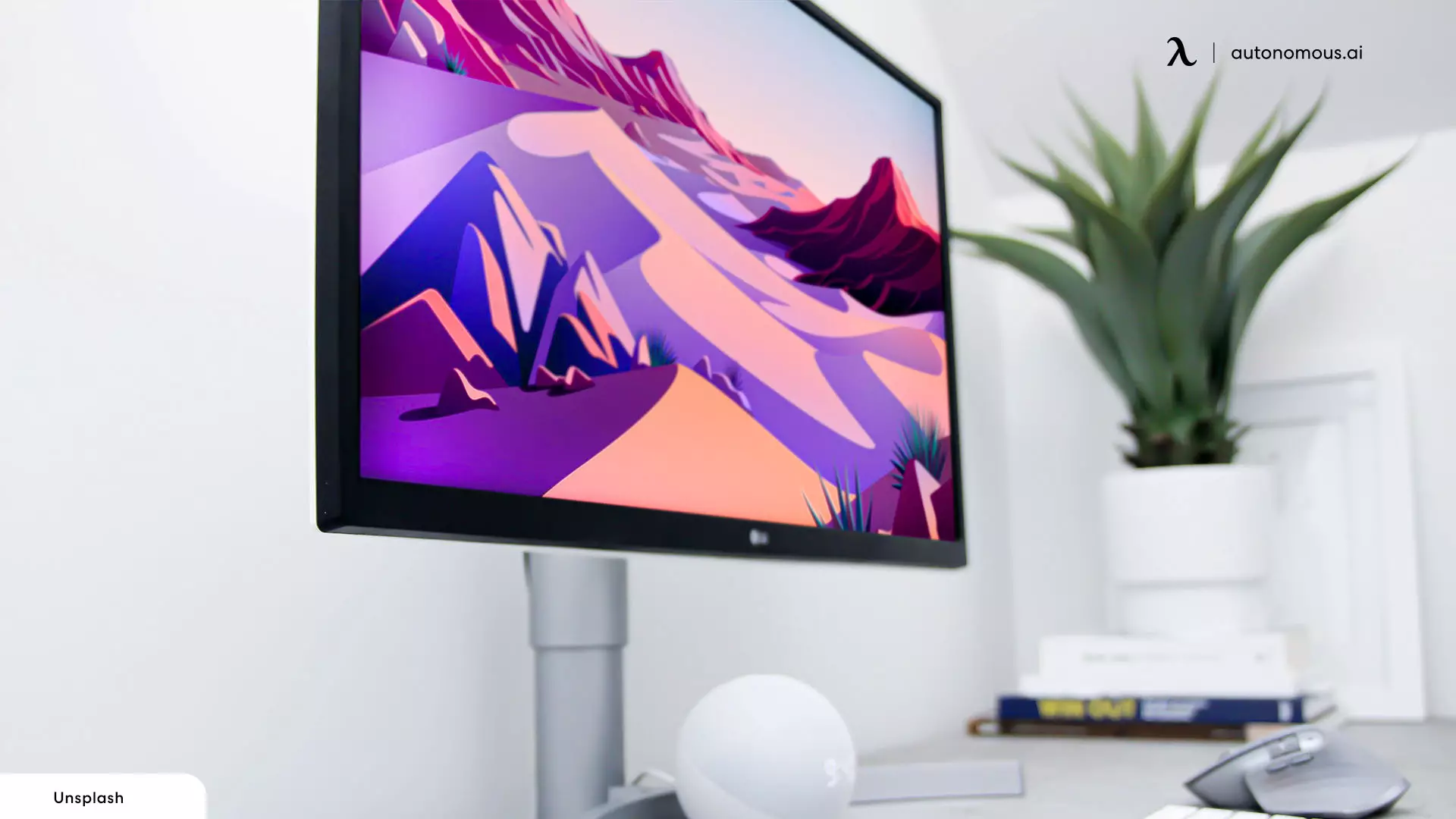 Another aspect to consider before buying a monitor arm is your iMac's screen size. You don't have to worry about your monitor screen size if you have a single monitor. The challenges begin when you have a dual or multi-monitor setup. Every monitor arm does not come with configurations that fit larger 27-inch screen monitors.
If you are opting for 27-inch screens, you must evaluate the monitor arm's specifications and check whether it can accommodate such wide-screened PCs. 
Best Monitor Arms for iMac
We hope that you have sound knowledge about an iMac on a monitor arm, how you should buy an iMac monitor stand, and how to mount an iMac on a monitor arm. So, this is the right time to share the best monitor stand options in the market with you. Below, we have discussed some of the ideal monitor arms that you can consider for your iMac.
1. Autonomous Monitor Arm
2. EUREKA ERGONOMIC S05 Single Monitor Arm
If you are planning a single monitor setup, you will find the EUREKA ERGONOMIC S05 an ideal choice. Since it is compatible with the VESA – standard, you can use it for your iMac. The design of this affordable monitor arm for PC monitor is such that you can easily rotate and swivel it along with making your desired height adjustments.
Since this monitor arm has a weight capacity of 20lbs, you can mount monitor screens ranging from 13 – 30 inches. Along with all that, the durable aluminum alloy of this monitor arm promises to be a long-term partner.
3. Northread Dual Monitor Arm
The Northread Dual Monitor is an ideal choice for a dual monitor setup. Since it is compatible with the VESA – standard, you can use it for your iMac. This monitor mount is ideal for tight spaces. So, if you work in a cubicle, you will love having the Northread Dual Monitor Arm. Overall, it can lift up to 19.8 pounds and can accommodate a 27-inch screen monitor. 
4. Mount-It! Single Monitor Desk Stand
The Mount-It! Single Monitor Desk Stand is an ergonomic monitor stand that can lift upto 17.6lbs. That's why you can expect it to carry comparatively lighter-weight monitors. Just like EUREKA ERGONOMIC S05, you can also adjust the height and angle of this monitor stand. 
5. Mount-It! Triple Monitor Arm Stand
Last but not the least, if you are planning a triple monitor setup, you may think about the Mount-It! Triple Monitor Stand. This is also a VESA-standard monitor stand, so you can use it to get your iMac on the monitor arm ergonomically. Each monitor arm can lift up to 15.4lbs. That's why you can use it for iMacs with up to 27-inches screen size.
You can tilt, swivel, and adjust the height in this monitor stand as well. It even has a cable management holder clip at the back to avoid clutter. Overall, its durable steel build ensures it stays your desk accessory for a long time.
Keep up with Autonomous news
Stay informed, stay inspired with our new blogs.
WRITTEN BYAutonomous
We build office products to help you work smarter.