Those who like their work are more likely to be successful in their jobs. Because of this, you shouldn't skimp on the things that make you feel good. You may be helpless to do anything about the economy, the environment, or that man in marketing who never stops talking, but you can take steps to ensure your personal comfort at your desk. A good hammock under the table is a start because an adjustable footrest under the desk has many benefits. 
An under desk hammock is a great method to give yourself a little more comfort as you work if you do not already have an ergonomic reclining office chair. These foot hammocks will have you feeling inspired, creative, and as calm as a puppy on your lap. 
Leg and foot pain can result from spending long periods of time sitting in an awkward position, such as at a desk. Leg crossing, especially for long periods of time, has been linked to a temporary rise in blood pressure. Never sit in the same place for too long, since this may lead to back pain and bad posture. Sitting still for long durations of time is bad for you, regardless of whether your legs are crossed or not. 
An under desk hammock may not seem like a need, but if you spend long hours at a computer, it might make a world of difference. Luckily, here you'll find all you need to know about under desk leg hammocks. After a long day at the office, many of us can't wait to kick our feet up and relax while working at an office desk. You may reap the benefits of resting your feet on an under desk foot hammock without having to wait until you get home if you keep a foot hammock under your desk. 
Benefits of Using an Under Desk Hammock
Increases Blood Flow
Constantly sitting in one place is terrible for your circulation. If your blood doesn't flow smoothly, your brain may not get enough oxygen, impairing your ability to think effectively. Slowness and fatigue may be symptoms of low oxygen levels in the blood. 
The health of your heart, kidneys, and muscles would all improve with better blood flow by using a hammock under the table. White blood cells of your immune system may be able to go more quickly and directly to their destination within your body.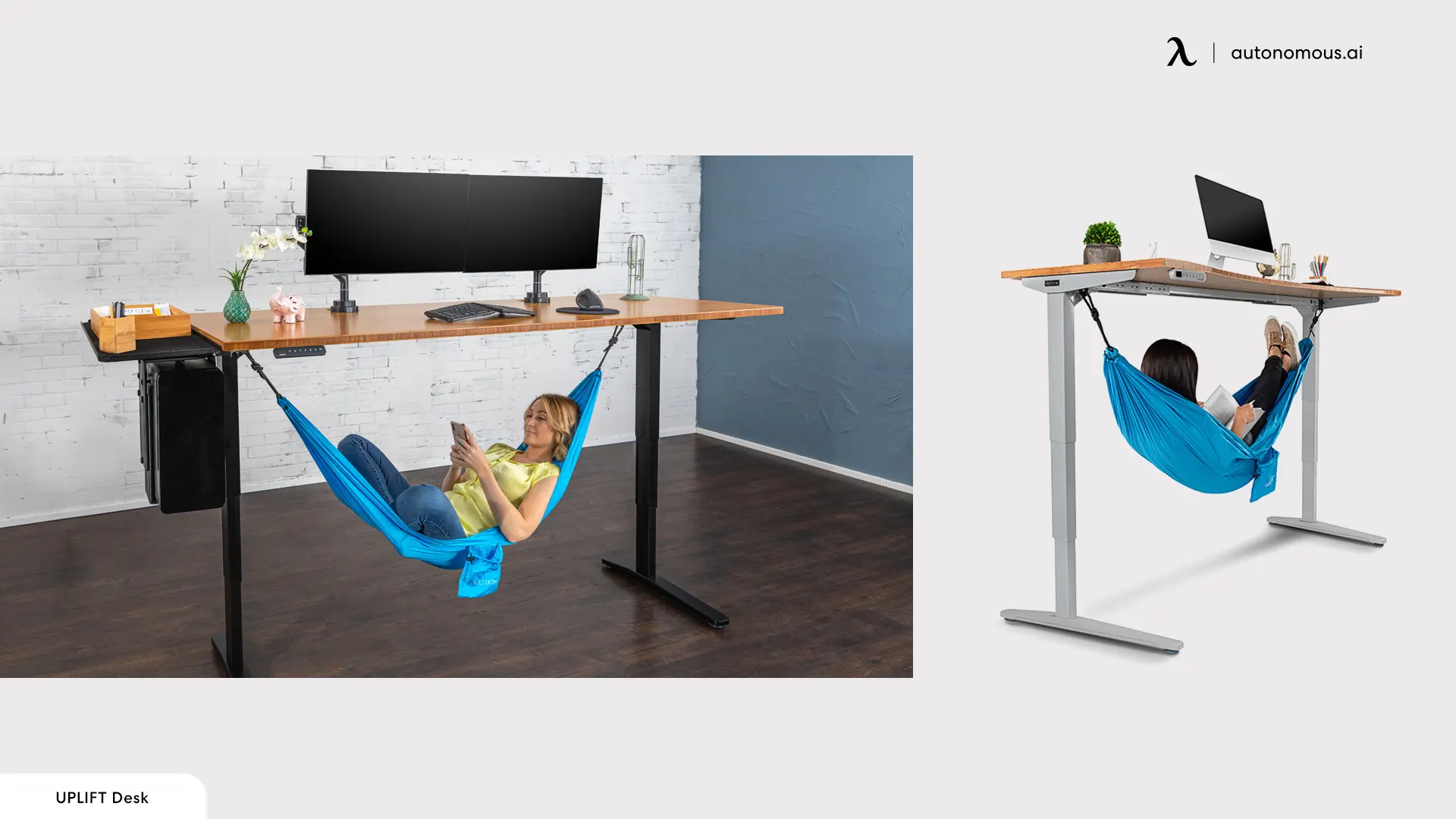 Decreased Lumbar Pressure
One of the leading causes of back pain in the lower back is sitting for long periods of time. The act of sitting down may now be painful rather than restful for some people. The main reason is a herniated disc in your spine. An under desk foot hammock will allow you to extend your hips to a degree that is easier on your spinal discs and have good posture.
Facilitates the Development of an Upright Posture
Your parents and school undoubtedly told you not to slouch when you were a youngster. The lesson is relevant even now for a large number of individuals. One major contributor to the widespread problem of slouching nowadays is spending long periods of time seated at a desk. Back and neck discomfort, acid reflux, and digestive disorders are just some of the health concerns that can result from chronic slouching. 
Drawbacks Of Under Desk Hammock
Hammock Under Standing Desk is Hard to Get Out of
It may take some time to adjust to working without your feet in an under desk hammock. Since the hammock is now a moving, swinging item, you need to be careful when you try to rise up. This is not to say that anything is difficult; rather, it is just different.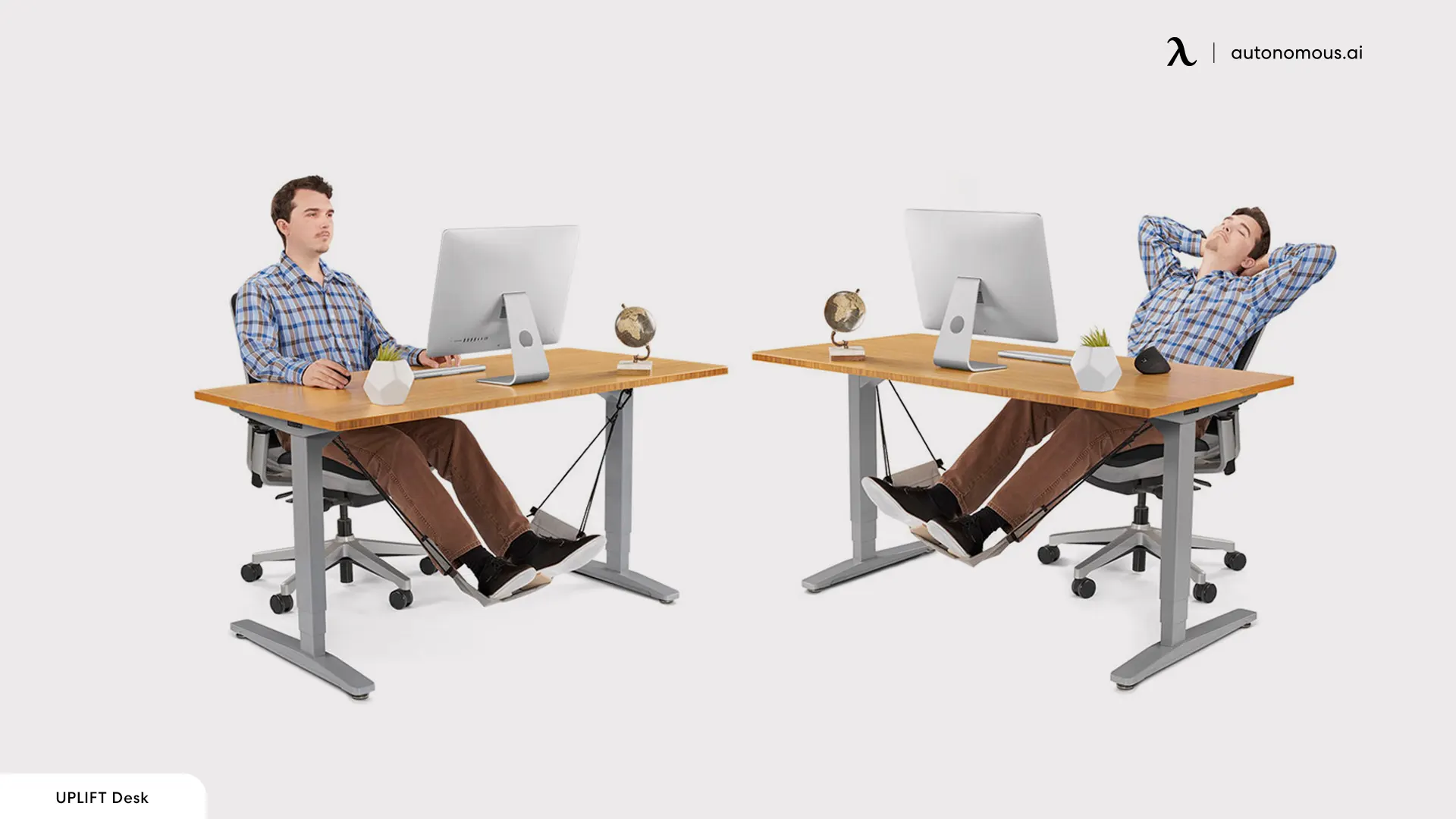 Need To Replace Quite Often
It's possible that every few years you'll need to get a new under desk leg hammock, depending on how much you use it. However, the overall cost is lower, and you could be ready for a change in design or hue anytime after using an under desk hammock.  
Why Should You Use Desk Footrests?
If you want your feet to be as comfortable as possible while you work, invest in an adjustable footrest or one ergonomic footrest. One novel idea with a lot of merits is the use of a footrest that can be adjusted for comfort and ergonomics. Using a footrest at work regularly might help you maintain better posture throughout the day. 
One of the best ways to get back to a healthy pelvic angle and sit in a way that doesn't put a strain on your back is with the aid of an adjustable footrest. A footrest with height and angle adjustments allows you to choose the most comfortable position for your feet. Having an adjustable footrest at work has several advantages, some of which are listed below. 
Use a footrest to increase your efficiency. The position of your feet when seated has an effect on how well your upper body is supported. A good footrest might be quite useful in this situation. However, if you want to protect your footrest, we recommend you get a Capra leather desk foot rest cover.
Dimensions
Medium size: 16.9"L x 9.8"W x 5.5"H
Large size: 23.3"L x 9.8"W x 5.5"H
Materials
Full grain leather
Colors
Black, Tan, Distressed Tan
Warranty
5 years
Enjoyably anchored, your feet are tilted in a neutral position that provides extra support for your shoulders and lumbar, and sitting in either a stationary or active position, thanks to a good footrest, like an ErgoFoam adjustable foot rest. In this way, you may relax, yet remain alert and responsive to the day's events.
| | |
| --- | --- |
| Dimensions | 17.3"L x 11.8"W x 5.9"H |
| Materials | Pet-friendly breathable mesh |
| Colors | Black |
| Warranty | Lifetime |
Inactivity caused by sitting in one place for lengthy periods of time is comparable to that caused by sleeping in the same posture for several nights in a row. An ergonomic foot rest with adjustable height and angle keeps your feet moving in ways that are good for them, so your muscles can relax and stretch out.
| | |
| --- | --- |
| Dimensions | 17"L x 13"D x 4.25" - 6.75"H |
| Materials | Plastic |
| Tilt | +/- 30° |
| Warranty | 10 years |
A footrest's beneficial effects on blood flow are maximized when it is angled such that the foot rests in a natural position. Researchers found that the angle at which computer employees placed their footrests was closely related to the prevalence of leg and ankle edema among their subjects. Scientists have learned that edema worsens on flat or steep terrain because less oxygen blood enters the toes in those situations.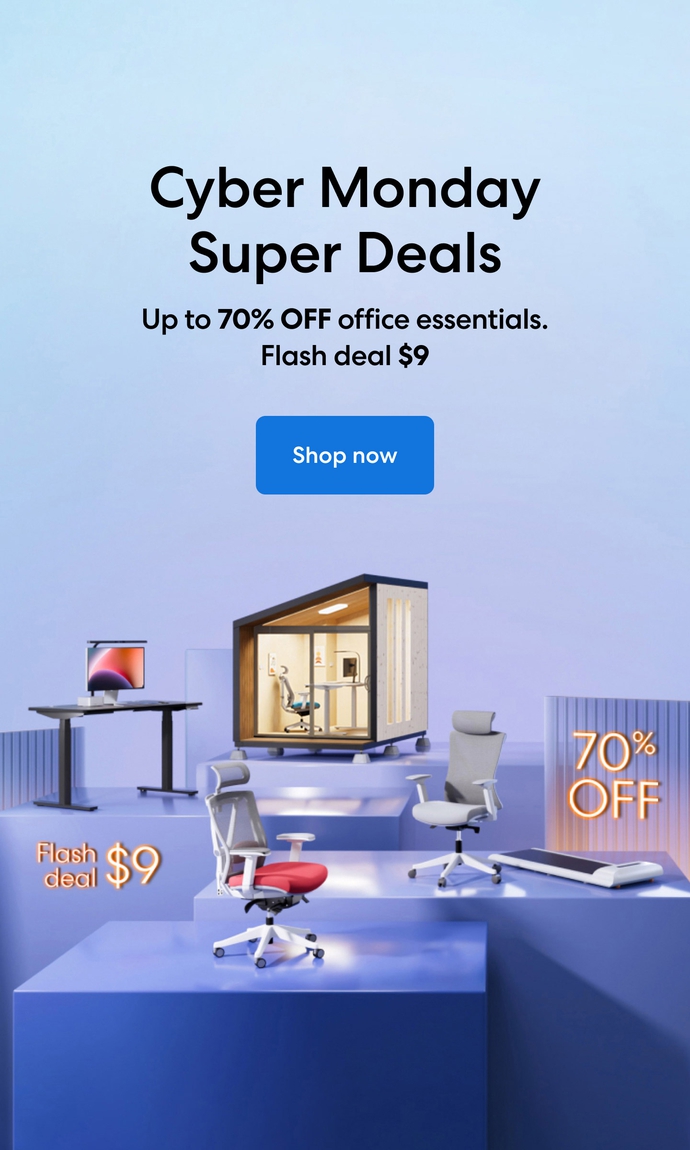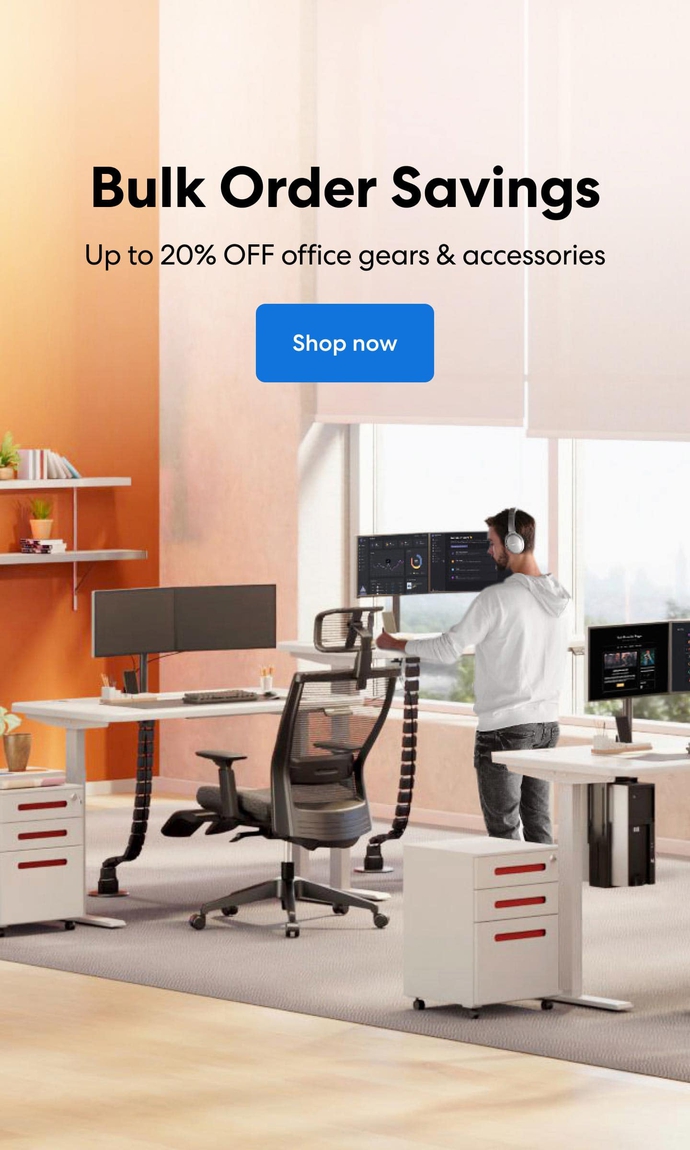 Subcribe newsletter and get $100 OFF.
Receive product updates, special offers, ergo tips, and inspiration form our team.