Smart Products
Reviews of the 10 Best Large Office Monitors for Work

Daniel Anderson
|
Oct 20, 2023
908 Views
Table of Contents
In the contemporary digital landscape, where screens have become windows to a world of information and activities, monitor sizes have taken center stage. Large monitors are productivity champions among the various options, reshaping how we approach work. Their expansive dimensions offer a canvas that goes beyond the mundane, seamlessly accommodating multiple tasks and applications.
Let's have a look at the top ten large monitors for work.
Top 10 Large Computer Monitors For Work
1. SAMSUNG Odyssey G9
Our team's firsthand experience with the Samsung Odyssey G9 has amazed us. This Amazon-recommended gem brings a static contrast ratio of 2500:1 and a brilliant brightness that shines at 420. The pixel-per-inch count of 108.97 and mega peak luminance ratio create a visual treat.
The monitor's NVIDIA G-SYNC and AMD FreeSync support ensures seamless graphics rendition. Dual QHD resolution and a rapid 240Hz refresh rate deliver stunningly vivid imagery and responsiveness, while Infinity Core Lighting adds a dash of customizable flair. Multitasking finds new meaning with its wide aspect ratio. Our team vouches for the Odyssey G9 as an investment in productivity and gaming. It might just be the best large monitor for home offices.
2. Samsung CJ890
If you can't decide between a curved vs. flat monitor, this large office monitor is a safe choice. This super ultra-wide monitor is perfect for business setups. Imagine having a really big 49-inch screen that's like two screens side by side. You can adjust its height, swivel, and tilt to make it comfy. The sound is good too. It saves energy when not in use.
Even if you are not staring directly at the screen, its convex shape makes it more natural and less taxing on the eyes. Using its special connectors, you can easily connect various devices.
It is advantageous to possess Windows 10 on your computer. And if anything goes awry, there is a three-year warranty to protect you. Ideal for making a job simpler!
3. ViewSonic VX4381
This large office monitor is comparable to a 43-inch computer screen. It provides exceptionally sharp images with a resolution of 3840 x 2160 pixels. The monitor also supports HDR10, which produces more vibrant colors and greater contrast.
The monitor has a few features for your eyes' convenience. It does not flicker, which is a relief during extended use, and it has a "Blue Light Filter" that reduces eye strain.
Ports such as HDMI, USB, DisplayPort, and Mini DisplayPort facilitate the connection of various devices. Therefore, you can effortlessly connect your laptop, PC, or Mac to this monitor.
4. Dell UltraSharp U4919DW
Dell's 49-inch curved monitor, like 500 hz monitors, is a game-changer. Imagine two 27-inch monitors integrated into one streamlined display. It's not just about size; it's about increasing productivity. The curved design wraps you in your work while reducing distortion.
With a sharp native resolution of 5120 x 1440 at 60Hz, it's a visual treat. But here's the kicker: You can connect two different PCs and see them side by side using Picture-by-Picture. Talk about multitasking! And it's modern too, with USB Type-C connectivity. This monitor isn't just about size; it's about a smarter, more immersive work experience.
5. BenQ PD3220U
BenQ's 32-inch 4K monitor is a design gem. It's not just big; it's brilliantly color-accurate. With Pantone Validation and Calman verification, it hits 95% P3 and 100% sRGB color coverage with Delta E ≤ 3. Perfect for designers, it even has a Mac-matching M-Book mode. The ICC Sync feature frees color calibration through BenQ's Display Pilot software.
And that's not all – the daisy-chain technology lets you easily connect multiple monitors, freeing up desk space. Plus, Thunderbolt 3 support means you can sync, charge, and connect all your Mac devices with a single cable. This monitor is a masterpiece, combining form and function for design enthusiasts.
6. Dell S3221QS
Dell's 32-inch 4K monitor is an absolute game-changer. The three-sided ultrathin bezel design wraps you in breathtaking 4K UHD (3840 x 2160) clarity – four times Full HD's detail! The immersive 1800R curved screen isn't just a treat for your eyes but a gateway to cinematic experiences.
Eye comfort matters and this monitor gets it. With TÜV certification and ComfortView, harmful blue light emissions are reduced for a flicker-free, eye-friendly viewing.
Customization is key – pivot, tilt, swivel, or height adjustment for the comfiest setup. And if you want more options, there's VESA compatibility for various mounts and stands. Dell's monitor nails visuals, comfort, and adaptability.
7. Philips 346B1C
This is one of the best large curved monitors for office work. Philips' B-Line 34-inch curved monitor redefines visuals. The frameless QHD display is simply immersive. A VA panel paints vivid colors covering 100% NTSC, 119% sRGB, or 90% Adobe RGB. The USB-C docking, charging phones/laptops while handling video and USB-C 3.2 Gen1 signals, is a big convenience.
Multitasking Is a breeze with the built-in KVM switch – it manages several inputs while sharing USB peripherals. HDMI 2.0, DisplayPort 1.2, USB-C 3.2 – it's all there. And did we mention the built-in speakers? Oh, and there's a Gigabit Ethernet LAN port, too.
Philips doesn't compromise on service – 4-year advance replacement in the US. And the icing on the cake? Adaptive-sync for fluid graphics. Philips nailed it with this monitor! Get a suitable monitor riser stand to make your experience even better.
8. LG UltraWide 5K2K
This big 40-inch curved monitor is like a window into another world. The colors and details are super clear with 5120 x 2160 resolution. You can see everything from different angles without it getting blurry.
It can connect to your computer fast with Thunderbolt 4 and even charges your device while you use it. Its colors are super real, like looking at a photo outside. The built-in speakers are like having a mini sound system, and the screen goes almost to the edges, so it feels like the pictures are all around you.
You can adjust how the screen sits, so it's comfy to use all day. It's a real treat for your eyes!
9. Samsung Odyssey G50A
This large office monitor is revolutionary! The image is incredibly detailed and crystal clear, making games appear more realistic. You can view the image from various perspectives without the image becoming distorted. It's like being in the action.
The graphics are phenomenal, resembling a colorful eruption on the screen. You will see things in the shadows that you've never seen before, with profound blacks and brilliant whites. It is also extremely swift, with no latency and rapid response. It's as if the game anticipates your movements.
The display is synchronized with your computer, so everything is fluid and there are no jagged lines. You can also alter the screen's angle for optimal comfort. Additionally, it makes wide games appear even better. Gaming has become significantly more amazing.
10. Philips 329P1H
This 32-inch large office monitor is like a big window to your computer. The picture is super clear, showing lots of details. You can plug in different things, like your computer or gaming console. It's great for work or play with a clear image and no flickering. Just make sure it's compatible with your country's outlets.
Conclusion
When considering large office monitors, the choice between a 3-monitor setup and a multi-monitor setup presents itself. While the allure of a three-monitor arrangement offers expanded workspace and seamless multitasking, the practicality of a multi-monitor configuration shines through. This approach optimizes screen real estate and convenience, accommodating diverse tasks effectively within a single workspace.
Whether opting for a comprehensive panoramic view or a well-organized multi-screen layout, the decision hinges on the specific needs and preferences of the office environment.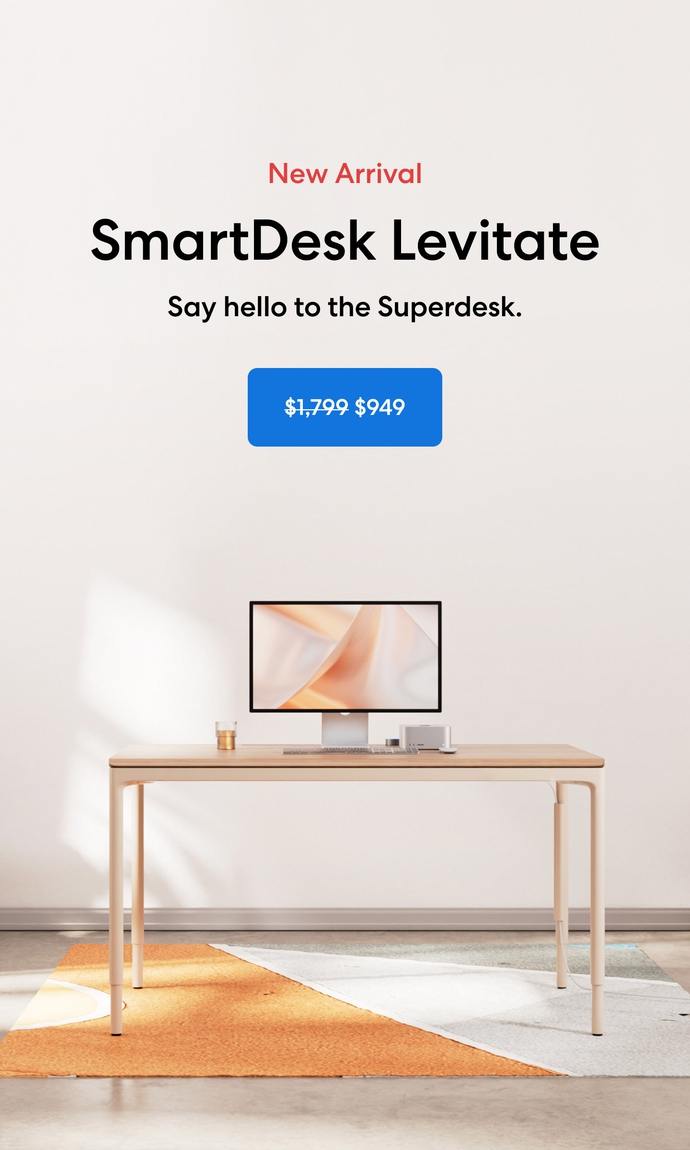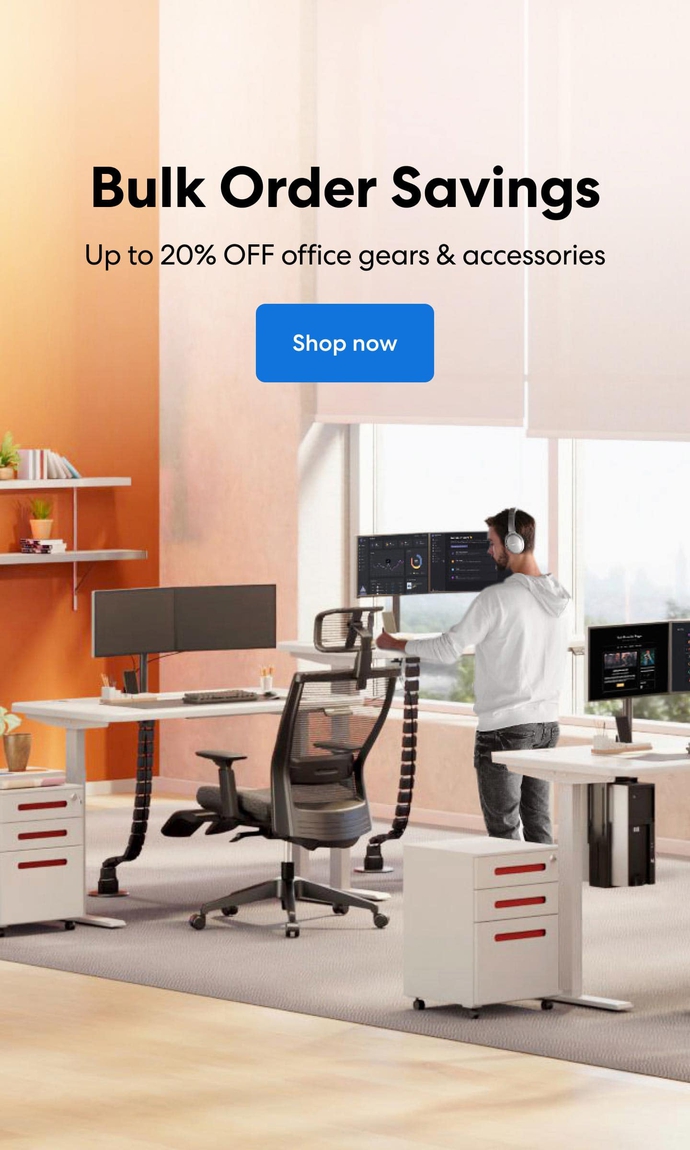 Subcribe newsletter and get $100 OFF.
Receive product updates, special offers, ergo tips, and inspiration form our team.