Productivity
Simple Steps to Set up an Efficient Employee Benefits Program

Autonomous
|
Oct 20, 2021
1,336 Views
An employee benefits program is your strategic tool to attract and retain your talent as an employer.  What are the benefits?  Firstly, as you seek to attract new talent, the employee benefits program must be appealing to fresh graduates. Why? So that your company stands out of the competition as a top company to join and people look forward to it.
Secondly, as a strategy, you are using the EBO to reduce and minimize the cost of hiring and training people. You are probably aware that it may take up to several weeks to make a new employee productive. There are many variables involved.  Hence, having an employee benefits program has to be carefully thought through. Participation in employee surveys and market benchmarking is critical to ensure you don't run up costs on employee benefits programs.   Having an employee benefits program though critical, is also an expensive affair.
Here are four customized and simple steps to consider when setting up an efficient employee benefits program
Five Steps to an Efficient Employee Benefits Program
1. Goals
While most employers use an employee benefits program to attract and retain talent, what are your company's main objectives?  Often, at this stage, if your goals aren't clear, one could easily be misled into offering employees a bouquet of benefits that may not be really necessary.  Establishing goals with concrete plans would be helpful to have. This needs finer and detailed calculations on the return on investment, whether it is monetary or subjective. Clarified goals will lead to the best employee benefits program policy for your company.
2. Freezing on a Budget
A budget is a set amount that you have decided that is required to offer an employee benefits plan. You will need to work on the finer details of a cost analysis per employee. You will need to make certain assumptions as you work on your proposal.
It is important to consider the major ticket items like the mandated benefits that any state or federal government laws demand. Once you have made a provision for the major and most necessary items, you may consider offering benefits.
Budget calculations are not guesstimates. They are finer working calculations that add up to show a number against various heads like compensation, insurance, retirement (or 401K) plans, unemployment insurance, and others. There are many interlinked variables to consider. An essential factor is to know the clear title and the type of legal entity that your organization has.
As numbers stack up, other elements like employee retention, cost of hiring as per employee levels, and more will need to be added. This is detailed work. It will require you to spend a few weeks to close. Be prepared to get into various details.
A useful tip is to present the budget as a minimum amount—next, build-in layers of additional items.  The most important factor is to showcase a cost-benefits-analysis to help your company's leadership to make a decision.
The latest report released by the US Department of Labor is a good place to start as a base. Their report gives you an estimate of the industry trend of the most employee benefits programs that employers pay and where the employees co-pay.
3. Build-in Mandated Benefits
You must have expertise on the current rules and regulations of the law of the land.  What does the state or central rules state? What are the bare minimum thresholds you must maintain so as to keep on the right side of the law? What are the costs for such benefits? What is your finance policy on managing these costs? Are they being linked to each employee hired, or do the budgets sit in a common pool managed by a support function like human resources?
The most common benefits mandated by state and federal laws are to provide for Social Security, Workers Compensation, and Insurance. Some of these even insure your company and its executives against indemnities that may arise from any accidents in the office that involve employees.  Keep these as a priority.
As you plan employee perks to attract talents, some of these mandated benefits are explained below.
Retirement Saving
Employers are required to contribute a particular amount for an employee's retirement.  Employers must make a deduction in employees' salaries and add between five to twenty-five percent of their compensation as employer share. This amount is contributed to retirement options like the 401(k). This also assists employees as this amount may not be taxable at the hands of employees.
Health Savings Accounts
Based on the state or federal laws, companies are required to contribute to employee welfare to such health savings plans. Often referred to as HSA, this budget is used to buy health insurance for employees.  This policy covers medical insurance for employees in case of hospitalization. Usually, domiciliary expenses are not covered. Many companies require employees to contribute to such health savings accounts.
Life or Disability Insurance
An important element from the company's perspective, such insurance plans are built in to cover both the employer and the employee. Such insurance covers employees from any disability, temporary or permanent, from accidents at the workplace or in the course of duty. Employers benefit as it reduces their liability in the event of unforeseen circumstances.
Paid Time Off
An important employee benefits program example is to include paid time off employees.  Such paid time off is for holidays that are mandated at a minimum number by the law of the land.  This is considered to be healthy as it gives employees an effective breaktime and rejuvenates them from work. This creates a good work-life balance too. 
Paid time off may include leave for unforeseen sickness like flu. It could also include personal chores like having to pick up children from school or more.
4. Additional Non-Mandatory Benefits
Companies offer numerous benefits, including an employee benefits cafeteria plan.  These could vary depending upon your company's goals.  The ultimate aim is to make their employees' lives easier and better.  For example, to make work from home during the pandemic easier, companies announced an employee purchase program. This helped employees set up a home office to be productive. 
Many other companies offer perks for work from home, including office accessories and office tech products. 
Remember to showcase the return on investment expected for your proposals.
5. Revamp
Most companies fail on the employee benefits program offered when they choose service providers who aren't the best to save a few dollars. Service providers need to be responsive to the end customers, your employees. Choose wisely.
Employee perks for small businesses may not be elaborate. However, if you stay on the top of your game by continually reviewing the employee benefits program, you cannot be far behind. You would have noticed that the industry is moving at an extremely fast pace, and this VUCA world could turn things upside down if you don't stay abreast of things.
Wrap-up
Setting up an employee benefits program is an important employee value proposition for your company.  Numerous interlinked variables play an important role in deciding the final offerings. Ensure that you do a fine job by getting into the details. You must stay ahead in the marketplace by participating in employee compensation and benefits benchmarking surveys. With these five simple steps, you have ensured the right employee benefits package for your company.
Video ads for product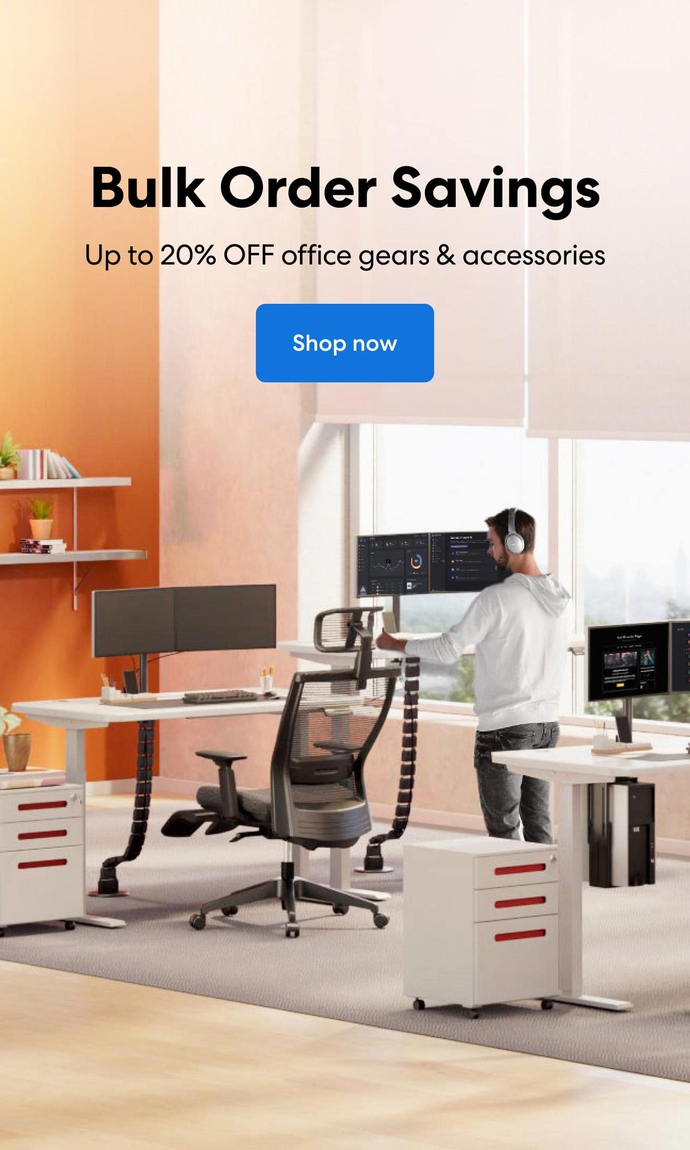 Subcribe newsletter and get $100 OFF.
Receive product updates, special offers, ergo tips, and inspiration form our team.