Smart Products
Shop These Colorful Office Furniture for to Brighten Your Workstation

Autonomous
|
Nov 23, 2021
1,737 Views
The way your office looks and feels can have a significant effect on employee performance and motivation. Most companies, on the other hand, do not have a huge budget for interiors. They suggest a few basic things you may do with minimal expenditure to improve the appearance of your room. However, you can still invest in affordable colorful office furniture to enhance your office design.
15 Colorful Office Furniture Ideas for Your Workstation
A well-designed office creates a less tense and also more productive work environment. Firms must take into account their employees' workplaces. Individuals must be at ease and tranquil in their practical work environments to accomplish their excellent efforts. Here is a list of colorful furniture for sale at your nearest furniture stores for you to revamp your office spaces.
1. Invest in a Standing Desk
Sitting for eight to twelve hours a day is unnatural for most individuals. Therefore, firms must invest in an ergonomically designed standing desk that helps employees change their posture when they work. You can get your customized office desk color from Autonomous since they create the most colorful office supplies. 
2. Make Use of Home Lighting
At your office, you may begin experimenting with home lighting. Commercial illumination tends to be or feel chilly or monotonous. Chandeliers can be used instead of regular wall lights.
3. Use Color To Bring Disparate Items Together
It might not be easy to make everything match, especially when using thrift goods. The majority of people are anxious that their firm's fast growth will require them to use fragmented furnishing to accommodate employees. However, we could always indulge in a nice color scheme for the office interior to make the space more attractive.
4. Taking Inspiration from Classic Films
The marquee wall is one of our favorite aspects of the workplace. The marquee comprises columns with changeable letters and hangs above a common area where employees frequently have team lunches or meetings. It's become just another excellent technique for them to inspire each other.
5. Ditch the Traditional Wallpaper
Publish and arrange your corporation's key principles as wallpapers instead of traditional wall art. Encourage your staff to create and post notecards that match each of your organization's values using Post-Its. That can also be considered one of your home office painting ideas that enhances the look of your workspace.
6. Invest in a Work Pod
A work pod is a quick, dynamic, and cost-effective solution to increase workspace productivity. It may be set up and used in as little as a day. You can transform your garden into a cross-work or recreational environment. Your office furniture color in a pod should be of your own choice. 
7. Purchase Colorful Compact Desks
With the compact desk as a colorful office furniture, you can turn any little space into an ergonomic work environment and match different colors for your corner. Allow Autonomous' powerful office standing desk to perform all the real work for you, whether it's minimalist or fully equipped.
8. Get Your Office Colorful ErgoChairs By Autonomous
An adjustable chair that is more comfortable than your sofa. It may be a good colorful office furniture idea to add aesthetic to your office. And it's a healthier alternative than sitting on your computer desk chair for hours. You can get these colorful desk chairs online or from your nearest furniture store. These colorful desk chairs are available almost everywhere in stores and online. 
9. Think About Comfort
The workplace should be a relaxing environment. Appropriate ergonomics can reduce muscular fatigue, boost productivity, and alleviate the symptoms of musculoskeletal pain (MSDs), which seem to be the leading reason for the low work time. So get yourself ergonomic office furniture.
10. Get Colorful Bookcases
For any office, it is important to have enough storage space to store valuable items. Therefore, we recommend you get your hands on some modern bookshelves and cabinets in colors of your choice to enhance your office spaces. 
11. Buy a Drafting Table For Your Workspace
Drafting tables are usually designed for people who like to draft their blueprints. These colorful office furniture offer an adjustable setting where you may easily arrange the height and tilt of the table and draft your documents tirelessly. There are many colorful computer desk options available online which can be used as drafting tables as well.
12. Arrange Filing Cabinets For Office
A colorful filing cabinet is interesting for your office. It is a type of furniture piece used in offices to store paper documentation in paper files. In its most basic form, it is a cover for compartments where objects are placed.
13. Invest in Ergonomic Office Desks
Office workstations are just something that is utilized continuously throughout the day. Staff' papers, computers, and other belongings are stored on desks even when they are not in the office during the festivities.
14. Colorful Furniture Can Improve Your Image of A Company
They can provide your organization a pleasant and favorable image, expanding on the social element of the benefits of furniture in an office. Your firm will project a smart and adaptable image with a mix of superbly designed traditional furniture and ergonomically designed modern furniture. There are a variety of colors available. Some of the best office colors for productivity are elements of blue, green, and yellow.
15. Play With Different Colors
If you're looking for well-balanced colorful office furniture, aquamarine and cream are good choices. The color combination of viridian pink and green gives a sense of calm and vigor. Furthermore, because green is a refreshing hue and red is a powerful color, it will greatly affect your attitude.
The furnishing you choose for your workplace or office can reveal a lot regarding your industry's legacy. Employees would feel appreciated and well cared for if the storage furniture is beautiful and the usable furniture is comfy and functional. Employees can do their work more effectively and uninhibitedly if seated on chairs that provide pleasant back support and allow for freedom of movement. 
Visitors to your workplace or workspace will have a lot to look at, and having nice furniture pieces might pique their interest in learning much more about business. Combining antique with office interior decoration offers the appearance of adaptability and durability.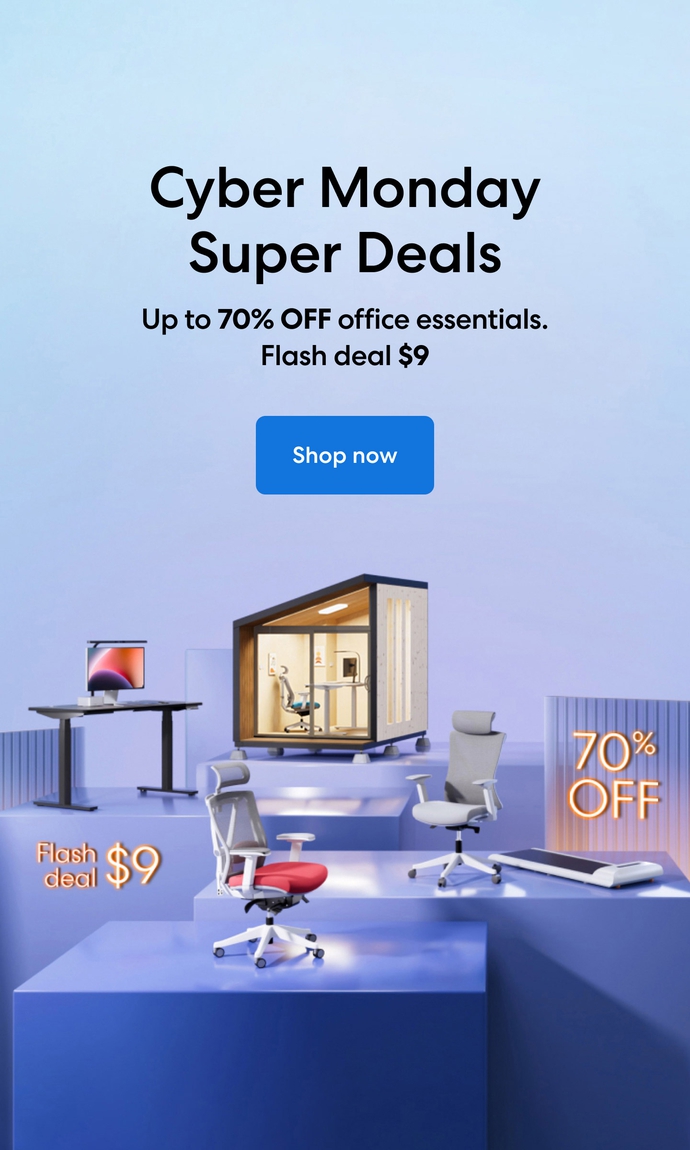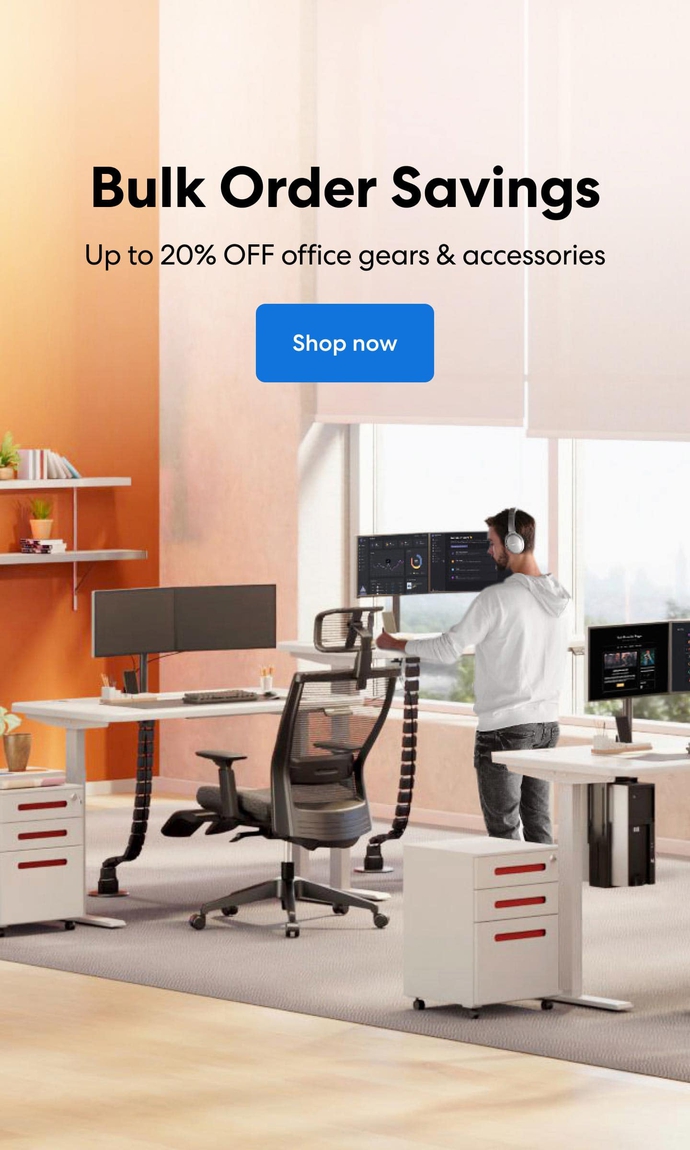 Subcribe newsletter and get $100 OFF.
Receive product updates, special offers, ergo tips, and inspiration form our team.