Suppose you suddenly get up from your desk and start walking in the office out of nowhere. In that case, your boss and colleagues will be intrigued about what is happening. This might also worry your boss that you are just leaving work mid-day, and he could be straight up coming to you to ask what is going on. As fun as this sounds, just walking away from your desk isn't practical at all. And it is different from the start walking challenge in the office. The walking plan in a busy office means staying active in a workplace rather than just sitting in the same chair in uncomfortable positions throughout the day.
There are many benefits of being active in a workplace for the individual and organization. Employees who are involved are more productive and healthy, both mentally and physically. Improved activity in a workplace also nurtures a positive work culture, which helps better deal with daily challenges in the workplace. But how exactly can one be active in a busy workplace when the workload doesn't allow you to leave your workstation after every half an hour? Thankfully there are several answers to how to start walking in a busy workplace while doing all the work and checking all the daily task challenges.
Don't Sit Throughout the Lunch Breaks
We know lunch breaks are for chilling, but can you relax in the same spot in front of the screen, which only reminds you of work? And once you leave that chair during that 60 minute lunch break, you will feel chipper and more alert than ever. Take a mini walk or even a jog to the nearest coffee shop instead of having coffee from the kitchen. Stretch a bit, or look out the window. This will also increase your step count for the day.
Stop Saving Trips
Feeling nature's call? Or the urge to drink water is rising too. You may have to take that file upstairs. We all have tasks and needs that ask us to leave that desk several times a day. And while we understand your busy routine, there is no reason to pile up all the work for a single trip. Instead, get up every time to increase the step count throughout the day.
Treadmill to Start Walking
Bringing that giant machine to the office sounds weird. But don't worry; we aren't talking about that basic treadmill. A treadmill for desk or a walking desk or some brilliant variations of treadmills to increase the step count smartly. They are quiet, easy to use, and don't distract you from work. This is one of the best hacks to start walking plan during the day. So whether your goal is to walk on the treadmill to lose weight or remain active, office fitness equipment offers many opportunities. And if you are extremely short on space or have a WFH office step, then a foldable treadmill is an ideal pick. However, please don't go for a curved treadmill for office space because it will involve a lot of work and tire you out during the workday.
Replan Your Commute
Do you get an uber to work or any public transportation? If yes, then it is an excellent idea for you. Instead of stepping out right in front of the office, try getting an early stop. Walk the rest of the distance to the office. This will give you a refreshing morning walk and enough time to prepare to socialize for the rest of the day.
Stroll After Lunch
You just had that yummy sandwich and emptied your lunch box till it shined. Now before you sit on that chair again, work some muscles so the metabolism starts its job. This way, you will feel a lot lighter, and the quick stroll will pump up some energy in your entire body as the blood circulation increases.
No to Elevator
This is a good way to start walking challenge. Of many things you will be saying no to when transforming your office routine, an elevator is the most important one. Make the switch to using the stairs a habit. Start your workday by ascending the stairs to your office, and end it by descending them to the exit. Consider using the elevator as a last resort, or start watching scary elevator movies to let you despise the idea of an elevator altogether.
Form a Group
Involving others in your new hobby is one of the finest ways to modify your behavior. By including others in your effort to become and maintain good health, you can use peer pressure for good. Starting a step challenge will get everyone in the office moving, or perhaps only your best friend will feel like going for a walk after work.
The Right Way to Take Calls
When at work, there are lots of calls coming your way. Some related to work meetings, some discussions with bosses, and some teammate chats on how to do the work. So while you are taking all these calls, why not healthily do them? As you talk, try to walk. Pace back and forth within the office or head out for a minute or two as you speak and manage calls. You would also like to talk in a private space without worrying about disturbing your working colleagues.
Talk In-person
Suppose you were someone who dreaded isolation during the pandemic period and now is excited about heading back to the office. In that case, this is the most innovative way to savor it. Instead of being dependent on technology, talk to your co-workers in person, rather than sending an email or a text on the phone, head to their workstation, or better if they work on a different floor.
Use a Fitness Tracker
Seeing your rewards and efforts pay off at the end of the day is one way to feel motivated. Hence a fitness tracker is the easiest way to do so. A fitness tracker will help you plan your day by counting the number of steps and your remaining steps to reach your final goal when you start the walking challenge. You can also enjoy other features such as monitored heart health, calorie burn, and blood pressure. Seeing those levels hit normal will motivate you to be more active.
Leg Stretches
Your legs don't only work when you start walking, but a little stretch periodically will do a lot better. Especially if your job involves being in a chair for most of the day, then try standing up every half an hour or so for a quick stretch. This will activate your muscles and prevent stress build-up.
Video ads for product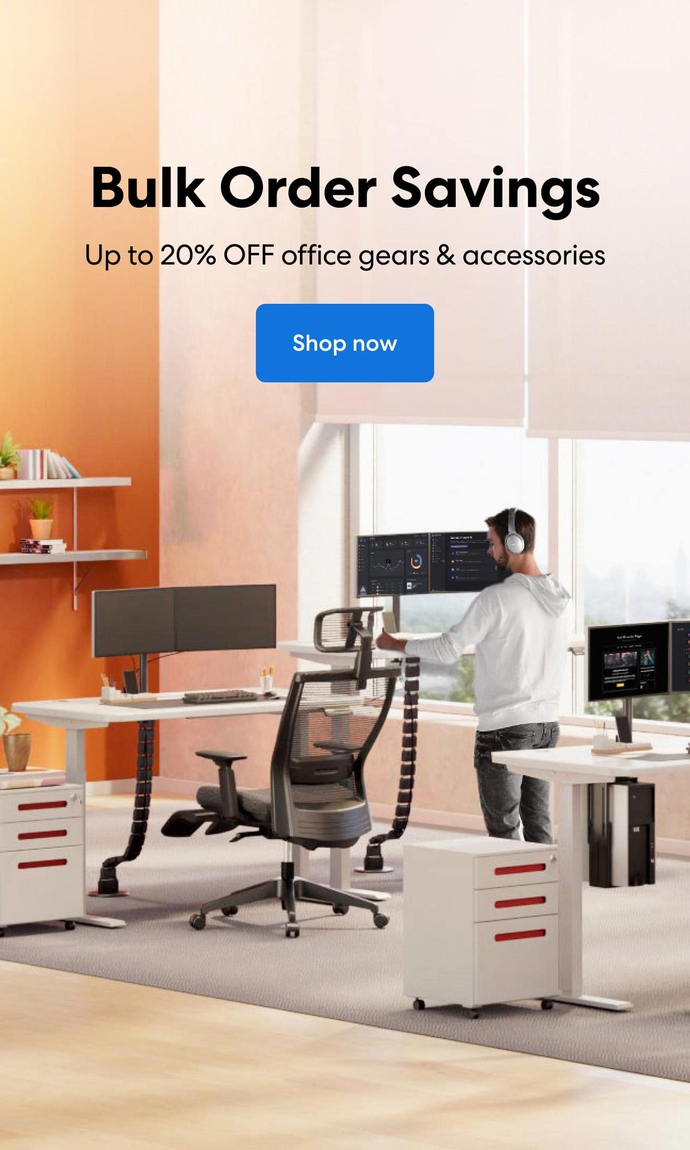 Subcribe newsletter and get $100 OFF.
Receive product updates, special offers, ergo tips, and inspiration form our team.