Workplace Inspiration
Stylish and Functional Acrylic Furniture: Things to Know

Autonomous
|
Jun 21, 2023
321 Views
The search for the right furniture for home décor is no longer just based on looks and appearance, but in the modern era, more homeowners are seeking furniture that is sustainable and timeless when it comes to design. Sustainable furniture saves us money and is better for the environment in the long run, and it is a one-time investment with the benefits and versatility of a lifetime.
Among the many categories of sustainable furniture, acrylic furniture is a smart idea for modern office furniture or even small apartment furniture. Acrylic office furniture is timeless, long-lasting, and visually appealing to people of all tastes and likes. If you are also wondering about buying acrylic furniture for your home, this article will explain all you need to know about acrylic furniture for homes and offices.
What is Acrylic Furniture?
Acrylic is a thermoplastic material that looks like glass while offering the benefit of shatter resistance. The acrylic material is highly durable and versatile and is sold under many names, such as Lucite, Plexiglas, and Perspex. The material is transformed into different types of furniture first by heating it to 350 degrees and then molding it into different shapes such as large sculptures, tiny showpieces, or furniture items. As acrylic cools down, it can retain its shape and be drilled, machined, or sharpened to achieve its final form.
Hence acrylic is one of the most customizable materials which can be molded into any shape without breaking or shattering easily. And when it comes to the durability of acrylic furniture, the material is designed to survive years of regular use. So while you are comparing steel frame vs. wood frame, remember the capabilities of acrylic to withstand constant wear and tear.
Additionally, acrylic is UV-resistant, so it won't quickly lose color or change hue. It won't start to turn that yellow color that can damage certain transparent plastics, even if used in a bright, sunny setting. Hence making it the perfect pick for sunroom furniture ideas.
Can You Paint Furniture with Acrylic Paint?
Rather than purchasing new furniture whenever there is wear and tear, it is preferable to freshen up the paint. Modern paint and pigments can coat the furniture to make it look brand new. Acrylic paint for furniture is a water-based paint that resembles latex paint. This rich pigment gives a smooth, matte finish to a piece of furniture, making it look as good as new.
Another benefit of acrylic paint is that it is versatile and suits multiple types of surfaces. The paint offers a smooth, leveled finish making the furniture look original in that color. Although the primer is needed, the paint adheres to the surface flawlessly. Also, acrylic paint dries quickly, so the paint job with several coats can be finished much quicker than other pigments.
Acrylic color being a water-based paint, cleanup is simple and only requires soap and water. Compared to certain other forms of water-based paint, acrylic paint has greater flexibility to withstand chipping or breaking. However, light to moderate-use pieces are still the best candidates for it.
How to Clean Acrylic Furniture?
Acrylic furniture has a glass-type transparent appearance, so dirt, marks, and scratches show much more clearly than wood or steel desks. Acrylic furniture is a constant job to maintain, but fortunately, it is an easy one. Acrylic is not prone to rust, unlike metal or steel file cabinets, so only surface cleaning is required.
But if not cleaned every week, the dirt and dust marks on acrylic furniture can cause permanent scratches, ruining the surface's look and damaging it permanently. To clean acrylic furniture, wipe the surface with a clean microfiber cloth. The microfiber cloth has soft threads, preventing the surface from scratching.
Secondly, mixing dishwashing liquid and warm water for deep cleaning will clean acrylic furniture and accessories. Mix a few drops of dishwashing liquid warm water in a bucket.
By using a clean microfiber towel dipped and wringed in the soapy mixture gently wipe each portion of the acrylic furniture. Unless you use too much soap and the finish seems dull, there is no need to rinse with clean water. Let the furniture air dry. Brillianize is a reliable option if you'd like to utilize a commercial acrylic cleaning. Simply use the product as directed on the label.
How to Remove Acrylic Paint from Furniture?
When painting furniture with acrylic paint, it is common to have drops and marks of paint splattered onto other surfaces too. Or maybe you are planning a redo and need to remove the old acrylic paint coating. Since acrylic paint is long-lasting and durable, removing it requires work. Although acrylic paint tops other types of paint because the pigment rests on the surface rather than penetrating deeply, paint removal is still a task.
A mild soap and water mixture is sufficient for mild paint spots. Use a clean cloth to rub off the paint and gently remove it. In proper acrylic paint coating on a surface, rubbing alcohol helps remove acrylic paint from the surface. First, use a putty knife to scrape off the paint from the surface of the wood. Secondly, dip the cloth in the alcohol mixture and scrub on the surface of your furniture to remove the remaining paint. Be gentle with the rubbing action, as the vigorous friction can cause the natural wood to lose its grain texture.
Why is Acrylic Furniture So Expensive?
Acrylic is a type of plastic used popularly in furniture manufacturing. Due to its resilient and versatile properties, acrylic is classified as one of the most expensive furniture for homes and offices. Another reason why acrylic is expensive is because of the manufacturing process, which involves high temperatures of heating, then molding, cooling down, and finishing the furniture to reach the final product.
It is a labor-intensive process, and the properties of acrylic, such as durability, lightweight, flexibility, long-lasting, and customization, are all factors that add up to the price of the furniture.
Does Acrylic Furniture Scratch Easily?
Yes, one drawback of acrylic furniture is that it is highly prone to permanent scratches, which can ruin the look of the surface. This is why it is recommended to keep acrylic furniture away from sharp and abrasive items which can leave permanent marks on the furniture.
Video ads for product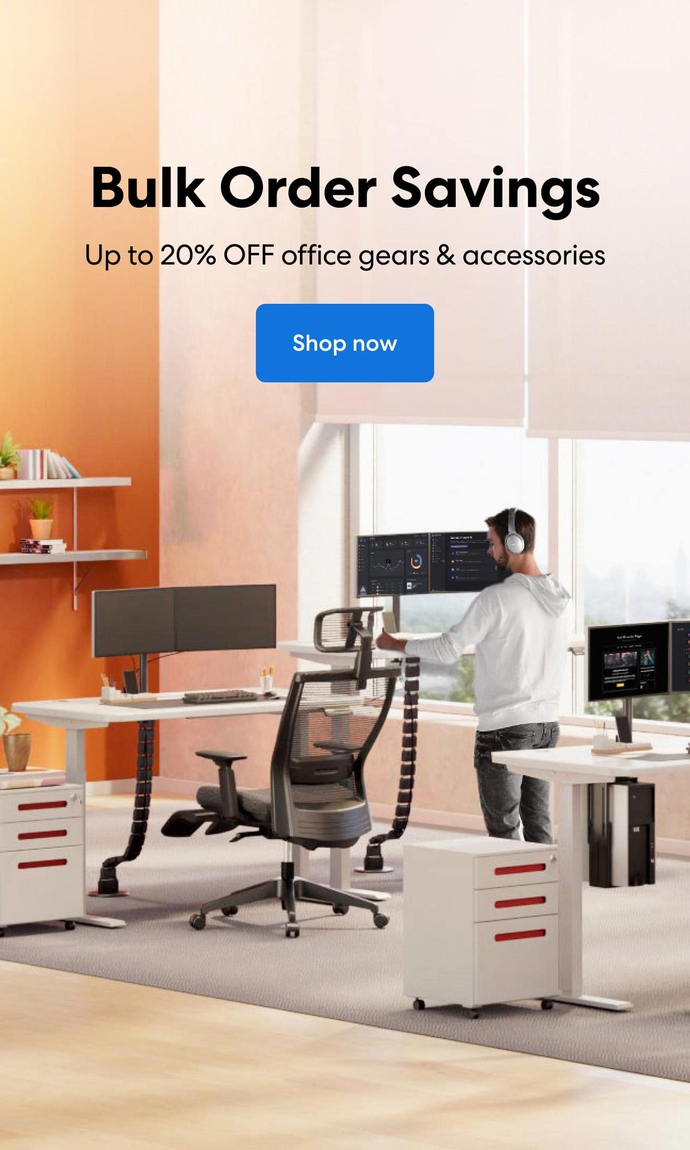 Subcribe newsletter and get $100 OFF.
Receive product updates, special offers, ergo tips, and inspiration form our team.