Smart Products
Steel and Wood Frame Furniture: Which to Choose to Furnish Office?

Autonomous
|
Jul 26, 2022
2,195 Views
When furnishing your office, you have two types of furniture: steel frames or wooden frames. The most popular seating materials are wood and steel, although plastic and composite materials are also popular. Customers are confused about which item to buy because they are unsure if it will last longer, be more affordable, or be easier to maintain. In order to choose the right option for your office, you should weigh the pros and cons of wooden and steel frame furniture before making a final decision. 
What is Steel Frame Furniture?
Various metals are used for metal furniture, including iron, aluminum, carbon steel, and stainless steel. As a result, they are particularly popular in offices and outdoor settings since they are considered more durable and cost-effective. There are, however, a few differences in the popular wood desk top options.
Cast iron, for instance, is more suitable for outdoor furnishings because of its strength, toughness, and heavy composition. Since stainless steel has tensile strength and lightness and can be molded into various desk frame shapes, it is used extensively in modern interior furnishing. Aluminum is lighter and corrosion-resistant, making it an ideal material for creating molded chairs or your steel office desk.
What is Wood-Framed Furniture?
Typically, wood-framed furniture consists of a wooden frame that acts as structural support and gives shape to the furniture piece before it is upholstered. Including the chair's covers, padding, and cushioning, the frame sets the quality and durability of the chair.
Engineered woods, solid woods, and even polymers and metals can be used in wood furniture frames. Solid wood is often used for the inner frame of the chair that holds the upholstery, while mixed woods are used for the visible parts.
Natural wood is softer because it is made of fewer layers and, as a result, harder than engineered wood. Engineered wood is often used in areas that require maximum strength, like stress points. Furniture in the modern era is primarily made from engineered wood and solid wood. 
Pros & Cons of Steel Furniture
Pros of Steel Furniture
Heat resistance

Temperature resistant and does not warp or distort.

High mechanical strength

High durability levels

Practically wear-proof from dust and dirt

Better dimensional stability
Cons of Steel Furniture
Difficult to process, manufacture and shape

It can't be used for making opaque, colored products

Very heavy to move about

Prone to rust and dents

Poor insulation performance

High manufacturing costs 
Pros & Cons of Wooden Furniture
Pros of Wooden Furniture
Wooden furniture has a higher resilience factor and withstands force

It has a natural look

Handcrafting and carving adds elegance to the furniture
Cons of Wooden Furniture
Need a lot of maintenance

It is susceptible to distortion from weather elements

Costly to purchase handcrafted wooden furniture

Heaviness is based on the type of wood used 
Tips to Maintain These Kinds of Furniture
Care tips for wooden furniture
Dusting regularly using a cloth or duster
Dust and loose dirt must be removed from all surfaces, so they do not form layers that scratch the surfaces. Try washing the dirt away with warm, soapy water when it is hard to remove. Make sure to wipe the dirt away after washing with soap thoroughly. Cotton cloths, feather dusters, and microfiber towels work well to dust wooden furniture.
Control exposure to humidity
Moisture in the air causes wooden furniture to become distorted. You can control the humidity by using a humidifier, opening windows for better ventilation, or using camphor balls to absorb moisture.
Prevent sunlight exposure
In addition to discoloring wooden surfaces, excessive sunlight can cause them to look patchy. Permanent furniture damage makes restoring it to its original condition difficult. You can prevent excess sunlight from damaging the furniture by drawing the curtains. It is best to store furniture that won't be used for a long period of time in a cool, dry location.
Stains
Use coasters to prevent stains from appearing if you like to use take-ups or other things that are warm on the wooden surface. You shouldn't let a stain sit too long; if there is one, in order to remove water damage from dark spots, blot the stain with a cloth soaked in vinegar. Baking soda and toothpaste are useful for removing hard stains like white rings. You may have noticed these marks when trying to protect the wood floor from the office chair. 
Care tips for steel furniture
It is possible to spray vinegar water on wood frame vs. steel frame furniture and then wipe it down with a cloth. You can easily remove marks from steel by wiping it off with a cloth, unlike wrought iron. If you decide to use a commercial detergent cleaner, you should first test it in a discreet area to check for adverse reactions. Put gloves on and apply phosphoric acid to remove any built-up rust, then scrub the crust with sandpaper after a day.  
Autonomous Employee Purchase Program

Join our employee purchasing program; you and your company can save when you buy steel and wood furniture. We offer ergonomic chairs and electric standing desks, as are active working devices, which help employees meet their productivity goals while also bringing them health benefits throughout the day.
Now, you and your office can take advantage of the Autonomous employee purchase program and get great deals on these tools. We offer Employee Discount programs so you can save on office furniture upgrades for your whole team! Getting Autonomous employee benefits is as simple as signing in with your corporate email.
We created the program to make office workers and their teams more accessible and more likely to receive discounts. Purchasing office furniture on behalf of your company is a great way to save money on office upgrades while simultaneously obtaining special benefits exclusive to company employees. In many stores, employee purchase programs incentivize offices and clients to make large, much-needed upgrades that they otherwise wouldn't make due to budget constraints or concerns over excessive costs.
Employees can receive great discounts and a great deal on some of the best smart ergonomic office tools on the market when they enroll in the Autonomous deal. Employees of Autonomous can save up to 30% on bulk items by logging in with their corporate email addresses to take advantage of the employee discount program.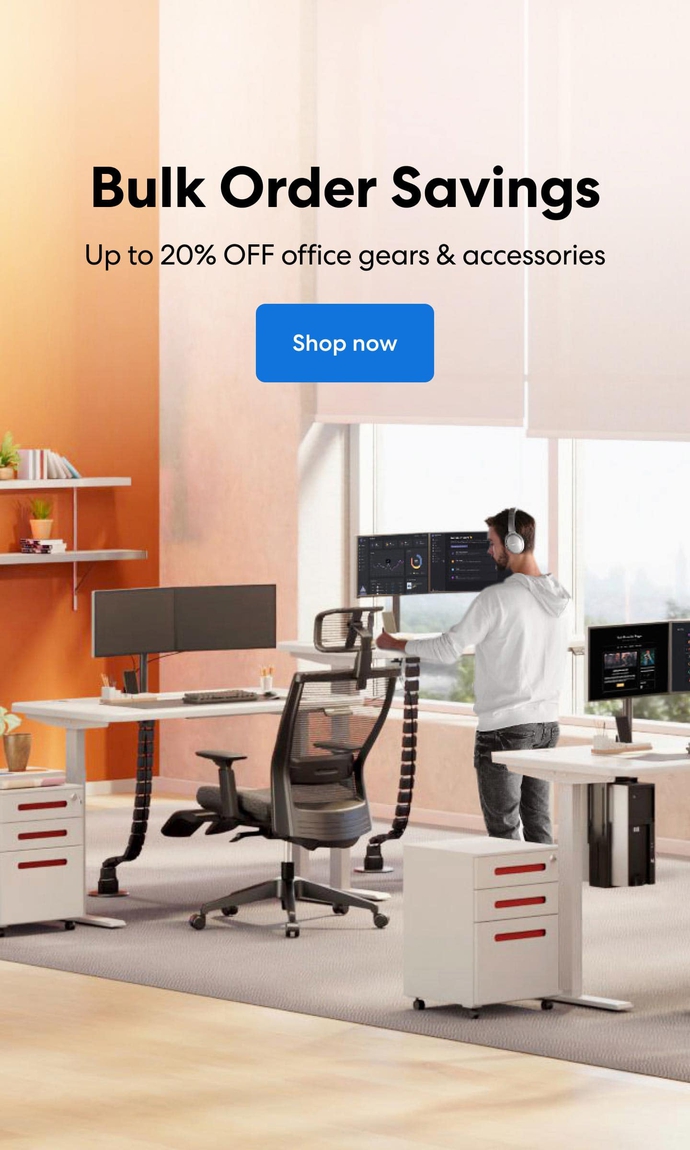 Subcribe newsletter and get $100 OFF.
Receive product updates, special offers, ergo tips, and inspiration form our team.