Your office does not need to be large to be a perfect place to work. You can maximize the space available in your room by arranging the items carefully. Creating a 2-person small office layout plan will allow you to test out various furniture arrangements before moving or purchasing anything. Plus, you can create a two-person office setup you'll enjoy spending time in if you visualize your design in advance.
Preparing a home office layout for 2 person plan in advance is the best strategy for creating a small office. You can quickly draw out the area you intend to use for your office using software or your notebook. Add walls and windows to your modern office for two plans by measuring the space's dimensions, including doors and windows. Then, drag-and-drop them on top of the plan to modify their size. After that, drag and drop your furniture until you've found your ideal small 2 desk office layout.
Modern Office for Two That You Can Set up with Two Desks or One Double Desk
You and your partner or roommate will both be working from home for quite some time. There is no need to worry! Even though it might be a bit uncomfortable to work under the same roof with your partner - especially when it's the same roof that you live under - you can make some pretty great home office layouts. What is the best place to start when coming up with shared home office design ideas concerning t-shaped desks for two?
When planning a 2-person small office layout, it's important to remember that the office should be primarily functional. Therefore, it is important to ensure that the shared space meets the needs of each of you.
Although your new "coworker" is likely to have a different design style than you, it's worth considering style. The workspace doesn't have to be a single style or have matching desks, but having a cohesive, grounding style helps make the space less like a flea market.
Invest in desks with the same finish so that your workspace will appear cohesive. Choose desks that fit each of your styles and needs. You can do the same with chairs. Then choose chairs whose elements echo each other in shape, material, or style. Be sure to incorporate that into the design of the space if you're coworkers that want a place to collaborate, whether you own the same business or just work there.
Using the Autonomous SmartDesk Core
Among the excellent desks of Autonomous' SmartDesk product line is the SmartDesk Core. The company has also launched an Employer Partnership Program that allows you to receive a discounted rate if your employer has partnered with them. Gaming desk reviews typically feature the Autonomous SmartDesk Core due to its versatility and multifunctionality.
Maximum Flexibility
With the SmartDesk Core, a height-adjustable standing desk effortlessly meets your gaming needs and is suitable for 2-person small office layout. A control panel in the desk allows you to set your desired height and lower or raise the desk as needed. Gaming at this desk can be more enjoyable due to the limitless flexibility. In the review of the Autonomous standing desk, its dimensions are highlighted.
Regardless of the size, you select, the length and width of the tabletop allow for ultimate comfort and efficiency when playing games. It can easily accommodate and organize all of your gaming equipment. When everything you need is easily accessible, and your console is at the same level, you perform better.
The desk is constructed using the highest quality materials by Superior Quality Autonomous. Moisture and scratch marks are less likely to damage this product, allowing it to remain visually appealing in your office layout for longer.
Added workspace
If you choose the XL or classic size, you can be sure the tabletop will provide you with the ultimate comfort and efficiency in your office desk layout. Everything you need to get the job done is easily accessed. You perform better when the console is at a single level and have everything you need nearby.
Better quality
According to Autonomous, the materials used in the desk's construction are of the highest quality. Moisture and scratch marks are resistant to this product so that it will retain its appearance for a longer time. In addition to bamboo and wood desks, you will find a variety of colors, including white oak, black, and walnut. Thanks to their innovative design and unwavering stability, these beautiful desks provide the best possible experience in your home office feng shui layout.
Cool designs
Your desk could be rectangular, curved, or shaped like an L depending on your preferences. As you'll learn from a reliable gaming desk review, all three of these shapes are compatible with typical gaming desk accessories. Decide where you would like the standing desk to be placed, then design the shape that will fit seamlessly into the space.
Using the Autonomous SmartDesk Core Duo
Offices with multiple users and limited space can benefit from this unique double desk model. You can adjust both halves independently, so one user can stand and another sit, or you can stand at different heights.
Single users can use the double office desk if they have enough space, as they can use the second half for mounting monitors or as storage. Space-saving and sturdy features make it an attractive option for offices that can't easily accommodate individual standing desks, which are large on their own.
On the desk's center beam are ready-to-use USB ports, AC outlets, and ethernet and phone ports so you can quickly and easily access the necessary technical functionality. Users can create a tidy workspace with cable storage underneath the desk while still having access to the many cables it takes to keep an office running smoothly.
Pros of SmartDesk Core Duo
Multi-person offices can benefit from this space-saving option.
You can adjust each desk section to suit the preferences of different users.
This desk is very sturdy and has an unusually high weight capacity due to the desk type.
Cons of SmartDesk Core Duo
There are too many private offices for this building.
Some users find it hard to use.
Key Features
A central beam can power outlets and more

A programmable keypad with a memory function that is user-specific

Noise level of 50 dB for motors
Specifications
Each desk has a weight capacity of 290 pounds

The adjustable height ranges from 29.4 inches to 48 inches.

Each desk measures 53"L x 29"W x 61"W overall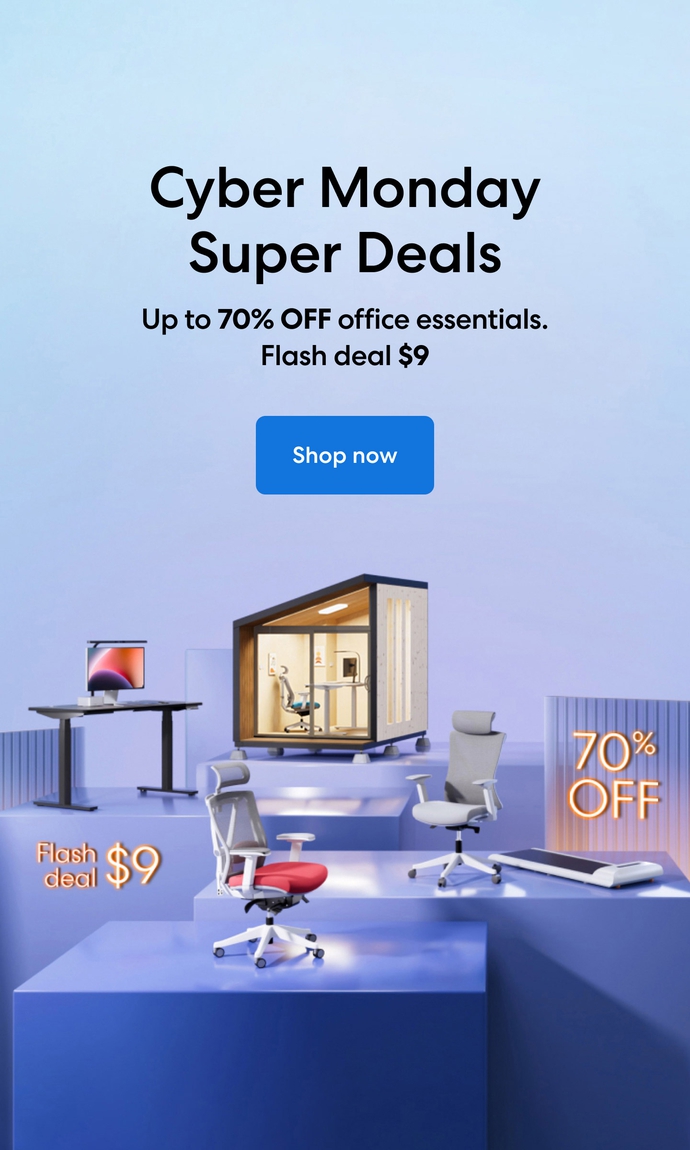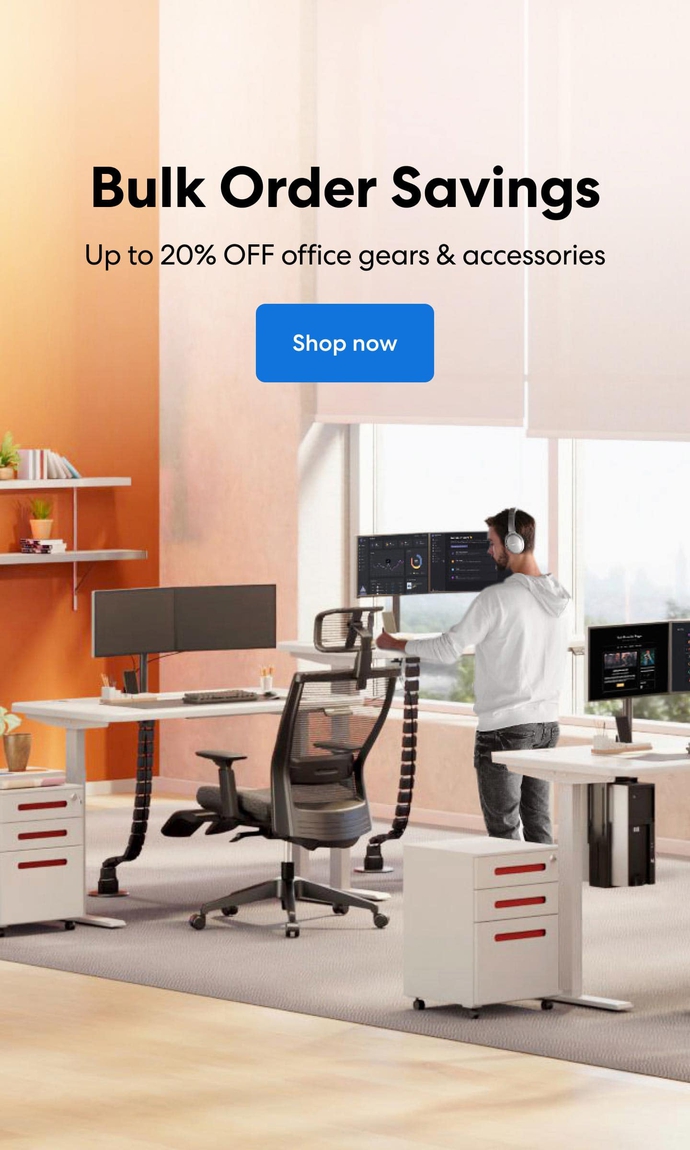 Subcribe newsletter and get $100 OFF.
Receive product updates, special offers, ergo tips, and inspiration form our team.