Workplace Inspiration
10 Tips on How to Buy Furniture Online for Your Workspace in 2023

Autonomous
|
Aug 8, 2023
931 Views
Have you been scratching your head, wondering how to buy furniture for your employees? The easiest way, when it comes to shopping for furniture is to do it online, from the comfort of your home. 
Shopping at a reliable furniture outlet, such as Autonomous, will save you a lot of time and energy. However, when buying office furniture, there are a few tips that you need to remember to make your shopping experience a good one and to ensure that you get the right kind of furniture for your needs. 
Without wasting any more time, here are some great tips to consider:
10 Tips on How to Buy Furniture Online
1. Check Store Ratings and Reviews
It is very important to make the right choice when choosing where to buy furniture. Not all furniture outlets are reliable when it comes to the quality of the items they sell. Always take the time to check the store rating and reviews from trusted sites, such as Business Consumer Alliance or Better Business Bureau.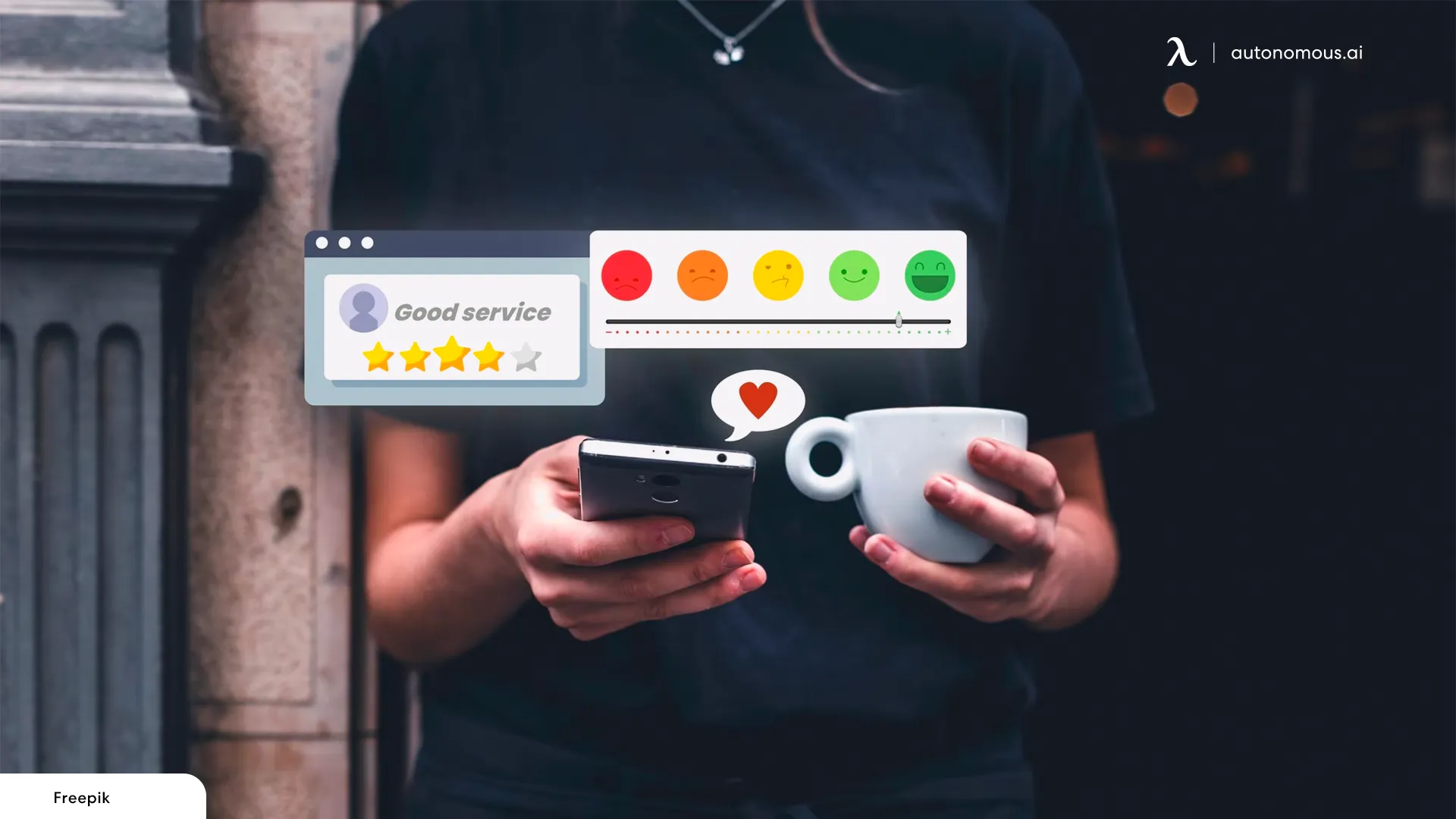 2. Research the Furniture Material
The question of how to buy furniture starts with looking at the type of material you want. Furniture can be made from all kinds of materials, such as wood, bamboo, metal, and plastic. Consider what you will use the furniture for, and then decide the best type of material for that purpose. 
3. Shop Online
Gone are the days when furnishing your entire office required many long trips to the furniture store. These days, thanks to reliable furniture suppliers, such as Autonomous, all it takes is a few clicks of your mouse to get everything you need.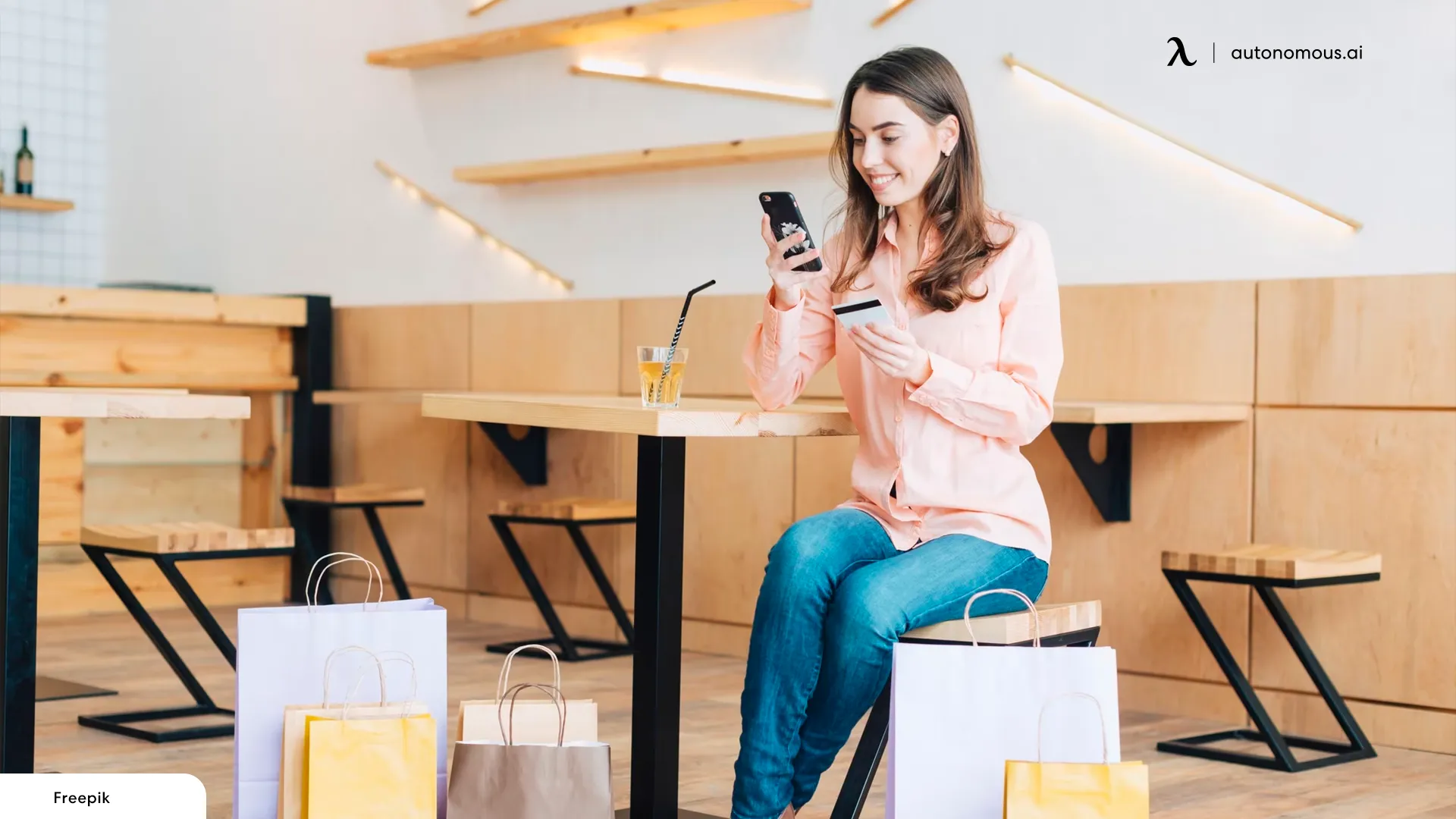 4. Take Measurements
One of the first steps before making a furniture purchase is to take correct measurements of the space where the items will go, and compare this to the size of the furniture. Using your eyes only is not good enough. Often, the designs on furniture may be quite misleading, and you will find that the items are bigger or smaller than you assumed. 
5. Envision How the Room Will Look
The best way to buy furniture for your office is to envision how the room will look once the furniture items are in place. This will guide you when picking furniture that complements each other.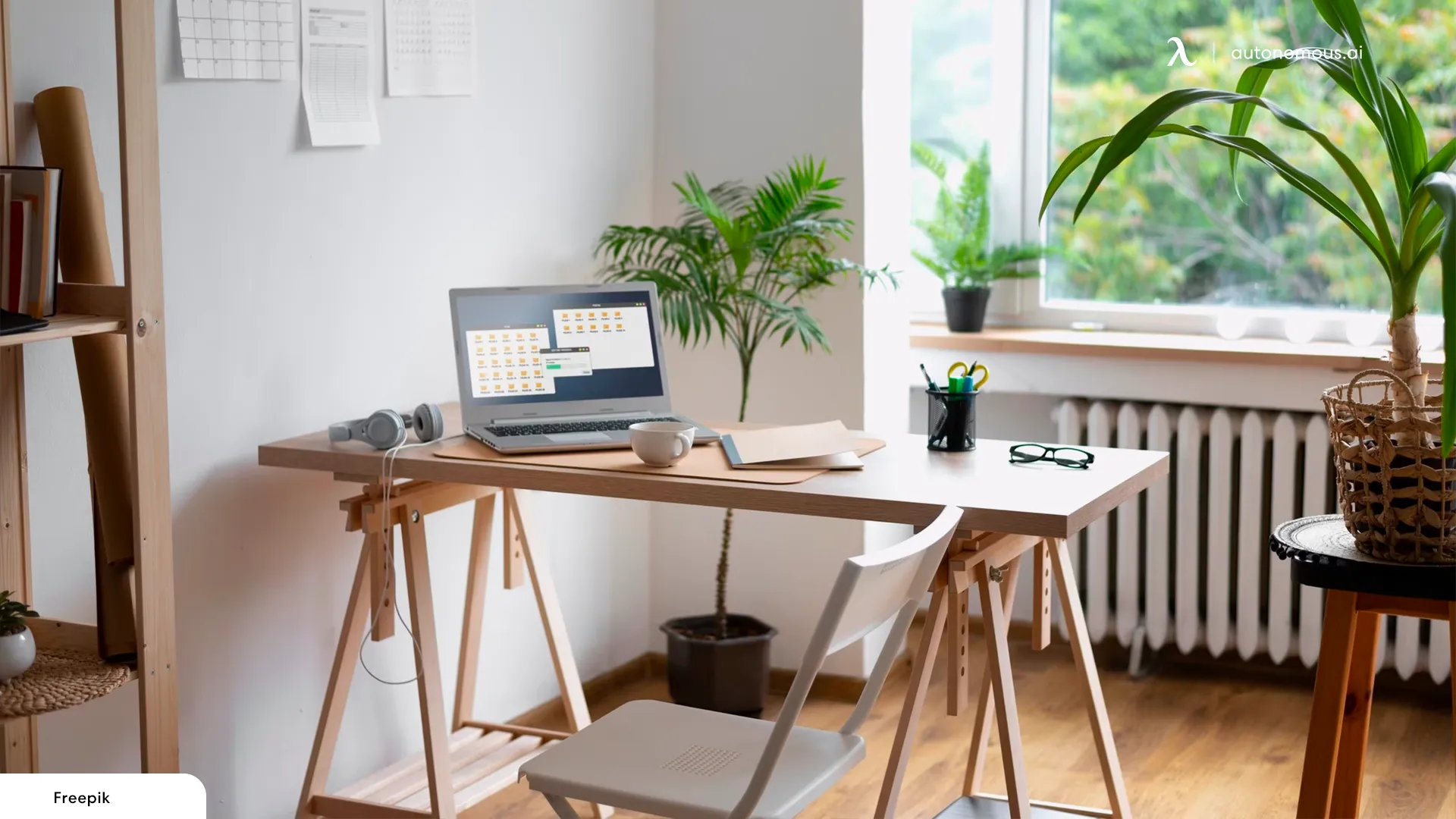 6. Mix It Up
When deciding how to buy furniture, it is always good to mix things up a bit in terms of designs and colors. Shopping for furniture is a lot more fun when you approach it as a chance to create the kind of workplace that you will enjoy spending time in. 
Go for different styles as well if you want to create a unique office setup. Some great décor styles to consider include, rustic, modern, contemporary, Scandinavian, Bohemian, Kawaii, and minimalist designs. 
7. Ask for Samples
Buying furniture online comes with the risk of ending up with items that look nothing like what you imagined they would. Receiving a furniture delivery and finding that you have wasted a lot of money on poor-quality goods can be very frustrating. 
The right way to do things is to ask for a sample before you approve any furniture purchase. Some retailers are willing to do this, especially for customers who are buying in bulk.
8. Buy at the Right Time
Imagine the frustration of buying a desk for a certain amount today and then finding that the same desk is going for 25% less just a few days later. Knowing the best time to buy furniture can save you a lot of money. Usually, holiday sales are the best times to keep an eye out for discounts on furniture items. 
9. Avoid Impulse Buying
One of the golden rules on how to buy furniture is to avoid impulse buying. Many consumers struggle with this issue, especially when they come across some high-pressure sales tactics. However, furniture purchase is a long-term investment, so there is no room for impulse buying when it comes to items that you will own for many years.
10. Do a Quality Check
Knowing how to do a quick quality check on all the furniture you buy can save you from being stuck with substandard goods. If you can identify any defects in the first few days, it will be a lot easier to return the furniture to the supplier and get either a replacement or a refund. 
Consider Buying Office Furniture in Bulk
When buying furniture online, one of the best decisions you can make is to buy wholesale office furniture in bulk. This is a suitable solution for businesses that have a lot of employees requiring office furniture at the same time. 
What the Autonomous Bulk Order Program offers is the flexibility to furnish an entire office of employees with just a few clicks of your mouse. Whether you are looking for great-quality wholesale office chairs or an affordable discount office desk, Autonomous has what you need.
Benefits of Buying in Bulk at Autonomous 
Just as important as knowing how to buy furniture is knowing where to buy furniture, especially when you are making a bulk furniture purchase. In that regard, buying in bulk at Autonomous has the following advantages: 
Great discounts make this a more affordable option
The convenience of having all the furniture delivered at the same time
Easier to maintain uniformity
Wide range of products available through the Bulk Order Program
Flexible delivery arrangements
Assembly services provided
All items you need are always in stock 
Six Best-seller Products at Autonomous
When buying furniture online, there are two furniture items that you cannot go without, and these are an ergonomic office chair and standing desk. This is the combination that will form the centerpiece of your office. 
You need to make sure you choose very carefully when shopping for a chair and office desk because these items should, ideally, last you many years. In that regard, you should consider looking at some of the best seller items available at Autonomous, such as: 
1. SmartDesk Commercial
Your search for the best home standing desk on the market ends with the SmartDesk Commercial from Autonomous. This is a perfectly engineered piece of office furniture that is designed to fit any modern office environment. 
The desk is made of good-quality material that is backed up by an impressive 10-year warranty. Utilizing the best in anti-collision technology, the SmartDesk Commercial ensures that you suffer no accidents when using the height-adjustment features. 
By far, the best quality of this modern desk is its ultra-quiet dual electric motor that allows you to easily switch from sitting to standing without missing a beat. The height range is wide enough to accommodate employees of all sizes. Also, the SmartDesk Commercial is available for bulk orders, making it great for any new business.
2. ErgoChair Pro
Considered by many to be the best ergonomic chair on the market, the ErgoChair Pro is a must-have furniture item for any modern office setting. This chair is immaculately designed, with flexible lumbar support features that will ensure that you maintain good health and posture no matter how long you spend in the office. 
The great quality, beautiful design, and wide range of color options ensure that the ErgoChair Pro is suitable for any type of office. Capable of carrying up to 300 pounds, this chair is a great buy for employees of all sizes. 
If you regularly experience hot summers in your area, you will be happy to know that the ErgoChair Pro has a woven mesh back that is designed to ensure maximum airflow. No more sweating through your shirt because of a chair that does not allow your body to breathe.
3. SmartDesk Corner
When space is an issue, buying an L-shaped standing desk, such as the SmartDesk Corner, can help you make the best of an otherwise cramped work area. Not many desks can fit as snugly in a tight corner and still provide the same amount of workspace as this unique desk. 
The SmartDesk Corner comes with all the regular features of a standing desk, including a dual electric motor and a programmable keypad. At the touch of a button, you can go through a variety of height settings from 29.4" to 48." 
This high-quality desk has a strong steel frame that allows it to be lifted or lowered while carrying up to 400 pounds. It also provides twice the space of an ordinary sit-stand desk. If you need the perfect desk that allows two colleagues to share the same workstation, this is the perfect solution for your needs.
4. ErgoChair Core
If you are looking for the ultimate combination between comfort and ergonomic design, look no further than the ErgoChair Core. This chair's design features include a contoured seat that allows you to sit comfortably all day and a lumbar support system for taking care of your lower back. 
The ErgoChair Core is designed to accommodate users of all sizes, as shown by its easily adjustable height, back recline, armrests, and seat pan features. You can even adjust the lumbar support mechanism, which is great news for office workers struggling with back pain. 
Made from high-quality, long-lasting material, the ErgoChair Pro ensures that once you buy this chair, it will be many years before you consider an upgrade or a replacement. The two-year warranty that is provided ensures that you have enough peace of mind to even buy this chair in bulk.
5. SmartDesk Pro
There aren't many products out there that embody what a true smart desk should be in the same way as the SmartDesk Pro. This awesome desk has an upgraded electric dual motor that is backed up by a state-of-the-art programmable keypad.
Besides being able to preset four of your favorite working heights, the desk allows you to go through a wide range of heights, from as low as 26.2" to an impressive height of 52." All this can be done effortlessly, with the ultra-quiet motor producing less than 50 dB of noise.
6. ErgoChair Plus
If you are looking for a dynamic chair that comes with all the ergonomic features you need for maximum comfort and improved productivity, try the ErgoChair Plus from Autonomous. This is the kind of chair that is designed to allow maximum movement, thanks to its frameless construction. 
The ErgoChair Plus is made using environmentally friendly TPE, making it a great option if you want to do your bit to save the planet. Its adaptive spinal support ensures that it is one of the best options for combating back problems.
Buy Furniture the Easy Way at Autonomous!
Are you wondering how to buy furniture for your workers the easy way? Shopping for furniture online is one of the best ways to do it. Even without leaving the comfort of your home, you can browse through countless awesome office furniture items. With so many discounts and great sales available at Autonomous, the best time to buy furniture is right now.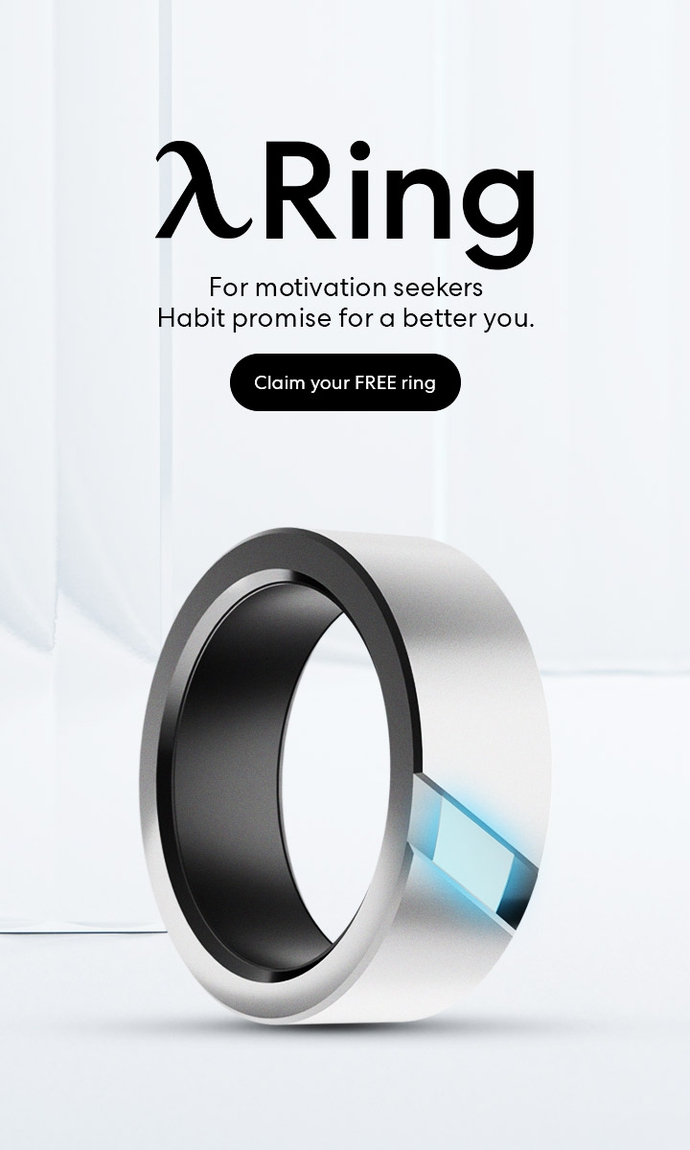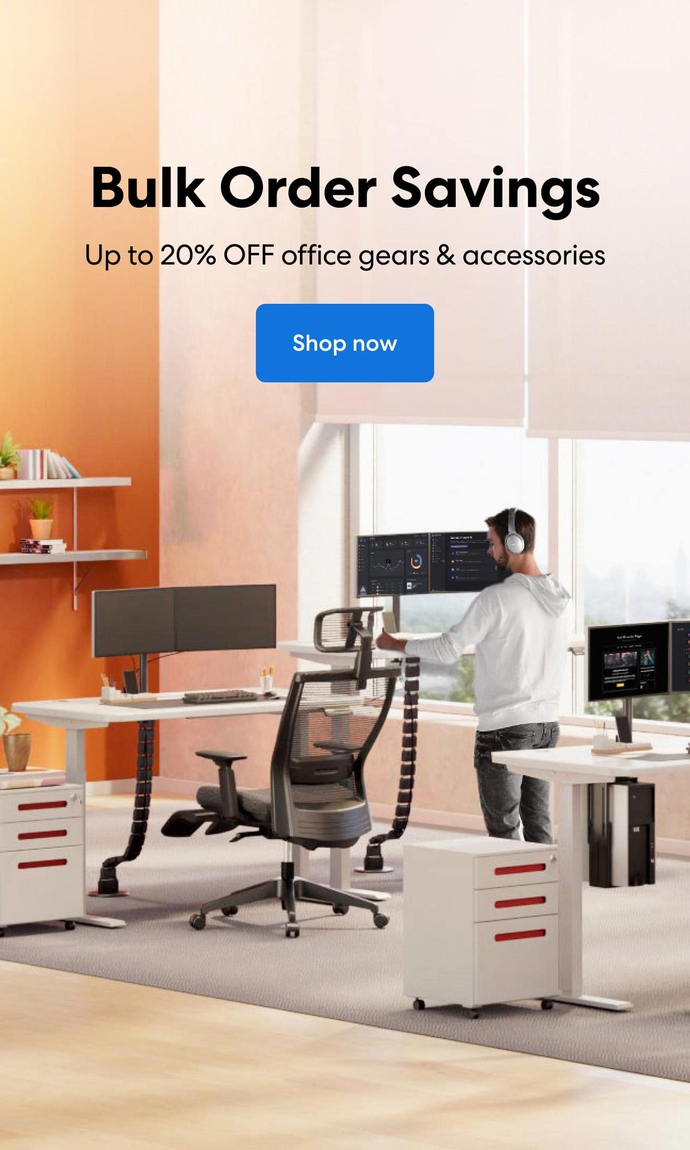 Subcribe newsletter and get $100 OFF.
Receive product updates, special offers, ergo tips, and inspiration form our team.