L-shaped desks are an excellent investment for office workers. That's because they give them all the space they need to place their belongings while working. Apart from that, most L-shaped desks are ergonomic desks, so you can forget about back pain if you get one.  
However, some people don't like to have desks that cover too much of their office space. If you are one of those people, then a small L-shaped desk may be a great fit for you! These products give you all the features you need in an ergonomic desk without taking a lot of space from your office.
Desks that are L-shaped are ideal for transforming a small corner into a small business desk or a home office. Those who enjoy large surfaces for working have plenty of room to spread out on such small L-shaped desk pieces, which offer plenty of room for displaying multiple monitors. The color, size, and price range of a small L desk are also extremely broad. A desk should be selected based on the factors most important to you (budget, storage options, style, and so on), as well as sized to fit the space.
Yet, you need to purchase the right desk for your office. There are tons of ergonomic products in the market. Checking them all can be a nuisance for some people, so we are here to help you. Dive into this page to know more about the top 20 best small L-shaped desks for home and workspace! Check out the best small L-shaped desk for home offices below.
What Are the Top 20 Small L-Shaped Desks on the Market?
As we mentioned before, we are here to help you pick the best desks for your home workstation or office. Each of the following products is a wonderful purchase, so don't hesitate to get any of them. 
1. Autonomous SmartDesk Corner
Autonomous never disappoints when it comes to office items. The SmartDesk Corner is the best home office desk you can find on the market. That's because it offers you all the space you need to work without taking too much from your office. Apart from that, it offers you ergonomic features that make its use easier and simpler.  
Adjustability is not an issue with this deck since it has four programmable settings you can set and customize any time you want. Apart from that, its responsive keypad saves your favorite settings and desk positions. That way, you can go back to those settings when you need it. 
2. Ivinta Corner Desk
Aesthetics are also important when choosing a small corner desk for your workspace. The Ivinta desk's developers understood that and made a desk that looks elegant and sophisticated. This small L-shaped office desk offers you some extra storage space under the tabletop.  
If you care about the environment, this desk is excellent for you. All its materials are eco-friendly, so you can take care of the environment while getting a wonderful office item for your workstation.  
3. iMovR Lander L-Desk
IMovR offers office workers many L-shaped standing desks. Each one of them has different features that can help people perform better at work. One of its best products is the Lander L-Desk. What makes this small corner desk a top-tier ergonomic product is how convenient it is. 
Some people dislike having to assemble and set their ergonomic desks and chairs. The iMovR comes almost completely assembled. Office workers only have to spend six or eight minutes making all the adjustments needed to start using the desk. 
4. XDesk Custom L Series Corner Desk
Desks with minimalist designs are also good for your workspace. The XDesk offers you a simple design to focus on optimizing its functions. This small L-shaped desk has a motorized system, so switching from sitting to standing doesn't make a lot of noise.  
Many people consider noisy desks a nuisance. That's why the XDesk is so good. Additionally, this L-shaped desk for small spaces has a digital memory controller that makes those transitions smooth and effortless. 
5. BEZELLE Kent L-Shaped Desk
The BEZELLE Kent small L-shaped office desk is available in various colors for you to choose, which suits your office better. Its wooden-made look makes the desk a sophisticated and bold product for your home office or workstation. This small L-shaped desk is made of non-toxic wood, so don't worry about damaging the environment.  
Open desks make working more comfortable. Feeling comfortable while working boosts your productivity and creativity. The BEZELLE desk is an open desk, so you can consider it for your home office. 
6. Eureka Ergonomic L-Shaped Desk
Gaming desks are excellent for office workers. That's because these desks are made to allow people to play for several hours without producing any kind of back pain or other physical health issues. That's the reason some office workers look for an L-shaped gaming desk for their office or workstation.
The Eureka Ergonomic L-shaped desk is a gaming desk with highly beneficial ergonomic features. It is rated as one of the best small L-shaped desks every gamers should have. It has excellent quality and is one of the most resistant on this list.  
7. Fully Jarvis L-Shaped Standing Desk
The Jarvis lineup includes many chairs and desks. Each one of them has different features that make them unique. This small L-shaped computer desk by Fully is one of the desks of the Jarvis lineup. You don't need to worry about holding up your working gear since this desk can lift 530lbs with no trouble.  
This desk is not budget-friendly. Yet, considering how much you can customize it and its lift capacity, it's a reasonable price.  
8. Salina L-Shape Credenza Desk
This desk offers office workers many benefits. At first, its price is not as expensive as other ergonomic products. Additionally, you have a wide color selection available for you. That allows you to fit the Salina desk with your office's aesthetic. 
The Salina L-shape Credenza desk has lower shelves that let you store anything you need to work. This small corner desk also comes with a hutch you can attach to the right or left side of the desk.  
9. MultiTable L-Shaped Corner Desk
The MultiTable L-shaped corner desk has a minimalist design and doesn't have a wide color selection available for you to choose from. Yet, it makes up for that by being inexpensive. This small L-shaped desk is excellent for entry-level workers that are working on a budget and need to buy other items.  
Since it's a small L-shaped computer desk, this product allows you to customize its height anytime you want. That means you can switch from sitting to standing while working. Changing your working position often boosts your productivity and makes you feel more active.  
10. Uplift Curved Stand-Up Desk
Another best small L-shaped desk goes on the list coming from Uplift. As its name suggests, this small L-shaped desk is curved, which makes it different from every product on this list. This product is perfect for any corner of your office. Apart from that, it doesn't take a lot of space from your office. It's a standing desk, so you can adjust its height.  
Apart from that, this small L-shaped computer desk is built with a three-legged Jiecang base, which makes it resistant and durable. 
11. Mr. Ironstone L-Shaped Desk
Finding an ergonomic L-shaped desk for small space that offers you all the features you need while not being outrageously expensive is no easy task. Yet, the Mr. Ironstone is an L-shaped desk that is affordable for people who are working on a budget.
This desk has space for three monitors, so multitasking is not difficult with this product. The Mr. Ironstone L-shaped also has a built-in monitor stand. 
12. Williston Forge Enprise Desk
If you want to go for a rustic aesthetic, then you should consider purchasing the Williston Forge Enprise Desk. This wooden-made desk is sturdy and resistant, so don't worry about it deteriorating after a time.  
Apart from that, this small corner desk's features prevent it from wobbling regardless of what happens at your office. Yet, you have to place it in the right corner of your room.  
13. Abilene L-Shaped Desk
The Abilene L-shaped desk for small space is a strong and durable product. That helps it gain high stability, which makes it a long-lasting desk. This minimalist L-shaped office desk has space for all your office equipment, so don't hesitate to get it! 
Apart from that, this product has free shipment. Assembling it is simple, so you don't have to invest a lot of your time in it. The Abilene desk also comes with a PC holder.  
14. iMovR Cascade L-Shaped Standing Desk
This iMovR small L-shaped desk gets into this list with no trouble. That's because of how comfortable it is for office workers. Since it's a small L-shaped standing desk, you can change your working position any time you feel like it.  
The Cascade desk is available in three different height ranges for you to choose which one suits your office better. Each one is priced differently to adapt to people working on a budget.  
15. Breahnna Reversible L-Shape Desk
Gaming desks have special designs that make your L-shaped desk setup stand up from the rest. The Breahnna Reversible desk's modern arc design optimizes your workspace and helps you improve your work performance. The desk comes with LED lights, so lighting is not an issue.  
The desk's base is made of stainless steel. That means you rest assured that nothing can happen to your desk. This alternative also gives you enough space for your working gear, so you shouldn't worry about that. 
16. Icockpit Computer Study Desk
The Icockpit is another gaming desk that gets to this L-shaped desk for small spaces list. This time is even smaller than the previous alternative. We recommend you get this desk if you are looking for the smallest one on the list. Apart from that, this small L-shaped computer desk offers the same adjustability features and customization possibilities as other desks.  
17. Industrial L-Shaped Desk
Getting to the most minimalist designs of this list, we have the Industrial L-shaped desk. This small L-shaped office desk looks like a standard desk but offers you the same features as an adjustable standing desk. That's a good thing since some people just like to have a standard-looking desk that prevents them from developing back pain.  
This product also comes with storage shelves. You can use them to store anything work-related, so they are highly useful.  
18. Costway L-Shaped Computer Desk
The Costway L-shaped Computer Desk is another budget-friendly ergonomic product. This small L-shaped office desk is designed to save as much space as possible. That means it has enough space for you to place anything you need to work on it. Regardless of that, this desk doesn't take much space from your workstation. 
It has a resistant and durable structure, so it shouldn't break nor deteriorate after a time. The Costway desk also has adjustable leg pads that can help you if there's uneven ground at your office.  
19. Loring Wood L-Shaped Writing Desk
This desk is available in oak and walnut. The comfort and convenience this desk offers to users are amazing. Apart from that, there are some other utility features that make the worker's job easier to do than before. 
One of those features is its built-in plug-ins and USB port. Those are excellent additions since they help workers charge their phone or any other electronic device in no time. 
20. Best Choice Product Modular L-Shape Desk
At last but not least, we have the Best Choice Product Modular L-shape desk. This small L-shaped desk is available in red and black. This product has a built-in keyword drawer and PC stand. Desks with those features allow you to organize your office items in a better way.  
Apart from that, the Modular small L-shaped desk has a reliable and elegant yet sophisticated design that can make you feel better with the idea of going to work. It's not an expensive desk, so getting it is not that complicated.
Difference between L-Shaped Desk vs. Straight Desk
Choosing an L-shaped desk
L-shaped tables are perfect for corner workstations for several reasons, including their ability to save a lot of space. Standard L-shaped desks for small spaces take up a lot of floor space and provide only one or two work surfaces. Alternatively, a mini L-shaped desk offers a suitably large working area with storage, drawers, and shelves to help reorganize your home office.
Despite the need to dedicate a corner office at home for remote workers caught in the middle of the pandemic, a small L-shaped computer desk would be helpful as it allows you to concentrate.
An ordinary work table can appear cramped when cluttered with a computer, laptop, and printer. A small space L-shaped desk offers a dedicated place for a computer with an ergonomic feature for posture so that you can remain productive and sane while you work.
Pros of an L-shaped desk
Desks in the L-shape are more space-efficient
Ergonomics is better
Productivity increases
More Workspace for You
The Perfect Solution for Multitaskers
Cons of an L-shaped desk
It is easy for a desk to become cluttered
L-Desks cause headaches with cable management
It's ideal to limit it to one person
Carrying & moving this product is difficult
There Is No Flexibility in Their Places
Choosing a straight desk
In order to find a good fit, you must first identify the factors you are looking for, whether it is a versatile white small desk for home or an L-shaped modular desk system with smart and space-saving features.
There are several types of computer desks, but a straight desk is the most common. There's nothing traditional about this desk, yet you can find it in many offices and homes. A rectangle with two or four legs is the most common shape, but the dimensions and materials may vary.
It can be placed anywhere and can easily fit into a variety of settings. Straight desks of today include a variety of designs and a variety of drawers. When space is not an issue, a straight desk is the best choice.
Pros of a straight desk
Make Your Setup Look Nice and Minimalistic
Pure functionality is best
Affordably placed anywhere you like
Cable management made it easier.
Cons of a straight desk
Management of cables is easier
The work area is limited with straight desks
How Do You Feng Shui A Small L-shaped Desk?
Harmony in your environment is the aim of an office layout feng shui. The practice occurs throughout the house, although the living room and bedroom are the most common locations. Our home offices are a place where we spend a lot more time than we used to.
Can an L-shaped desk be Feng shui'ed? The home office is no different, and it benefits from feng shui as well. When creating a tranquil and relaxing atmosphere in the entire room, you need to think about a few things.
Color
Make your desk stand out by using its color. Make sure it suits your office, your staff, and the work you do. This is an easy feng shui color for office technique for creating the kind of energy you want. Age and gender are not the only factors affecting color psychology since culture, past experiences, and current emotional states also matter.
You'll spend a great deal of time in the rooms in your home, and choosing the right color palette is important for your comfort and relaxation. Every individual has a different idea of what comfort and relaxation are, and you must identify them within you to reproduce them in your home. 
If you choose brown

small L-shaped desks for your office, they will bring calmness and grounding to it.

Self-analysis and unbiased thinking are better when done at a black desk.

In the same way that brown desks are nourishing and creative, green desks are also.

The contrast of a white desk with a black background can drain people's energy who are susceptible to it.

Grey desks have the same effect as white desks in terms of concentration.
Place
You should pay attention to a few important feng shui elements when designing your office desk. By integrating them, you'll be able to keep your office calm and concentrate on your work without feeling distracted. As we mentioned, your back should be against a wall when you sit at your desk. In addition, your desk should contain the following elements:
Place only the items you need daily on your workspace and get rid of any clutter.

Buying a curved desk will force you to sit in the depth of the arch instead of straight desks.

Your desk can bring benevolent energy to your office that invigorates the rest of the space when made of wood.

You can think about not placing desks against walls. Face your desk in the direction of the door so that it faces the door.

If you want to draw inspiration from scenic views, place your desk facing the window.
Layout
As with any room, a home office can benefit from feng shui. In order to create a calm and relaxing atmosphere, there are a few things you need to keep in mind.
Your first step is to place your chair so that your back rests against a solid wall.

Include

office plants and water elements to introduce positive energy. If you can channel this energy toward your work and creativity, then you'll be on your way to success.

Take pictures and place them on shelves and walls that inspire you.

The colors chosen are calm and include pale yellow, pale orange and pale green.

Furniture with rounded corners and edges is a good choice.

Avoid corners that point in your direction.

Your office should have a nice view if you can.
Bottom Line
There are many office ergonomic products on the market. That includes desks, chairs, and even office desk accessories. We have all three of them available for you! Take all the time you need to check our website and see if we have something worth your money.  
Regardless of that, it's essential to invest in products that can complement your office space while making your job easier. You can find that on small L-shaped office desks that offer clients some extra features such as shelves or monitor stands.  
Getting a corner standing desk is one of the best investments you can make. Doing it makes you work more comfortably and therefore turn in higher-quality work. Don't hesitate to purchase any item on this small corner desk list! Many of them should be an excellent fit for your office.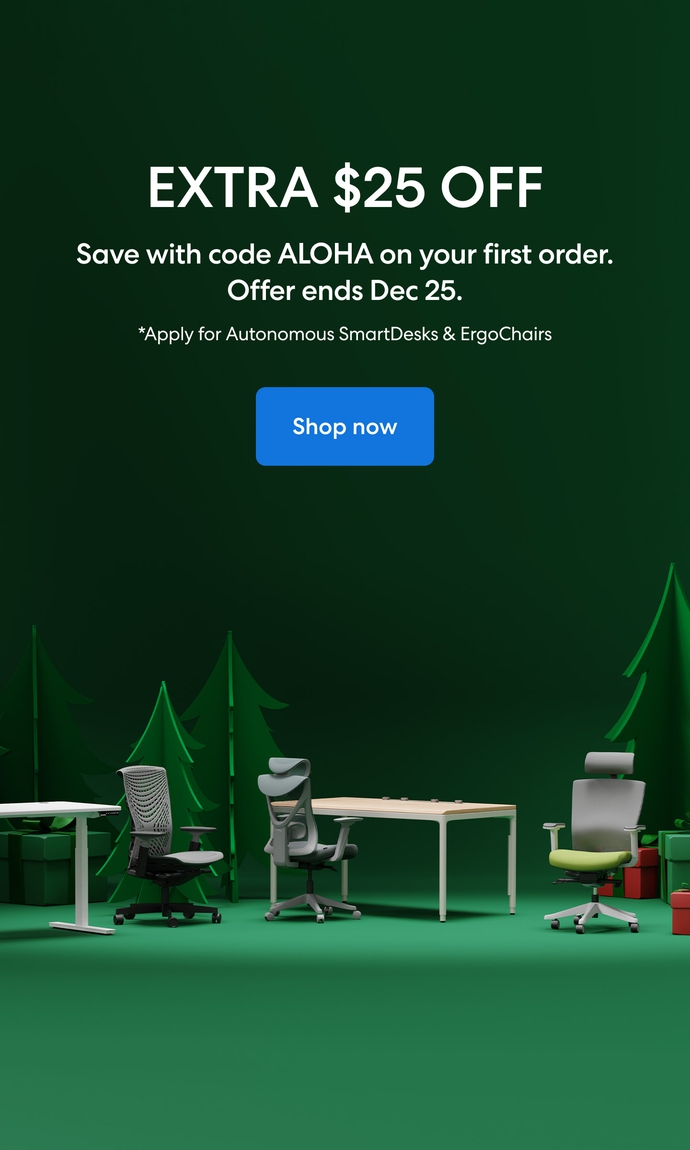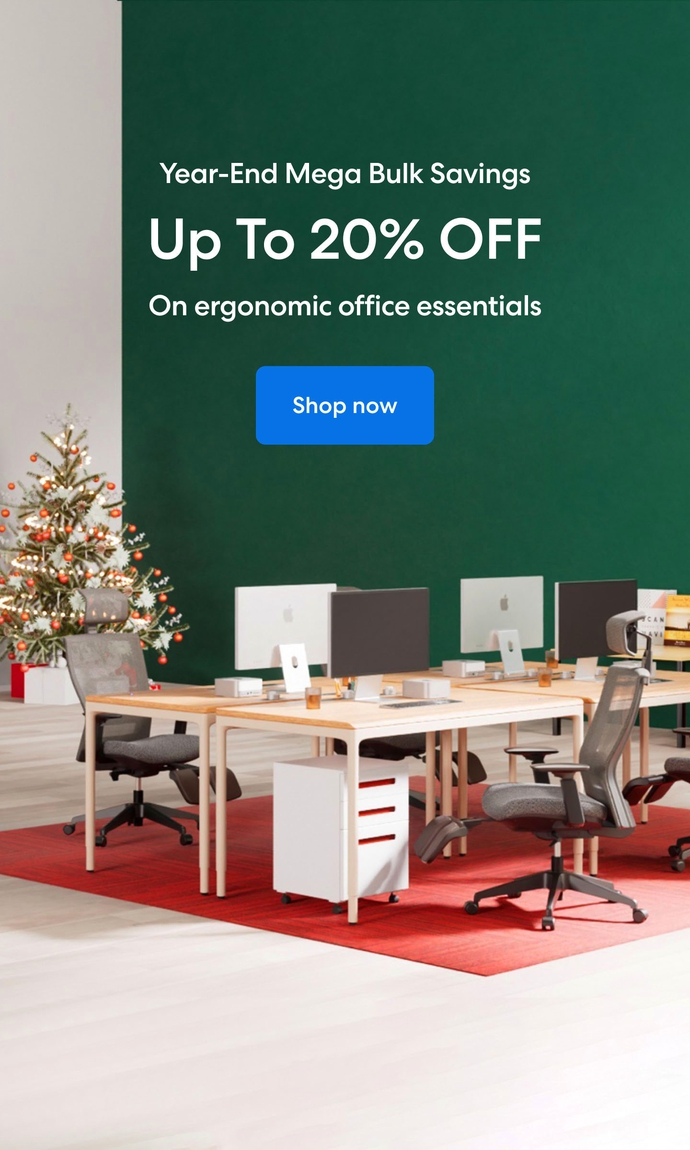 Subcribe newsletter and get $100 OFF.
Receive product updates, special offers, ergo tips, and inspiration form our team.