No matter how big or small, conventional or modern, office space is complete with the right choice of furniture. From ergonomic office chairs to modern adjustable desks, office storage solutions, to lighting needs, everything adds up to complete the overall workplace experience. Due to this fact, choosing the right office furniture comes with many challenges too.
The search can overwhelm you, especially if you have recently shifted to a new office or location where you need to learn about the best office stores. Hence to make things simple for Fresno office furniture, in this article, we are going to enlist the best office supplies in Fresno along with the different types of office furniture stores to cover your overall needs.
Best Office Furniture Stores in Fresno CA
 Setting up a new office in a city like Fresno can keep you worried with furniture choices. You might need to help locate a store that offers office supplies in bulk while maintaining the quality and decorum of the workplace. Also, shipping the best office furniture in Fresno CA from other locations is impossible as the high shipping cost and the threat of damage to the furniture are also substantial. Well, worry no more because below is a list of our favorite office furniture stores in Fresno, CA, where you can find everything you need.
Autonomous
Compared to excellence, an Autonomous furniture store is an option that stands second to none—known for high quality, modern design and ergonomic furniture solutions. Autonomous deals in a variety of wholesale office chairs and wholesale office desks, which look unique despite being made in bulk. Ergonomics is the major definition of Autonomous office furniture in Fresno CA. Due to their years of research and well-embedded practices, the furniture store is now operating in all locations nationwide. And suppose you are wondering what type of furniture is ideal for you. In that case, an Autonomous free office design service lets you decide and play with the virtual appearance of your workplace before actually making a purchase.
After making a decision, you can place quick orders online at Autonomous or visit their stores physically, which are located in several parts of the States along with Fresno. They also have the Autonomous Bulk Order Program, which allows you to place large orders with quick delivery time and free installation services.
Interior Avenue
Interior Avenue knows that the key to a productive and comfortable workspace is the selection of the right office furniture. Knowing that, Interior Avenue has a reputation for offering high-quality, unique office furniture solutions for any workplace. Interior Avenue provides everything you need to enhance your workstation, from chic designs to reasonably priced solutions. They also offer top-notch delivery and installation services, and the delivery fee is highly affordable too. Interior Avenue is a furniture store that operates both physically so you can visit and judge the right products yourself and online to place large wholesale office furniture orders right from the comfort of your home.
Cal Bennetts Office Furniture
The advantages of shopping locally are numerous: you may save time and money on shipping and even support regional companies. But in a place like Fresno, finding a local store that you can trust for reliable office supplies is challenging. Cal Bennetts Office Furnishings Planning and Design is the only place for high-quality, comfortable office furniture designs. From large-scale to small corporate workplaces, Cal Bennetts offers a complete range of solutions for every workplace. They deal online and in-store and offer new and used office furniture options. Their outlets are widespread nationwide, and Fresno is one of those locations.
Fresno Office Furniture Buying Guide
Buying office furniture in Fresno CA, whether in Fresno or any other region, there should be some factors you need to pay attention to so you don't end up making the wrong choice. Having certain factors in mind or following a furniture buying guide ensures you pay for the things you will use. Below are some factors to look for when buying office furniture in Fresno.
Available Space
The first step anybody should do is to measure the room or the area inside a multi-function room; it will be placed in. Home office furniture comes in a broad range of scales. Remember to take doorway measurements. Many furniture returns are made because the furniture cannot be relocated into the designated room.
Comfort
Gone are the times when looks were the first deciding factor for office furniture. Now it comes to comfort as it is the top priority. Fortunately, modern design office furniture is made with both comfort and aesthetics in mind. You can easily find an option that is ergonomically suitable for the user and befitting to your workspace's modern design.
Additional Features
The best office furniture for the home will include conveniences that make it simple to set up your workspace. Modern home office furniture can have cord access holes or cable grommets made of wood, metal, or plastic around these holes. In many designs, cable management systems are also included to neatly tuck them away so you won't end up with a tangle. Built-in charging ports for gadgets and other devices are more recent inventions. These options cost significantly high, but they are also great at improving workplace efficiency.
Flexibility
The office furniture you select must be flexible enough to fulfill each employee's demands because they come in all various sizes and forms. The height of many desk and table options may be changed to ensure workers remain productive while maintaining good posture. The office chairs you select should also have adjustable arms, heads, and backrests that may be set at various heights and positions.
Warranty
Good brands not only deliver good quality, but they also understand the value of your money. And since office furniture is a big investment and a huge decision, it is important to ensure you pick out items with a warranty. This will guarantee that should an issue arise with your office furniture in Fresno CA, it can be resolved swiftly and affordably.
Functionality
A piece of furniture that offers dual functions is more useful than something with a single use. Opt for desks with built-in storage and chairs that can be converted into recliners. Also, some desks can be transformed into dual working stations when needed.
Video ads for product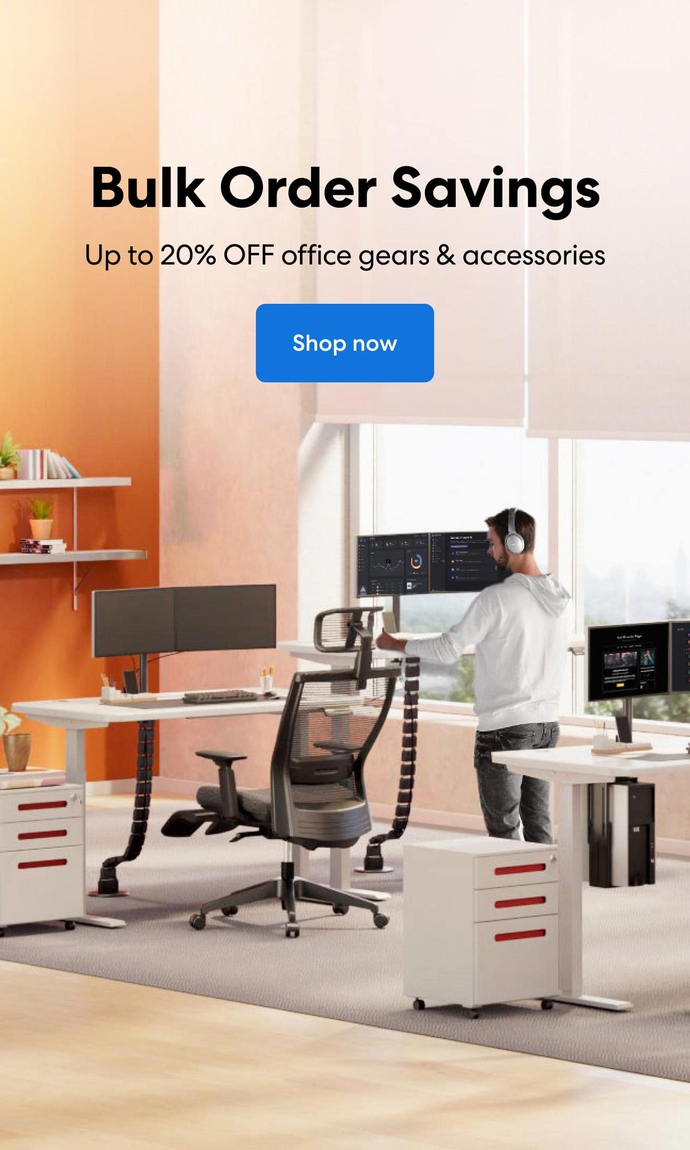 Subcribe newsletter and get $100 OFF.
Receive product updates, special offers, ergo tips, and inspiration form our team.