Smart Products
Top Furniture Stores in Frankfort KY for Home and Office

Autonomous
|
Nov 16, 2023
828 Views
Frankfort is a great place to live, and when you have the modern furniture to elevate your living experience, your home feels like heaven. To help you get such a great living experience with modern furniture, we have come up with some of the best furniture stores in Frankfort, KY. However, before you make a buying decision, make sure to consider the following.
What to Consider When Buying Used Furniture in Frankfort KY?
Check the Material of the Furniture
While in the market for the used furniture, make sure to thoroughly check each and everything. From fabric to wood quality, you need to know all of it before making the purchase. Soft woods such as MDF and pine lose their shape and color over time, so they are not an ideal choice when it comes to used furniture. On the other hand, hardwood such as oak would be a wise choice.
Use It Before You Buy It
Testing your furniture for quite a while at the store is important to see if everything works properly. Some used furniture sets might seem modern and stylish but are not worth your money as they are damaged from the inside. If you are buying any sofa or chair, make sure to sit for at least 10 to 20 minutes.
Look if There's a Bad Odor
The smell can tell if the furniture has been through rough times recently. The bad odor, once set in furniture, remains there for a lifetime, so make sure you reject it right away. Bad-smelling furniture wouldn't only make your indoors smelly, but would affect your other furniture items as well.
Search for Bed Bugs
Bed bugs can make your furniture unusable in a matter of a few weeks only. These bugs are difficult to spot with the naked eye, so the only option you are left with is to check for the signs. Furniture with bed bugs will have black spots on the joints or cracks. Another sign of it is a molted skin on the underside or the back of the furniture. 
Check the Backside
Most people seem to forget this part, but checking the backside is as important as any other consideration on this list. Most of the problems start with the back of the furniture, and just because it is hidden, it never gets noticed.
Explore Your Options
While making a purchase, make sure to check multiple stores and a variety of different designs and materials to get the right fit for you. Used furniture deals can be extremely inexpensive or expensive, depending on the quality and condition of the furniture.
Top Furniture Stores in Frankfort KY
Home Again
Home Again is a must-visit for modern living room and dining room furniture. The store also has a good variety of lamps and rugs to elevate the beauty of your indoors. There are two main sections – home office and home décor, where you can find every kind of furniture you need. We highly recommend checking out their indoor tables, as there are some great side and console tables to choose from. All of the furniture listed at the store is priced at the most affordable rates.
Big Lots
Big Lots furniture store is located at 1300 US Highway 127, Frankfort, KY. The store has risen in popularity due to its incredible variety of furniture available at the store. The furniture category itself has around 20 sub-categories, with all the furniture sorted according to the different areas of a home. We highly recommend checking electric fireplaces and entryway furniture, as it has some of the most attractive furniture designs for your home space.
Frankfort Discount Warehouse
Frankfort Discount Warehouse, as the name suggests, is for the ones shopping on tight budgets. You will get furniture for your home and office from brands like Coaster Fine Furniture, Lane Home Furnishings, and Crown Mark. However, the best categories to consider at the store are the living room and dining room, as they contain the most stylish sofa sets in the entire city. In addition, If you want additional discounts on your purchases, head to the clearance section and select the furniture piece that best fits your indoors.
Fitzpatrick's Furniture
Fitzpatrick's Furniture Store provides furniture that looks modern and natural. Most of their furniture pieces are made of high-quality wood while retaining its natural texture. From dining room to bedroom to living room, every furniture set for every category is designed to fit right into your home. Some accessories, such as pillows and mirrors, are also available at the store, but they are a bit pricey. In fact, all of the furniture listed at the store is from premium brands such as Catnapper, Jackson, and Ashley, so expect premium prices for getting premium quality.
American Freight
American Freight has several stores spread all over Kentucky. One of their premium stores is also located near Brighton Park in Frankfort, KY. If you decide to shop from this store, make sure to check out their recliners and rockers. These are some of the most ergonomic chairs you would ever find. The reclining feature is available for both sofas, loveseats, sections, and chairs.
At Home
The last one on our list is At Home. This store is popular for its value-to-money furniture. Regardless of the category you choose, you will get discounted furniture in almost every category. Although every furniture piece listed on the website is top-notch quality, we highly recommend checking their wicker patio furniture.
Where to Get Discount Furniture in Frankfort KY
The best place to buy furniture at amazing discounts is the Autonomous online furniture store. This store provides all the solutions to your home and office furniture requirements. Through its Bulk Order Program, you can get discounts on each additional unit of your order. The more quantity bought, the better the discount will get.
Moreover, the variety and quality of the furniture is top notch as well, with ergonomic chairs and smart desks leading in the top sales list. Moreover, you can buy office supplies in bulk as well, which is a great addition to an already sumptuous deal.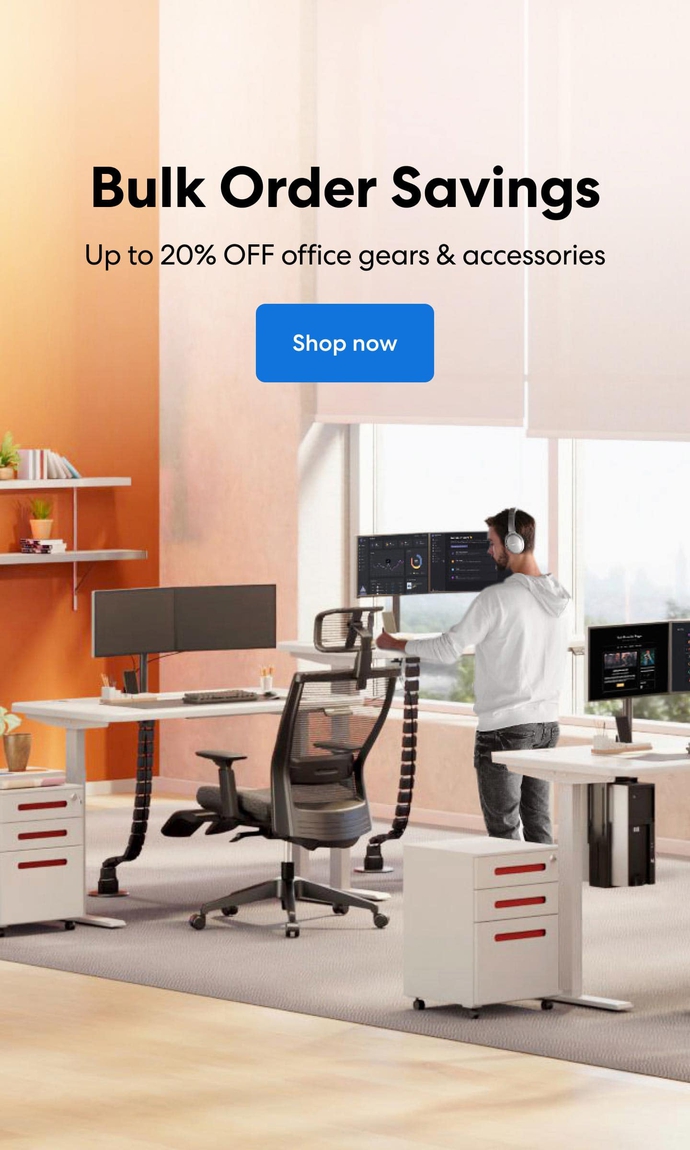 Subcribe newsletter and get $100 OFF.
Receive product updates, special offers, ergo tips, and inspiration form our team.